Innovative materials changing the face of Thermal Insulation Packaging
The global thermal insulation packaging market is set out to reach USD 247.1 Bn by the year 2030 at a substantial CAGR of 17.2% between 2022 and 2030. The given projected value is the conclusive result of various industries trying to shift toward insulated packaging.
But the question is – Why? Why not stick to the traditional packaging? Why take the plunge to innovate in a new area? The answer lies in the market trends where it has been observed that the consumer now demands fresh goods. As a result, whitespace has been created for temperature control during package delivery, bringing the thermal packaging industry to the forefront.
In this article, we take you through the growth of the thermal insulation packing industry along with the materials that are being extensively explored by innovators. Additionally, we discuss a particular material for insulated packaging in detail.
If you would prefer more than the snippet of the present market scenario that this article offers, you can fill out the form below to explore the domain in detail.
Factors that have contributed to the increased demand for thermal insulation packaging
Whenever a market experiences a sudden boost, various factors are responsible for it. The expected and inevitable growth of thermal insulation packaging is also the result of various elements like:
Healthy eating has emerged as a global lifestyle trend. Focus on a healthy diet is increasing across geographies. And, this would ultimately lead to the increasing need for thermal insulation packaging to sustain the freshness and nutritive qualities of the food products.
Governments and regulatory bodies are stressing on ensuring that food and pharmaceutical products are complying with the established norms. This means that the food products would also have to be kept within an approved environment and temperature ranges during transit. This has led to stricter regulations and high visibility across the supply chain, which makes temperature monitoring a mandatory aspect for pharmaceutical and food manufacturers.
With the rise of e-commerce, the demand for thermally insulated packaging has also sky-rocketed. To ensure the quality of the product and customer satisfaction, temperature control of perishable goods such as fresh produce, dairy products, and meat is of utmost importance.
The Present Market Scenario of Insulated Packaging
Before diving deeper into this aspect, it is important to have a clear picture of what drives its growth, and what constraints the market players must be prepared for.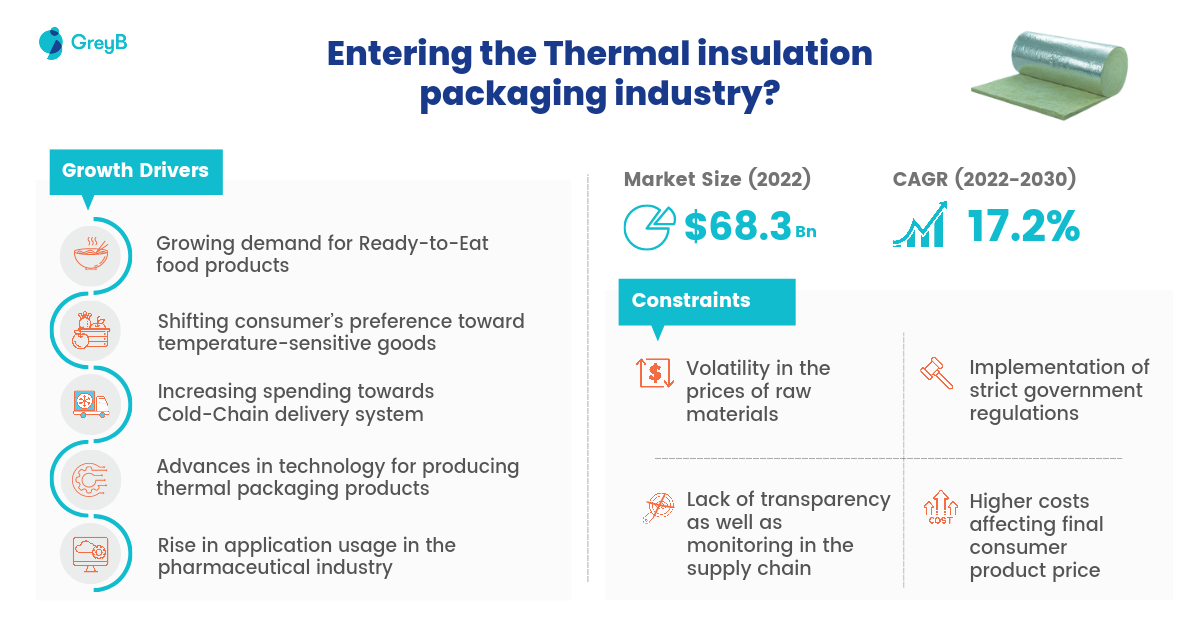 Furthermore, while studying the UK market, we observed that EPS (Expanded Polystyrene) and PE (Polyethylene) dominate the market share (over 60%) of materials used in insulating packaging production. This is because of its low cost, as well as its relatively good insulation performance.
Then what could have led to the need to look for alternative materials for thermal insulation packaging?
It is because the government regulations to ban or restrict the use of these materials to control environmental pollution have limited their use as well as manufacturing. As a result, a need arises to look for natural materials such as national wool and cellulose. Though these natural materials are environmentally friendly with similar insulation performance, the manufacturing cost is higher than EPS and PE. (Source)
Who are the key players in the thermally insulated packaging domain?
Making the most of the whitespaces, various prominent players are working in the domain of thermal insulated packaging. Based on the geographic locations of the companies, we see that most of the corporations are based in North America (the USA and Canada) and Europe. This shows that these countries are moving ahead in this domain.

Although Asia is a big consumer of these thermal packaging products, only one company seems common (Aeris Group) across the research reports.
If you want a dedicated study on market players of thermal insulation packaging in your geographic location of interest –
Thermal Insulation Packaging in various industries
When we talk about the thermal insulation packaging market it broadly covers various industries. And the materials vary based on the industry, as well as the kind of use a company is looking for.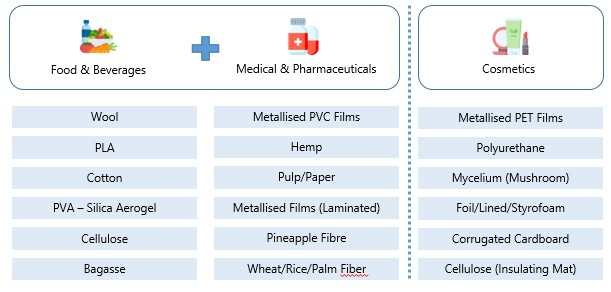 Take the cosmetic industry for example: As the visual appeal is a big factor in cosmetics, so most of the insulation packaging in cosmetics is targeted toward secondary packaging.
Various innovative materials (such as Mycelium, derived from mushrooms) are being used in secondary packaging for the cosmetics industry. As there is an ongoing trend for sustainable packaging, such materials are aimed to be alternatives to traditional packaging (without compromising thermal insulation properties).
However, with industries relying on two different packagings (primary and secondary) the waste from the packaging industry is bound to increase. Therefore, after going through various insulating packaging materials (used in food and pharmaceuticals), we found that there are various materials that can be used as primary packaging materials in these types of products while replacing the secondary packaging in these products and could help in bringing down waste (along with improving thermal insulation properties) in the supply chain.
Materials that have garnered interest for the insulated primary packaging
Now that we are talking about the primary packaging for insulation, there is a need to be aware of specific materials that will work for particular products. For example, when looking at the packaging that is required to insulate products like chocolates, cheese, milk, confectionaries, etc., the material and its objective will be different from that for pharmaceutical products. Therefore, to incorporate the insulated packaging for your products, knowledge of various existing, as well as upcoming/unconventional materials (that could hold potential) is required, in this space.
Let's look at some of these packaging materials, and discuss their usage, pros, and cons:
Bagasse: Bagasse is the plant fiber that is left behind after the sugar-bearing juice is extracted from sugarcane. But, In spite of its high level of resistance to both hot and cold temperatures, bagasse may lose some of its strength when used to hold foods hotter than 95 °C. (Source)
Metallised Films: These films could be used in a wide variety of industries (pharmaceutical, electronics, cosmetics, etc.) for packaging. They last very long and block almost 97% of radiation heat. Source
Mycelium: Mycelium (derived from mushrooms) can be used to make standard and/or custom-molded packaging that is 100% biodegradable, thereby reducing reliance on plastic and polystyrene. However, there are limitations to the variability and the range of products that can be produced from this type of packaging material. (Source)
Polyurethane: In comparison to plastic, polyurethane shows better results at high and low temperatures: it is more flexible and does not crack under shock and other mechanical stresses. But, the manufacturing plants that produce polyurethane foam are a major source of various hazardous air pollutants. (Source) (Source)
There are many primary packaging materials in existence to date. Still, quite a few new materials are coming up in this domain to increase efficiency and overcome the drawbacks present in existing solutions. Out of the upcoming solutions, Aerogel is the latest advancement in thermal insulation packaging material which has gained a lot of traction.
For this sample study we will talk more about aerogels but to get a customized study on thermal insulation packaging material suited for your industry –
Increased Innovator Interests in Aerogels
The Aerogel market is expected to reach USD 2.52 Bn by 2028 with a CAGR of 15.1% (Source).
There are a number of materials that are available as an alternative to traditional insulated packaging. So, why only Aerogel?
Well, on performing a study on the alternatives of existing thermal insulation packaging materials, and laying a comparison between the thermal conductivities of the newer ones, aerogel's characteristics stood out. We found that aerogel-based materials are receiving great interest due to their amazing thermal insulation properties as well as material characteristics.
Additionally, to see how innovators are reacting to the properties of the aerogel, our experts studied the patent filings comprising aerogel-based material for insulated packaging. The patent filings in this domain have increased 10 times from 2010 to 2020.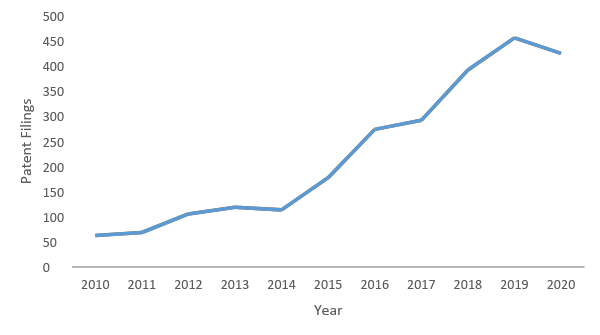 Seems like this material may be the next big thing in the industry and figures are indicative of the same. With the recent interest in this material, there have been studies exploring how this material can be used to replace existing options in the packaging industry.
Such a research activity in a particular material piqued our interest to know more about its potential and upcoming opportunities.
Let's deep dive into this material, and see if this material holds commercial potential and if you can use it to replace already existing commercialized insulated packaging solutions.
What are aerogels, what are they made up of, and their special properties?
Aerogel does not refer to any particular substance or material composition, instead, it implies a geometry that a substance can take. In actuality, Aerogel is an open-celled, mesoporous, solid foam that comprises a network of interconnected nanostructures. These structures have a porosity (non-solid volume) greater than 50%.
Aerogels are created by combining a polymer with a solvent to form a gel. After this, the liquid is removed from this gel and replaced with air. Various materials have been used to make aerogels, such as:
Silica
Transition metal oxides (for example, iron oxide)
Lanthanide and actinide metal oxides (for example, praseodymium oxide)
Main group metal oxides (for example, tin oxide)
Organic polymers (such as resorcinol-formaldehyde, phenol-formaldehyde, polyacrylates, polystyrenes, polyurethanes, and epoxies)
Biological polymers (such as gelatin, pectin, and agar agar)
Semiconductor nanostructures (such as cadmium selenide quantum dots)
Carbon
Carbon nanotubes
But, it is not the formation but the Thermal Conductivity property of Aerogels that make it interesting and an area of study for many researchers. Aerogels have a Thermal conductivity of 0.016 W m-1 K-1. A low thermal conductivity means that the "item" inside the packaging maintains its temperature with minimal loss of cooling from within the packaging. This has led to innovators exploring its use in thermal insulation packaging.
What is the status of the research in aerogel-based packaging?
With the study of Aerogel's properties, significant improvements (such as low thermal conductivity, lightweight, etc.) were found when compared with currently used packaging materials. But, there is very little information about its usage in primary packaging. This could be due to a lack of experiments, and the corporate world's comfortable dependence on plastic materials.
Many research papers, publications, and journals have mentioned using this material in conjunction with other materials to impart favorable characteristics to the final material. We believe that this research could pave the way for aerogels to be used in mainstream packaging, and consequently replace currently used packaging materials.
But, its usability in everyday life and in real-life scenarios is yet to be established. So, we thought of digging deeper into various research publications to see some experiments that might guide us into aerogels. Here is what we found.
Polyvinyl alcohol packaging incorporated with silica aerogel for chocolate wrapping
Shanghai Ocean University has conducted research on a packaging material based on polyvinyl alcohol incorporated with silica aerogel. The university claims that it has the potential to replace existing packaging material used by the chocolate industry. Here is why:
Comparing PVA-Silica Aerogel (SA) with existing packaging solutions used (such as PET or PP), it is observed that the thermal conductivity of PET/PP came out to be quite high (3.75 W/mK for PET, compared to 0.068 W/mK for PVA-SA). Also, the water barrier property of PVA-Silica Aerogel came out to be much lower than PET and PP (9.3 g/m²d for PP, 16 g/m²d for PET compared to 1.28 g/m²d for PVA-SA). Based on the above research and comparison, it becomes apparent that the innovative PVA-Silica Aerogel material not only fulfills the thermal insulation requirement for chocolate packaging but also performs better than existing market solutions. (Source)
Pectin/TiO2 nanocomposite aerogels for temperature-sensitive food packaging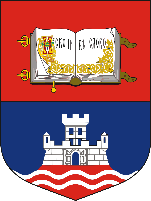 The University of Belgrade has published a paper about an insulation material based on Pectin-based nanocomposite aerogels (prepared by a sol-gel process) for food packaging applications. The resulting material showed a very low thermal conductivity and good antimicrobial activity. Comparing the thermal conductivities of this material with other commonly used materials, it is observed that the thermal conductivity of Pectin aerogels came out to be quite low. For example, the thermal conductivity was 0.046 W/mK for Cellulose, 0.030 W/mK for Polystyrene, and 0.022 W/mK for Pectin Aerogel). (Source)
Further, it is pointed out in the study that Pectin is majorly extracted from Citrus waste produced by the fruit juice industry, this makes it a low-cost biocompatible, and biodegradable material that can be produced at a large scale. (Source)
Companies to look out for in the Aerogel-based packaging domain
With the news of Aerogel being the next revolutionizing thermal insulation packaging out in the open, various entities are actively working to dominate the market. While we studied the growth of research happening in the domain, backed up by increased patent filings, the following companies seem to be pioneering the thermal insulation packaging industry: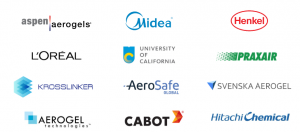 Further, in this article, we would like to capture the commercialization of Aerogel packaging by Krossslinker.
To study other players in the aerogel space in detail, you can get in touch with us.
Established in 2019 in Singapore, KrossLinker applies material chemistry to innovate and develop advanced materials for insulation applications. Its first product serves the cold-chain biopharma packaging industry, and it protects temperature-sensitive pharmaceuticals, precious biologics, and vaccines throughout their shipping journey with its thermal insulation material. (Source)
KrossLinker's ASPIRE technology (Source) helped a startup to produce aerogel boards 3x faster and at a 50% lower production cost. Owing to low energy consumption and lower carbon footprints (Source). The startup has protected this technology (WO2021015676A1), and its patent provides an in-depth insight into how this is achieved by synthesizing an aqueous binder mixture and adding silyl-modified precursors to form an emulsion. The gelled composite formed out of this mixture is then treated hydrophobically. This composite then undergoes vacuum freeze drying to give the final product, an Aerogel composite. With KrossLinker's Aspire technology, various products have come into existence such as:
Cryar is a Silica Aerogel insulation board having good thermal insulation performance (17-19 mW/mK) that remains consistent with time. (Source)
'QuintAero' are Silica Aerogel particles having one of the lowest thermal conductivities (12-16 mW/mK. (Source)
Further, the products find application in areas like:
Cold-Chain Packaging: High-performance thermal protection for high-value drugs & vaccines
EV & Battery Protection: Effective barrier for thermal runaway and environmental protection, maximizing safety, lifespan & performance. (Source)
Conclusion
The thermal insulation market is projected to boost post the Covid-19 pandemic and it all started with the need for more reliable thermal insulation packaging systems to maintain the quality of the drugs. Soon the industry spread to other areas where the consumer demands the quality of products to remain high for a longer period of time. However, the right material for thermal insulation packaging varies from product to product.
What remains constant is the need to perform extensive market research which can make or break the opportunities for you.
Authored By: Ambuj Chaudhary and Navjit Singh, Patent Analytics Team.