Easing the process of Decision-making for our clients – ft. Saurav Chawdhary
Each of us might have been in a situation where we aren't sure which option to select, be it in deciding where to go for vacation, where to stay, or what to eat? 
Even simpler tasks take time to complete because the options are confusing.
In a recent email, Saurav shared similar scenarios and eventually discussed the art of making the decision-making process easier for clients. I enjoyed his thought process so much that I wanted to share it with all our readers. 
Read ahead and you will be impressed with the insights shared by Saurav regarding the art of making decision-making easier for clients.
Saurav Chowdhury

Senior Associate – IP Solutions
Hey Team,
Been a long time since I shared something with you all. Today seems like a fine day, so here we go.
Decision-making. We do it day-in-day-out. We make multiple decisions starting from morning till we sleep at night.
Some are easy decisions; some are tough ones. We generally tend to avoid tough decisions – delay them or work around them (if possible).
But we have to make a few tough (or unwilling) decisions in the end. Recently I had to choose what to gift my sister. And trust me, it was tough!
I used a hack – I listed down the various pros and cons of the gift options[It was not as elaborate as I am making it. It was quick]. I was able to finalize the gift. I have yet to present it to her, so I am not sure about her reaction (fingers crossed).
Anyways, what did I do just there? I made the decision-making easier by jotting down the pros and cons of the various gift options.
Now, let's take the example of the following image. This is a snippet from the welcome email from Wait But Why. If you aren't already subscribed, you are missing some cool stuff.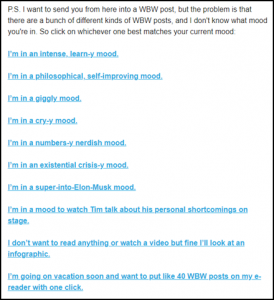 What I found to be the best part is that WBW is making my decision-making so much easier. All they ask me is my mood, and accordingly, I can choose an article to read. I don't need to think much to make a decision here.
Isn't this what we all want? Easy decision-making?
And that is what we always try and do with our clients – MAKE THEIR DECISION MAKING EASIER. In all proposals, where we provide clients with multiple options, we also provide the rationales behind them and the pros and cons to make their decision-making much easier.
Takeaway: Whenever you engage with a client and provide them with multiple options, DO MAKE THEIR DECISION MAKING EASIER.
Ending this email with a recent proposal I prepared for a client where I gave four options to the client. The options were well explained in the proposal document. So, when we went to the proposal discussion call, the client was already on the same page with the options and the thought process. The client was very clear on what each option would give her, and she made up her mind on her preferred option before coming to the call. Easy decision-making done right.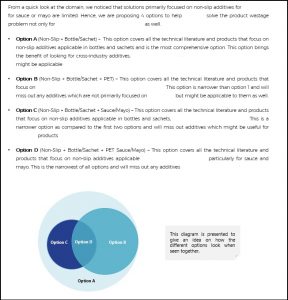 Best Regards,
Saurav