Top 5 Startups Innovating Plastic Recycling
Everyone knows PET is completely recyclable, right? But you and I both know it isn't as simple as it sounds. PET recycling comes with its own set of cleaning and sorting needs. As a result, even today only about 30% of it gets recycled every year. 
The remaining goes to landfills. Or worst case, in the open environment/ocean to add to the ever-increasing plastic pollution.
This creates an immediate need for the Plastic recycling industry to search for recycling solutions. 
So, looked into the emerging technologies and up-and-coming companies/Universities/startups working on the PET-recycling. Our complete findings in the form of a patent dashboard can be accessed from here.
But before you jump to the complete study, to give you a preview, we extracted insights about the top startups working on PET recycling solutions. (based on the number of patent filings)
So without further ado, here are the top plastic recycling startups:
1. Ioniqa Technologies
Ioniqa is a clean-tech spinoff from the Eindhoven University of Technology (NL). It specializes in recycling PET waste by using its proprietary circular technology.
In our analysis, Ioniqa technology topped the chart among startups. Their main focus seems to be on recycling using glycolysis. But they are also interested in ammonolysis, hydrolysis, and solvent purification as a recycling process.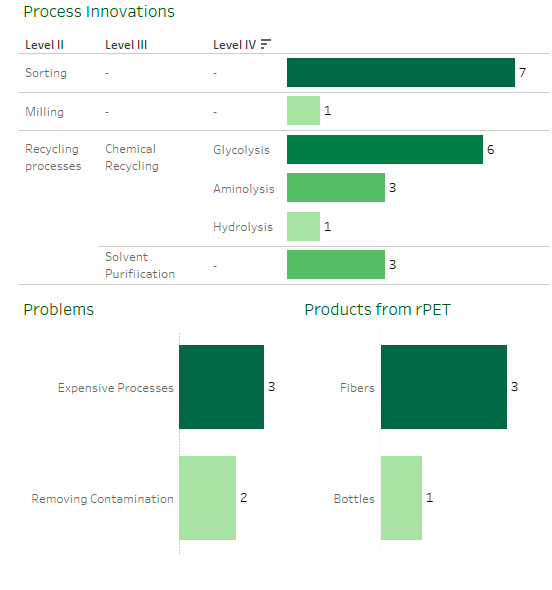 Further, we found that the company claims their technology can upcycle all sorts of PET (even the colored PET).
Also, they promise to restore PET to the level it can be used for even food packaging. The patent data shows their main application for recycled PET in bottles and polyester fibers.
Partnerships
Apart from technological advancements, Ioniqa has business advancements using partnerships. Some of the prominent ones include:

The partnership between Ioniqa and Unilever was announced in April 2018. It aims to convert PET waste back into virgin grade material for use in food packaging. This partnership was strengthened when in April 2018, Indorama Ventures, the largest global producer of PET resin, joined them.
In December 2020, Coca-Cola announced a new agreement with Ioniqa extending a loan to facilitate the development of Ioniqa's proprietary technology to produce high-grade, recycled PET content from hard-to-recycle PET waste.
2. Loop Industries
Loop Industries was founded in Canada in 2014. Since then they have progressed from a startup to a publicly listed company.
Our research shows that their proprietary technology is focused on improving Glycolysis and Hydrolysis while reducing cost and contamination in the recycling process.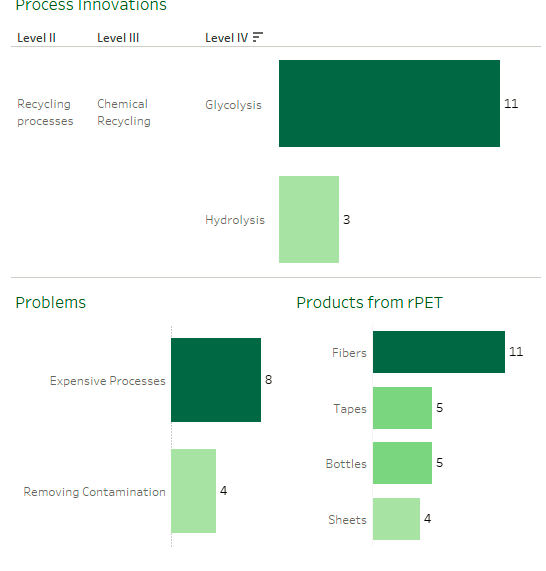 Loop's depolymerization technology breaks down the PET (polyethylene terephthalate) plastic and polyester fiber waste into their base building blocks, dimethyl terephthalate (DMT) and monoethylene glycol (MEG), using low heat and no added pressure. These DMT and MEG monomers are then purified and polymerized (or re-combined) into Loop™ branded PET plastic and polyester fiber. The end product is made from 100% recycled content. And this can be used to make food-grade packaging — like the kind used to make water bottles.
They claim that since their technology removes dyes, additives, contaminants, as well as other plastics; Loop can handle ALL types of PET plastic and polyester fiber waste.
Partnerships

Loop Industries and SK Global Chemical Co. Ltd. ("SKGC"), a subsidiary of South Korea's SK Group, announced a partnership where SKGC owns 10 percent of Loop's common shares.
This strategic partnership between the companies intends to accelerate the commercialization of Loop's technology throughout Asia. To supply global CPG brand companies with virgin quality PET resin and polyester fiber made from 100% recycled material. 
The first facility in Ulsan, South Korea, is expected to begin preparations in 2022. The joint venture intends to build a minimum of four facilities by 2030. Combined, these facilities are expected to process approximately 400,000 tons of PET plastic and polyester fiber waste annually.
3. Gr3n SAGL
Gr3n SAGL was founded in 2013. Our analysis indicates that they are working on chemical recycling using hydrolysis.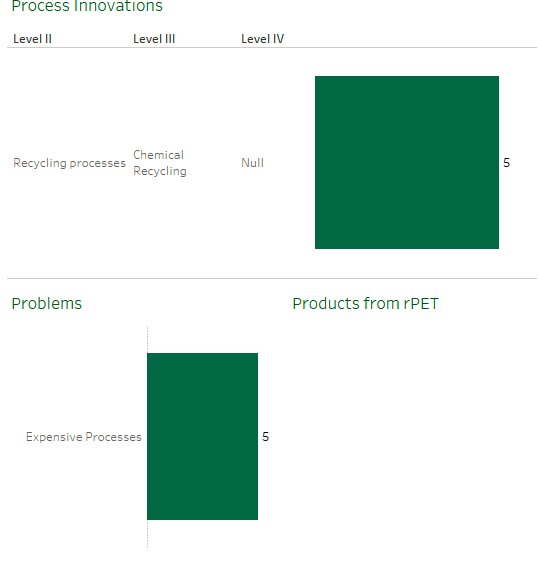 According to their recent patent application (WO2021094949A1), they have discovered a new route for chemical recycling using hydrolysis. This innovative process is based on a new application of microwave technology to a chemical reaction which provides an economically efficient chemical recycling process of PET (Polyethylene Terephthalate) and allows an industrial implementation of this recycling method.
They call this new route of chemical depolymerization DEMETO.
This new process can change how PET is recycled worldwide with huge financial benefits for the recycling industry. 
"The process can be then repeated an unlimited number of times, without any degradation or side effects: every time we are depolymerizing, we are practically "erasing" the history of that polymer and of its physical and this approach allows us to remove impurities like dyes and colorants, leading to perfectly clear recycled PET."
The input materials for the process can be post-consumer and/or post-industrial polyesters both from bottles (colored, colorless, transparent, opaque) and textile (100% polyester but also with up to 30% of other materials like PU, cotton, polyether-polyurea, etc.).
Furthermore, polymers obtained using these monomers can be used to produce new bottles/trays and/or new garments. Without using any material from fossil fuels, as it works like completely new material. It means they can do bottle to textile, textile to textile, or even textile to bottle. Moving from a linear to a circular approach.
Partnerships

GR3N has received €7.5 million from Chevron and Standex to bring plastic recycling to market. Due to the immense potential of the process, companies are adopting it.
Furthermore, Gr3n has recently signed a Memorandum of Understanding with Kolon Industries, a Korean chemical, and textile manufacturing company. The strategic partnership between the companies will accelerate the commercialization and the implementation of gr3n's technology throughout Asia, and expand Kolon's eco-friendly plastic business.
4. Worn Again Ltd.
Worn Again is a  London-based startup founded in 2005 by Cyndi Rhoades. The name 'Worn Again' indicates a vision for eradicating textile waste.
During the analysis, we captured that they focused on recycling using solvent purification technology. They are innovating processes to reduce contamination and cost while producing from recycled PET.
They are focused on solving the challenging issue of converting polyester and polycotton blended textiles, and PET plastic, at their end of use, back into circular raw materials.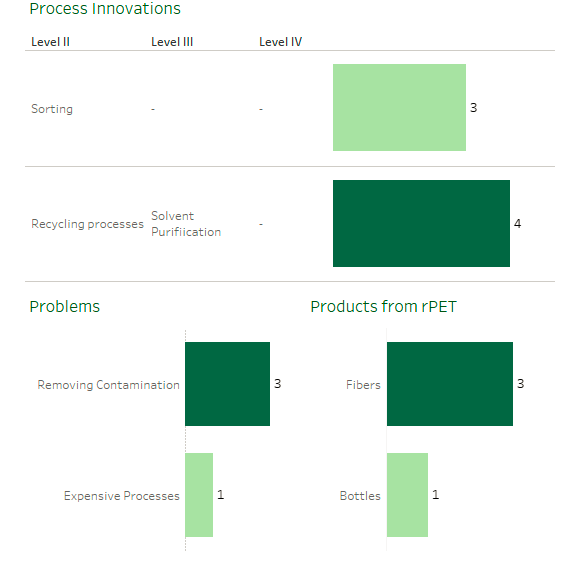 Using their patented technology, they can separate, decontaminate and extract polyester and cellulose (from cotton) from non-reusable textiles and polyester bottles and packaging to produce dual PET and cellulose outputs. Therefore, putting sustainable resources back into production supply chains.
Their technology seems to be backed by many partners.
Partnerships
5. Vartega Inc.
Vartega is a technology development company founded in 2014. It specializes in the carbon-fiber-reinforced plastic recycling process used in aerospace, automotive, and wind energy.
Carbon fiber-reinforced polymers (CFRPs) are composite materials including carbon fibers as reinforcing agents bound in a matrix. Typically a matrix of a plastic composition. 
CFRPs are used in a variety of consumer and industrial products. 
A high cost of virgin carbon fibers of industrial or commercial grade limits utilization in a broader range of end-user applications. This includes limiting broader use in the automotive and transportation sectors where there is significant potential for expanded use.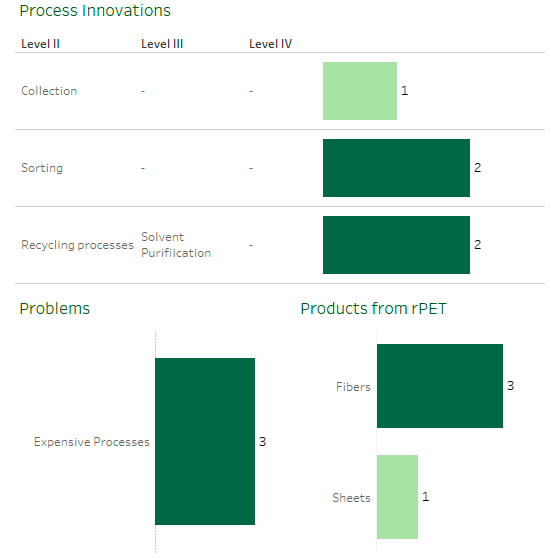 One very large recycling challenge that's gained a lot of press attention recently, is end-of-life composite blades from wind turbines. 
Media outlets, including NPR, the BBC, and Bloomberg Green, have carried stories about the very limited options that currently exist for recycling these giant composite components. 
A Bloomberg article notes that in the U.S. alone about 8,000 of these blades will be removed from service annually for the next four years. And almost all of them are destined for landfills.
Even with the high cost of virgin carbon fibers, significant CFRPs, and carbon fibers, end up as waste. 
It is common in CFRP applications for material trims and scraps waste to amount to about 30% or more of the finished part weight. This waste is often incinerated or sent to a landfill. This results in additional waste disposal costs and a significant loss in raw material value. 
Attempts are being made to process this waste to recover carbon fibers for recycling. 
However, effectively freeing carbon fibers for recovery from the CFRP matrix has proven difficult. As a result, the recycling process tends to be expensive. And even results in significant degradation of carbon fiber properties. This significantly limits the utility of recycling as a source of carbon fibers for a range of possible applications.
Our analysis shows that Vartega has patented technology for recycling them using solvent purification while reducing the costs involved. 
They have developed a low-cost grade of carbon fiber through the use of its patented recycling process. This grade has mechanical properties similar to virgin material.
The company's recycled fibers are used in broad-ranging applications including nonwoven fabrics, thermoplastic pellets, and 3D printing filaments.
Vartega has been announced the winner of the annual Re|focus Sustainability Innovation Awards by the Plastics Industry Association (plastics).
Partnerships
Aditya Birla Group Advanced Materials and Vartega recently signed an MoU to recycle and develop downstream applications for composite products based on Aditya Birla's patented Recyclamine® Technology. The partnership aims to create an ecosystem of recycling & recycled epoxy-based thermoset products employing the technology.
Conclusion
These startups are just the tip of the iceberg. The patent analysis we conducted on PET recycling covers a lot more companies, startups, and universities working on various solutions that can change the scenario of PET recycling. In the analysis, you'll find-
A preview of the technical solutions developed by these companies
Their development levels
Various problems these companies are trying to solve
The products that are being developed with recycled PET.
Interested? Check it out.
Have questions you'd like us to answer?