How is Nestle using AI in the Food Industry?
If you are working in the food industry you might be witnessing the increasing competition and demand first hand. To maintain the edge, companies, including the industry giants, are encouragingly adopting artificial intelligence in innovative ways. Nestle is one such company.
To see the impact Artificial Intelligence is creating on the food industry we decided to dig deeper into Nestle's innovations. We found that the patent innovations filed by Nestle in the domain of artificial intelligence is continuously increasing.
So, to get a fair idea of how AI technology will disrupt the food industry we looked into Nestle's latest innovations.
Stay with me as I uncover how Nestle is leveraging AI to stay ahead of the competition.
Areas in which Nestle is using artificial intelligence
Customer engagement: 
Nestle has launched an AI-powered tool, Cookie coach, which helps in engaging its customer base by sharing recipes and baking instructions for making Nestle's toll house cookies.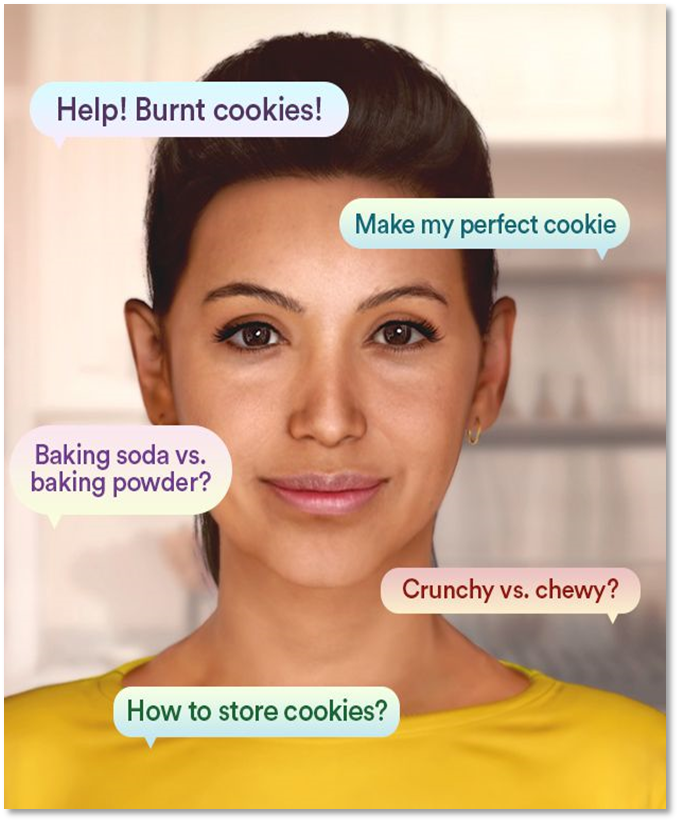 During the pandemic, Nestle received numerous calls to its helpline center asking for troubleshooting problems associated with baking recipes for their popular toll house cookies.
Orchid Bertelsen, head of digital innovation and transformation at Nestle USA, said that 70% of their inquiries received at consumer engagement call centers were related to troubleshooting Nestle Toll House cookie recipe 3. A similar trend was observed on their website as well.
This is when Nestle decided to launch an AI-assisted cookie coach, named Ruth. Ruth is a virtual bot that provides answers to queries regarding Nestle's Toll House chocolate chip cookie recipe. This AI-powered coach is named "Ruth" after Ruth Wakefield, inventor of the signature Toll House chocolate chip cookies.
AI-assisted personalized diet recommendation: 
Our research suggests that Nestle Health Science might integrate AI-assisted personalized diet-recommending methods in its existing portfolio of clinician tools.
Nestle has filed patents focusing on using artificial intelligence for recommending personalized dietary requirements to different audiences using various parameters such as carbohydrate-active enzyme levels, dietary and lifestyle activities, etc.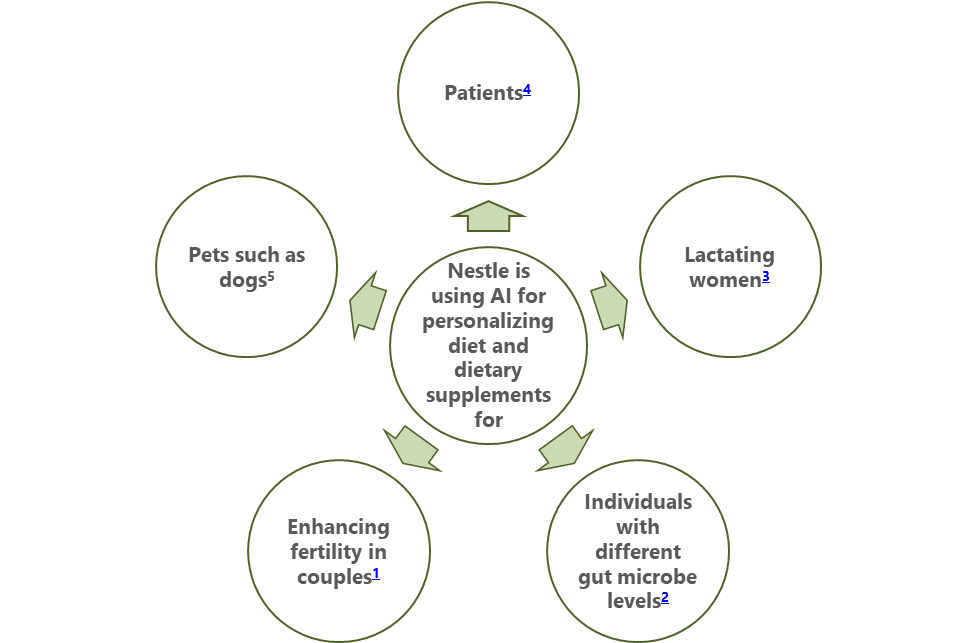 Nestle Health Science offers various nutrient supplements such as Boost women, compleat original, etc to cater to different audiences. They also offer methods and information for clinician tools that can be used by healthcare practitioners to recommend these products. 
For example, MNA is a validated nutrition screening and assessment tool that can identify elderly patients (age 65 and above) who are malnourished or at risk of malnutrition. MNA uses a questionnaire model to collect user information and then, supplements can be recommended by healthcare practitioners, based on user responses to those questions.
Artificial intelligence patents filed by Nestle
Nestle's recent patents such as WO'475, WO'278, etc are focussed on methods and systems for recommending personalized diet and/or dietary supplements using the same questionnaire model with additional use of machine learning and artificial intelligence. The AI algorithm is used to analyze user responses and generate dietary recommendations.
Therefore, it is likely that Nestle is planning to integrate artificial intelligence into its existing set of clinician tools for personalized dietary recommendations.
Along similar lines, Nestle might be launching an AI-assisted application for personalizing recommendations for dietary supplements such as collagen supplements. By collaborating with other startups in the domain.
The collaboration of Nestle and Vital Proteins

Nestlé Health Science (NHSc) acquired Vital Proteins in 2020. Kurt Seidensticker found Vital Proteins was in 2013. Vital proteins manufacture and retail health supplement products. The Company offers nutritional, protein, and vitamin products for digestion, fitness, joint health, energy, and personal care1. Nestlé's support will help vital proteins to leverage new resources, scale, and capabilities.
In 2020, Nestle filed a patent focusing on building an application interface for assessing a nutritional need and/or nutrient level (e.g., collagen level) in association with Kurt Seidensticker (as the inventor). The application will assess the nutrient level of the user on the basis of user attributes such as weight, height, gender, health goal, etc. After the assessment, the algorithm will generate a  dietary recommendation and/or supplementary products for the user. The product can be collagen-infused edible products, such as collagen peptide powders, collaged-base additives for beverages, and collagen-infused water. These types of products are manufactured and sold by vital proteins. Hence, there is a high possibility for Nestle to launch this application in the near future.
Conclusion
Food industrialists have realized AI can help them increase profits and explore new ways to reach and serve consumers. 
As a result, the food industry has successfully deployed AI for applications such as sorting fresh produce, managing supply chains, food safety compliance monitoring, effective cleaning-in-place systems, anticipating consumer preference, and new product development with greater efficiency and savings on time and resources 2. 
Nestle is one example. Food giants from across the world are transforming their businesses using AI. For example, Pepsico is using an AI-assisted tool, known as tastewise. This tool has helped their R&D team to develop a snack incorporated with seaweed (seaweed crisp) which gained good customer acceptance, But that's a story for another day. 
With Intelligent automation and artificial intelligence, the food industry will see a complete transformation. And we'll be here watching it happen.
Want to stay updated with the latest trends of AI in the food industry?
Authored By: Vanshika Sood, Patent Analytics
Edited By: Nidhi, Marketing