Metaverse Applications: Various Industries to Utilize its Benefits
The world was yet to get familiar with web2 when web3 hit the news. Our observations point towards the boom of user-friendly and highly secure technologies in the coming future. One such technology is augmented reality, more popularly called – "The Metaverse". Sounds like the crossover of Marvel-DC Universes, right?
Well, let's dig deeper.
With the progress in Augmented Reality (AR) technology, the onset of the 5G technology, and the integration of blockchain (NFTs and crypto-currency) with the metaverse, the boom of the virtual world is just around the corner. 
According to a Forbes report, the Metaverse market is set to grow at a CAGR of about 44% reaching $872 Billion by 2028. People are betting big on metaverse companies and start-ups.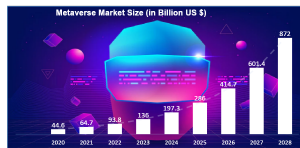 (Metaverse Market Size Forecast)
However, despite the hype, do you also have this feeling that this technology is lacking some impact? Do you think it's absurd to buy real estate in an augmented world with real money? If yes, this is going to change your mind. How? Let's move further and find out!
The basic idea behind the metaverse is to create an immersive environment in the virtual domain, but the chemical "X" is missing from our sight. This chemical "X" connects the concept of the metaverse with real-life problems and shows how it can be the solution.
Chemical "X" is the impact factor. Technology is embraced temporarily based on its innovative and instant pleasure, but it sustains only by its long-term and useful impact that can help society. That being said, we consider metaverse as a technology that is not only meant to take our kids to a virtual Disneyland or to have a better-feel video calling experience. We, rather, believe that the metaverse is a tool to solve global problems and has a much greater impact on humanity.
The application areas of Metaverse are put on the leagues with AI and Blockchain. Metaverse, due to its several benefits, is impacting various industries and sectors. Even different startups are utilizing the tech to solve industries' challenges.
Let's take a look at Metaverse applications and startups working on these applications:
Metaverse Applications in Healthcare-
Did you know that over 250,000 deaths per year in the U.S. are due to medical errors? Further, 1 in 20 of all patients are victims of preventable medical errors with 12% of them ending up with permanent disabilities or losing their lives to such errors! A grave situation, indeed. (Source1, Source2)
You may think, what does any of this have anything to do with the Metaverse? Well, the following start-ups are attempting to harness the capabilities of metaverse platforms and solve such pressing problems in the healthcare industry.
8Chili

8Chili's metaverse platform, HintVRTM provides immersive support to the stakeholders during pre-surgery and post-surgery phases as well as training for a medical procedure. Founded in 2019, the startup is headquartered in Emeryville, California. 
Following are the highlights of this startup:
The platform helps

surgeons pre-plan for every complication by providing an accurate 3D reconstruction of the patient's body from CT scans and MRI image data.

 

After the operation, experts can guide the patients through their recovery phase with physiotherapy, anxiety/stress relief, sleep assistance, and so on. 

Further, trainee surgeons can

participate in simulation-based surgeries and practice alongside specialists, think virtual teleportation!

The medical acumen of the students can be enhanced through 3D lectures that help them work on interactive scenarios and case studies while learning (

Source

). 

Wondering how 8Chili does this? The answer, as always, is in the patent.
8Chilli has patented (

WO2021174172A1

),

this technology that allows for an AR device for 3D simulation using two sets of cameras, one for

depth perception

and the other for

visual perception

.

It describes a surgical navigation system that connects an AR device in a live location with another in a remote geographical location and superimposes the live image with the fixed medical image. 
The

superimposition results in a fusion of digital image data with the real-time view of the object

, where the real-time view is dynamic while the digital image data stays affixed.

So, the surgeon has a constant reference source while performing the surgery.

This system can eliminate the risks associated with a human error during a surgical procedure.
Well, this breakthrough technology has not gone unnoticed. It caught the eye of Apollo Hospitals Groups. The start-up recently tied up with Apollo Hospitals Group to provide patient engagement in the metaverse. This has opened doors for other players in the healthcare industry to tap into the opportunities that web3 brings. 
Impressive? Or, should we say, impactful? Well, let's check out another one in the domain to further highlight how the metaverse can make healthcare safer and more effective than ever before!
AnyMedi

This South Korea-based start-up aims to eliminate the uncertainty associated with medical procedures by innovating solutions in the MedTech domain. They have various patented technological solutions for surgical planning and implant manufacturing. To eliminate the risks associated with surgical procedures, they rendered a 3D model of the patient's organ. The surgery team can study, plan and test the procedure, and visualize every possibility. By personalizing medical solutions for each patient, treatment can be targeted and made more effective. (Source)
Starting as a part of South Korea's largest hospital chain, Asan Medical Center, AnyMedi established itself as an independent start-up in 2017, after a spin-off. It is presently headquartered in Songpadong. Harnessing the power of AR-VR and robotics, AnyMedi offers MedTech solutions across three verticals- implants, surgical guides, and simulators.

AnyMedi has 27 patented innovations in the field of surgical implants, guides, and simulators.
Their innovations bring life to the concept of

"Precision Medicine".

They focus on the

analysis of patients' genomic information, treatment, and clinical information to provide customized medical services tailored to the patient's characteristics.
This can help in making surgical procedures predictable and well-planned, and eliminating any form of uncertainty. 

For example, in one of their patents,

WO2022025653A1

, the innovation seeks to make Rhinoplasty surgeries safer and more accurate.

They suggest the use of a surgical guide for preventing the chances of human errors in surgery.
Similarly, another patented technology solution,

KR102273150B1

, describes the process of creating

 a surgical implant by using the patient's image data and virtual post-surgery appearance data. 
Apart from these, the company offers

3D simulators for over 200 procedures, ranging from cosmetic surgeries to advanced cancer procedures

. The surgeons can use the 3D displays it offers to perform image-guided surgeries, bringing on live expert advice to tackle any surgical situation.
In 2020, Anymedi launched "

innofit

", a platform where cosmetic implants can be designed virtually (

Source

).
Future of Metaverse applications in Healthcare
While 8Chili and AnyMedi have worked on making surgeries safer and improving patient care, as well as making healthcare training more immersive, the global healthcare market is brimming with potential. 
The Global Healthcare and Medical Simulation Market is expected to grow at a CAGR of 14.3% from 2021-to 2027. North America happens to be the largest market for Medical simulation with 35% of the global market share, followed by Europe with 29% of the market share. 
Medical companies are increasing their reliance on technological solutions to overcome present challenges. 
Like telemedicine revolutionized the access to healthcare, making it possible for remotest parts of the world to receive consultation from a specialist sitting thousands of miles away in their clinic, we have metaverse illuminating the path to robotic and remote surgery, immersive training, personalized treatment, and pre/post-op planning. As the medical industry is bound to undergo a heavy technological transformation, an early entrant will have an advantage. (Source)
Metaverse Applications in Banking and Asset Management
Remember standing in the long queues at the bank, waiting for hours to open an account? ensuring twice that you have carried all the required documents before leaving home, and then filing an endless number of forms? Well, thanks to the metaverse, you can now open bank accounts from the comfort of your home, and that too in 1/10th of the time required in the conventional process. 
But, how? Well, let's talk about Sign-wait for it-zy.
Signzy

Signzy was founded in the year 2015 to make banking simpler. It is headquartered in Bengaluru, Karnataka. While the company provides various no-code AI platforms to NBFCs as well as banks, the VR-based onboarding technology has proved to be the most disruptive of all. It claims to reduce the turnaround time by 90% and lower the cost associated with the onboarding procedure by 80%. Further, it has led to a 60% reduction in customer drop-offs, resulting in 3 times more productivity in institutions that have integrated the system. (Source)

Let us look at the technology behind Signzy's virtual customer onboarding platform!
They have patented a computer system that comprises a memory unit that stores instructions and one or more processors to execute them. 

The system takes three sets of inputs, all in real-time.

The first set is about the environment of the institution.

The second is about architectural information.

The third one corresponds to financial services.

The platform's visual interface is constructed by mapping the three data sets mentioned before.

The platform enables various stakeholders including the user, to interact and navigate through it in a customized 3D virtual space that it constructs.

 A unique feature of this platform is that it supports metaverse currencies and financial instruments such as cryptocurrencies, thus enabling decentralized banking. 

In 2022, Signzy was granted a US patent (

US11270509B2

),

for the new customer signup and onboarding platform in the metaverse, using Virtual and Augmented Reality. 
Interestingly, Signzy has also filed a patent (US20220027444A1) in the USPTO that claims a biometric-based real-time user authentication. The automated security system proposes the use of real-time audio and video feeds to verify the user's identity. It analyses various gestures and body movements in real-time with stored data of all the users to provide a one-stop authentication service. Looks like somebody's preparing for the transition from digital to decentralized banking!

Signzy has hooked 12 investors with its promising platform. It has net funding of $12.6M from 12 investors. (Source)
To add up, here's a look at Signzy's achievements over the past 2 years!

Future of Metaverse applications in Digital Banking
As per the reports of Business Wire, the global market for Digital Banking is estimated at US$12.1 Billion in the year 2020. It is projected to reach a revised size of US$30.1 Billion by 2026, growing at a CAGR of 15.7% over the analysis period. What does this mean? Well, if you're in the banking industry, gear up to ride the web3 wave. (Source)
Now, before we move on to the next startup, I have a question for you, What if one could carry all the gold they had in their pockets? 
Confused?
Well, that is what the founders of ZenGold thought, and voila! They came up with a way to carry gold in one's pockets without the risk of theft.
ZenGold 

ZenGold, claiming to be the first public blockchain in China, ensures the security of Gold assets through blockchain technology, creating digital identities for credit rating systems and enabling decentralized trading. It provides technical support via metaverse. The app allows 24/7 trading irrespective of the place, has gold purchasing options starting as low as 1 CNY, and users can track gold prices in real-time, all without any fees. It was founded in 2017 and is headquartered in Suzhou, Jiangsu, China. (Source, Source)

But how does ZenGold work?
Well, let us understand this through an analogy. What bitcoin is to fiat currency; ZenGold is to Gold Bonds.
ZenGold digitizes physical gold.
It uses blockchain technology for this process.

There is a professional auditing process to determine asset quality.

Once passed, assay certificates are issued.

So, every ZenGold token is linked to some unique physical gold asset in the real world.

ZenGold has the same ability as physical gold to work as a store of value.

The ZenGold token holders are at a double advantage- holding gold as a tokenized digital asset and also having it linked to a unique physical asset in the real world. 
(Source)
So, when people decide whether to buy gold or invest in crypto, you know the secret to doing both at once!

ZenGold has got a big investor – Samsung!
Zengold has a funding of $4M with 3 investors that hold minority shares. (Source)
Samsung Electronics

Benson Oak ventures

Elron electronic industries
Future of Metaverse applications in Blockchain and Digital Banking
According to a Bloomberg report, the digital asset management market size will be worth $ 13.94 Billion, globally, by 2028 at 17.67% CAGR (Source). There is a growing interest in owning and investing in digital assets among consumers. With the increasing digital literacy and willingness to invest, there is immense potential in this market. While there are uncountable investment options in the conventional currency domain, the investment scope in the crypto-currency market is brimming with innovation potential. (Source).
Metaverse Applications in Marketing and Analytics
Have you wondered what marketing on a decentralized web would be like? We have seen the role that Google Analytics plays in the domain of advertising and marketing. Let us have a look at a start-up that seeks to be the "Google Analytics" of web3.
Cookie3

Cookie3 released a light paper in 2022 declaring their vision to be the "google analytics" of the metaverse and web3. Headquartered in Tallin, Estonia, this startup was founded in 2021. They work in the field of behavior analytics on the blockchain. The system interprets an individual's wallet history and profiles them based on their consumer behavior. 
The company has launched an ad targeting engine for the Metaverse in 2022. By translating Metaverse transactions between users into profiles based on behavior, it can be used for precise targeting of ads, and marketing campaigns. (Source, Source)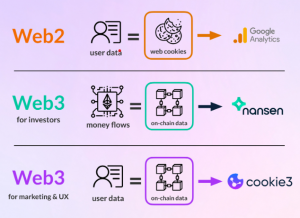 At present, Cookie3 offers the following services
Web3 personalization

Behavior Reverse Oracle

Web2-Web3 linkage: matching on-chain and off-chain data without compromising an individual's privacy.

Behavioral scoring: Determining valuable customers and investors.

Precise Targeting: For laser-precise targeting in metaverse platforms and apps.

Wallet book- This is an upcoming feature that holds significant promise.
(Source)
You may soon see targeted advertisements on metaverse platforms!
Cookie3 has announced a strategic partnership with Adshares web3 advertising protocol in 2022 to offer the first-of-its-kind targeted advertising platform in the metaverse (Source). 
Besides Adshares, cookie3 has several other partners as well. 

Future of Metaverse applications in Behaviors Analytics in Web3
The Global Behavioural Analytics Market is expected to grow at a CAGR of more than 40% during the period 2021-26. The advancement of Internet of Things (IoT) technology and the sudden increase in metaverse platforms have led to a potential marketing platform in web3. Along with this, behavior analytics can help in fraud detection and profiling of cybercriminals, and address some pressing security concerns as well. (Source)
Metaverse Applications in Automotive Industry
There are various automobile start-ups that are using metaverse, especially in the automobile infotainment domain. As technology makes self-driving cars more viable, the time spent on the ride becomes available for content consumption. Let us check out Holoride, which seeks to cater to the upcoming need for drive-time infotainment.
Holoride

Holoride facilitates the conversion of car rides into a VR-based theme park. The platform uses feedback from vehicle data in real-time to provide seamless Extended Reality-based media content to the user. Their content is "elastic", i.e., it adapts to the ride according to the distance, driving style, and speed. The platform claims to help users overcome motion sickness. Holoride was founded in 2018 and is headquartered in Munich, Germany. It was initially incubated by Faculty Group and Economy Partners.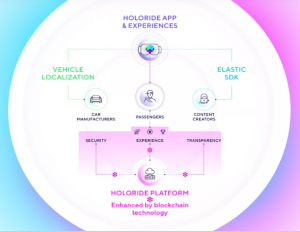 In November 2021, Holoride launched its token, "RIDE", on Maiar Launchpad to incentivize holoride usage with additional benefits and enhanced user engagement (Source, Source). 
Holoride has an impressive list of collaborators, with names such as – Audi, Porsche, and Schell Games featuring in it.

Audi has partnered with Holoride to become the world's first automobile company to incorporate VR-based in-car entertainment in their models from June 2022 onwards,

where passengers will be able to access interactive games and videos through VR glasses. (

Source

).

Porsche

and

Schell Games

are some other partners of Holoride.

Holoride has a funding of $12M from four investors- Vendetta Capital, Woodstock




Fund, TerraNet, and Skynet Trading. (

Source

)
Well, on digging deeper, we found that Holoride has its roots in Audi!
 Interestingly, the CTO and Co-founder of Holoride, Daniel Profendiner, is also a developer in the immersive technologies department at Audi. The CEO, Nils Wollny, and the CXO, Marcus Kühne, previously worked with Audi. (Source)
Future of Metaverse applications in the Automotive Industry
According to Markets and Markets predictions, the global automotive motors market size is projected to grow from USD 20.3 billion in 2020 to USD 25.7 billion by 2025, at a CAGR of 4.8%. With advancements in self-driving cars, there will be plenty of time in the hands of the passengers and drivers during the rides! With that emerges the potential for metaverse-based technologies to fill the gap. (Source)
Metaverse Applications in Fashion
Fashion metaverses are proving to be a marketing sensation! To create a demand before the supply, they are releasing the products as NFTs on the metaverse platforms. So, by the time the product reaches the shelves, there is a queue waiting to buy already. Apart from a great marketing gimmick, metaverse has the potential to optimize the supply chain by facilitating and enhancing the trial experience and preventing a mismatch between the expected size/color and the actual product. This would reduce the number of returns and refunds, contributing to higher consumer satisfaction. So, we may soon be able to put on our VR glasses and try on the latest ZARA collection right at our home!
Space Runners

Space Runners claims to have created the first fashion metaverse – Spaceverse, bringing community, brands, and celebrities together. It was founded in 2021 and has its headquarters in Greater Houston Area, Southern U.S.
It serves as a fashion brand in the metaverse, focussing on cross-chain and interoperable fashion items. Any web3 game and metaverse can plugin these items. Several popular websites have featured this platform including– Forbes, Insider, Coindesk, The Block, Decrypt, Bloomberg, Yahoo Finance, Cointelegraph, Hypebeast, NICE KLICKS, Investing.com, etc. (Source)
Being the first of many fashion metaverses to come, Space Runners seems to have tapped into the opportunity at the right time. It has raised funds of $10M from 6 investors including Accel and Pantera Capital. (Source)
Future of Metaverse applications in Fashion
McKinsey has listed Metaverse as one of the top 10 trends in the fashion industry for 2022. The global fast fashion market is expected to reach $39.84 billion in 2025 at a CAGR of 7%. Most e-commerce websites are transitioning to virtual trial rooms and many brands are launching NFTs on metaverse platforms. So, it has become important for fashion brands to harness this technology to stay in the competition as the shopping experience is shifting from markets to our homes. (Source, Source)
Metaverse Applications in Education
The focus on skill-based learning is on the rise, with the hiring trend tilting towards work experience and skill-match-based profiling. Gone are the days when degrees were the key to climbing the professional ladder. The recent pandemic caused disruptions in the worldwide education system and accelerated the adaption of digital education. And Metaversity, our final start-up on this list, seeks to take digital education to another level with a metaverse-based campus and social element in their curriculum.
Invact Metaversity (Education Industry)

The education sector is brimming with the potential to incorporate technology. In fact, "Metaversity" which gets its name from an amalgamation of "Metaverse" and "University", has started a 16-week MBA-like management program in the realm of the metaverse. It seeks to bring work-proof-based learning experience right to the students' tabletops while ensuring that they get the "real" rather than mere reel experience. It boasts of an employability-centered curriculum that prepares an individual for skills required for general management, marketing, and product management roles in start-ups. (Source)
Invact Metaversity, headquartered in Bengaluru (India), was founded in 2021 by the former head of Twitter India, Manish Maheshwari. 

The platform uses the metaverse and decentralized web for its immersive management training program. Students would be able to experience social interactions and explore the virtual campus using their avatars. This platform seeks to overcome the lack of a social interface that most online education platforms suffer from.

Metaversity has already captured the attention of over 84 investors!
The start-up has total funding of $5M and 14 investors including 2 am VC and Arkam Ventures. Apart from that, Metaversity also has funding from over 70 individual investors, including the former CTO of Coinbase, Balaji Srinivasan, Zerodha founder, Nithin Kamath, and the founder of Snapdeal, Kunal Bahl. (Source)
Future of Metaverse applications in Education
The digital education market is expected to grow from USD 11.5 billion in 2021 to USD 46.7 billion by 2026, with a CAGR of 32.3% during the forecast period. 
Education, being one of the most crucial factors decisive of a population's productivity, will always have significance. In recent years, interest in digital education has increased substantially. Like healthcare, the problem of accessibility looms large over this industry. But with breakthrough technologies such as metaverse platforms, there is tremendous potential waiting to be tapped into. While it was impossible to study medicine remotely, the near future seems to be more accommodating. (Source)
Conclusion
After looking at the following start-ups, it is quite evident that the metaverse can be a game-changing technology. More start-ups are there in the metaverse space that are working on solving real-life problems such as – crime scene simulation to improve the judiciary's decision-making, surgery training without involving real bodies, and even clinical trials without harming animals using AR simulation. These innovations, efforts, and strategies undertaken by new ventures, when supported by major investment firms and government initiatives, are expected to create life-changing impacts in the coming time. 
Remember, that nobody believed in Apple, Facebook, and Google during the 90s. They were just viewed as some silly dot-com ventures. As of today, they have not only revolutionized the world but also created some of the top tech-based and venture billionaires in the world. 
Similarly, we believe that the metaverse is going to have a bright outlook in the coming future. The startups, big techs, and even venture capital firms that are investing in the AR world today would likely produce the billionaires and trillion-dollar giants of tomorrow.
Want to know more about the innovation, strategies, and business happening in the metaverse? We can help you form an accurate roadmap for your metaverse venture.
Author: Prachi Jaiswal and Sarvagya Saxena,