IoT Market Research – Everything You Want to Know at One Place
In the early 2000s, companies with business models entwined with the internet saw their stock prices collapse. As a result, businesses and students started to believe that the computer industry was a mature business of decreasing opportunity. But Bill Gates thought otherwise –
"If you invent a breakthrough in artificial intelligence, so machines can learn, that is worth 10 Microsofts."

-Mr. Gates, on his visit to a series of universities in 2004. 
Just one Microsoft made Gates the wealthiest person in the United States. Imagine the potential of 10 Microsofts!
But what is this breakthrough, are we anywhere near to it?
Well, the Internet of things is the closest we are. The IoT industry is touted as the "most important tech sector of this decade". Countless companies and startups are continuously investing in this industry. In fact, the domain witnessed revenues in the range of 100 Billion USD in 2017, and the industry is expected to reach 1.6 Trillion Dollars in revenue by 2025 despite the ongoing pandemic.
Looking at the numbers, you would surely want a slice of this industry. But the question to be answered is – "Should you really be venturing into it and if yes, what are the opportunity areas in IoT?"
You'll find the answer to this question and several others in the back of your mind within the length of this article to help you arrive at a decision. This includes information and insights like Market size and growth, key drivers and market challenges, technical challenges and the solutions, new technologies, and application areas under the IoT umbrella. 
Intrigued? Let's take a deep dive. 
Who will need to Invest in IoT and Why? 
Looking at the bigger picture, IoT is beneficial not just for consumers but also for corporations and governments. 
IoT will help connect billions of devices which — other than improving consumer's lifestyles — will help companies to become more efficient as connected systems can save operational costs and increase revenues and assets. 
Further, governments could leverage IoT for public sector services, infrastructure, and enhanced livability and safety. 
Moreover, consumer needs are seeing new trends thus changing the entire product or service cycle including production, marketing, sales, operations, and supply chains.
The changing needs and behavior of customers are nudging companies to drive optimization, innovation, and transformation into their operations. Buyers are shifting from being just consumers to prosumers. The dividing line between consumers and providers is diminishing as large consumers are trying to create their own offerings.
This is where the opportunity areas lie for IoT. 
IoT Opportunities for Companies
IoT can help companies get real-time data to define strategic actions for better production and service. With insights, the communication gets better which helps operational management in understanding customers' behavior. Personalizing communication with customers would increase satisfaction as companies would know the problems being faced by their customers on a personal level. 
IoT can provide a secure environment to host digital data. Companies can offer safety to their customers with layers of digital security in customer service.
The IoT sensors could foretell problems before they occur, thus companies can offer customer support by identifying and solving the problems even before they arise. 
Moreover, data provided by IoT from the usage of products can be used to produce new products or features that customers desire. Smart homes, offices, cities, and government could result in more consumer satisfaction. 
IoT Impact
Every person nowadays is somehow connected to the digital world. So, a data trail should be left by anything whether it is a product, process, place, or person. The data can be tracked, shared, combined, mixed, and analyzed for a better understanding of what consumers want, what they need, how to offer them, and how much they are willing to pay for it. 
Further, the data collected from multiple devices can give us actionable insights that can help design a new product or include a new feature in old products. The way a consumer experiences the world lets companies know whether they are part of the western demographic or the burgeoning middle class in an emerging economy. 
Also, IoT's ability to make the environment cleaner, productive, and efficient by reducing waste and costs makes it one of the most favorable technologies of the current times. The potential it holds is far greater than what we have seen which makes it most exciting. 
Industries
Industry 4.0 and the ensuing wave of digital transformations drive significant demand for IoT capabilities across a broad spectrum of the industry. IoT is a substantial driver of spending within the enterprise/industrial sector. This enables companies to increase efficiency by saving money and resources.
IoT Opportunity areas
Smart Products: Enable products to self-process, store data, communicate and interact within the industrial ecosystem, describe their status and lifecycle history, and are capable of computing algorithms and Machine Learning.
Smart Equipment and Devices: Equipment uses onboard data, IoT, and soft sensors to measure operating conditions, quality results, faults, and environmental data. This will drive innovation to every industry or business sector from micro-cameras traveling through the human digestive tract to high-precision crop control.
Smart Maintenance: IoT sensors generate data to drive condition-based and predictive maintenance. Future manufacturing plants will be more autonomous in terms of predicting and fixing potential disruptive issues. 
Smart Material: Use of smart labels and radio frequency identification, and self-identifying materials that understand their properties and quality characteristics.
Smart Metrics: The measurements made by the process, material, and equipment help in refining the models of zero-loss operation. Advanced analytics provide actionable data for control during short intervals.
IoT Impact
More data means better decisions 

Ability to track and monitor things 

Increases efficiency by saving money and resources

Lighten the workload with automation
IoT implementation and usage have transformed industries' processes in which they operate, communicate, and utilize data. Especially in manufacturing where the changes have occurred at a rapid pace which now could turn a slow evolving industry at lightning speed. 
IIoT or Industrial Internet of Things is a part of IoT technology whose applications are solely recognized for transforming manufacturing processes. Companies now can take competitive advantage using IIoT applications that benefit impact everything from maintenance to supplier logistics to employee workflows to product delivery. 
IoT helps businesses and industries develop and adapt to the new ecosystem. It will benefit industries by increasing productivity and efficiency while simultaneously reducing operating costs, expanding to new markets, and offering new products and solutions. 
Public Sector
By bringing the major technical and business trends of mobility, automation, and data analytics together, IoT shows the potential to transform the public sector by changing the processes of how government bodies collect data and information. These data and information can further be analyzed by public officials for making better infrastructure and policies. 
IoT Opportunities
Better connect citizens and public entities to deliver high-quality, secure, and responsive services, and resources that improve engagement and trust between governments and the public they serve by increasing livability, workability, and sustainability. 
Reduce congestion and energy use through Smart City technologies that leverage real-time data to improve how officials scale resources to meet demands; and provide the agility to react quickly to fast-changing traffic patterns, variations in water or power usage, or changes to air quality.
Improve operational performance and maintenance by proactively monitoring critical public infrastructure and creating more efficient processes to reduce operating costs and improve system capacity. 
Improve public safety by responding faster and more effectively to emergencies.
Now that we had a look at the opportunity areas, the next question that remains to be answered is: Should you invest your efforts in the IoT domain, and if yes, is this niche worth it? 
Let's find out.
IoT Market Size Indicators
Connected Devices
With more and more devices getting connected to the internet, IoT has become a prevalent system. Even in 2020, despite the Covid-19 pandemic, the number of IoT connections surpassed non-IoT connections. Out of 21.7 billion active connected devices worldwide, 11.7 billion i.e., 54%  of them were  IoT device connections. The number is expected to grow to 30 billion IoT connections by 2025.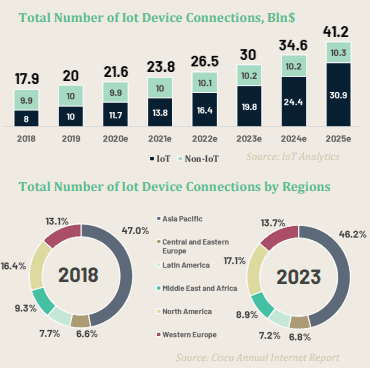 Each year, various new devices in different forms,  factors with increased capabilities, and intelligence are introduced and adopted in the market. 
M2M applications are one of the reasons for fast-growing connections. Smart meters, video surveillance, healthcare monitoring, transportation, and package or asset tracking, are resulting in the growth of IoT devices and connections.
As per the Cisco report, by 2023, M2M connections will be responsible for 50% of the total devices and connections. It is expected to grow at a 19% CAGR from 2018 to 2023 to result in 14 billion connections by the end of 2023. The second-fastest growing devices will be smartphones. 
In M2M connections, connected home appliances will have the largest share while connected vehicles will be the fastest-growing application type. By 2023, connected home appliances will amount to 48% of the total M2M share and connected cars will grow at 30% CAGR during 2018-2023.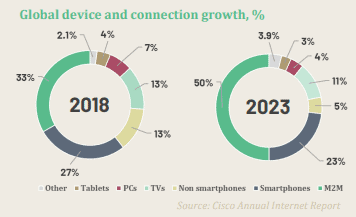 Most IoT connections will be handled by the consumers, i.e 74% while businesses will have a hold of the remaining 26%. However, consumers' share will grow slightly slower, at 9.1% CAGR, compared to the business segment which will grow at 12% CAGR. 
IoT Spending
As per IDC, as of 2020, $742 billion were expected to be spent on IoT technology worldwide. With Covid-19, the year 2020 saw less spending compared to 2019 as hotels, theme parks, casinos, and movie theaters closed for most of 2020. 
But the expectation of IoT spending in double-digital rates in 2021 is highly likely. And by 2023, it is estimated to reach over $1 trillion.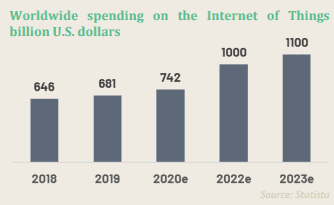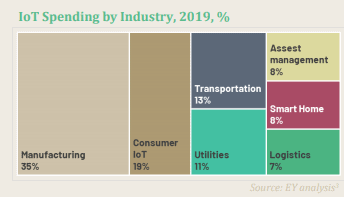 Growth has been seen in IoT spending in some industries, though slow. Discrete manufacturing at 4.3%, resource industries including oil and gas at 5.0%, and transportation at 5.7% manage to spend more on IoT. Healthcare, insurance, and education will deliver the strongest industry gains in IoT spending this year with growth rates of 14.5%, 12.3%, and 11.9% respectively. Consumer spending on IoT solutions will grow 13.9% year over year in 2020.
Spending on IoT use cases follows a similar pattern with spending growth affected by the pandemic's impact on the hosting industry. In 2020, air traffic monitoring and connected oil field exploration saw a decline in spending while manufacturing, production automation, and freight monitoring witnessed the slowest spending growth at 5.6%, 5.2%, and 4.7% respectively. 
On the other hand, electric vehicle charging, bedside telemetry, and remote health monitoring are the use cases where IoT spending rose in 2020.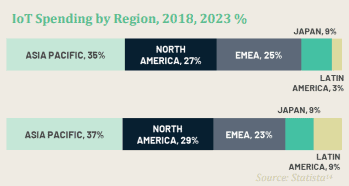 China, the United States, and Japan are the countries with top IoT spending. While China's spending will grow at a faster rate at 13.4% CAGR, the US and Japan will both grow at 9.0% CAGR.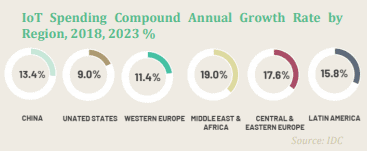 Region-wise, the fastest IoT spending growth will be in the Middle East & Africa (19.0% CAGR), Central & Eastern Europe (17.6% CAGR), and Latin America (15.8% CAGR). 
IoT Investments
As IoT is one of the top futuristic technologies, many big corporations and numerous startups are investing a lot of money and research in it. These companies are working on making smart devices that can connect to other devices via the internet and share information. They are fundamentally altering the way consumers interact with, automate, and control their products. The IoT startups also enable enterprises to derive analytical insights from the vast amount of data collected from connected devices.

IoT-based startups saw a significant jump of 27% in a year as the number of startups grew from 26,792 in 2019 to 34,120+ in 2020 in Crunchbase. IoT startup funding reached $14.1B for the latest calendar quarter according to Venture Scanner. 2020's funding was on par with 2019, at 87% of 2019 total through 2020 Q3. 
The pandemic and resulting economic toll have also presented challenging headwinds for startups. Looking back on Q2 ending funding trends for IoT startups to determine the trajectory of innovation in this emerging technology sector revealed, the number of funding events per quarter has been on a downward trend, with 86 deals closing in Q2.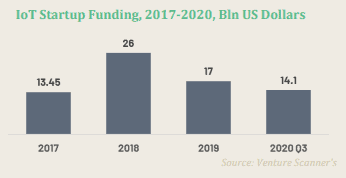 This shows that the new innovations in IoT are in a downward trend as the number of companies with IoT investments declines.
As for the average funding per deal, the trend has been generally flat with an average deal size of $41M in Q2. This implies that the market is somewhat neutral on the traction and growth potential of these IoT startups. The IoT sector is still looking for innovators with 65% of 2020 funding Q3 going into seed and early-stage start-ups.
Largest Funding Event of Q3 2020
ZWIFT | IoT Enabled Sport
Zwift, the global online fitness platform for cyclists and runners, in September 2020 announced a $450 million minority investment led by leading global investment firm KKR, accompanied by other new investors Permira, Amazon Alexa, and others.
Zwift has now raised $620 million altogether and is valued at north of $1 billion.
Since launching in 2015, Zwift has seen over 2.5 million accounts registered across 190 countries, positioning Zwift as a global leader in the at-home connected fitness market.
Global IoT Market Dynamics 
Technology Trends
Digital Twin
Just like the name suggests, Digital Twin is a digital replica of a living or a non-living physical entity including process, people, systems, and even places using real-time data to enable understanding, learning, and reasoning. With IoT and digital twin technologies, digital and physical interactions are changing. IoT connects the digital twins to the physical world and also provides intelligence. The three P's of the physical world – products, processes, and people – captured through IoT sensors makes IoT technology a fundamental requirement of digital twins.
The digital twin market is forecasted to be $16 billion by 2023, and analysts agree IoT will be a cornerstone of this growth.
As per Microsoft's report, the digital twin yet to be recognized by the industry. While 86% of IoT decision-makers say they are aware of the technology, only a third is highly knowledgeable about it. Many Digital Twins projects are still at a nascent stage. 28% of the projects are still at the learning stage and about 50% in PoC. Only 11% have reached the use phase. 
The majority of companies see Digital Twin as an integral part of their IoT solutions. While 39% consider it a core component, 43% think of it as a secondary component. More than 70% of the companies across industries are using Digital Twins in IoT solutions. 80% of Retail companies are using digital twins, compared to 71% of manufacturing companies and 60% of healthcare companies. 
Digital Twin Companies
Polaris
Polaris leverages its design data as part of a broader digital thread with feedback loops throughout the manufacturing process and product life-cycle. This real-world customer and performance data bolster a product lens of Polaris' vehicles while enabling the manufacturer to utilize cutting-edge design capabilities such as simulation and additive manufacturing. 
Value Metrics:
Reducing design and validation process time hastens time-to-market for new products

Better customer experience through improved product performance and fit to customer requirements
Volvo 
Volvo is achieving engineering excellence through implementing a digital thread from design through manufacturing processes. Volvo is now connecting front-line worker processes to the thread, creating an opportunity to produce a twin of quality assurance tasks in its plants.
Value Metrics:
Improving operational effectiveness, and cost savings, while getting closer to 0 Part Per Million (PPM) quality goal.

Updating and validating engine configuration and QA checklist process reduced from more than a day to less than an hour.

Digitization of the QA process is anticipated to save thousands of euros per workstation per year.
Elekta
Elekta unveiled a Connected Field Service program streamlined with digital twins of its customers' deployed equipment to improve customer experience and increase service revenue.
Value Metrics:
Increased equipment uptime and resolved 20% of service issues without dispatching a technician.

Improved customer satisfaction with uninterrupted treatments for more than 14,000 patients in the program's first year.

Improved business agility by optimizing service delivery networks and processes.
Edge Computing
Edge computing is a decentralized computing infrastructure in which computing resources and application services can be distributed along the communication path from the data source to the cloud. Pushing computations and intelligence to the edges reduces the latency of the decision executions thus makes it critical for many industrial and consumer IoT applications.
The global edge computing market size is anticipated to reach USD 43.4 billion by 2027, as per Grand View Research.
As per Microsoft survey, 95% of companies are aware of Edge Computing while 42% claim to know about it. 73% of aware companies use edge computing as a part of their IoT solutions of which 33% consider it as an essential element while 40% see it as a secondary component. 77% of energy companies are currently utilizing it. The industry using it the least is healthcare, at 60%.
Using Edge computing as part of IoT solutions benefits companies with more connectivity and improved automation operations and boosts productivity. Almost 50% of companies say IoT helps them increase the connectivity of old and new devices because it aids in protocol translation. The same number of companies claim that operations are improved because there is no longer a reliance on internet bandwidth. 
Dell | Edge Computing
Dell recently helped a Japanese electronics manufacturer Daihen Corporation, scale their IoT-powered monitoring with an edge analytics solution. Before the deployment, their production process required over 200 manual inspections, occupying 30% of the total production time. After equipping their factory with additional sensors and rolling out a real-time analytics platform, powered by the edge, they saved over 5,000 hours on manual data entry per year.
Formula1 | Edge Computing
Formula 1 is an interesting use case of AI and edge computing. Race cars that aggregate 100 Gigabytes of data per car over a race weekend. There will be "more than 100,000 data points streaming from a single McLaren track car per second." Tire change, safety, and gear change analysis are among some of the decisions that need to be made in real-time by the engineers at the trackside or mission control. Intelligence needs to be pushed to the edges and acted upon at the speed of the race! 
General Electric
Recently GE Healthcare introduced Mural Virtual Care Solution, which aggregates data and monitoring from several systems and allows virtual monitoring through "near real-time data from ventilators, patient monitoring systems, electronic medical records, labs, and other systems." The solution "allows one clinician to monitor several patients at once, supplementing existing monitoring devices in patients' rooms." At its core, it is an intelligent virtual ICU system with tremendous benefits both for the caregivers and patients — monitoring the progress of the patients across geographical distances.
Artificial Intelligence
From its most basic applications of tracking our fitness levels to its wide-reaching potential across industries and urban planning, the growing partnership between AI and the IoT means that a smarter future could occur sooner than we think.
AI is said to be the key to the functioning of IoT systems, especially IIoT systems. To make sense of enormous data streams, powerful AI tools are required to collect these streams and derive insights for making decisions.
As per Microsoft research, companies use AI with IoT for different reasons. Nearly 50% have use cases, while 25% is considering various use cases. 48% of these companies are using AI with IoT for prescriptive maintenance, while 28% are considering using it. Other reasons companies may integrate these technologies include user experience, predictive maintenance, visual image recognition and interpretation, and natural languages and processing. 
Some of the most well-respected minds have predicted full digital integration between humans and computers by the year 2030. Between this and ongoing advances in automation and robotics, up to 40 percent of the current workforce could be replaced by technology within the next 10-15 years. Consider that by 2023:
The IoT will represent 83 percent of the entire AI chipsets market.

The global AI in the embedded IoT devices market will approach $26.2 billion.

The global general AI market will reach $50.8 billion.

More than 50 percent of organizations will leverage AI technology for networking.
Alibaba | AI
ET City Brain, created by Alibaba Cloud, is a complex AI platform solution that optimizes the usage of urban public resources. It has been successfully implemented in Hangzhou, China leading to a decrease in car traffics by 15%. The solution also helps to detect road accidents, illegal parking and supports ambulances to reach their target faster by changing the traffic lights to help it reach the patient faster. It is an outstanding software system that utilizes traffic light cameras from the whole city and based on the output of machine learning models it can determine how traffic lights should be changed.
Tesla | AI
Tesla's autopilot system incorporates GPS, cameras, sonars, and forward-looking radars together with specialized hardware to fully utilize the usage of the data coupled into Neural Networks architecture. It works as a self-enclosed system that gathers the data from sensors and then uses a Neural Network model to help determine what should be the next change in the movement of the car. 
Classroom Monitoring System
While it might raise certain controversy, the system has been already implemented in a high school in Hangzhou, China. The classroom cameras scan the room once per 30 seconds and the algorithm can determine students' emotions (happy, sad, bored, etc.), as well as the behavior of students (reading, writing, raising a hand, etc.). According to the school's vice-principal, the system is managed locally and is focused on the behavior of the whole class rather than a single individual. Here, the data is gathered by the cameras and the image recognition step is performed at the local servers.
Data Analysis – Big Data, Machine Learning
IoT will produce a humongous amount of big data. The data will help in many cases like it can help predict accidents and other mishappenings, give doctors real-time insight into the information, enable productivity through predictive maintenance on equipment and machinery, make smart homes with connected appliances, and provide communication between autonomous vehicles. 
With the increased adoption of IoT solutions, increased data collection and transmission of big data have become a requirement too. Managing and analyzing the data can help bring real added value. Therefore Data analysis, Machine Learning, and AI will play an important role for IoT. Knowledge of analyzing big data is also a key element for efficient management. Therefore, companies are developing solutions to support rising demand. 
UPS | Big Data
UPS has outfitted its massive delivery fleet with sensors that each record about 200 data points. The result is less fuel consumption (which saves money) and a diminished impact on the environment via lower exhaust emissions. Industry impact: According to a recent story in Forbes, UPS's On-road Integrated Optimization and Navigation system (ORION for short) uses "advanced algorithms [to] create optimal routes for delivery drivers from the data supplied by customers, drivers, and the vehicles, and can alter the routes on the fly based on changing weather conditions or accidents."
Disney | Big Data
Disney's MagicBand collects all sorts of data from visitors and uses it to improve their experience at "The Happiest Place on Earth." It can be used to enter the parks, unlock hotel rooms, and buy food and merchandise. It also reduces fraud and speeds up the in-park experience by eliminating waits in line. Disney spent more than $1 billion to develop the MagicBand, which launched in 2013 and reportedly began monetizing it early on.
Blockchain
Blockchain is one of the key IoT technology trends of today. Blockchain is a secure platform hence many industries are adopting it to secure information or any kind of data. IoT also uses Blockchain for security reasons. With big data, the exchange of data between IoT devices in a reliable way is becoming possible by the simple infrastructure that Blockchain provides it. Blockchain boosts anonymity and security to networks and their users and digital signs and private keys for each transaction make it an optimum choice. With IoT, Blockchain provides the same security for each machine-to-machine interaction. 
IBM | Blockchain
In 2019, IBM announced a new supply chain service based on its blockchain platform and its recently acquired Red Hat open-source software. This service enables developers to integrate legacy data systems onto the distributed ledger with the help of open APIs. The end-users such as distributors, manufacturers, and retailers would seamlessly be able to integrate the data from sources such as IoT sensor systems onto Hyperledger to track products throughout the supply chain in real-time. 
Linux | Blockchain
In September 2019, Linux Foundation announced that it seeks to closely integrate with IOTA Foundation to further leverage the LF Edge table. This open collaboration leads the development of the LF Edge framework which is an open-source stack of Cloud interoperability, IoT edge with distributed ledger technologies and helps the company to leverage its stack of technologies to advance its development approach towards an interoperable solution for IoT, Cloud, and Edge integration.
5G
5G is quite different from 4G and with its ability to interconnect industries, 5G is also a boost for IoT as well. The number of 5G networks is growing across multiple industries at a fast pace which will be helping increase the number of IoT devices, and hence both are considered the beacons of the fourth industrial revolution. 
Both IoT and 5G are providing an infrastructure for smartphones, wearables, medical devices, and vehicles. And the number of devices is growing. This evolution of a 5Gpowered IoT system will fuel the development of the smart city and connected vehicle networks, improve healthcare operational efficiency, and benefit the manufacturing industry. 
In 2024, Ericsson projects that 5G will reach 40 percent population coverage and 1.5 billion subscriptions, making it the fastest generation ever to be rolled out on a global scale. This is driven by new, innovative solutions that reuse existing infrastructure and available spectrum. In parallel to the 5G rollout, cellular IoT is passing new milestones on its way to becoming the technology of choice for wide-area IoT applications. Boosted by strong uptake in North-East Asia, Ericsson predicts that cellular IoT connections are set to pass the 4 billion mark by 2024.
Samsung | 5G
In January 2019, Samsung Electronics and KDDI announced that they have completed a 5G test with real-time transmission of 4K ultra-high-definition (UHD) surveillance video on a train platform, the first in Japan. Together with Waseda University, Keihin Corporation, and Advanced Telecommunications Research Institute International (ATR), Samsung demonstrated effective communications through 4K UHD video using a 28GHz band 5G base station to enhance passenger safety in Tokyo. 
5GT | 5G
5G Transformer project demonstrates a 5G connected cloud-based mobile robot performing warehouse operations. 
Industry Trends
Currently, IoT is offering real-time monitoring of the product performance that is providing better insights and faster development of new products. With powerful analytics, it is also automating and improving the decision-making in businesses. Currently, most of the IoT data is being used for anomaly detection and control. In the future, the data could be used for predictive analysis and optimizations, which could generate opportunities for new and innovative business models. 
Manufacturing
Industry 4.0 will use the IoT and physical devices such as sensors to collect data that can be used by manufacturers and producers. And with Big Data and analytics, systems can crawl through huge sets of data and produce actionable insights. Smart factories will take on-board information and communication technology for the evolution in the supply chain and production line, bringing higher levels of both automation and digitization. It allows machines to use self-optimization, self-configuration, and even AI to complete complex tasks and deliver vastly superior cost efficiencies and better-quality goods or services.
Microsoft's "IoT Signals" research says that manufacturing companies are adopting IoT at a faster rate with 93% of surveyed indicating to have adopted the technology. With IoT, they can improve efficiency along with the entire manufacturing process, from production to field operations to employee productivity. Use cases that employ automation as a key component – for example, production flow monitoring, industrial automation, and production planning and scheduling – are core to manufacturing's use of IoT. 
IJACK | Manufacturing
IJACK Technologies is a leading manufacturer of innovative equipment to improve the efficiency of oil and gas production. IJACK chose New Boundary Technologies RemoteAware IoT Application Service to brand as the IJACKTM RCOM remote monitoring system. RCOM users can monitor remote oilfield sensors and equipment using a "single-pane-of-glass" web dashboard, RCOM offers a complete hardware and software solution to manage remote pumpjack systems from anywhere.
Hirotec | Manufacturing
Hirotec is a global auto parts manufacturer with annual revenues of over $1 billion. As a result, the company is well aware that planned downtime is a major challenge: one that can cost up to $361 a second. Hirotec wanted to reduce downtime and the IoT helped it to achieve just that. The company has employed a mix of IoT and cloud-based technologies, along with small, robust servers on its factory floors. These generate analytics data without sacrificing physical space. Meanwhile, machine learning helps the company to predict and prevent system failures. After running three pilots of its IoT platform and reviewing the data, Hirotec was able to achieve a 100 percent reduction in manual inspection time for its systems.
Utilities
The IoT is expected to reduce challenges faced by the utility sector and help evolve it. The application of IoT in utilities will improve efficiency, generate revenue, and conserve enterprise resources. IoT sensors can optimize energy, water generation, and distribution to help utility providers keep up with the increasing demand for utilities, such as water, gas, and electricity from consumers. Additionally, IoT sensors can improve workplace safety for oil and gas workers.
According to Microsoft's "IoT Signals" research, 94% have adopted IoT within energy organizations, with a quarter of their IoT projects having reached the use phase. IoT helped them in improved operational and production efficiency and decreased the chance for human error. Across energy decision-makers in both Power & Utilities and Oil & Gas, a key reason to leverage IoT is for better maintenance of their physical assets. IoT is also frequently used in the energy industry to elevate the customer experience. In addition, organizations use IoT to optimize operations and consequently deliver energy to customers more efficiently.
GE | Smart Energy
General Electric's Asset Performance Management software is being used in several power plants to connect disparate data sources and to aid data analysis. To make the tech tick, sensors are placed on key infrastructures, such as gas turbines, to monitor and collect data on operations and efficiency. The data collected can then be analyzed in the cloud to provide real-time updates on the use of gas within a plant. In 2015, GE launched digital power plant systems for gas and coal plants. In new plants, GE says its technologies have increased the average conversion efficiency from 33 percent to 49 percent.
PG&E | Smart Energy
Pacific Gas & Electricity Company (PG&E) was testing drones to enhance the safety and reliability of its electric and gas service. The test programs aim to explore the feasibility of using safety drones to monitor electric infrastructure in hard-to-reach areas and to detect methane leaks across its 70,000 square-mile service area. Initial results look positive. The company has revealed that the use of drones for safety inspections is much easier and reduces risk to employees. PG&E is currently working with NASA to test methane sensors. Watch this space for further updates on the trials.
Transportation and Logistics
With IoT, vehicle connectivity provides many new possibilities and applications to make transport safer and more convenient for users. IoT offers connected cars, fleet management, vehicle-to-vehicle and vehicle-to-infrastructure communication, and autonomous vehicles. 
With sensors embedded in the vehicle, it connects to other devices and shares information 
Fleet Complete | Fleet Management
Fleet Complete is a fast-growing global provider of the fleet, asset, and mobile workforce management solutions in the connected commercial vehicle space. The company's solutions help 35,000 global customers across various industry verticals in 15 countries. Fleet Complete is committed to helping motor vehicle fleet owners thrive, whether those fleets consist of 10 or 10,000 vehicles. By using smart sensors, connected to the cloud, to collect and transmit business-critical data from vehicles, assets, and employees, Fleet Complete helps fleet owners gain new insights into vehicle health, driver behavior, and more. As a result, fleet managers get better visibility into when trucks need to be serviced, or when parts might be expected to fail. "Armed with these insights, managers can be smarter about keeping parts in inventory, which reduces costs". 
SigFox | Smart Vehicle
Car thieves who use GSM jammers have met their match with Sigfox IoT trackers. Because Sigfox uses radio signals that can't be jammed, trackers will continue to transmit GPS coordinates without interruption, even if the vehicle is stolen. Sigfox-enabled trackers allow insurance companies to work with security providers and police to recover stolen cars, motorcycles, lorries, utility vehicles, and just about anything with wheels.
Inrix | Smart Parking 
Inrix analyzes data from road sensors and vehicles to provide real-time parking and traffic information as well as insights that are used to more safely test and deploy self-driving cars. Additionally, the company's Population Analytics service uses GPS and mobile network data to answer questions about travel habits and population density. Inrix recently added 100,000 new parking lots to its database. According to a report, the company now has data on more than 212,000 parking locations in 15,140 cities across 88 countries.
Agriculture
IoT technologies could become a catalyst to push agriculture to the next level. IoT sensors are capable of forecasting weather conditions, measuring hyper-local conditions of fields, and monitoring soil quality and moisture thus provide several benefits. 
With all this information in hand, farmers are not only able to plan their course of activities in a better way beforehand, but they also know precisely when and where they need to take preventive measures. Further, farmers are also able to improve production output while preserving their resources and minimizing costs. 
Today, farmers can track the state and behavior of livestock remotely via IoT sensors and embedded devices. Even further, thanks to advancements in data analytics, they can run statistical predictions and evaluate any necessary interventions for specific animals. 
Additionally, tech giant IBM estimates that the average farm can generate half a million data points per day – helping farmers to improve yields and increase profits.
IoT devices and software are being deployed throughout a farm to monitor crop health, manage inventory and supply chain and provide similar new and innovative service offerings. They also help in daily farm activities. Additionally, farmers can spray ailing crops via drones with substances to bring them back to life. DroneFly estimates that drones can spray fertilizer 40 to 60 times faster than doing so by hand.
PrecisionKing | Smart Farming 
"Alternate Wetting and Drying" (AWD) used by PrecisionKing, is a method of rice farming that reduces water use, fuel and electricity use for running irrigation pumps, and the need for nitrogen fertilizers, while also slowing down the anaerobic activity that creates methane gas. Using AT&T's IoT solutions to connect water-level sensors and pumps can increase the control farmers have over their operations, helping to drive efficiencies and overcome some of the barriers to AWD adoption. 
PrecisionKing's RiceKing sensors are placed across farmers' rice fields, where they read water levels once an hour, allowing for 24-hour monitoring, while the PumpKing remote monitors allow farmers to set customized parameters for remotely turning pumps on and off. This operational insight and control are driving real operational efficiencies for Whitaker Farms. According to information collected by the farmers, the RiceKing water-level sensors have been an important component in reducing Whitaker Farms' water usage by up to 60%. Additionally, the PumpKing controls have been a crucial factor in helping to reduce pump energy usage by 20- 30%
Cowlar | Cattle Monitoring
Our smart neck collars monitor dairy cows 24 hours a day, 365 days a year. Cowlar gathers temperature, rumination, activity & other behavior data. The intelligent algorithms process this information and provide insights. This brings much-needed visibility into your farm's operations allowing farm managers to make informed, timely, and profitable decisions. Smart monitoring allows you to detect health disorders before visual symptoms appear. Early intervention when administering treatment & having a reliable option for selective treatments based on individual animal needs can save time & money. In addition to that, Cowlar can monitor body movement patterns & Gait to provide you with highly accurate Estrus detection alerts.
Healthcare
Not every disease needs drugs or vaccines, some diseases need monitoring and warning systems for recovery and that is what IoT is providing for the Healthcare industry. 
IoT is pushing current healthcare systems beyond the limits and driving innovation into the Internet of Medical Things (IoMT). The IoMT is revolutionizing the healthcare industry, with the Internet of Things (IoT) devices and networks quickly establishing themselves as a critical part of modern healthcare. 
Medical research is one of the sectors in which most investment is made, and innovations are not just about new drugs or biomedical implants. Chronic disease monitoring using smart devices, post-surgery monitoring, or early warning systems for patients at risk, smart tricorders and wearable devices, medical and diagnostic smart tools for clinicians, and devices to make hospital rooms "smart". According to Frost & Sullivan, the Internet of Medical Things (IoMT) is expected to grow up to $72.02 billion by 2021. 
According to Microsoft's "IoT Signals" research, healthcare saw the biggest IoT adoption rate, as 89% of healthcare companies are IoT adopters. One in three of this group's IoT projects are still in the learning phase, and a quarter of IoT projects are in the use phase. Top benefits of IoT adoption for healthcare companies include keeping track of their staff and inventory and boosting productivity and operations efficiency. Ultimately, IoT is adopted to elevate patient and customer care. While tracking and IT security rise above patient monitoring and assistance for top use cases, care elevation remains the end goal.
Aclima | Public Health
In partnership with Google, the Environmental Defense Fund, and the University of Texas at Austin researchers, Aclima employs its Mobile Sensing Platform to understand "how cities live and breathe." Factors that affect urban air quality include transportation and energy use as well as weather. Google recently installed Aclima sensors on all of its StreetView vehicles after a successful pilot program in California.
QuiO | Public Health
QuiO is a cloud platform that wirelessly connects various therapeutic devices related to medications, activity, and health for patients with chronic conditions. Tools for mobile and web allow healthcare providers and caregivers to see trends and more effectively respond to data. Users can also get personalized tips on dealing with conditions and have opportunities to anonymously participate in research studies. In a partnership with SHL, QuiO created hardware and software to connect SHL's drug delivery systems via its cloud-based ConnectedRX platform.
Pfizer and IBM | Health Tracking 
This Pfizer and IBM partnership uses IoT technology to track the effectiveness of Parkinson's drugs and make any necessary dosage adjustments in real-time while enhancing doctor-patient communication. Pfizer and IBM recently developed a "Parkinson's house" that's decked out with sensors — on everything from the fridge handles and cupboards to doors and beds — that detect even the smallest variation in a patient's movements. The data that's collected is then wirelessly beamed to scientists, who in turn analyze the patient's progress and medication responsiveness.
Smart Cities 
Among the top technology trends of 2020, smart cities powered by IoT research are most prominent. A report published by PWC, says spending on smart cities around the globe is projected to exceed US$2.5 trillion by 2025. So in about five years, expect this massive investment to bring about rapid and radical transformations all around. Disruptive technologies like IoT are major drivers in transforming any urban city into a smart city, enabled by the smart use of data to address problems and provide solutions. 
According to McKinsey, three layers work together to make a smart city. First is the technology base, which includes a critical mass of smartphones and sensors connected by high-speed communication networks. The second layer consists of specific applications, translating raw data into alerts, insight, and action requires the right tools, and this is where technology providers and app developers come in. The third layer is usage by cities, companies, and the public. Many applications succeed only if they are widely adopted and manage to change behavior.
The Institute for Management Development, in collaboration with Singapore University for Technology and Design (SUTD), has released the Smart City Index 2020. In the 2020 Smart City Index, 109 cities were surveyed. The index ranks cities based on economic and technological data, as well as by their citizens' perceptions of how "smart" their cities are. The Index (SCI) was topped by Singapore, followed by Helsinki and Zurich in the second and third place respectively. 
Others in the top 10 list include:
 Auckland (4th), Oslo (5th), Copenhagen (6th), Geneva (7th), Taipei City (8th), Amsterdam (9th), and New York at the 10th place.
Singapore Is at The Forefront of Shared Autonomous Vehicles
This Southeast Asian city has made smart urban development its main tourist attraction. Singapore has been increasing its use of autonomous vehicles and has launched a car-sharing system for electric vehicles. It has put in place a sophisticated system of paid traffic, where prices vary according to congestion, neighborhoods, hours, and days of the week.
Zurich Wants to Make Its Traffic More Fluid
The Swiss city combines a smart building management system (heating, electricity, and cooling are all interconnected) with world-class public transport infrastructure. The city is characterized by its fluid traffic and its highly developed digital infrastructure.
Oslo: A Paradise for Electric Cars 
Electric cars are king in the Norwegian capital, which intends to reserve access entirely for electric vehicles by 2025! The city has already implemented numerous measures to speed up its transition to "zero emissions" vehicles, notably by giving them access to bus lanes and offering free parking, and reduced prices at urban tolls.
Geneva: the queen of traffic flow
In addition to modular lighting specially adapted for different areas of the city, Geneva also stands out thanks to its smart parking system. A series of sensors detect parking spaces that are (or will soon be) available and inform nearby drivers through dynamic signs or directly on their smartphones. Drivers can also pay for parking directly online. This system has allowed the city to significantly lower the number of vehicles searching for a place to park (which can account for up to 30% of urban traffic!).
Copenhagen: sensors for a zero-carbon city 
A true urban laboratory at the forefront of connectivity, the capital of Denmark is at the top of our list. Copenhagen hopes to become a zero-carbon city by 2025. It has already started to equip all its streets with sensors, from lamp posts (whose sensors reduce energy consumption) to trash cans (for optimized waste collection). All its vehicles will also eventually be equipped with sensors. 
Technology Drivers
Expanded Internet Connectivity
A larger number of connections between devices, machines, and appliances is a crucial factor in the innovation and growth of IoT. But the sensors that are embedded and integrated into these devices are what allow companies to find actionable insights hence finding new opportunities. 
3GPP Standards
3GPP developed the standards for the IoT with Release 10. The cost-effective cellular devices enabling M2M communications are GPRS modem which is getting obsolete. HSPA is also used for M2M communications but LTE has been optimized to efficiently communicate small pieces of information, making it well suited for M2M. 
From 3GPP Release 10 through 13, it provides options for low-cost GSM and LTE modem to reduce cost, improve communications range, and extend battery life. 
Release 13 is where 3GPP addressed study items for the IoT due to increasing demand from service providers as the competition got fierce. It led to the creation of LTE-M and NB-IoT. 
In Release 14, 3GPP specified the vehicle communication, such as V2V, V2I, etc., leveraging LTE to 5G. Release 14 also provided LTE Highly Reliable Low Latency Communications (HRLLC) for Critical IoT. 
In Release 15, 3GPP includes further IoT enhancements in LTE, like TDD support, higher spectral efficiency, and wake-up radio for 5G URLLC. 3GPP continued the work through Release 16 to provide future-proof, secure, and flexible technology for the IoT. 
Building on the foundation of the most pervasive mobile wireless technology – LTE – the new IoT standards are gaining momentum worldwide. NB-IoT and Cat-M1 will continue to coexist with the introduction of 5G networks. As new enabling IoT technologies are deployed, the number of connections and the traffic per connection over cellular networks will drive increasing traffic volumes, as network speeds continue to get faster.
Telenor | Expanded Connectivity
Telenor, the Norwegian telecom, provides IoT connectivity and cloud services to big corporations, with a large number of devices, such as Volvo, Scania, Hitachi, Verisure Securitas Direct, and Husqvarna. As per the company, it manages more than 10 million connected devices in over 200 countries for big enterprises. 
Service Providers | IoT Networks
As of November 2020 Service providers have announced the deployment of 149 IoT networks worldwide 48 using LTE Cat-M 101 using NB-IoT 21 operators with both IoT LTE-M and NB-IoT standards.
T-Mobile | NB-IoT
On July 19, 2018, with the launch of the Narrowband Internet of Things (NB-IoT) service in the US, T-Mobile became the first company to provide the service and also the first in the world to launch NB-IoT in the guard bands for optimal efficiency.
It further announced its new program, T-Mobile CONNECT, to help IoT solution providers to bring their products and services to T-Mobile's network.
Built on the 3GPP standard, NB-IoT is a low-power, wide area network (LPWAN) LTE-Advanced technology that provides a pathway to 5G IoT and offers many comparable benefits like low power usage, long battery life, and low device cost. 
T-Mobile worked with Ericsson, Nokia, and Qualcomm Technologies to deploy nationwide NB-IoT. 
Security Assurance 
Where there is data, there is also a need for security and with IoT getting big data, the need for security assurance is optimum. 
As per risk managers, Cyber risk now considers the biggest threat to their businesses, that's why Security assurance becomes an essential motivator for companies as well as consumers. 
75% of experts consider cybersecurity to be a top priority, as per a McKinsey survey. New technologies such as AI, Big Data Analytics, and IoT are helping companies to grow better by providing decision-making information, but it also opens the doors for new kinds of cyber risks.
By 2020, almost 50% of all internet connections will be M2M and the number will keep growing. And of course, billions of chips are shown to be vulnerable to Meltdown and Specter attacks, weaknesses that must be addressed. 
In short, cybersecurity is a big concern, but not a barrier to IoT adoption in most cases. Companies doing IoT at scale view it as a strategic imperative, and while they may change policy and invest more in cybersecurity, they are not ratcheting back IoT activities.
Infineon | Security of IoT
With its OPTIGA™ family, Infineon offers easy-to-integrate, scalable, and customizable turnkey solutions to meet IoT security challenges. 
OPTIGA™'s portfolio achieves this by following three key security-critical functions: 
Authentication: authenticate people and devices so information is exchanged between authorized individuals and devices 

Encryption: protect sensitive information by encrypting it and securely storing the secret keys

Integrity: check platform, machine, and device integrity to identify manipulation and detecting unauthorized changes
Armis | Security of IoT
Armis enables companies to adopt new connected devices without fear of compromise by a cyber attack. With a successful track record of innovating its platform and Armis' unique quickness to turn concepts into products are well-regarded in the industry. 
It is capable of discovering devices on and off the network, analyzing endpoint behavior to identify risks and attacks, and protects crucial information by identifying suspicious and malicious devices. 
Its Risk Engine can analyze device behavior to identify threats or attacks and protect essential business information. They're known for in-depth expertise in asset inventory, risk management, detection & response, and assisting customers in creating Zero Trust frameworks to protect all devices relied on.
IPV6 
IPv6 is an extension for IoT connectivity. The IPv6 environment is making progress as its capabilities are increasing and operators are implementing it in their networks too. In the coming years, a large portion of Internet traffic will likely be generated over IPv6 networks. That's why network operators, content providers, and end-users seek to gain the benefits held by IPv6. 
Simple Calculation | IPv6 
There are in total 4,294,967,296 IPv4 addresses (32 bits), including reserved addresses. The total of public IP addresses is a bit lower: 3,706,452,992. We are with 7.8 billion people on this planet. When everyone has 2 and more devices, we would need 15.6 billion IP addresses if we want to give every device a unique address. IPv6 is a 128-bit address, so doing the math 2*128 gives us a gigantic number of addresses.
Open Source 
As 5G will power IoT with its ability to connect billions of sensors by the next decade. This level of scale could be supported by open-source frameworks and platforms as they support rapid innovation through several advantageous characteristics. 
Typically, free and generally easy to download, install, and launch allowing easy experimentation with new technologies. It also allows 'permissionless' innovation, easing concerns over Intellectual Property Rights. It also permits innovation by integration, meaning developers create new systems by combining freely available open-source components. Open-source software tends to promote innovation faster than proprietary solutions because they draw contributions from a large community of developers. 
OCP | Open Source 
The Open Compute Project Foundation is a rapidly growing global community whose mission is to design, use, and enable mainstream delivery of the most efficient designs for scalable computing. The Open Compute Project Foundation provides a structure in which individuals and organizations can share their intellectual property with others and encourage the IT industry to evolve.
Economic Drivers
Cost Reduction 
Organizations have already started exploring more options to realize the potential of IoT by accessing untapped data and using analytics that can help operators make informed decisions in real-time. With this increased efficiency, opportunities are created to reduce operational costs.
Revenue Growth
Using data from interconnected systems, a customized offering can be created for end consumers, leading to a potential revenue boost. Data can be used to improve sales performance, reduce customer attrition, etc. This eventually leads to revenue growth opportunities. 
Security and Safety
Remote monitoring and control of critical assets support operators in determining trends and patterns and report any abnormality. With the help of IoT, organizations can realize their efforts to focus on ensuring a safe working environment and their employees' wellbeing. 
Quality Control 
Assessing historical data from sensors or edge devices helps operators manage the product's quality. Processing data at each stage has helped organizations control quality and enabled operators to take corrective actions in real-time (rather than checking quality after batch production).
Low-Cost Sensors 
Sensors are becoming prolific; the larger the scale, the lower the cost. The cost of sensors, actuators, transducer systems, and declining hardware costs overall are resulting in a lower cost of entry for vertical markets, enterprises, consumer devices, and others to the IoT. And it is not only the lower costs of sensors and similar bits and pieces of the IoT device that has led to a greater proliferation of connected things. Other areas with an impact on the cost of deployment for IoT included: 
Decrease in the cost per CPU memory and storage makes possible the collection of big data, and its subsequent analytics

Decreasing the cost of megabytes increases the available investment dollars for large processing systems 
Green IC | Low-Cost Sensors 
Researchers from the Green IC research group at the National University of Singapore (NUS) have invented a low-cost, no-battery wake-up timer in the form of an on-chip circuit that significantly reduces the power consumption of silicon chips for the Internet of Things (IoT) sensor nodes. The team's wake-up timer can achieve slow and infrequent wake-up using a very small on-chip capacitor (half a picoFarad). This helps to significantly reduce silicon manufacturing costs due to the small area (40 micrometers on each side) required. The research was conducted in collaboration with Associate Professor Paolo Crovetti from Politecnico di Torino in Italy.
Large IoT Investments 
The continued growth of the IoT industry is going to be a transformative force across all organizations. Industry 4.0 or the Industrial Internet continues to drive the Internet of Things spending in the next few years. IoT spending will grow at double-digit numbers until at least 2020. 
Corporates are now beginning to adopt IoT solutions at scale, with increasing confidence in ROI from their technology investments. The ecosystem to support IoT innovators through start-up and early-stage growth is also improving, with incubators and accelerators on the up and with government grants becoming available as well as a growing appetite for VC investment. Finally, we can see that all of these factors are beginning to drive significant M&A activity in the sector with building valuations and returns at exit. 
All of these indicators bode well for IoT and for the innovators, investors, and adopters who are connecting to make the IoT revolution a reality.
Samsara | IoT Fundraising 
Samsara is an IoT platform that combines hardware, software, and the cloud to bring real-time visibility, analytics, and AI to operations. Samsara has raised a total of $930M in funding over 7 rounds. Samsara has a post-money valuation in the range of $1B to $10B as of May 21, 2020, according to PrivCo.
Cisco | Current Portfolio 
Cisco Investments has 80 active investments and has committed upwards of $300 million over the next few years to expand its portfolio. Cisco's venture capital arm has been investing actively since 1993. Current areas of focus are what Cisco calls "disruptive ideas that align with Cisco's business today," including cloud, data virtualization, software-as-a-service, and the "Internet of Everything," Cisco's term for the Internet of Things.
Intel Capital | Current Portfolio 
In 2013, Intel had over $300 million invested in 146 companies globally. They also experienced 33 exits that year, including six IPOs in Japan, Taiwan, and the U.S. Since 1991, Intel Capital has invested $11 billion collectively in more than 1,300 companies, 41 percent of which have gone public, been acquired, or merged. Intel Capital is currently focusing on consumer devices, open-source services, and IoT.
Key Challenges
Sensors 
Interoperability issues in heterogeneous sensor systems: The highly competitive nature of the IoT makes interoperability between things even a more difficult task to achieve. Besides, wireless communication technologies are evolving and changing rapidly. This adds to the complexity of creating interoperable communications in the IoT as well. 
This inevitability results in heterogeneous devices that cannot communicate with each other which raises many integration issues in the IoT. Security issues: As of heterogeneity, the diversity of devices and communications in the IoT produce many new security challenges as well. For instance, the integration of WSNs into the Internet, as part of the IoT, creates new security problems. These security problems are derived from the process of connecting a sensor node with an Internet device.
Data Analytics 
Technical skills to leverage newer big data tools. Engineers are being trained to use newer tools such as Spark and Map Reduce to tackle the need to use unstructured data. 
Augmented Intelligence 
Legacy systems' ability to process real-time and unstructured data. Predictive applications could be designed to use a combination of batch processing (data is aggregated in batches and then processed) and real-time processing to draw meaningful conclusions. 
Companies working on these Problems
Zigbee | Interoperability 
Zigbee is a wireless language, and one of the world's most trusted standard protocols in wireless communication. From CES 2017, a product display of nearly 100 devices from 33 companies operated seamlessly in a single demo within the Zigbee booth. This provided a perfect example of product interoperability between an extensive range of devices from different manufacturers, leveraging current and legacy protocols. The display was split into two main areas – Residential and Commercial – to further demonstrate penetration and presence in both markets.
ReVib | Power Consumption 
ReVib Energy produces devices that harvest energy from vibrations that naturally occur in manufacturing, mining, and transportation environments. Vibration harvesters can be tailored for specific environments. The vibrations caused by passing trains can power sensors on rail switches. Harvesters designed for low-frequency vibrations (10 to 30 Hz) are especially useful in mining applications.
Hadoop | Data Analytics 
MapReduce enables data on multiple nodes on IoT to be locally processed as much as possible by using the Map-Reduce processing without transmitting the data to data centers or clusters and assembled into a few nodes. The nature of data IoT devices generates lends itself to employ the big data approach for analysis. Hadoop's MapReduce API is used for processing data generated from IoT in a scale-out fashion on commodity hardware.
Apache Storm | Batch Processing 
Built by Twitter, Apache Storm is a must-have tool for real-time data processing. Unlike Hadoop that carries out batch processing, Apache Storm was specifically built for flowing streams of data. It has other uses too. Online machine learning and ETL among the other things Apache Storm can process data ridiculously fast. It differentiates in carrying out processes at the node it is assigned. Furthermore, it can be integrated with Hadoop to further extend its abilities.
Conclusion
Given how popular the term IoT is, it is a surprise that the IoT's full potential is yet to unlock. And with the vast technology areas and applications, there are hundreds or even thousands of companies and startups working on it just to provide a feature or service which could be a fraction of IoT potential but it will still make a huge difference to a particular set of customers. 
The current article provides detailed information about IoT application areas. Even though we covered some companies working on particular application areas, we thought to find the top players of IoT and it led us to our next article – IoT Companies: 5 Companies Leading the Research.
Reference: