7 Companies Researching Hybrid Energy Storage System
We all know that the energy crises have been weighing down the world. But what exactly is the problem with energy storage systems? And how can a Hybrid energy storage system help overcome this problem?
Well, typically, both power and energy are required. But the two types of the single-nature energy storage system (ESS), i.e., ESSs for high-energy systems and ESSs with high-power capability, either provide energy for hours or even several days or offers high amounts of instantaneous power but with reduced discharge times in the range of seconds to minutes.
As a result, the traditional ESS approach of using only one energy storage technology frequently results in suboptimal solutions, despite the well-known tradeoff between system performance and overall cost.
A Hybrid Energy Storage System (HESS) is an optimal solution for mitigating this issue.
HESS comprises two or more types of energy storage systems that work together to outperform any single-component energy storage device. These include batteries, flywheels, super-capacitors, and fuel cells.
The system is poised to be the long energy solution for micro-grids and a sustainable alternative for energy production in standalone applications.
Further, hybrid storage provides additional cost-cutting opportunities; two or more units can utilize much of the same power electronics and grid connection gear, lowering initial and ongoing expenses. (Source)(Source)(Source)(Source)
The following are three forms of hybrid storage that have emerged beyond the pilot stage:
Power-to-heat/battery
Battery/Battery
Ultracapacitor/battery
Global Hybrid Energy Storage Market
In 2021, the global hybrid energy storage system market was valued at $11.93 billion and is expected to increase and reach $22.30 billion by 2030. The market anticipates HESS to grow at an approximate CAGR of 7.2% during the forecast period.
A boost in demand for high-energy storage systems for load shifting and an expansion in small and medium-sized businesses are driving its market expansion. (Source)
Global Hybrid Energy Storage System Market Size during 2021-2030 ($Billion)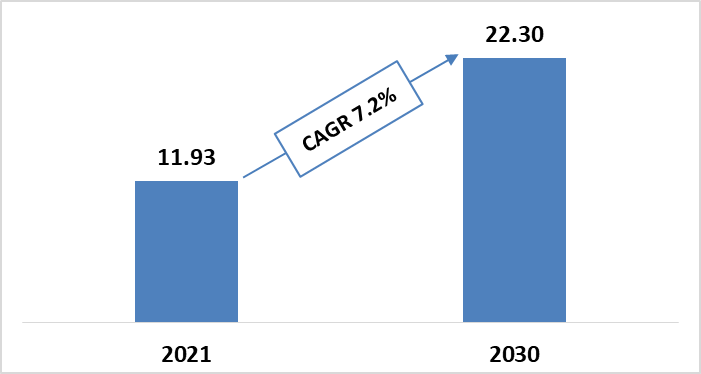 Hybrid Energy Storage System Advantages
Provide both high energy and high power system – Hybrid energy storage system is made up of two or more ESSs, so it could provide both high energy and high power system that other ESSs don't offer.
So, Hybrid ESS can provide a high amount of instantaneous power for an extended time. (Source)
Improved utilization of existing energy resources – Hybrid energy storage systems improve the overall efficiency of existing energy systems by reducing looping and changing output, resulting in reduced emissions and a smaller carbon footprint. A high-power-operations-capable technology increases system efficiency for applications that demand storage to address short-term power fluctuations, such as renewables ramping/smoothing. Utilizing the same hybrid system for low-power, long-duration applications such as backup power, on the other hand, will maintain its overall health. (Source)
Other Advantages: Hybrid Energy Storage System (HESS) flexibility permits the coverage of a broader range of applications, which is impossible with a single-nature ESS.
Taking into account one specific application, using a HESS allows for avoiding the oversizing of a single-nature ESS; this can reduce the cost of the system (in some cases, by up to 15%).
Introducing a new ESS in the system to build a HESS reduces the stress of the principal ESS, significantly extending its lifetime (up to 40% in some cases). (Source)
Hybrid Energy Storage System Challenges
Limited Energy Production – The Hybrid Energy Storage System may encounter obstacles since the storage system's limited energy production will be restricted to the quantity of energy stored. The absence of power flow control and energy management options results in inefficient storage utilization. (Source)
Hybrid Energy Storage Systems Companies
1. AEG Power Solutions
AEG Power Solutions, based in the Netherlands, ensures uninterrupted power availability and the safe operation of essential applications in all conditions due to its diverse portfolio of power supply systems and services.
It offers a hybrid energy storage system that stores energy in a battery system and an electrical heating system linked to the power converter.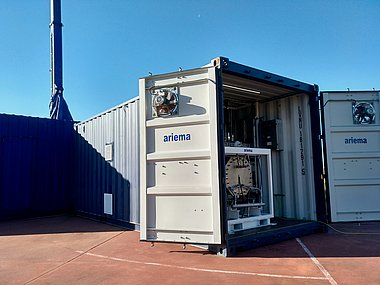 The solution includes storage converters incorporated in ISO-metal sheet containers with a hybrid storage option, low voltage distribution units, auxiliary power supply, medium voltage transformers, and the heating system in separate enclosures.
AEG hybrid storage system significantly lowers the cost of running a primary-frequency power system. This results in improving the payback for the operators of the system and further helping reduce grid fees which is of general public interest. (Source)(Source)
2. Jakson Group
The Jakson Group, based in India, provides Distributed Energy Solutions. Among them is Hybrid Energy Storage Solutions, which the company offers by combining different energy generation and storage or employing two or more fuel types to power a generator. The fuel source used to power a generator is renewable. (Source)(Source)
3. Siemens Gamesa
The hybrid power solution enables Siemens Gamesa to integrate one or more renewable power production assets, such as Solar or Wind energy, with their customized energy storage systems—heat or battery storage—to increase project profitability.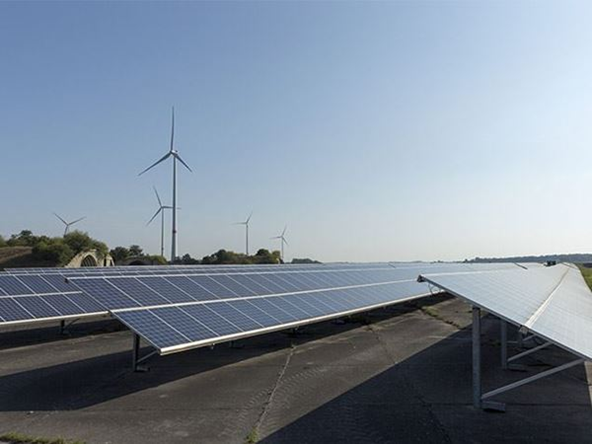 The company uses a hybrid control tool to manage several renewable energy generating and storage options. If the customer's project is in a remote area with an isolated grid, they can select the Off-Grid solution. Off-Grid solutions are a combination of wind, solar, storage, and diesel generators operating independently of the power grid. (Source)(Source)
Important Collaborations
In 2020, Siemens Gamesa Renewable Energy announced the acquisition of Senvion's European Service assets. The acquisition of Senvion assets is a significant step forward in the company's expansion strategy as part of the L3AD2020 strategic program and enhanced its competitive position in its multi-brand portfolio. (Source)
In 2022, Siemens Gamesa obtained its first order in India with Azure Power India Private Limited (Azure Power) to provide 96 SG 3.6-145 wind turbines for a 346 MW project in Karnataka. The project established a new cooperation with Azure Power in India. Azure has a pan-India portfolio of about 7.4 GW of renewable energy assets, predominantly solar. The wind turbine supply arrangement is a first for Azure and would support projects under the SECI Hybrid IV and SECI XI tenders, as well as Azure's other energy pipelines. (Source)
Hybrid Energy Storage System Startups
1. Hybrid Energy Storage Solutions Ltd.
Hybrid Energy Storage Solution Ltd. integrates several energy storage technologies, enhanced power electronics, and patented energy management algorithms in a unique, flexible hardware and software platform.
The SHAD® solution by HESS Ltd. is a patented proprietary technology defined as a HESS solution built on a versatile hardware and software architecture. This allows for the combination of various storage technologies (batteries, ultracapacitors, flywheels, fuel cells, and so on) suited for specific customer needs at different levels of the electrical network, encompassing a wide range of grid applications. (Source)(Source)
2. VoltaGrid
VoltaGrid offers innovative power production systems that are forever transforming the mobile power landscape.
The patent-pending hybrid power system from VoltaGrid has significant advantages over today's conventional power sources. In comparison to dual-fuel and combustion turbines, the hybrid power system reduces GHG criteria emissions by 28% – 40%. AI is also used in the product to monitor and optimize real-time power consumption, fuel expenses, pollutants, equipment condition, etc. (Source)(Source)
Important Collaborations
In 2021, VoltaGrid LLC and Halliburton announced a multi-year agreement with Aethon Energy to deploy an advanced, all-electric fracturing system in the Haynesville Shale. Halliburton's all-electric fracturing spread, which includes the ZeusTM 5,000 horsepower electric pumping unit, combines VoltaGrid's power generation system to provide greater reliability and real-time emissions tracking. (Source)
3. MNA ENERGY SDN BHD
MNA ENERGY SDN BHD is a Malaysian Government-backed company that aims to develop next-generation Battery Energy Storage Systems capable of accelerating the Green Energy transition.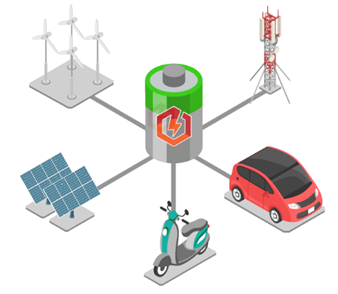 The company employs its Patent Pending Technology, which combines the highly complementary properties of Graphene, Ultracapacitor, and Lithium-Ion Battery to form the "GUC HYBRID ENERGY STORAGE SYSTEM." The product has many applications, including Hybrid Energy Storage Systems (HESS) for Electric Vehicles, Green Energy Generators, and Renewable Energy Storage Systems. (Source)(Source)(Source)
Important Collaborations
In 2021, NI Hsin Group Bhd partnered with MNA Energy Sdn Bhd (MNAE) to develop battery technology for electric motorcycles (EV two-wheelers). (Source)
4. RedEarth Energy Storage Ltd.
RedEarth has been providing customized energy storage solutions in Australia. Its energy storage systems are assembled and tested to Australian standards, and the products are designed and engineered to withstand Australian conditions.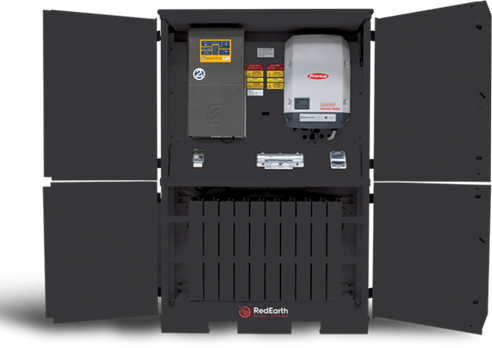 The company caters to everyone from residential households and small to medium businesses to large-scale commercial and industrial operations, offering various on-grid, off-grid, and hybrid energy storage solutions. (Source)(Source)
The company's on-grid energy storage solutions include DropBear, a fully integrated system that offers a hybrid versatility that keeps users connected to the grid while remaining independent of it. It can even connect to a generator. (Source)(Source)
Important Collaborations
In 2022, ComAp announced a partnership with RedEarth Energy Storage. Their goal is to supply the control system for RedEarth's commercial and industrial energy storage systems. (Source)
Future Outlook
As more and more countries are pledging to use renewable energy, the demand for energy storage systems keeps increasing. Among the top countries is India, which aims to reduce greenhouse gas emissions below the 2005 level by 2030. And hybrid energy system is one way that could help the country achieve its aim, per Mckinsey. (Source)
With an ambitious goal of having 450 GW of Power Generation by 2030 through Renewable Energy, India strives to provide Electricity to all. Hybrid energy storage systems are a valuable option for India's fossil fuel-based economy, and they offer a sustainable opportunity for the electrification of remote locations.
But unlike other energy storage trends, hybrid is not widely used. Its challenges are some of the roadblocks that the companies need to overcome.
Still, we have witnessed some progress as companies, through partnerships, are trying to make hybrid widely available.
In Dec 2022, Kulara Water signed a long-term agreement with TotalEnergies ENEOS. The agreement aims to provide a solar energy and battery energy storage solution for their new bottling facility in Srayang Thaung Village. This system includes a ground-mounted 800 kilowatt-peak (kWp) solar system connected to a 1344 kWh battery system. (Source)
With more and more countries creating new energy policies to achieve Net Zero emissions, many companies and startups are working to find renewable solutions for energy storage.
Energy storage systems (ESS) will reach new heights in 2023. And with big countries like India adopting Hybrid ESS, the chances are Hybrid ESS will also witness significant growth. So it'll be interesting to see which other companies enter the domain.
While this article specifically focussed on Hybrid energy storage, we've also discussed multiple energy storage trends that will change the energy sector.
Want to stay updated with the latest trends in energy storage?