The Hidden Gems in the Patent Portfolio of Singapore's A*Star
A*Star is one of the entities with an exciting patent portfolio distributed across diverse applications. This was precisely the reason we picked it for our study on analyzing the potential of patents.
As You Sow, So Shall You Reap
The above saying holds true for A*Star that has sown the seeds of the patent. But is it reaping the harvest? Or is it making the same mistake Microsoft and IBM are making? Moreover, are those seeds fertile enough to give it the right amount? Well, this is what we will find out today through this case study; read on:
Who is A*Star?
The Agency for Science, Technology and Research (A*STAR) is a part of what makes Singapore a global leader in scientific research and development. A*STAR works in a diverse set of industries, from biomedical sciences to aerospace, media, and telecommunications.
It is making a huge impact on the industry since January 2002, as A*STAR's technology transfer arm, Exploit Technologies Pte Ltd, has licensed over 400 A*STAR technologies and generated over US$ 500 million in revenue.
Portfolio Overview
We extracted patent portfolio of A*Star that has 1949 patents. The patent portfolio consists of US, EP and WIPO applications. We categorized the extracted set into five broad categories based on IPC classes. The pie chart below represents the distribution of A*Star's patents in different tech domains.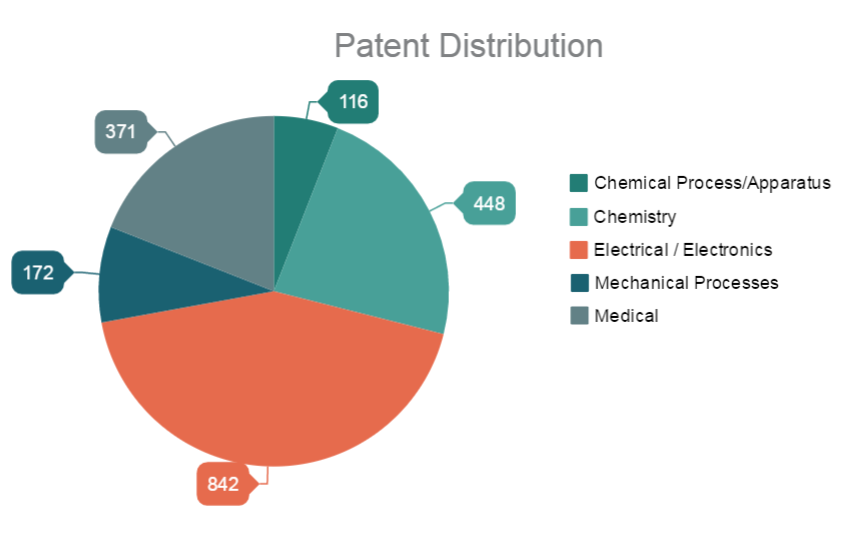 The quick analysis revealed that the patents in Electronics domain have a good market potential. Also, they have been pretty active in the last 5-6 years with their patent filing increasing year on year.
Potential Licensors of A*Star patents
For the infringement analysis, we focused on Electrical/Electronic category of patents on which we performed a 2 phase analysis that has two parts, viz. Algorithm based strength analysis and a Detail Manual Analysis.

Algorithm Based Strength Analysis
We used our litigation predictor tool to identify the top patents in the portfolio of A*Star. This helped us rank the patents in the portfolio based on their infringement potential. Based on the ranking, we found 38 patents that were identified as having high infringement potential.
These patents were then taken to the next phase of analysis.
Detailed Infringement Analysis
For the detailed analysis, we picked two patents (US7174232 and US8224102) from this set and identified the potential infringers of these patents. A detailed infringement analysis included studying patent specification, file wrapper, identifying various application area of the invention and the like.
Do you know what we found? We found large companies using the technology disclosed in '232 and '201:
There are many more companies like Ricoh and Texas that are using the technology covered by these patents.
These two are just two among the many key patents owned by A*Star and A*Star can make a strategy to monetize them (if they have not done already).
Conclusion
A well-framed analysis can help a company get the best value from their assets. A good research firm can help a portfolio owner identify the hidden gems.
Authored By: Vincy Khandpur, Senior Research Analyst, Infringement 
Read Next: Which Are The Most Valuable Patents In Qualcomm Patent Portfolio?