Edge Computing Market Research – A Look At The Trends
"Organizations that have embarked on a digital business journey have realized that a more decentralized approach is required to address digital business infrastructure requirements. As the volume and velocity of data increases, so too does the inefficiency of streaming all this information to a cloud or data center for processing."

– Santhosh Rao, Senior Research Director at Gartner.
Edge computing is the future of computing,  processing, and storage. The technology, though still in its infancy, is fast-growing and according to Gartner, as of 2018, about 10 percent of enterprise data was being generated and processed "at the edge". By 2025, this number is predicted to reach an astounding 75%.  
You would definitely want to know all about this "fast-growing" technology, don't you? You might want to know whether or not this tech is worth investing in i.e., the kind of market potential it has, market size, existing competition, existing problems that need to be solved, whitespaces available – these, and a lot more. 
Gladly, we got you all the answers already. In this first article of the detailed 4-part series on the edge computing tech, we will be covering all the trends and market-related info which will give you a quick idea on whether or not this tech is worth investing in. 
We have also converted the entire report into a pdf. To get the report in the pdf, please fill the form below:
What is Edge Computing?
Edge Computing enables data generated by the Internet of Things (IoT) to be processed close to its source instead of being sent over long distances to data centers or the Cloud. It is a type of distributed computing paradigm that incorporates several different technologies. Edge computing is a growing trend in big data because it decreases latency, bandwidth, and overhead for centralized data centers by moving the device workload closer to the user.
Edge Computing Market Size and Growth
According to MarketsandMarkets, the global edge computing market was valued at approximately $3.6 billion in 2020 and is expected to increase and reach $15.7 billion by 2025 at a Compound Annual Growth Rate (CAGR) of 34.1% during the forecasted period.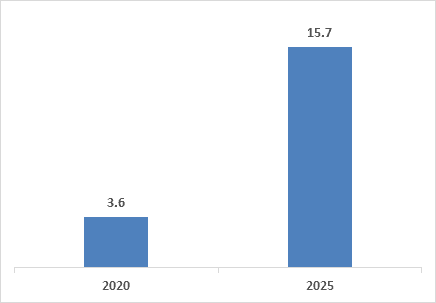 Global Edge Computing Market During 2020-2025 ($Billions)
According to a report,  in 2019, the edge computing market covered 5 major regions namely, North America, Asia Pacific (APAC), Europe, Middle East, and Africa (MEA). The Asia Pacific region is estimated to grow the highest at a CAGR of 35.5% between 2020-2025.
According to Statista, North America holds 45% of the global edge computing market and is expected to continue its growth at a CAGR of 27% between 2020-2030. Europe, the Middle East, and Africa (EMEA) hold 27.9% of the market, and the Asia Pacific region has 27.2% of the market share.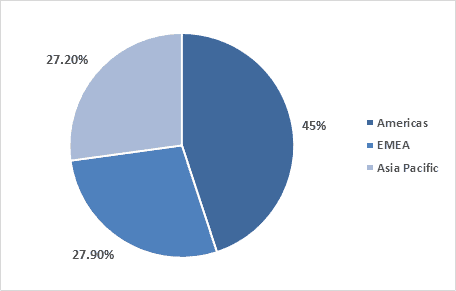 Edge Computing Market Share in 2020, by Region (%)
What are the Factors Driving the Growth of Edge Computing?
Data at the Edge –

One of the driving forces behind the rapid growth of edge computing is the need to move data closer to the edge. According to an

IDC research in 2018

, 45% of IoT-created data was stored, processed, analyzed, and acted upon close to, or at the edge of, the network.

IoT Adoption –

The growth in the adoption of the Internet of things (IoT) in various segments has driven the growth of the global edge computing market. According to

Statista

, approximately $749 billion was spent on the Internet of Things (IoT) technology globally.

Customized Software and Applications –

Edge computing growth was driven by the development and availability of personalized apps and applications. As edge computing started gaining popularity, several cloud sellers such as Amazon, Microsoft, etc., have been developing and releasing customized software and applications for edge computing.

Edge Artificial Intelligence (AI) –

The increase in the number of connected devices globally has accelerated the growth of edge artificial intelligence. This is one of the drivers for the growth of the edge computing industry. According to the Statista

Research Department

, in 2018 there were approximately 22 billion IoT-connected devices around the world and in 2021, there will be approximately 28 billion IoT-connected devices worldwide growing at a CAGR of 8%.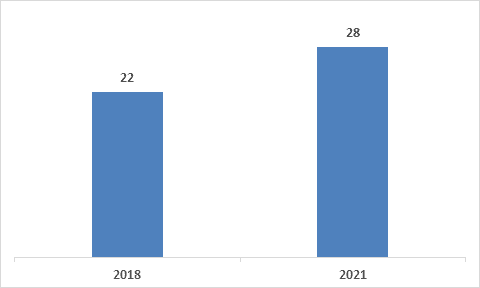 IoT Connected Devices Worldwide During 2018-2021 (Billion Units)
What are the Challenges in implementing Edge computing?
Cost Implementation –

The edge computing devices with high processing abilities are costly. An edge computing platform's configuration, implementation, and maintenance are all costly ventures for an organization.

Security Threats –

Edge computing architecture is prone to cyberattacks with the addition of vulnerable edge nodes and IoT devices. For ease of use, a majority of these devices don't require any authentication with third-party APIs. Hence, these devices are prone to hacking, spying, harmful obstruction, and identity forgery.

Lack of Edge Monitoring Tools –

With the release of edge computing, a smart performance monitoring platform to monitor the issues faced by edge application devices is still under development. Without an edge monitoring network, the reliability of edge computing is still questionable.
With the challenges established, one ought to think about whether edge computing is really better than its predecessor. Well, it has its advantages. 
Advantages of Edge Computing over Cloud Computing
Speed –

Edge computing's most significant advantage is its potential to improve network efficiency by lowering latency. End-users benefit from faster speeds and latency calculated in microseconds rather than milliseconds. Even a single second of latency or downtime costs a business thousands of dollars, and edge computing's speed advantages give it an edge over cloud computing.

Scalability

– In cloud computing data is forwarded to a centralized data center. Modifying and expanding the data center is a costly proposition for many businesses. Edge computing provides a much more cost-effective path to scalability, enabling businesses to increase their computing power by combining IoT devices and edge data centers.

Reliability

– Edge computing offers high reliability as it does not rely on internet connection and servers providing continuous service. It helps in storing and processing data using microdata centers allowing users to stop worrying about slow network connections. Therefore, edge computing is one of the preferred options over cloud computing in remote locations with unreliable network connections.

Versatility

– Edge computing can be used in extremely versatile ways. Companies can quickly reach attractive markets without having to invest in costly infrastructure expansion by collaborating with local edge data centers. Edge computing also allows IoT devices to capture vast quantities of useful data that can be processed locally and offer companies options to make better decisions.

Low management Costs

– Using IoT services is a costly medium due to the requirements of high network bandwidth, data storage, and computational power. Edge computing is favored over cloud computing due to its low management costs. Also, edge computing allows its users to reduce the bandwidth and data storage requirements that significantly reduce the costs in implementing IoT devices and applications.
Now that we have related all the market-related factors, let's have a look at the recent trends in the world of Edge Computing. 
Edge Computing Trends
New Edge Computing Technologies
Below listed are some of the technologies that help make Edge computing a reality. 
Multi-Access Edge Computing

– It is a network architecture that processes and stores data integrated within the radio access network (RAN). It improves the efficiency of the network and content delivery to end-users. It allows operators to intelligently cope with the increased traffic and resource demands. 

Edge Computing Hardware

– Edge computing systems primarily are the hardware that enables edge computing to be used in a variety of industries. For example, edge devices are critical in the manufacturing sector because they add low latency computing to the assembly line.

Cloudlets

– Cloudlets are small-scale, mobility-enhanced cloud data centers that are placed at the edge of the network. Cloudlets are designed to improve the experience of users with mobile applications by providing low latency to devices in proximity.

Fog Computing

– It is a decentralized computing infrastructure that extends cloud computing to the edge of the network. Fog computing seeks to expand cloud computing and resources to the network's edge while simultaneously trying to reduce the volume of data sent to the cloud for collection, analysis, and storage. 

Microdata Centers

– Micro data centers are smaller, reach-level structures that contain all of the required components of a conventional data center. The data centers are customizable to suit the user's needs and can be stationed close to the data source making it an ideal solution for edge computing. According to a report by

Global Market Insights in 2019

, the microdata center market was valued at approximately $3 billion in 2018 and is expected to rise and reach approximately $15 billion by 2025.
Edge Computing Application Areas
Autonomous Vehicles

– Edge computing enables autonomous vehicles to store, process, and exchange data in real-time with minimal latency across vehicles and through larger networks. Edge data centers are used to collect and send valuable data back to the automakers. Edge technologies also enable autonomous vehicles to communicate more often by transmitting information about collisions, environmental patterns, traffic, and other factors. 
Some companies incorporating edge computing in autonomous vehicles are Waymo, Toyota, etc.  Moreover, a group of cross-industry global players has formed the Automotive Edge Computing Consortium (AECC) to drive best practices for the convergence between the vehicle and computing ecosystem.
Manufacturing Industry

– This industry has mostly benefited from the introduction of edge computing. It helps the manufacturers to gather data that helps in improved energy efficiency. The decentralized design helps in minimizing time and costs. 
According to a global survey in 2019, 22% of the respondents from the manufacturing industry were planning to implement edge computing in their organizations.  
"Any of these agricultural or industrial applications, where you have very manual processes like inspections, or humans gathering data, the intelligent edge is going to make those industries massively more efficient." 

– Kevin Scott, CTO, Microsoft.
Financial Sector

– According to the same global survey mentioned above, 15% of the respondents in the financial sector were also planning to incorporate edge computing in their organizations. Edge computing was adopted by the banking sector and incorporated in their applications, ATMs, and kiosks to gather and process data quickly and offer better services. Financial firms dealing in the stock markets have implemented edge computing in the systems to get quick data in milliseconds and curb the losses faced due to high latency. Financial sector companies using edge computing are Deltec Bank, HSBC, etc.  

Healthcare

– Edge computing helps in providing critical data about the patients in real-time which helps in proper diagnosis and treatment. This computing method also helps in delivering medical software and resources to isolated rural areas by distributing workloads at branch data center locations. Healthcare companies using edge computing are GE Healthcare, Oncora Medical, etc.
"Edge computing was designed to support the Internet of Things. One of the advantages of edge networks is that it allows data collection from wearable devices that were previously inaccessible. This knowledge is important for better understanding care choices, remote diagnostics, patient tracking, and overall health outcomes." 

– Hanno Ekdahl, Idenhaus Consulting LLC
Retail Industry

– According to

Statista

, 13% of the respondents from the retail industry were planning to implement edge computing technologies in retail organizations by 2020. Edge devices such as sensors, RFIDs, and cameras can make it easy to monitor merchandise, its exact position in the shop, hot-selling, and in-demand goods, and lost items helping the owners to process real-time data and take appropriate actions. Companies developing edge computing solutions for the retail industry are Altos, ObjectBox, etc.
Top Edge Computing Markets
According to Statista, North America was the largest edge computing market valued at approximately $1.7 billion in 2020. The European market was the 2nd largest market valued at approximately $0.9 billion followed by the Asia Pacific region valued at approximately $0.8 billion.
Edge Computing Market Size In 2020 ($Billions)
Reasons for Growth
Internet of Things (IoT) connected devices is one of the major drivers helping North America have the majority of the market.  IoT connections in North America in 2019 were approximately 2.8 billion that is

projected to increase to approximately 5.4 billion

connections by 2025.  

The North American gaming market is one major driver for the majority market share of the edge computing industry in the country. North America is one of the

leading gaming markets

with a revenue of approximately $36.92 billion. 

The European market holds the largest market share in the smart city market. This is one of the driving factors for the growth of edge computing in this region. The market is expected to reach a value of USD 1.94 Bn by 2023, expanding at a CAGR of 29.3%. The region is expected to have 214 Mn 5G connections by 2025

.  

The European eCommerce market is also one of the driving forces to help edge computing grow in Europe. ECommerce revenue in 2020 was approximately $393.8 billion and is

projected to grow to $510.5 billion

in 2024. 

According to a

report in 2020

, the Asia Pacific region is expected to see the highest growth in the adoption of edge computing technologies. East Asia was projected to grow at a CAGR of 30% and South Asia & Oceania were expected to grow at a CAGR of 32% for the forecasted period 2020 to 2030.

The growth in the Asia Pacific region is expected to be the highest due to the rising disposable income of the consumers and increased usage of edge computing-based products such as electric vehicles, fitness trackers, and smart home appliances drive the demand in this region. 

According to a

survey in 2020

, approximately 99% of the respondents from China predicted a rise in the usage of edge computing in Chinese organizations between 2018-2020. The survey showed that Asia Pacific's respondents were more interested in utilizing edge computing technologies than other regions such as the US and Europe. 

The Asia Pacific region is expected to have an edge computing footprint globally, which is approximately

36.7% of the total IT power footprint

for edge computing infrastructure by 2028. 
Future Outlook
The advantages that Edge computing technology has to offer when compared to its predecessor drive its growth and market adoption. There are a lot of big players involved who earlier made a lot of money by coming up with cloud computing solutions which concludes that the future is bright for this technology. 
There is also a real need in today's era for intelligence computing in industries like retail, distributing, and finance where personalized customer experience is the next big thing. Further, Edge computing can heavily influence other technologies and applications, Machine Learning, being one of them.
"Machine learning will be greatly impacted by edge computing. Edge devices can be used for deduction and estimation close to where the new data are collected." – Sean Maday, Google.
Given the advantages, one can anticipate an increase in involvement and adoption in Edge computing from various companies for different purposes.
Companies that have a presence in cloud computing already have shifted their cloud to edge. But unlike cloud computing, where top players are obviously visible, edge computing is currently having fierce competition among technology players to get on the top players' list. 
Moreover, Edge Computing still has many technical challenges, and the tech is not fully developed yet. However, companies are actively working on solving these technical challenges. In the next part of this series, we have discussed the main challenges of Edge computing and some of the solutions being developed by companies to solve those challenges. Click here to read the article.