5 Innovation Trends shaping the Cosmetics Industry
At the beginning of the pandemic, speculations associated with the decline of beauty and cosmetics flooded the news. However, two years down the line, we can say that the $500 billion-worth (in sales) beauty industry, accounting for millions of jobs, is here to stay and grow!
Trends changed, but the demand for cosmetics increased due to a net increase in public awareness of wellness and self-care. In recent times, for-men and gender-neutral beauty products have also gained traction, which, in turn, accelerated the expansion of the beauty market. 
In the previous years, we saw a shift in the beauty market towards organic (mostly herbal), personalized, and minimalistic beauty products. We also saw the rise in pandemic-focused trends like "Blue light protection" and sustainability-focused trends like "Upcycled beauty" and "Refillable packaging of cosmetics". 
This year, masks are likely to exit our lives, and offices and public places are likely to remain open permanently. This would probably lead to a surge in demand for skin care products as people would intend to be more presentable while living without masks in public places and offices. Besides pandemics, climate concerns, digitalization, and highly advanced biotechnology are other factors that are anticipated to drive the cosmetics market.
Recent innovation and market size (current and anticipated) are necessary factors to predict the trends which will be at the forefront in any domain in the coming time. Let us have a walk-through of top trends for 2023 and the startups that are becoming the pinnacle of these innovations.
We also have a detailed Report for Cosmetics Innovation Trends 2023 (PDF) that you can get by filling out the form below:
Given below are the top 5 Cosmetic Innovation Trends in detail along with the startups.
1. Waterless Cosmetics
Waterless, water-free, or anhydrous beauty refers to cosmetic products formulated without water. Instead, various kinds of butter, oils, waxes, and oil-soluble active ingredients are used. These ingredients are typically more concentrated (than their water-based counterparts) since they contain more active ingredients and fewer dilution levels. (Source) 
Waterless cosmetics is an emerging trend as companies are focusing on reducing their water footprint and the data below represents the expected growth from the year 2021 to 2031.

Need for Waterless Cosmetics
There was a time when about 70% of cosmetic products used water for improving product consistency, uniformity, and spread-ability. Even now, many of the cosmetics in households are listed as "aqua" (meaning hydrated) indicating the presence of water. Some significant reasons that are responsible for deviation to waterless cosmetics are –
Too often, water is included in a product only as a cheap dilution agent that may not serve a purpose related to skin. This way skincare companies con the customer.

The truth is, that the water in cosmetics products may actually evaporate before the body even has a chance to absorb the water, drying out the skin in the process.

Reductions in water usage make products lighter to transport, reducing carbon footprints, and making powder products a seemingly ideal alternative.

The truth is, the water in cosmetics products may actually evaporate before the body even has a chance to absorb the water, drying out the skin in the process.

Watered cosmetics require a lot of harmful preservatives.
Advantages of Waterless Cosmetics

Startups Researching Waterless Cosmetics
Lifelong (Founding Year – 2019)
Lifelong is a Swedish start-up developing a range of eco-friendly powdered, water-less personal care products that need to be mixed with water (by the consumer) before use. The products include body washes, hand soaps, and shampoos, which are left for one night after mixing with water, and used thereafter. These powdered products are packed in compostable paper pouches, small and light to be delivered to the customers through letterboxes, hence slashing supply chain emissions and plastic usage. (Source)
Green+Bare (Founding Year – 2020)
Launched in 2020, Green+Bare is an Australian green-beauty brand that is aiming to develop a whole range of waterless beauty products. The brand has developed floral waters, plant oils, and clay masks, which is its star product. Clay masks come in five varieties and are manufactured from purple Brazilian clay and hibiscus. They are sold in powder form and can be mixed with water before usage. Green+Bare aims to develop more products like powdered cleaners, cleaning oils, and solid bars, in the future. (Source)
Top companies filing patents in Waterless Cosmetics

Here are some key takeaways from the patent filing trend –
L'OREAL is leading the race to powdered and waterless cosmetics with 5 times more patents filed than its closest competitor – Unilever.
L'Oreal has pledged to reduce its water consumption by a whopping 60% (per finished product unit) by 2022, and Unilever has set goals to half the environmental impact (including water usage) of the making and use of its products by 2030.
One of L'OREAL's recent patents is focused on the formulation of anhydrous sunscreen (rich in antioxidants) using carnauba wax that protects the formula from oxidation and avoids sensory degradation. (WO2020154779 – Patent Analyzed by GreyB)
Among various other steps, L'Oréal invested in the Swiss startup Gjosa in 2021, which is also L'Oreal's R&D partner since 2015, to optimize shampoo rinse technology with the least water consumption. (Source)
Another top innovator, Procter & Gamble, recalled its dry shampoos and conditioners from its Pantene and Herbal Essence (Old Spice) due to the presence of toxic compounds like Benzene. (Source)
However, P&G's current pace of innovations makes it quite clear that it will be bringing safer waterless products this year to maintain the reputation of its well-established sub-brand Pantene. (Source)
2. CBD Skin Care
The rising interest in herbal cosmetics is accompanied by deep research into natural ingredients that can provide a larger scale of benefits with much fewer (or no) side effects. CBD Skincare has been in the limelight for a long time. However, with governments of several countries easing out restrictions on the use of cannabis (e.g. in Canada, the USA, and Thailand), it is seen to be gaining significant traction and newer and newer start-ups are surfacing in this space. The product launches and fast-evolving science in this domain are expected to make it one of the sought-after beauty trends in 2022.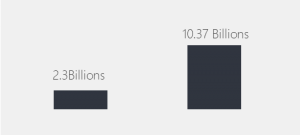 The market reflected a CAGR of ~21.1% from 2013 to 2021.
Myths about CBD Cosmetics
Many people have the misconception that Hemp and Marijuana are the same components.
In the Cannabis family, Marijuana is the compound that contains a higher proportion of THC that releases dopamine, creating Euphoria and high sensation. Whereas, Hemp (containing more CBD) contains all the benefits of Cannabis without any psychoactive substance. CBD oil can be taken orally or topically, like in skincare products. Direct hemp seed oil could also be a great source of CBD without any negative effects. 

Advantages of CBD Cosmetics

Startups Researching CBD Cosmetics
Fitish (Founding Year – 2017)
Fitish is a Texas (US) based company launched in 2017 (originally started as a workout program) that now manufactures a CBD-infused skincare line, which is sold on Fitish's website as well as at major retailers. Since launching with Fitish's debut products, the "Tone Down" CBD facial mist, and the makeup setting spray "Don't Sweat It," the "Dew It" moisturizer has become an instant classic. The main purpose of Fitish is to create formulated skin and hair-care products to calm post-workout redness, soothe irritation, and nourish dehydrated, stressed skin. (Source)
High Beauty (Founding Year – 2018)
High Beauty is a skincare brand founded in 2018 in the Western US (North Carolina) that provides Cannabis sativa seed oil-based products which are free of psychoactive substances like THC and even CBD. Their product portfolio includes – cleansing foam, peeling masks, eye gel, facial moisturizers, facial creams, etc. They claim, for their CBD products, are free of paraben, pesticides, sulfate, GMOs, and gluten. In addition to hemp seed oil, their other ingredients include – red grape seed, pomegranate seed, broccoli, petitgrain, bergamot, cranberry, and lemon balm. (Source) 
Interested in exploring all the Startups innovating in the CBD Skincare domain?
Top companies filing patents in CBD Cosmetics

Here are some key takeaways from the patent filing trend –
Henkel's Zotos Professional launched a new cannabidiol (CBD) and hemp seed oil-infused hair care brand, Wellphoria in 2020. Wellphoria's five products include a shampoo, conditioner, intensive treatment masque, hair and scalp oil, and hand and body lotion. (Source)
Kao Corporation, on the other hand, has opened Kao Naturals, which is exclusively a CBD product line offering hemp-oil products (only) offering cGMP (Certified Good Manufacturing Practices) advantages and third-party tested products. (Source)
3. Microbiome Skincare
Microbiome Cosmetics – Prebiotics, Post-biotics, and Probiotics – have been on the market for a long time. Over the past few years, the idea of hyper-personalized skincare by analyzing the microbiome has been gaining traction.
Google searches for the term "microbiome" have been increasing since 2016; from 2020, the searches have increased 600-700% more than in the past decade. (Source)
Demand for skin care products enriched with components that make the skin healthy internally will drive the microbiome skincare market.

Need for Microbiome Cosmetics
There are a trillion microbes on the surface of our skin like bacteria, viruses, or fungi. The skin microbiome is the genetic sequence of the billions of bacteria, fungi, and viruses that forms skin microbiota. Not one of the people on the planet has the same microbiome. By knowing the genetic makeup of these microorganisms, skincare products can be devised to maintain bacterial homeostasis or balance.
To maintain bacterial homeostasis, we can either remove the harmful bacteria or add either of the three kinds of bacterial composition as suggested by the experts.

Multiple microbiomes–balancing prebiotic, postbiotic, and probiotic – products are available in the market now based on the skin type, environment, skin texture, and other parameters. However, there might be a probability that these bacteria-balancing ingredients of one type might not be suitable for everyone in the public. 
Hyper-personalization using Microbiome Cosmetics
Taking skin swabs to test bacterial analysis and DNA, and therefore, receiving products customized to our microbiome and genetic make-up, could lead to a more targeted approach to beauty in the new decade. Skin swabs (samples) are analyzed and suitable products (prebiotics, probiotics, or post-biotics) are delivered. (Source)

Startups Researching Microbiome Cosmetics (Hyper-personalization focused)
Cryosmetics (Founding Year – 2019)
Cryosmetics is an Uruguay-based start-up, founded in 2019, which designs preservative-free cosmetics to improve microbiome health. Cryosmetics first evaluates the skin microbiome of a particular person by identifying the microbes in the skin through a non-invasive test. Then, the start-up shortlists natural ingredients based on their properties and selects the one best suited to the identified skin microbes. These products are made with vegetable oil and plant extracts, and thus, they are cruelty-free and organic. (Source)
Sage and Ylang (Founding Year – 2018)
Sage & Ylang is a Singaporean beauty start-up, founded in 2018, which is focused on developing customizable microbiome beauty essence, especially for sensitive skin. In late 2019, the company collaborated with A*STAR (Agency for Science, Technology, and Research) in Singapore to develop microbiome-friendly products including moisturizers, face washes, and beauty essence. Along with A*STAR's IMRE (Institute of Material's Research and Engineering), Sage and Ylang is also developing a machine learning-based system to produce customizable microbiome cosmetics. (Source)
4. Fermented Beauty Products
The word "fermentation" originated from the Latin word "fervere" which means "boil", because bubbles may have been observed when alcohol was fermented to produce carbonic acid gas. Biological fermentation is the transformation that certain organic materials undergo under the action of enzymes secreted by microorganisms. In other words, these microorganisms — which can be enzymes, bacteria, or yeasts — induce the decomposition of basic materials or ingredients to transform them into components that may be much more powerful. According to a report by Mintel, 28% of all skincare products launched in 2018 and 2019 contained fermented ingredients – so you might unknowingly be already using them. (Source)

Fermentation has long been practiced for the processing of a large variety of foods. And the process is essentially the same for fermented cosmetics as well. Not only does fermentation act as an active ingredient booster, but it also makes for a higher concentration of nutrients and antioxidants. As a result, fermented products are highly useful in anti-aging therapies, optimizing the penetration of active ingredients into the skin.
Advantages of Fermented Beauty
Startups researching Fermented Beauty
Circulove (Founding Year – 2020)
Launched in November 2020, Circulove offers a line of four facial skincare products: a cleanser, SPF day cream, and two serums. Each product contains fermented natural ingredients like oat and willow bark and a variety of byproduct food-grade oils, including raspberry and strawberry. Packaged using airless bottle technology for stability, the bottles were made from 30% ocean-collected plastic and 70% virgin and used just one type of material for full recyclability. (Source)
Symbiome (Founding Year – 2017)
Symbiome is a US-based skincare company that was founded in 2017 and develops skincare products by fermenting sustainably-sourced ingredients from the Amazon rainforest. Their microbiology team architects the fermentation process for each ingredient by selecting a specific microbe blend directly from the plants' biosphere — preserving the healthy union between plants and their native microbes. This approach optimizes the beneficial molecules released during fermentation. When fermentation is complete, they separate the oils from the raw plant extracts and the live microbes. (Source)
Here are some key takeaways from the patent filing trend –
L'OREAL is partnering and investing heavily in the microbiome skin care segment. In 2020, it partnered with a Dutch biotech firm Micreos, to spot the bad or harmful skin microbes by using some tests and then targeting them (destroying them exclusively). It also partnered with genomics firm uBiome to study diversity in the skin microbiome. (

Source

,

Source

)

L'OREAL's sub-brands La-Roche Posay and Lancôme have already launched a series of microbiome balancing products. However, L'OREAL believes that the future lies in personalization through the microbiome, and is still aggressively researching developing accessible hyper-personalized skincare by studying the skin microbiome. (

Source

)

Nestle, one of the big FMCG companies globally, has also been innovating and investing in microbiome cosmetics and nutrition. Not only has it been the largest stakeholder in L'Oreal, but it also invested 20 million euros ($27.73 million) in the joint venture with Enterome for microbiome diagnostics. The partnership plans to create advanced microbial and serum-based metabolic technologies in the future. (

Source

)
5. Makeup in Metaverse – AR/VR Beauty
Nowadays, we are hearing the buzz about people buying real estate in the Metaverse, too many AR-based games being launched, and even events like convocations and marriages being held in AR. Doesn't this make a great opportunity for Cosmetic giants to provide a bridal makeover facility for Metaverse?
Well, what if it gets real! (Or virtually real maybe)
Need for integrating Virtual Reality with Cosmetics
Metaverse is on its way to becoming a pandemic beauty store.
With the advent of the pandemic, retail stores got closed and cosmetic brands, in turn, started transitioning to the virtual world, doubling down on initiatives to ensure that their customers did not give up on their beauty routines. As a result, apps offering virtual makeup testing – essentially based on augmented reality – started springing up during lockdown, allowing everyone to experiment with different shades of foundation, lipstick, and nail polish, in the comfort of their home, before buying them directly online. 

In addition to the pandemic, the motive to enhance accessibility is also deviating cosmetic brands to the Metaverse.
Major fashion houses have been trying to broaden their horizons and their clientele for several years now. With the Metaverse, such brands could go even further in reaching a younger audience who, while they might not be able to afford designer ultra-expensive Estee Lauder or MAC products, could buy their virtual equivalents to dress their stylish avatars. (Source)
To offer them interactive and immersive experiences, brands could also rely on their Metaverses to run Live Stream shopping sessions.
These online events are booming all over the world, especially in China, giving rise to live-shopping shows hosted by content creators, influencers, and other online stars. And it's a phenomenon that could take a new direction thanks to the Metaverse and its world of possibilities.

Need for integrating Virtual Reality with Cosmetics
Brands are also planning to offer NFTs, which are on the rise.
The given picture shows the NFTs released by L'OREAL on the OpenSea NFT market last year. Their price is also provided in the denominations of "Red Gold Ethereum" crypto-currency. Korean giant Nars Cosmetics – which seemingly has one foot firmly in these new worlds – along with Givenchy Parfums and Clinique are among the companies that have already unveiled non-fungible tokens. And these could multiply at great speed, whether to offer exclusive and rare products or show cosmetics through different artists' eyes. (Source, Source, Source)

Major cosmetic brands are partnering with gaming or AR companies to launch their products in the virtual world.
This co-creation and community are what inspired MAC Cosmetics to be one of the first brands to step across this space when they launched a set of limited lipsticks via the game – Honor of Kings, followed by a collection for SIMS 4. Other brands have followed suit including Glossier, Tatcha, and Givenchy, each launching activations with Animal Crossing, offering a space of self-expression and fascination for both the beauty consumer and brand. "In 2021, NARS launched three distinct gaming and Metaverse pilots – first within Animal Crossing, and later within Asia's premiere Metaverse app ZEPETO and fashion styling game DREST. These pilots allowed us to reach and engage highly relevant, leaned-in audiences through virtual NARS products, distinct artistry looks, and visually sophisticated in-game experiences" adds Fierro. These collaborations inspired brands such as NARS to develop an enriching and immersive virtual experience that simply wouldn't be possible in the real world. (Source)

Startups Researching Makeup in Metaverse
Boddess (Founding Year – 2020)
Boddess is an online cosmetics retailer founded in 2020 in India. It offers multiple products from skincare, haircare, and body care on its iOS and Android platforms. Using the ML-powered AR/VR tech stack, they hyper-personalized the app to each individual. Through the Make-Up try-on, users can try on all kinds of products at home, and with the Virtual Skin Analyser, the user can analyze their skin every time they submit a photo, and recommend products, especially for their skin type. (Source)
KiksAR (Founding Year – 2018)
KiksAR was incorporated in August 2018 and has 25+ big brands and 100+ stores in its portfolio. It is an Indian SaaS-based Virtual Try-On (VTO) company with AI-powered styling and fitment in fashion retail. It has VTO solutions across eyewear, jewelry, makeup, accessories (masks, hijabs, turbans, scarves), watches, apparel, and shoes. (Source)
Top companies filing patents in Metaverse Cosmetics

Here are some key takeaways from the patent filing trend –
Effective patent filing in Metaverse Beauty is comparatively lower than in the other trends. However, we can see the involvement of non-cosmetic brands such as Snap INC and Perfect Corporation in the patent filers of AR-based beauty. This is because of the involvement of digitalization in AR try-ons, virtual shopping, or even NFTs development.

Snap Inc is the company behind Snapchat and Bitmoji. It provides an AR-based

Lens Studio

for customized makeup. Snap Inc also integrated Perfect's AR-beauty testing into Snapchat, allowing approximately 200 beauty brands to create virtual storefronts on the platform. (

Source

)

L'OREAL's Modiface has partnered with Facebook's Meta to utilize Facebook's AR platform to facilitate the AR-beauty experience. (

Source

)

Conclusion
Innovations in the Cosmetic Industry mean that newer products would come up at a much lesser market price (targeting a bigger market), and that would catalyze further advancements. With the shift towards a healthy lifestyle and increasing consciousness for personal well-being, the cosmetics industry would provide more opportunities to the old and new players to innovate and expand.
Moreover, cosmetics and beauty would remain highly attractive for newer start-ups to venture into. Besides, with the entry of newer start-ups and the strengthening of its existing major players, there would be a chance for many breakthroughs and M&As in cosmetics. 
Author: Sarvagya Saxena and Sushant Kumar, Intelligence Team