Top 10 Companies Leading the Research in Edge Computing
This is the third article in our 4-part Edge Computing Market Research Series. In this article, we will discuss the top companies working on edge computing based on their research activities, number of patents, products and services related to Edge computing, and M&As.
Competitive intelligence is pretty essential for any executive to make an informed decision. As an R&D head or a C-suite executive, you would want to know — who is your competition, what these companies are up to, who are the upcoming players in the domain, all their past and ongoing M&A activity, and more.
When it comes to edge computing, while the domain is still in its infancy, a lot of work is being done by both large companies and startups in the domain. There are several players within the global edge computing market working on the technology intensively. Today, we will discuss the top 10 players in this domain, along with insights from their edge patent portfolio.
We have also converted the entire report into a pdf. To get the report in the pdf, please fill the form below:
How did we come up with the list?
We used the combination of patent data and market data. We looked through the patent portfolios of the top organizations in the edge computing domain.
From the patent analytics, State Grid Corp of China is the top company with 456 edge computing patent families. Beijing University is in the second position with 189 patent families while Guangdong Power Grid is in third place with 171 patent families.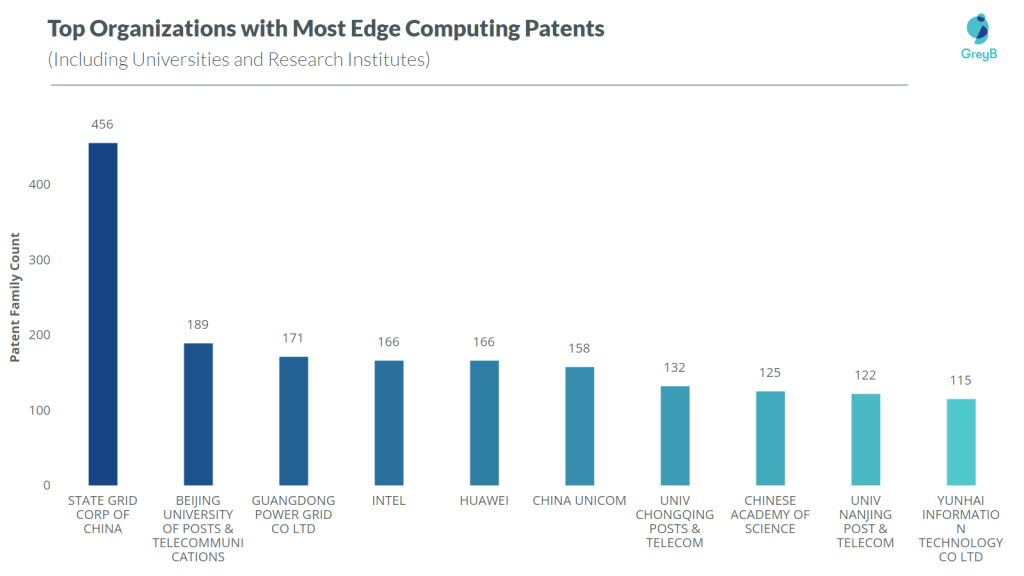 The list contains four research institutes, all belong to China, in the top 10 list. And with 9 Chinese organizations on the list, China seems to be leading in terms of patents.
If we exclude the research institutes in the top 10 list, Samsung and Verizon take places in the list.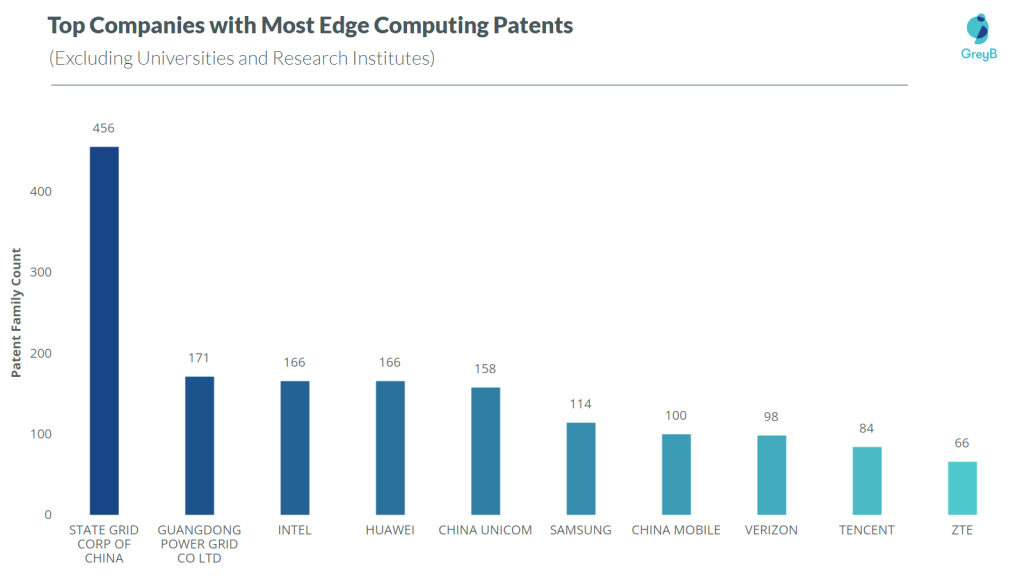 These are the top 10 companies leading in Edge Computing.
Not only companies, but Chinese research institutes are also heavily filing patents in edge computing or its applications. Here are the top 10 research institutes in terms of patent family count to give you an idea.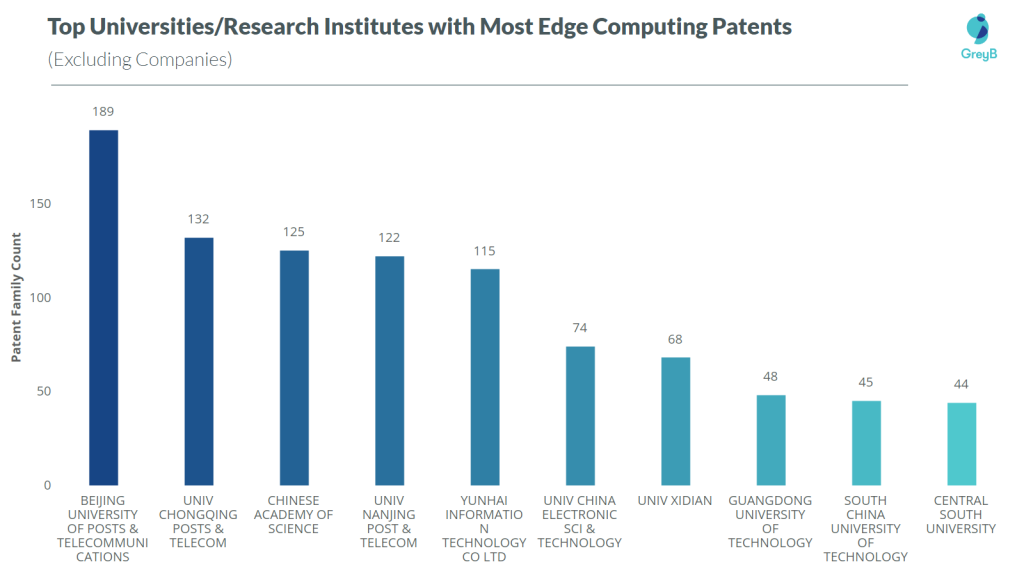 These are the top 10 universities with the most edge computing patents and all of them are Chinese.
So, in terms of patents, China companies and universities are miles ahead in Edge computing technology and its applications.
Methodology to get Patent Data
As a first step we gathered various concepts that are related to Edge computing. For example – edge server, cloudlet, fog computing, etc. are some of the terminologies that resonate with edge computing.
We used these terminologies to formulate search queries and logics, and used commercial databases to extract the patents filed globally related to Edge Computing.
Once we had the patent data, after some filtration and removing irrelevant results. We were able to find answers to questions like:
But then again, patents don't show the complete picture but an important portion. That's where market data comes into play.
With the intense market research along with the patent insight, we were able to identify companies best in providing edge computing solutions.
The top 10 edge computing are given below:
IBM
IBM has been working on Edge Analytics for the past few years that deal with deploying ML models, Neural Nets, and Data Analytics at the edge. It has also developed IBM Watson Studio which is a tool for data scientists to visually design their neural networks and experiment with the training data using the NVIDIA Tesla V100 GPU with a preferred deep learning framework, which can then easily be deployed to the cloud or at the edge.
As per the patent data, IBM has the 7th most Edge computing-related patents. Some of the patents filed by IBM discuss solutions for particular challenges faced in Edge computing.
For example, IBM filed a patent (US20200293914A1) which solves the challenge of determining the set of instructions for edge computing networks in absence of network connection to the cloud server. The invention proposes using a local neural network to predict an action for the edge computing device under a certain confidence threshold. This output is further converted into instructions using natural language processing.
Products or Technologies
Below listed are the products and technologies IBM is working on in the field of edge computing.
IBM Edge Application Manager – It is an automated platform providing real-time research for AI, analytics, and IoT operations that are positioned, and managed in remote areas. It is an advanced, stable, and adaptable platform that manages edge computing by itself. (Source)
IBM Maximo Visual Inspection – It makes artificial intelligence more accessible to business users through deep learning. It analyzes data at the edge, allowing for a quicker response time to advanced analytics. The software can be easily integrated into edge devices and can be operated with high efficiency. (Source)
IBM Maximo Visual Inspection Mobile – It is an edge computing device that helps deliver customized machine learning data insights to the edge. (Source)
IBM Cloud Pak for Network Automation – It is an AI-powered Telco cloud platform allowing network operations to be automated so that service providers can transform their networks, minimize expenses and deliver faster services. (Source)
IBM Cloud Pak for Data – The edge analytics on the Cloud Pak for data keeps the data close to the devices where it is being generated rather than getting stored far away from a centralized location. (Source)
IBM Storage – The Storage systems are designed to bring AI systems to function at the edge and enable market insights for all forms of data, including the influx of live visual information produced at the edge. (Source)
IBM Power Systems & AI Solutions – It is an IT network that uses AI solutions to provide market insights at the edge with diverse workloads. It allows good AI deduction capabilities in the possession of IBM Visual Insights and IBM Visual Inspector experts running on the POWER 9 processor. (Source)
IBM Edge Architecture – The edge computing architecture helps in managing all the connected edge computing devices securely.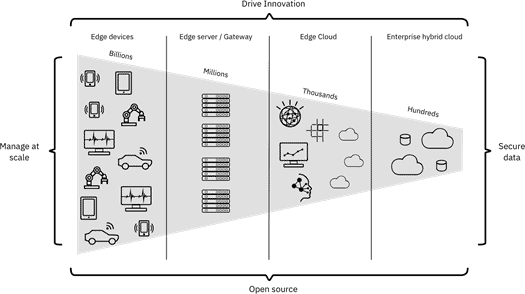 IBM EDGE COMPUTING ARCHITECTURE
The IBM Edge Computing Architecture follows four principles which are as follows:
Securing user data – IBM edge computing devices secure the data generated by the industries while reducing the risk factors by keeping the data at the edge of the network.
Innovative solutions – IBM continuously innovates new products. The Edge Application Manager offers a wide range of services such as Watson AI, IVC, and IoT. It also allows the users to do machine learning and deep learning at the edge of the network.
Portable solution with open-source technology – IBM created an open-source technology to help applications run on the edge of the network, and allow these applications to easily move from one system to another.
Managing a wide range of devices – IBM edge computing products help in managing edge workloads at a wide scale. (Source)
Collaborations
Mergers and Acquisitions
In 2019, IBM acquired Red Hat, one of the leading providers of open-source solutions delivering high-performing Linux, cloud, container, and Kubernetes technologies. The value of this acquisition was approximately $34 billion. After the merger, IBM launched its edge computing solutions platform which was going to be operated on the Red Hat OpenShift platform. (Source)
Intel
Intel has been working under the radar in edge computing tech, and through a series of strategic moves, it has stealthily become a player to watch for in the domain. Apart from releasing several SoCs related to Edge computing, Intel made some strategic acquisitions which helped the company get an edge in edge tech.
In 2019, Intel acquired the smart edge intelligence-edge platform business from Pivot Technology solutions which is a cloud-native, scalable and secure platform for multi-access edge computing (MEC). The expansion of computing at the edge is an important growth opportunity for the chip giant — as it is estimated to become a $65 billion market by 2023.
In terms of patents, as a US company, Intel has the most number of patents in edge computing. Given its chipset business, most of these patents are particularly related to Edge computing hardware solutions. One of those patents, for instance, is EP3734453A1 which suggests methods for identifying, obtaining, and composing required hardware for edge computing platforms. The patent describes how to design and integrate a disaggregated chipset for modular Input-Output in Edge Computing.
Products or Technologies
Below listed are the products and technologies Intel is working on in the domain of edge computing.
Movidius Neural Compute Stick – It is the world's first USB-based machine learning prediction device and self-contained artificial intelligence (AI) accelerator that offers a wide variety of host edge devices with specialized deep neural network computing capability. (Source)
Intel Xeon Processors – With a strong and flexible foundation of edge computing, it can manage real-time analytics, AI, and other challenging workloads. In 2018, Intel launched its Xeon D -2100 processors designed specifically for edge computing needs. (Source) (Source)
Intel Core and Intel Atom Processors – These processors have a wide range of options that combines efficiency and performance while supporting real-time AI and analytics at the edge. In 2020, Intel launched the 11th Gen Intel Core processors and Intel Atom x6000E series offering artificial intelligence, real-time deductions, and security to edge users. (Source)(Source)
Intel Movidius VPU – It offers incredible deduction capabilities to smart cameras, drones, and other edge devices with machine learning and artificial intelligence. The Intel Movidius Myriad X VPU is a dedicated hardware accelerator for deep neural network inference. (Source)
Intel FPGAs – Intel offers wide-ranging capabilities in security, I/O, and networking offering value in high-throughput and low-latency applications. Some of the processors in this segment are Intel Agilex FPGAs, Intel Stratix Series, Intel Arria Series. (Source)
5G Technology – Intel's combination of 5G and Edge computing will allow data centers to stay close to the end-user devices improving the quality of experience, reducing latency, and providing fast data transfer. (Source)
Intel Optane Solid State Drive (SSD) – It helps to reduce the inefficiencies in data center storage and facilitates a larger, more accessible collection of data. It increases overall data center efficiency by speeding up processes, lowering processing costs for latency-sensitive workloads, and accelerating applications. (Source)
Intel OpenVINO – It is a free toolkit enabling deep learning inference from edge to cloud and AI workloads such as machine vision, audio, speech, language, and suggestion systems are all accelerated. (Source)
OpenNESS – It is a Multi-Access Edge Computing (MEC) software toolkit that optimizes dynamic edge service management through a range of network platforms and network applications. (Source)
Intel Smart Edge – It is a multi-access edge computing platform offering low latency, better security commercialized for on-premise business sector use cases. (Source)
Intel DevCloud for the Edge – It is a virtual AI prototyping tool allowing users to run and test edge workloads on Intel hardware. (Source)
Intel Deep Insight Network Analytics Software – It is the world's first monitoring system that offers complete access to every packet in the network and server offering the ability to detect and report problems in real-time with high accuracy. (Source)
Collaborations
Mergers and Acquisitions
Huawei
Huawei is a leading 5G company that holds the most Core 5G SEPs, as per GreyB Essentiality Check Report.
This gives the company an edge over other companies, no pun intended. The company holds the most patents for edge companies and its edge portfolio, which is further strengthened by its in-house technical expertise and collaborations with other players.
In 2017, Huawei launched the Edge-Computing-IoT (EC-IoT) Solution which allows edge nodes to provide intelligent services nearby and implements network management in the cloud. Until now, the EC-IoT Solution has been applied to the elevator network, power IoT, city and lighting IoT, smart energy, smart manufacturing, engineering machinery, and the Internet of Vehicle (IOV).
Its 400 patents discuss many solutions for different challenges. Some of them are related to the efficient deployment of application programs between all levels of edge computing platforms. For this, Huawei filed a patent application US20200218590A1 which suggests creating a global application platform containing the data of applications at all edge levels. This further helps in sending data from the second edge computing platform to first and then back again, thereby deploying application programs between all levels of edge computing platforms.
Products or Technologies
Huawei Edge Computing – IoT (EC– IoT) – The solution allowed edge nodes to send intelligent applications nearby and integrated network management in the cloud with the company's SDN -based Agile Controller and edge computing IoT gateways (AR500 series). The solution also helped add edge computing and cloud-managed platforms on IoT-based devices. (Source)
Huawei Atlas 500 Pro AI Edge Server – It is a device used for edge applications. This server offers cloud-edge collaboration, superior computing performance, and excellent adaptable capabilities. It can be implemented at the edge of the network to meet the requirements in diverse situations such as retail stores, shopping areas, transportation, etc. (Source)
Huawei AR502H Series – This device is an Edge Computing – Internet of Things (EC–IoT) gateway. It offers superior edge computing experiences, Computer Development Kits, as well as free software and hardware tools for more flexible computing, storage, and networking environment. (Source)
Huawei 5G MEC – The company launched its next-generation multi-access edge computing solution, Clover. It brings application resources and content closer to customers and enables network integration, ensuring that users have a consistent and excellent experience. (Source)
Huawei iMaster MAE -CN – In situations involving Multi-access edge computing, it combines management and monitoring, cloud-edge teamwork, and organizational autonomy with big data processing, intelligent decision-making, and automated closed-loop control to provide an automatic driving solution. (Source)
Collaborations
Amazon
As one of the top providers of cloud computing, it isn't surprising that Amazon is also a leading company of Edge computing despite having fewer patents related to the technology. However, Amazon has enough technical expertise and sources to develop an Edge portfolio for providing "A to Z" edge computing solutions. Let's have a look at some of them.
Products or Technologies
AWS wavelength – It is an AWS framework that allows creators to develop applications with very low latency for cellular devices. The edge computing platform uses regular AWS computing and storage facilities at the edge of 5G networks for telecommunication carriers. (Source)
AWS Snowcone – It is a portable edge computing data transfer device. The Snowcone is used to enable applications at the edge, collect and process the data, and move that data to AWS without staying online. (Source)
AWS Outposts – AWS Outposts is a fully managed solution that offers a seamless hybrid experience, to nearly every data center, co-location space, or on-site facility. AWS Outposts are suitable for workloads that include connections to on-site systems, local data processing, or local data storage with low latency. (Source)
AWS Local Zones – It is an edge computing service where developers can run applications with ultra-low latency close to the end-users. AWS Local Zones are suitable for use cases like production of media & entertainment content, real-time gaming, live video streaming, and inference from machine learning. (Source)
AWS Storage Gateway – It is hybrid storage offering unlimited cloud storage. Consumers use Storage Gateway to ease storage management and lower costs. This involves transferring backups to the cloud, using cloud storage-backed on-site file shares, and offering low latency access to AWS data for on-site applications. (Source)
Amazon CloudFront – It is a worldwide content delivery network (CDN) platform that provides customers with low latency and fast transmission rates seamlessly via files, images, games, and APIs. (Source)
AWS Snowball – It is an edge computing, data transfer, and edge storage device. This device can be used to collect, process, and store data for different industries or in remote locations. (Source)
AWS RoboMaker – An application for robotics developers to create, prototype, and model robotics applications before launching them to the edge. (Source)
Amazon SageMaker Neo – Developers can prepare machine learning models and run them anywhere in the cloud or at the edge with Amazon SageMaker Neo. It enhances the prototypes to run at high speed with no loss in accuracy. (Source)
Amazon SageMaker Edge Manager – It is a software agent that runs on edge devices. It helps the users to optimize, secure, monitor, and maintain ML models on edge devices. (Source)
Amazon Monitron – It is an integrated device that uses machine learning (ML) to detect irregular activity in industrial machinery, allowing the user to perform proactive analytics and eliminate unscheduled downtime. (Source)
AWS Panorama – It is a machine learning system and Software Development Kit (SDK) that enables businesses to introduce computer vision (CV) to on-premises cameras and make predictions with high accuracy and low latency.
AWS IoT Greengrass – It is an open-source edge platform and cloud service for the Internet of Things (IoT) that aids in the development, deployment, and management of system apps. (Source)
FreeRTOS – It is web-based real-time software for microcontrollers that makes it simple to program, deploy, stable, link, and control lightweight, low-power edge devices. (Source)
AWS IoT Core – It lets users connect IoT devices to the AWS cloud without the need to manage servers. The AWS IoT Core lets the users keep track of all the devices even when it is disconnected.
AWS IoT SiteWise – It is a regulated platform that collects, stores, organizes, and monitors the data from industrial equipment in large volumes and helps make better data-driven decisions.
Collaborations
Google
Just like Amazon, Google also took a venture from the cloud to the edge and is now considered one of the leading players in technology. Google, like Amazon, isn't on the top patent count list, however, its edge portfolio could provide a complete solution as the company actively participates in 5G and IoT technologies through several collaborations with various companies.
Let's have a look at some of the products and collaboration efforts by Google in edge computing.
Products or Technologies
Google Edge TPU – It is a new hardware chip that allows artificial intelligence (AI) to run on the edge accurately. This product uses edge computing to fulfill growing needs such as consumer privacy, ultra-low latency, and rise in connected devices. The Edge TPU is applicable in a wide range of uses such as predictive maintenance, anomaly detection, machine vision, robotics, voice recognition for different industries. (Source)
Google Cloud IoT Edge – It is software that uses edge computing to expand the machine learning and data processing capabilities of Google cloud and enable its uses on gateways, cameras, and end devices making the applications faster, secure, and more reliable. (Source)
Google Anthos – It is a hybrid multi-cloud platform for developing applications on the network. Anthos at the edge helps in bringing the applications closer to the users offering high performance with low latency ensuring the businesses are compatible in different locations and can be accessed globally. (Source)
Google Coral – It is a machine learning platform for edge applications. It helps the users develop their own devices using the local AI. This platform also helps in providing hardware acceleration on edge devices. (Source)
Collaborations
Microsoft
Microsoft is a leading cloud computing company, but unlike Amazon and Google, Microsoft owns a fair number of edge computing patents in its portfolio, most of which discuss solutions to the challenges faced in the industry.
One of Microsoft's patents, for instance, WO2020214409A1 provides a solution to dishonest or fake users subverting the foreign language lesson application by avoiding or bypassing the call to the trusted metering application. This is due to loopholes in security as well as a monitoring system. The invention proposes a method for metering execution of an application module and securing transmission of workload packages in an edge computing device. This is done by creating a unique provisioning service authentication token for every particular application package.
Along with its patents, Microsoft also has a range of products dedicated to edge computing. Azure IoT Edge, for instance, is a fully managed service built by Microsoft for the users to deploy cloud workloads, artificial intelligence models, business logic, and the Internet of Things (IoT) on edge devices via standard containers. Tools like Azure Defender are exclusively designed and upgraded from time to time to ensure end-to-end threat protection on the edge servers.
Products or Technologies
Below listed are a few more products and technologies developed by Microsoft in the domain of edge computing.
Azure SQL Edge – It is an edge-optimized SQL database engine with a pre-installed AI. This product lets the user choose a platform, manage real-time data analysis at the edge, and make real-time data deduction at the edge using the Open Neural Network Exchange (ONNX) framework.
Vision AI DevKit – It was configured to run containerized Azure resources locally and transfer tasks to the network edge. The device was developed using a Qualcomm Visual Intelligence Platform for accelerating the hardware of AI along with eInfochips, a leading provider of design services in vision-based AI and the Edge to Cloud services. (Source)
Microsoft HoloLens 2 – It is an edge computing device that is very flexible as it can be operated offline as well as connected to any cloud. When it is connected to Microsoft Azure, it can be accessed from any device or platform. (Source)
Microsoft Azure Stack edge – It is a cloud-managed, AI-enabled edge computing device with the capabilities of storing and transferring the data into Microsoft Azure. It helps the businesses to run workloads close to the source of the data, enhancing the processing times, reducing latency, and conserving bandwidth. (Source)
Microsoft Azure Edge Zones – It is an Azure extension with a limited range located in populated areas. The Azure edge zones help the developers to run applications close to the end-users offering low latency and high throughput. These edge zones are useful for streaming games, content delivery, and real-time analytics. (Source)
Azure IoT Edge – Azure IoT Edge is an Internet of Things (IoT) service that expands the IoT Hub and allows users to perform edge computing. It offers low latency decision-making, offline operating facilities, and real-time results. (Source)
Azure Sphere – It is a microcontroller used at the edge computing nodes. It was built with the ability to process data in real-time with the capability to run a high-level operating system. It also helps in securing the user data with multiple layers of protection. (Source)
Collaborations
Mergers and Acquisitions
Ericsson
Ericsson is a leading 5G company that directly competes with players like Huawei and ZTE. The company which is a leading player in 5G and other telecommunication technologies, has accrued a solid patent portfolio to make it to the list of top players in edge computing.
Let's have a look at what it has been up to in the edge computing domain.
Products or Technologies
Ericsson Edge NFVI (Network Functions Virtualization Infrastructure) – The platform was designed to transfer traffic across a distributed network at the edge of the network providing low latency, low cost, and high throughput 5G use cases. It has a compact design that allows it to run cloud applications and virtual network functions on this platform. This also makes the platform very flexible. (Source)
Edge Gravity – The Edge Gravity Unified Delivery Network was an edge cloud platform that was developed in collaboration with broadband service partners to offer the next generation of edge-scale applications across specific industry lines of business. It was launched in 2018 but in 2020 Ericsson closed this unit as it did not meet the key targets set by the company. (Source)
Collaborations
Mergers and Acquisitions
In September 2020, Ericsson acquired Cradlepoint, the market leader in the US in Wireless WAN Edge 4G and 5G solutions. Ericsson paid approximately $1.1 billion to acquire Cradlepoint. Ericsson aimed to combine its 5G network with the acquired company's technologies and concentrate on developing private networks, edge computing, and IoT solutions. (Source)
Cisco
Cisco is a prominent wireless hardware company with expertise in 5G technology. Using its technical expertise and experience, Cisco managed to build an "edge" portfolio to provide edge computing solutions. Let's look at some of its offerings.
Products or Technologies
CISCO IOx – This platform was developed to help developers develop business software at the edge of the network. It helps in edge application management that allows management, tracking, and troubleshooting of edge applications on the CISCO IOx platform such as FND, GMM, and DNA-C from remote places. (Source)
HyperFlex Edge – It provides users with versatile options for incorporating computing and storage to the edge environments in a hyper-converged infrastructure solution that is easy to manage and functions efficiently. (Source)
Catalyst 8000V Edge Software – It is a virtual edge platform that offers the users flexibility, protection, and visibility required in the modern multi-cloud environment, allowing the ability to customize applications for the best possible user experience. (Source)
Catalyst 8200 Series Edge – This is a 5G cloud edge platform designed for secure access service edge (SASE) providing secure, versatile, and scalable connectivity to the users' multi-cloud architecture. (Source)
Catalyst 8200 Series Edge uCPE – It is a versatile networking platform that offers multi-cloud technologies, industry-leading network functions virtualization (NFV), and stable edge connections. (Source)
Catalyst 8300 Series – It is an edge computing platform that helps users benefit from accelerated services, multi-layer encryption, cloud-native agility, and edge intelligence accelerating their path to the cloud. (Source)
Catalyst 8500 Series – It is a high-performance cloud edge platform with edge information, multi-layer stability, and cloud-native flexibility. (Source)
CISCO Edge Intelligence – It is an application that helps extract, convert and send data from IoT edge devices to different applications. It also allows users to link devices with different forms of networks, making it simple to manage and safely handle data extraction. (Source)
Catalyst IE3x00 Rugged Switches – This platform offers integrated real-time data at high speeds on a modular, streamlined architecture. Cisco rugged switches provide edge computing simplicity, reliability, and protection. (Source)
IR1101 Integrated Services Router – It has a highly portable, lightweight, modular architecture that is ideal for critical applications. With SD-WAN technology, edge computing, and IOS XE, it provides improved advanced router security and management. (Source)
Collaborations
Mergers and Acquisitions
In 2020, CISCO acquired Banzai Cloud, a software company developing end-to-end cloud applications. Both CISCO and Banzai cloud joined forces to develop technologies related to edge computing for present-day distributed applications. (Source)
Tencent
Tencent's entry into the edge computing domain came as a surprise, and it is even more surprising that they hold a significant number of patents in the technology. In October 2020, Tencent opened its first Edge computing center for the public in Binhai New Area to show off Tencent Cloud's cutting-edge products, its one-stop product matrix in the fields of hardware, network, platform, and multiple levels of applications.
You might be wondering about all the work Tencent did in the domain of Edge computing. We had the same questions and here's everything we found.
Products or Technologies
Tencent Smart Edge Connector (TSEC) – It helps in developing 5G carrier networks. It would act as the bridge between the cellular device users and the service providers with a high-quality and distinguished edge computing internet protocol service, collaborating the applications in the cloud, edge, and end-user devices. The major responsibilities of the Tencent Smart Edge Connector (TSEC) are off-loading mobile traffic, mobile network acceleration, edge traffic forwarding, mobile network tunneling, and IoT access control. (Source)
Tencent Edge Computing Machine (ECM) – Edge Computing Machine (ECM) transfers computing power from the central node to edge nodes near to customers, resulting in low-latency, high-availability, and low-cost edge computing services. According to business needs, the customer can adapt the service area and size of edge modules, react quickly and flexibly to market adjustments, and have a quicker response at a lower cost. (Source)
IoT Edge Computing Platform IECP – It is an edge computing platform that offers low-latency, portable, stable, and versatile edge computing services for the users of IoT enterprise, lowering the operating and maintenance costs, as well as growth and network bandwidth costs. (Source)
Edge Availability Zone TEZ – It is a Tencent Cloud local extension that can help with processing, storage, and system compatibility problems. It helps the developers run latency-sensitive applications close to the users. (Source)
Collaborations
ZTE
ZTE, just like its local competitor Huawei, is a leading 5G company that also holds a significant number of 5G patents. ZTE patents for Edge computing, its in-house technical expertise, and the collaboration with other players make it one of the leading players of edge computing.
In 2020, ZTE Corporation collaborated with China Mobile to launch China's first 5G medical edge cloud platform. Apart from this, for the past 3 years, ZTE has been working on 5G-oriented edge computing which would enable a wide range of services, including AR/VR, IoT, industrial automation, and autonomous driving on edge.
ZTE's patents discuss the solution to integration or migration of other technologies in an edge application when it comes to patents. For example, one of ZTE patents (CN110535896A) discusses migrating an edge computation application for processing a high definition video, virtual reality (VR), or augmented reality (AR) image by applying a user device over a vehicle network i.e. third-generation partnership project (3GPP) cellular network.
Products or Technologies
ZTE Common Edge MEC (Multi-Access Edge Computing) – The Multi-Access Edge Computing (MEC) helps compute and storage resources close to the end-users. This allows high-bandwidth, low-latency access to services. The ZTE edge computing solution offers video recognition solutions, low latency video streaming, and supports services from third parties. (Source)
E5430 G4 – It is an edge computing server that caters to the needs of edge equipment rooms. It satisfies the needs of 5G, IoT, AI, and other device scenarios for collecting, analyzing, and processing edge data. (Source)
ZTE MEC Integrated Cabinet – The ZTE Common Edge embedded cabinet is a plug-and-play edge cloud system for industrial sectors that satisfies the complex market conditions of 5G scenarios and allows operators and vertical industries to transition digitally. (Source)
Lightweight Dual Engine Edge Cloud – Rich cloud-native infrastructure platforms are introduced by mixing container and virtual machine deployments to support ICT edge applications for quicker distribution, implementation, resiliency, and cross-cloud migration. (Source)
Collaborations
M&A Landscape of Edge Computing
Having looked at the activities of all the top companies in the edge computing domain, let's now have a quick look at the merger and acquisition scene here, starting with the list of the 3 biggest M&As in the domain.
3 Biggest M&As in the Edge Computing Industry
In 2020, Microsoft acquired Affirmed Networks, a company that provided the Affirmed Cloud Edge (ACE) solution for Mobile Edge Computing (MEC) offering Communication Service Providers (CSPs) the ability to host applications and store information close to the customers to reduce latency and increase performance. Microsoft valued Affirmed Technologies at approximately $1.35 billion. Microsoft used the software to assist mobile carriers to deploy NFV-based applications that can manage conventional network services and provide edge computing services for business and government organizations. (Source)
In 2019, IBM announced the acquisition of Red Hat for approximately $34 billion. IBM and Red Hat combined to include a next-generation hybrid multi-cloud interface, which aimed to accelerate innovation. The IBM acquisition allowed the tech giant to use Red Hat's tools to build innovative edge computing technology, allowing it to gain a stronger foothold in the industry. With hybrid multi-cloud offerings that combine Red Hat OpenShift and IBM's industry experience to meet corporate requirements, IBM is assisting its clients in taking full advantage of edge computing and 5G. (Source)
In 2019, Intel acquired the edge computing software business, Smart Edge from Pivot Technology. The acquisition was approximately priced at $27 million. The application, that runs on Intel processors, speeds up processing machines by separating data and bringing it closer to the users. Intel intends to use it in devices for the new 5G wireless network, which has already begun to phase out. (Source)
Which Companies made the Maximum Acquisitions in Edge Computing?
Amongst the top companies developing edge computing solutions, the companies with maximum acquisitions related to edge computing are as follows:
Sr.No.
Company Name
Acquisitions

1.

NVIDIA

In 2020,

NVIDIA

acquired

Arm

for

$40 billion

to accelerate its growth in

Edge Computing

.

(

Source

)

In 2020, NVIDIA acquired Mellanox for $7 billion as next-gen data centers are rising in popularity with the rapid increase in edge computing requirements. (Source)

In 2020, NVIDIA acquired Cumulus Networks, a company that developed solutions at the edge of the network through its collaboration with Mellanox. (Source)

2.

Intel

In 2019,

Intel

acquired the

Smart Edge platform

from Pivot Technologies for approximately

$27 million

.

(

Source

)

In 2016, Intel acquired Movidius, a chip designing company for approximately $400 million to develop edge computing products. (Source)

3.

Apple

In 2020,

Apple

had announced the purchase of Seattle-based

edge-AI company Xnor.ai

for

$200 million

.

(

Source

)

In 2018, Apple acquired Silk Labs pushing AI/ machine intelligence to the edge. (Source)

4.

Microsoft

In 2020,

Microsoft

acquired

Affirmed Networks

to accelerate its push towards developing edge computing solutions.

(

Source

)

5.

IBM

IBM

acquired

Red Hat

for approximately

$34 billion

to build innovative

edge computing technologies

.

(

Source

)
Future Outlook
The companies which we have discussed above are good contenders for the top player's list. Tech giants like Google, Amazon, IBM, and Microsoft already have cloud and AI expertise. On the other hand, Huawei, ZTE, Cisco, and Ericsson have 5G expertise that has the potential to transform Edge computing. Moreover, Intel has chipset capabilities.
Thus each company has something in its arsenal that will help them stay ahead in the edge computing race. If you're trying to make your place in the edge computing domain, and your name was not on the above list, I got to tell you this – The competition is tough.
However, a series of strategic moves can help you here. While patent filing to protect your in-house R&D, and collaboration with universities are two such routes, both of them take time.
One good option to opt for in this case would be startup acquisition. Yes, acquiring startups would be the best way to get an edge over the competitors (pun intended). With multiple startups working on Edge Computing, companies can make a series of good moves and get a lead in the race.
However, with the hundreds of startups working in the domain, it can get difficult to choose one. Don't worry, we have a solution. To help you make an easy information-backed decision, we created a list of the top 10 startups of Edge computing. These startups have been chosen based on their technical expertise, investment funding, top investors, involvement of big companies, and patent activities.
Want to know all about them? Click here to find the top edge computing startups.