Impact on the Drone industry with the new rules in India
On August 26, 2021, the Central Government of India announced: "New Drone Rules – 2021" that liberalizes drone rules with the vision to make India a global drone hub, by 2030. We believe every country will have its own rules but understanding one can help in designing a framework that can work at the global level.  
As part of the process, several requirements and approvals have been abolished to simplify drone operations for civilian drone operators. This should open new possibilities for innovation, business, and drone technologies. This would also propel these UAVs to soon carry goods for commerce and transport people on-air taxis.
However, the above piece of news aroused a lot of questions in people's minds. Questions like:
What are these New Drone Rules?
What does this mean for the Indian Ecosystem? What can we get from it?
Which Companies and Startups are working in this industry?
What does the Patent filing trend of Indian startups look like?
What to expect in the future?
What does the future hold for "Air Taxis"?
You might have these questions too, and fret not, we've got you covered. In the remaining part of this article, we will answer the above questions and look at some interesting patent trends. Fasten your seat belts, we are about to take off!
What are these New Drone Rules?
We've summarized all the catchy points in the rules below, sans any legal jargon. You can thank me later!
The relaxation in rules specifies no security clearance requirement before any registration or license issuance for operating the drones.

The coverage of drones has increased from 300 kg to 500 kg to include heavy payload-carrying drones and drone taxis.

The number of approval forms is reduced from 25 to 5.

The fee for a remote pilot license fee has been reduced from Rs. 3000 (for large drones) to Rs. 100 for all drone categories. It is valid for 10 years.

The fees for the permissions to operate drones in the country have been reduced to nominal levels.

Drone corridors will also be developed to facilitate cargo deliveries.

Interactive airspace maps with green, yellow, and red zones shall be displayed on the digital sky platform within 30 days of the publication of these rules. No permission is required for flying drones in the green zone

No pilot license will now be required for operating nano-drones and micro-drones for non-commercial use.

The maximum penalty under the Drone Rules 2021 has been reduced to Rs. 1 lakh.

There is no restriction on foreign ownership in Indian drone companies, and DGFT will regulate the import of drones.

Manufacturers and importers may generate their drones' unique identification number on the digital sky platform through the self-certification route.
What does this mean for the Indian Ecosystem? What can we get from it?
India's drone market is certain to grow in the coming years. As the vision is set for 2030, many companies will be entering this domain which will resultantly cause a boom in the industry. In fact, as per Chief of Drone Federation India – Smit Shah, India's drone market can grow to Rs 50,000 crore ( USD 68 Billion) in 5 years (Source).
This means The Drone Rules, 2021, will facilitate investments in drone technology in India and aid in simplifying the process of registration. It will also offer flexibility to players in the sectors.
Moreover, developing an airspace map on the digital sky platform will provide real-time updates for drone operation in India in various zones. As per Civil Aviation Minister Jyotiraditya Scindia, it will tempt the industries to work in "air taxis" or "air cargo" applications (Source). The real-time updates may seem to offer the same advantages that were brought by road taxis real-time updates.
Also, Drones are currently being used for aerial cinematography, land surveys, agriculture, construction progress monitoring, roads, highways, and railways. These industries will also be opening up further because the rules that existed before this current policy did not allow for the commercial use of drones.
Which Companies and Startups are working in this industry?
Domain Overview
At present, there are around 200 startups that are part of the drone ecosystem in India. With these rules, these startups will be greatly supported as the technology will be used widely for delivering medicines, supplies during disaster management and real-time monitoring of projects. Here is the view of the Drone Startups (courtesy of Tropogo)
These rules will not only benefit the Drone Manufacturers but other entities as well like – Drone Service Providers, Training Schools, Academia, Hardware Marketplace, Drone Racing & Aeromodelling Clubs, Drone Insurance, Associations & Industry Body, Drone Law Firms, Flight Planning & UTM, Remote Id & NPNT, Data Management Software, Consultancy, Simulators, Telecom, Air Taxi, Drone Components & Systems Manufacturer, Etc.
Therefore, companies in all these areas will have an advantage. Ecommerce and delivery companies operating in India like Flipkart, Dunzo, and Swiggy have already started pilot projects for deliveries through drones. Alibaba in China is already doing a lot of its deliveries via automated robots. To give you more detail, in 2020, these companies received approval for testing "Beyond Visual Line of Sight" drones. This initiative comes as the demand for contact-less deliveries continues to surge due to the outbreak of COVID-19 in India. As per this, the companies were required to complete at least 100 hours of flight time over areas designated by the Airports Authority of India (AAI) by September 30. They were tasked with either carrying payloads or surveying the allotted regions. This testing comes with an intent to see the feasibility of deliveries by drones.
It would be interesting to see what these companies bring to the table. That said, there are many other start-ups as well to look at when we talk about innovation in this domain.
Which start-ups are to look out for?
Let's first look into some of India's prominent startups (general) that have previously leveraged drone technology. These start-ups are going to be of interest. Their upcoming products or product line will see a change with the New Drone Rules in place.
ideaForge –

Founded in 2007, ideaForge is a Mumbai-based startup that provides drones for aerial surveillance.

Zen Technologies –

Zen Technologies manufactures world-class, state-of-the-art training simulators.

Skylark Drones –

Skylark provides a Drone analytics platform for multiple industries.

Aarav Unmanned Systems (AUS) –

AUS has developed quadrotors for performing 3D mapping & Image Processing, precision agriculture, disaster/event management, and defense surveillance.

Garuda Aerospace

– Garuda Aerospace is a leader in the Drone as a Solutions (DaaS) space. It is most sought after for all agriculture services – spraying, crop management, livestock monitoring, and inventory management.

ISPAGRO

– ISPAGRO Robotics is developing drones for defense, inspection, and maintenance, firefighting, etc.

General Aeronautics

– General Aeronautics is an engineering design services company that performs unmanned and manned aircraft design and testing.
How does the Patent filing trend of Indian startups look like?
ideaForge is the top Indian startup when it comes to filing a patent in this technology, whereas other start-ups are still not actively filing patents. However,  with the New Drone Rules, we might witness an increase in the patent filing trend in this domain.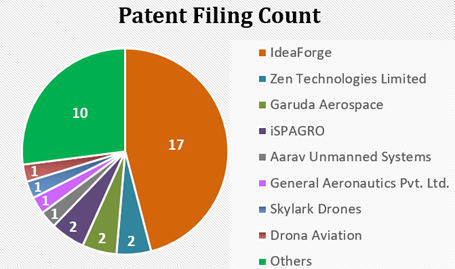 Graph 1: Patent filed by Startups in India
It is also important to note that drone technologies are being highly researched, and improvements have been made in the past few years. All the patent filing, by startups, has taken place in the last 5 years. It indicates the emergence of startups in drone technology and increasing interest in bringing innovation in the domain.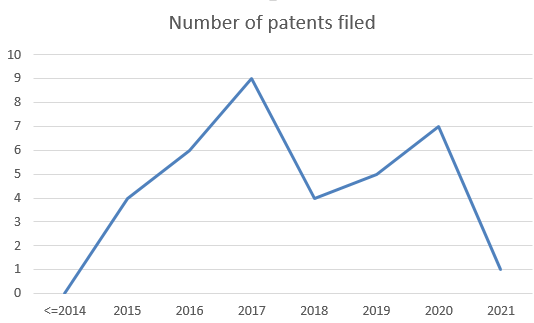 Graph 2: Patent filed by Government Organizations in India
One possible reason for ideaForge's supremacy in the domain can be its active involvement in the development or manufacture of components of the DRDO UAVs. DRDO is a government organization, which has been pioneering in this domain since 2008. The DRDO and ideaForge collaboration may have instigated the required innovation in technology.

What to expect in the future?
To understand the future of the drone industry, we evaluated the prominent technologies being filed by the Indian startups in the last 5 years. We also did some digging into their market data and the latest news to track their activities. The idea is to connect the data points and predict the possible plan of the industry. And by doing so, here are a few insights/predictions that we have gathered –
In 2020, Garuda Aerospace filed a couple of patents – IN202041035101A and IN202041035100A – for heavy-lift devices that allow sowing seeds and pesticide spraying. It aims to cover a large area, reduce the work time and cost of pesticide application. In fact, during COVID19, the

Government of India officially endorsed Garuda

for the sanitization services and to combat the locust attacks. Moving ahead, we may see agriculture companies employing these drones for sowing seeds/pesticide spraying.

Zen Technologies Ltd is a pioneer in the design, development, and manufacture of world-class state-of-the-art training simulators. The company develops simulators for weapons and defense equipment. In 2020, it also filed a patent – IN201941053147A – on an air defense combat simulator system to train against realistic air threats. Further, following the New Drones Rule,

Zen Technologies' share is up 142% in a month.

In the future, we may see the demand for Zen Technologies simulators grow in the private sector as well.

In 2020, ideaForge filed patents related to the concepts of –

determining accurate elevation data of terrain by using a UAV

(IN202021002431A), providing live streaming of video data in a low bandwidth network (IN202021002430A), etc. We may see these technologies coming into forthcoming products of ideaForge, with New Drone Rules coming in place.

Other startups like

Marut Drones and TechEagle Innovations

have conducted test flights of their drones via VLOS and BVLOS.

With Drone Rules 2021, their drones will be used by Telangana Government for their 'Medicine from the Sky' programme.

It will allow drones to transport vaccines to remote areas.

The use of UAVs is foreseen to be a major part of beyond 5G and 6G wireless networks in the next decade. In fact, in 5G, UAVs are being used to operate as flying Base Stations providing service to ground users. Since

the 5G launch in India is expected to be in the mid of 2022

, therefore, the demand for drone distribution will increase considerably. This demand is expected to increase even further as in 6G technology, UAVs will be used to connect ground users to in-orbit wireless infrastructure.
"Air Taxis" – It's future and startups
With the New Drone Rules Policy in place, the day is not far when the Air Taxis will be all-around the place. The increase of drone coverage from 300 kg to 500 kg is done to include heavy payload-carrying drones and drone taxis. Let's now look at some of the companies that will drive India's vision of becoming a Global Done Hub by 2030.
VTOL Aviation

– VTOL Aviation India has taken the initiative to develop VTOL Air-Taxi in collaboration with IIT Kanpur. "ABHIYAAN" Air-Taxi product range is a multi-seater VTOL capable fixed-wing aircraft designed to change the face of Urban Aerial Mobility. The project is expected to be completed by 2023, where over 100 researchers from IIT Kanpur are working towards developing a fully functional prototype.

Uber Elevate (Joby Aviation)

– Uber has tied up with five global aerospace giants — Embraer, Pipistrel Aircraft, Karem, Boeing subsidiary Aurora Flight Science and Bell, to produce the flying taxi. It is working towards developing aerial ridesharing with Uber Air and is expected to take off in 2023.

Ubifly Technologies

– Ubifly technology, founded in 2016, is a Chennai-based startup that is working on developing e-planes in the country. The startup is focused on developing electric planes and UAVs. It has already designed UAV models for delivering goods and services. The company is also planning to develop a two-seater air taxi which will be called e200.

The ePlane Company –

This is another startup working towards building a flying taxi for a faster commute in the city. It aims to achieve safe, quiet, and pollution free-transport. They are working towards developing affordable, high mileage, and easily certifiable products.
Other than these companies, many others are working towards making Air Taxi services around the globe a reality. These companies include Boeing, Volocopter, Bell Textron. Also, Malaysian budget airline AirAsia is planning to launch a flying-taxi business as soon as next year.
What does the future hold for "Air Taxis"?
In the past 2 years,

Ubifly Technologies

has filed a couple of patents – IN201941030390 and IN201941030436 – related to hybrid aerial vehicles. The inventions aid in increasing the lift forces generated by a hybrid aerial vehicle with fixed wings and rotors during take-off and landing. Moving ahead, we may see more of these hybrid aerial vehicles in the market.

Boeing has been bringing the future of unmanned aircraft carrier aviation to the U.S. for years. Now,  Boeing has also filed several patents (5+) in the IN jurisdiction (IN202014055370A, IN201917019230A, IN201814042438A, etc.), in the last 5 years. These filings are focused on topics from "drone network and efficient operation" to "flap system for an aircraft" to using drones for tree metrology systems. Therefore, we may see Boeing entering the market, with the New Drone Rules in place.
Conclusion
Many foreign companies have employed or are employing drones in many application areas like air taxis, 5G network deployment, agriculture, etc. Therefore, for start-ups, it is essential to keep a tab on the innovations of their Indian competitors, big players, etc. This can help them channelize their efforts in the right direction to be at the forefront of their game.
While the Corporates with the New Drone Rules in place may leverage the technology and infrastructure of the Indian start-ups for entering the Indian Drone Ecosystem. They may also collaborate with the Government for the fast deployment of the 5G network.
Overall, we can all agree that many technologies will come into the Indian Ecosystem with the New Drone rules. And the startups that have already laid the base for this technology will be front-runners of this evolution. Many domains will open up, more foreign investments will come, and we may soon see ourselves booking an air cab.
There's a lot of information you ought to know if you're a player in drone tech or are seeking to venture into this domain. You can rely on us for all your insights needs. All you've got to do is send us a message and we'll get back to you to discuss the deets.
Authored By: Shivam Kansra, Prior art team.