How Blockchain can solve the Telecom Industry's major challenges?
Blockchain, with its emergence, has brought companies of several domains on their doors and one of those domains is telecommunications. As communication service providers are openly accepting the disruptive power of Blockchain technology in their systems, the market of the amalgamation is increasing at a steady pace.
Valued at $46.6 million in 2018, the market is estimated to be $993.8 million by 2023 — an 84.4% increase in CAGR. With this estimation, we can say that research in blockchain for telecom solutions would surely be increasing as the technology could grant the telecom industry the power to overcome the challenges which the industry has been facing for some time.
Here is the table of contents for your perusal, if you'd like to jump to a particular section of your interest.
Major challenges of the Telecom Industry
Besides many other challenges, the main problem the telecom industry faces is generating revenue. The telecom industry has been losing a little average revenue per user over the years in almost every region across the globe. The image below portrays the falling revenue of the telecom industry.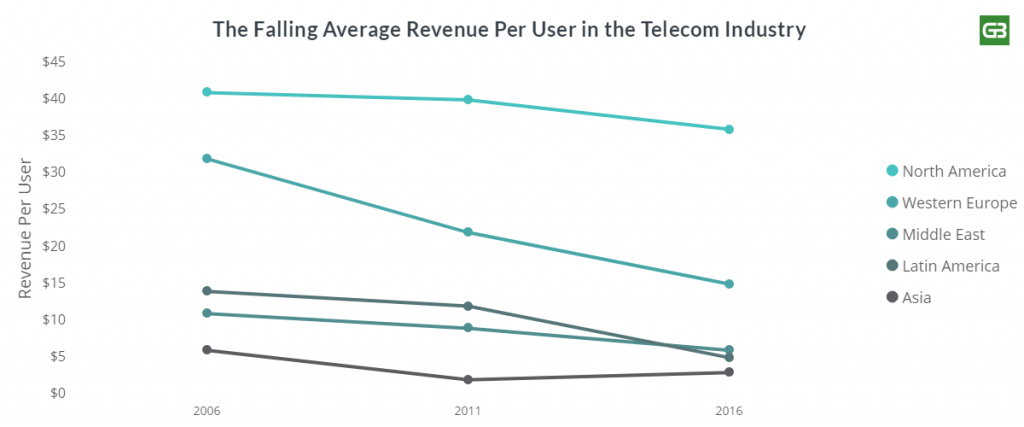 There are several challenges that the telecom industry is facing, to which Blockchain can act as 'the solution'. Further, there are several advancements that Blockchain can push the telecom industry toward, or at least help them in their endeavors.
Some of these challenges or opportunities removable or achievable respectively through Blockchain have been specified below –
Subscriber ID Fraud

Roaming Fraud

5G Enablement

IoT Enablement

eSIM Provisioning

OSS and BSS Processes
Telecom Fraud Is Skyrocketing Globally
According to a 2018 global fraud survey by the Communications Fraud Control Association (CFCA), telecom operators face losses of an amount greater than 29 billion USD annually. These frauds are mainly related to subscriber identification, data charges in roaming, etc.
Blockchain can be implemented to improve the authentication aspect. Blockchain can help in reducing fraud in telecom systems through eSIM provisioning that can imply quicker, easier mobile connection, overall cost reductions, and many more benefits.
5G Networks and Connectivity Complexities
Telcos can accelerate their progress toward 5G by using Blockchain. With Blockchain, each access point can act as a monitoring node, optimizing bandwidth allocation and securing it dynamically. The selection of the fastest access node among heterogeneous access networks and diverse access mechanisms will be a major achievement through 5G.
Untapped Opportunities of Telecommunications
Bringing Blockchain into the telecom market can help enhance OSS and BSS opportunities. The Blockchain Council, a California-based group, has pointed huge opportunities in OSS/BSS processes in the service provider's back office, such as device connectivity provisioning and number portability.
IoT and Increasing Information Insecurity
IoT cellular connections will reach billions by the next decade. The growth of IoT and increasing data insecurity are directly proportional. Blockchain can be utilized to improve data integrity, track the history of individual devices by recording a ledger of data, autonomously conducting a variety of transactions, etc. With such opportunities, the Blockchain Internet Of Things (BIoT) market is estimated to reach USD 254.31 billion by 2026.
Blockchain Use Cases could Solve Telecom Problems
As Blockchain can able to tackle fraud and security threats, the telecom companies have been researching blockchain to overcome the issues related to these threats.
Blockchain-based telecom solutions for the aforementioned pain-points could not only find in patents but can also be seen in the market.
Tackling Subscriber ID Fraud
It occurs when a subscriber uses false identification to obtain telecom services. Current solutions for this problem are either weak or expensive and are sometimes not up-to-date.
Solution evident in the market
Using Blockchain, a private key is associated with each of the connected devices, which is difficult to steal. This private key is used as authentication in the network instead of the IMSI, which is prone to leak.
Solutions depicted in patents
Coinplug – CN108496382A – The authentication number used for mobile device authentication is encrypted and the public key is stored in a Blockchain server. This blocks the possibility of tampering the key.
Comba – CN107734502A – A communication method whereby an authentication request is sent to a Blockchain network by a micro base station that corresponds to the requesting access node and is verified by the other nodes on the network.
Samsung – US20180063709A1 – An authentication method wherein an enterprise network receives a user context record (UCR) and calculates an authenticity score in order to determine the validity of a mobile device; the UCRs are stored in block-chained Merkle trees.
Overcome Roaming Fraud
It occurs when the home network is liable to pay for the bill but is not able to charge the subscriber for the same. It exploits two loopholes of the existing network: longer detection time and longer response time.
Solution evident in the market
A Blockchain can be implemented between every pair of operators having a roaming agreement. The agreement is a smart contract that is triggered when a transaction related to a call is broadcasted on the Blockchain network and instantaneous authorization happens.
Solutions depicted in patents
China Mobile – CN108496382A – A charging method in which CDR and billing data is stored in a Blockchain; the system is distributed such that each operator node can verify the integrity of the communication billing data.
eSIM Provisioning
Software-based subscription management systems are needed that would work with the upcoming software-based SIMs instead of the conventional physical SIM cards.
Solution evident in patents
SAP – US20180220292A1 – A subscription management application, whose persistence layer stores information originating from a subscription Blockchain and the API layer retrieves information from the Blockchain and updates it.
Deal with Location Inaccuracy
In a mobile communication network, if GPS signals are weak, locating the mobile terminals becomes difficult and so does verify the authenticity of location broadcast by other nodes.
Solution evident in patents
Beihang University – CN107172586A – A cellular positioning method wherein relative locations of the terminals are stored in a Blockchain, whose blocks can be regarded as trusted nodes of a consensus mechanism; and users can accurately position their own location information in the network.
Conclusion
Telecom is a big industry and big industries like telecom often have many big issues. And if blockchain has already been started solving such issues, there is no surprise that many companies and startups are trying to research this technology for solving telecom's issues.
Besides that, telecom companies have already trying to solve their problems using Blockchain technology.
But which telecom companies are researching in blockchain? And how far they have gone? And which startups can help telecom companies in that matter and how?
You can find all in our next study — Which companies are leading in Blockchain Research for providing Telecom solutions?
Authored by: Vipin Singh (Research Analyst, Market Research), Sushant Kumar (Team Lead, Patent Analytics), and Nilesh Singh (Sr. Research Analyst, Search Team)