Apple Business Strategy: Plans that made it a Multi-Trillion dollar Company
This strategy teardown compiles the ideas, innovations, technological research, partnerships, and most importantly the strategies that are responsible for Apple to grow to such heights. 
However, before we move forward, a small intro about Apple.
On a fine Wednesday of August 2020, Apple became the first publicly traded US company to hit a Market capitalization of $2 trillion. The company first crossed its $1 trillion milestones just two years ago. The business is now the most profitable technology corporation in the world. 
Steve Jobs, Steve Wozniak, and Ronald Wayne founded Apple on the 1st of April 1976 and brought creativity to the table in the form of their rendition of a personal computer. Apple is one of the world's most popular and recognized labels. The company has experienced unparalleled revenue growth, from just $8 billion in 2004 to hit over $274B last year. This is more when compared to other technology giants out there today such as Google ($181B) and Microsoft ($143B).
Apple's growth could primarily be attributed to its business strategy. By combining its designing capabilities, hardware expertise, and software prowess, the company has built an ecosystem that a user doesn't want to leave. 
Vertical integration is another main reason that distinguishes Apple from the competition. It has reaped enormous benefits from the vertical model. It has always built, controlled, and manufactured all of its hardware and software. This inherent benefit assists the corporation in achieving a higher degree of synergy between its hardware and applications. Even the apps are tightly controlled to follow Apple policies. The company also increased its spending on product and service research and growth in 2019 compared to 2018. According to a report, the corporation spent $16,217 billion on R&D, accounting for 7.9% of total sales.
"We have fierce competition at the developer side and the customer side. It's so competitive, I would describe it as a street fight for market share in the smartphone business."

– Tim Cook, CEO of Apple Inc.
Apple business strategy consists of the following four elements:
Focus on product design and functionality
Strengthening Apple's ecosystem
Improving consumer service experience
Reducing the business's reliance on iPhone sales
As for the product and service categories, Apple Inc. includes iPhone, Mac, iPad, Wearables, Home and Accessories, and Services like iMessage, FaceTime, Apple Maps, etc.
But before we move forward with Apple's Business Strategy insights, 2 things, 
Time is money and hence we have included an interactive TOC so you can directly jump to the section of your interest.

While this study explores Apple's business strategy, it will also help you acquire some basic principles which could be applied to any kind of business, yes, even yours. So if you'd like the entire analysis in PDF form that you can download and save for later reading (or sharing with your friends), just fill the form below and we'll deliver it right to your inbox.
Now, let's deep dive into the reasons behind Apple's success.
History of Apple
These products and strategies helped Apple win before the Launch of the iPhone
While the iMac sparked Apple's rebirth in 1998, it was the introduction of the iPod in Oct 2001 that sent the company to the top of the world's most valuable companies list. 
"With the iPod, Apple has invented a whole new category of digital music player that lets you put your entire music collection in your pocket and listen to it wherever you go," said Steve Jobs, Apple's CEO. "With iPod, listening to music will never be the same again." We all know digital music players used to exist before iPod, but as we know Apple is good at marketing so…
The iPod was introduced as a part of Apple's digital hub strategy. The iPod had unparalleled marketing and promotional exposure. Apple introduced a new kind of digital music player with the iPod, allowing users to carry their complete music library in their pocket and listen to it on the move.  
The device's original edition was released with 5GB and 10GB capacities, beginning at just under £300. The iPod was a spectacular success, increasing Apple's overall revenue from $1.9 billion in the Q1 of 2000 to $3.2 billion in the same quarter of 2001. 
After dropping the price of the 5GB iPod to $299 in July 2002 and expanding compatibility to Windows, the iPod went on to become the best-selling digital music player in history until smartphones came along. 
By 2004, it had established a strong market leadership position in the worldwide digital music player sector. Apple spent a lot of money advertising the iPod. The advertising, which featured shadows dancing to the rhythms of their iPods, could be found in print, on television, and billboards. In a relatively short period, Apple established an iconic image for the iPod that drew both young and old people. The iPod period, which began in 2001, ended in 2014.   
With the introduction of iTunes in 2001, Apple opened up a vast new market sector in digital music, which it has now controlled for more than a decade. Customers from all around the world flocked to iTunes because of the incredible value it provided, and music companies and artists benefited as well. Furthermore, Apple safeguarded recording companies by developing copyright protection that was not inconvenient for customers. While the company has dominated this blue ocean for more than a decade, as new online businesses entered the market, the issue for Apple has been to maintain its sights on the expanding mainstream market rather than competitive benchmarking or high-end niche marketing.
As iTunes' success developed, so did its content offerings – one of the most important aspects of Apple's digital domination was how it adapted what it learned from selling music to TV shows, movies, and, eventually, applications. The company created and employed a distribution strategy as well as a usage model to continue adding media to the three prongs of its ecosystem.  
Steve Jobs introduced the initial 15-inch MacBook Pro, Apple's thinnest, quickest, and lightest notebook to date, in 2006. The MacBook was a tremendous hit with buyers, and it was one of the reasons that Mac sales were rising three times faster than PC sales.
The Apple TV, which debuted in March 2007, was praised for its attractive interface, painless setup, and overall ease of use – all of which marked a significant shift from prior network-based home entertainment systems. Almost a year later, the hardware remained the same, but a free software upgrade essentially gave the device a makeover. Apple subsequently reduced the price of the 40GB model to $229, while the 160GB model was reduced to $329. 
Apple's award-winning computers, OS X operating system, and iLife, and professional apps continued to set the industry standard for innovation. It was also at the forefront of the digital media revolution with its iPod portable music and video players and iTunes online store, as well as its innovative iPhone entry into the mobile phone industry. 
In 2007, Apple entered the mobile market with the iPhone, which was widely praised for its unique design, touch-screen capabilities, and lack of a conventional keyboard.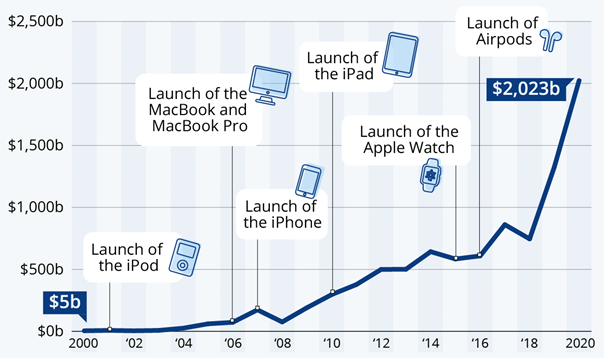 Apple Market Cap as of Aug 2020
Apple's Product Strategies After the Launch of iPhone
After the launch of the first-generation iPhone, the company's product strategy was very clear, i.e. 'Design a high-end smartphone in which the user experience is more important than making a slew of features available.' 
The iPhone was not the first smartphone to have a mobile Web, email, and a touch-screen user interface, but it was intended to have a better experience than most smartphones. Another strategy was to have superior technology, which included the mobile operating system as well as the thousands of mobile applications available via the App Store. 
Before the launch of the iPhone, the annual revenue of Apple — in the year 2006 — was $19.3 billion which increased to $24.4 billion in 2007 and $37.4 billion in 2008. And since 2008, iPhones are Apple's main source of revenue.
The launch became one of the most anticipated technological product launches in Apple's history, owing to the company's masterful media build-up. After the launch of the iPhone on January 9, 2007, the share price of Apple's stock boosted and doubled to a value of $179.40 on January 9, 2008. The iPhone was described as a mix between its iconic iPod music player and a mobile phone programmed to browse the Internet.
Apple Inc. used the strong reputation of the Apple brand and the success of the iPod to penetrate the competitive cell-phone market, a move that may have posed a possible challenge to the company as other firms launched smartphones with strong music storage and playback capabilities.
During the iPhone's two-year growth phase, Jobs launched a campaign to secure a wireless company as the iPhone's exclusive carrier. Customers who purchased an iPhone were forced to sign a two-year wireless deal with AT&T Inc. to make calls or access the phone's other capabilities. Apple had even struck agreements with Viacom, Disney, Google, and Yahoo, all of which were carefully chosen to add internet applications to the iPhone.
Apple chose a promotion and delivery policy in European countries that were similar to its strategy in the United States. In France, it offered France Telecom's smartphone affiliate, Orange, to be the sole carrier. Even in the United Kingdom, Telefonica's telecom division, O2, was chosen to be the sole cellular provider for iPhone customers with a two-year contract.
Apple developed a clear overall marketing strategy for the iPhone and successfully managed every aspect of the iPhone's launch. Despite some shortcomings and pitfalls, the company was able to create a one-of-a-kind package for tech-savvy buyers interested in a hybrid mobile phone-music player and making those customers aware of the device through well-managed marketing campaigns and positive advertising. Both of these efforts significantly increased Apple's stock price and solidified its status as a pioneer in consumer electronic gadgetry.
After the launch of the iPhone, the company adopted the strategy of patenting everything it does. The vigorous patenting helped shield Apple from competitors working on related technologies. It also provided Apple with a legal arm for the future. 
One of Apple's attorneys explained, "We basically tried to patent everything … And we tried to patent it as many different ways as we could, even the stuff we weren't 100% sure would go in a product."  
Apple, too, has been chasing and implementing its design patents, endangering the whole technology industry. It has adopted a policy of patenting any tiny recognizable bit of its merchandise, including design patents, which protect a product's ornamental appearance rather than its usable components. 
Presently, out of the total revenue of Apple Inc., the maximum revenue is generated from the sales of the iPhone. In 2020, iPhone contributed approximately 50.19% of the annual revenue for Apple Inc., whereas in 2019, the contribution was approximately 54.7%. [Chart – iPhone Revenue Yearly]
Now that we have covered the strategic aspects, let's have a look at the company's financial information, growth and revenue numbers for the last few years, and its projected growth going forward.  
What does Apple Financial Growth look like?
Growth Projection and Market Related Factors
The revenue of Apple is expected to grow by 9.66% over 10 years, under a realistic growth profile. Capital expenditure is estimated to be valued at $9 billion from 2021 to 2023, $11 billion from 2024 to 2026, and $9 billion from 2027 to 2031. Also, over the 10-year forecast period, Apple's earnings per share (EPS) is expected to increase by 10.68%. 
Apple Revenue Forecast during 2021 – 2031 (in $ Billion)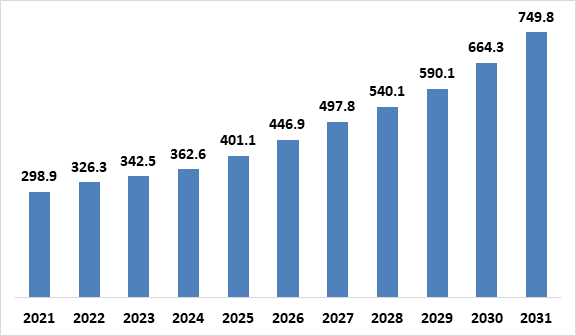 Growth would continue for Apple over the next 10 years, and while substantial risks do exist, they may be efficiently monitored by early warnings and evaluations. 
The following are some of the market-related factors that influence Apple's growth projections:
The Mac and iPad are well-positioned to flourish in the coming decade, due to an increase in demand.

High customer satisfaction scores with Apple's products, 82/100 (2020 survey by MBLM).

Several benefits are given by the App Store to users such as privacy, curated quality applications, protection from malware and malicious scams, etc.

Home and Accessories, Wearables, and Services provide opportunities for several decades.

The future launch of new products, namely the Apple Car, AR/VR headset, and AR smart glasses.

Increased anticipation for the future iPhone models.
Revenue of the Last 5 Years (in $ Billion)
Apple's total revenue in the 2020 fiscal year was US$ 274.52 billion, a substantial improvement from the previous year's high of US$ 260.17 billion. In the past ten years, its annual revenue has quadrupled. As of June 2021, Apple remained the tech company with the largest market capitalization of $2.12 trillion.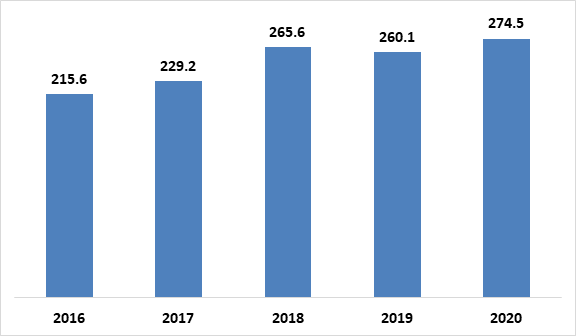 According to a report, Apple's latest 5G iPhones helped drive smartphone revenue to a new high and spurred a 57% increase in China revenues in 2020. The company's sales for the fiscal quarter ending December 26, 2020, increased by 21% to $111.44 billion. 
Further, Apple's CEO announced that the firm now has an active installed base of 1.65 billion devices, up from 1.5 billion devices a year earlier. 
Revenue Breakdown (Section-Wise) of Last 3 Years
The last three annual reports of Apple suggest that the iPhone category had the highest revenue amongst all the categories of Apple. The breakdown of revenue of the last 3 years is listed below:  
| | | | | | |
| --- | --- | --- | --- | --- | --- |
| Net Sales By Category  | 2020 ($ Billion) | Change (%) | 2019 ($ Billion) | Change (%) | 2018 ($ Billion) |
| iPhone | 137,781 | (3%) | 142,381 | (14%) | 164,888 |
| Mac | 28,622 | 11% | 25,740 | 2% | 25,198 |
| iPad | 23,724 | 11% | 21,280 | 16% | 18,380 |
| Wearables, Home, and Accessories | 30,620 | 25% | 24,482 | 41% | 17,381 |
| Services | 53,768 | 16% | 46,291 | 16% | 39,748 |
| Total Net Revenue | 274,515 | 6% | 260,174 | (2%) | 265,595 |
iPhone net revenues fell in 2020 compared to 2019, owing largely to the lack of new iPhone devices in the fourth quarter of 2020 and currency depreciation relative to the US dollar, which was partly compensated by the launch of the iPhone SE in the third quarter of 2020.

Mac net sales rose in 2020 compared to 2019, owing largely to higher MacBook Pro net sales. 

Net sales of iPads rose in 2020 compared to 2019, owing largely to higher net sales of 10-inch iPads, iPad Airs, and iPad Pros.

Net sales of services grew in 2020 relative to 2019, owing largely to increased net sales from the App Store, advertisements, and cloud services. 
The corporation has been vigorously investing in Research and Development, which in turn, ensures an increased revenue stream. Let's now have a look at the R&D strategy of Apple and the tech areas in which the company is increasingly investing.  
What does Apple's R&D investment strategy look like?
How much has Apple invested in R&D in the Past 3 Years (in $ Billion)?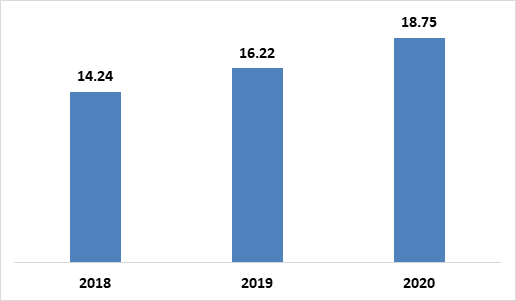 In 2018, Apple had

spent approximately $14.2 billion on research and development

which was an increase from the 2017 R&D Investment. One of the reasons for this increase in investments is due to increasing competition in both hardware and software. The company's innovation budget is focused on managing more of the hardware in its expanding product lineup. Apple R&D represented the company's commitment to its long-term strategy, as it sought to have more leverage of the consumer interface encountered in its products.   

In 2019, the company introduced several new devices, including new versions of the iPhone, Apple Watch, and iPad. Apple joined the over-the-top video subscription industry on November 1, 2019, with the official announcement of its ambitious Apple TV+, although late to the already competitive game. 

In 2020, several patents revealed that Apple is focusing on wearables, fitness, and health innovations. Various wearable patents indicated that the company could be targeting AirPods with biometric sensors, Apple Watch with UV tracking, motion recognition for AR/VR applications, machine learning experiments to allow autonomous driving, and incorporation of various existing devices with a vehicle.
Which Tech Areas is Apple focusing its R&D on?
Apple Inc. had made investments in the further expansion of its research and development centers globally. The company had invested over half a billion dollars in research development centers in China alone. The company also concentrated on R&D centers in the United Kingdom, owing to their increasing emphasis on creating unique innovations to underpin its product designs that include A-series processors, W-series wireless chips, unique manufacturing, materials experience, speech recognition, machine intelligence, and many more. 
Apple has also been investing in artificial intelligence, self-driving vehicles, virtual reality, biometrics, and other fields. As the company continues to

invest in R&D

, its services division is gradually transforming Apple into more than just a hardware and software manufacturer, but also a media and entertainment conglomerate, a financial services provider, a gaming site, and more.

Apple has been developing virtual reality headsets, connected vehicle tools, game-changing healthcare technologies and apps, smart home technology, and new machine learning applications. 
"The products that are in R&D, there is quite a bit of investment in there for products and services that are not currently shipping or derivations of what is currently shipping…You can look at the growth rate and conclude that there's a lot of stuff that we're doing beyond the current products." 

– Tim Cook, CEO of Apple Inc.
In 2020, some of the most groundbreaking features and app development tools unveiled at WWDC20 by Apple included macOS Big Sur, watchOS 7, the new App Library in iOS 14, and enhanced handwriting capabilities with Apple Pencil in iPadOS 14. Since 2020, Apple has been completely focused on manufacturing its chips and modems to replace Intel semiconductors and Qualcomm modems while still evolving cell phone technologies.
Which Core Innovation Areas is Apple Majorly Focusing on?
For the tenth year in a row, Forbes magazine ranked the company as the most valuable brand in the world in 2020. Nonetheless, Apple has risen to become the world's largest company by market capitalization not by attempting to become the largest smartphone provider, but by becoming the most beloved. Apple, more than any other tech company, has always prioritized the end-user experience over anything else, not just the speed, storage capacity, or other technical specifications of its products.
Apple's innovations are often incremental, with the company adapting its design expertise to the most recent consumer tech trends. Apple did not invent the MP3 player or the smartphone, but it went on to dominate both devices by emphasizing design, user experience, and brand cachet. The company has aggressively increased the domains where the Apple experience is part of daily life during the last ten years. 
Apple guarantees that the universe of Apple-mediated behaviors continues to grow by encouraging app developers while strictly enforcing rules. By reinventing product form factor and function, from computing in a user's pocket to managing home electronics, to reminding the calorie count or parking spot — all of these experiences are connected, integrated, and packaged in a single accessible ecosystem of complimentary items. 
Moreover, Apple has focused on innovation outside the core by developing the infrastructure required to support this ecosystem in a safe and frictionless manner (Apple Pay secure payments or biometric facial recognition on the iPhone X). 
We have mentioned before that Apple vigorously patented everything it did, and after looking at the wide array of domains on which Apple is working, it becomes important to look at the kind of patent portfolio Apple has accumulated over the years. 
What does Apple Patent Portfolio look like?
A company's patent portfolio provides us another set of lenses to find the core areas it has been focusing on for quite some time and what is it planning to launch next. Let's take a deep dive.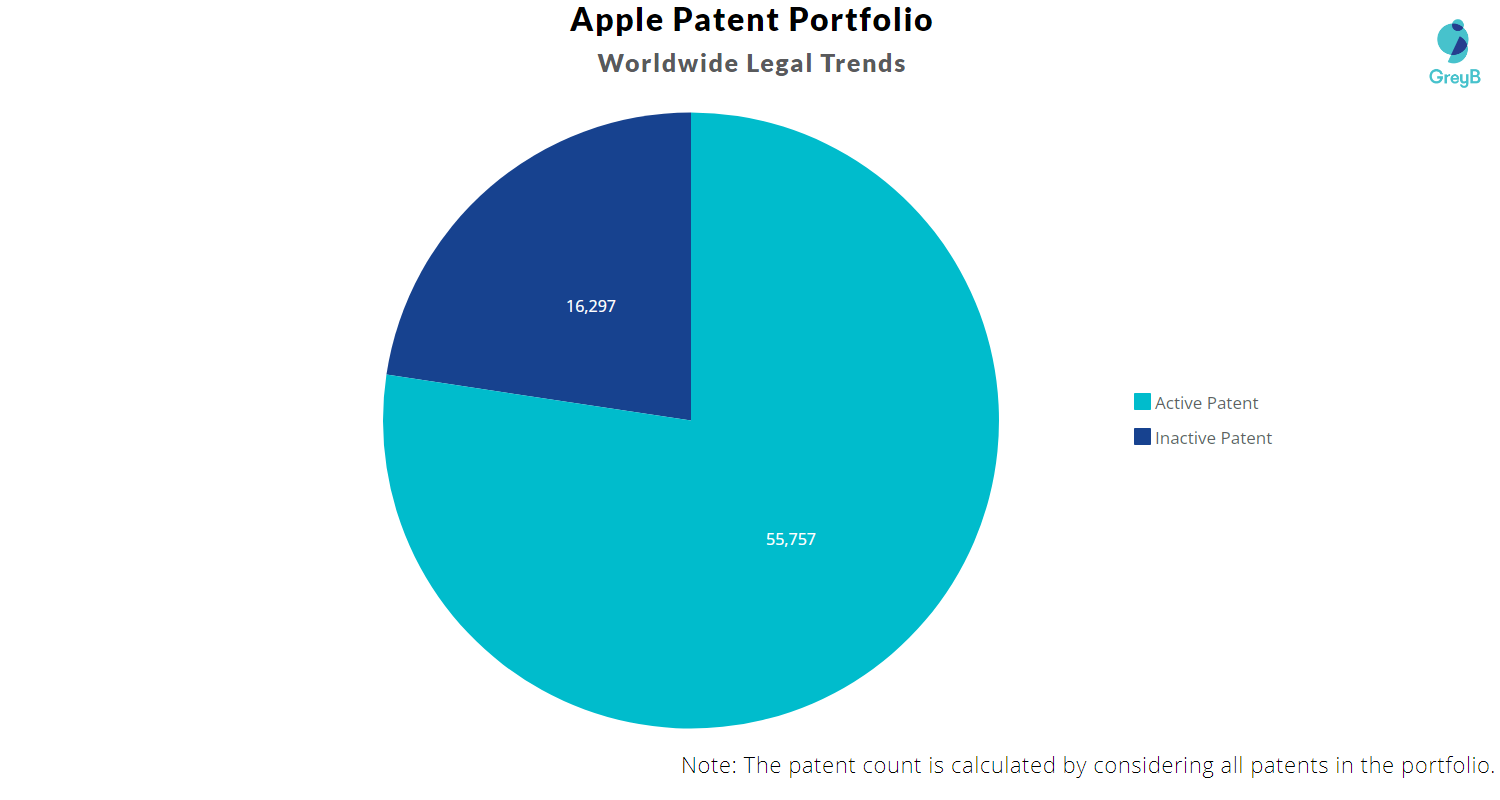 Source: Insights;Gate by GreyB
With 72000+ patents (24000+ patent families) in its entire portfolio, Apple is one of the top patent filing companies in the world. It has more than 55000 patents that are still active. 
Looking at the filing trend, you can see the year 2007 saw a sharp increase. It was the same year they launched the iPhone. One can conclude that the iPhone is one of the reasons Apple invested heavily in securing its technologies.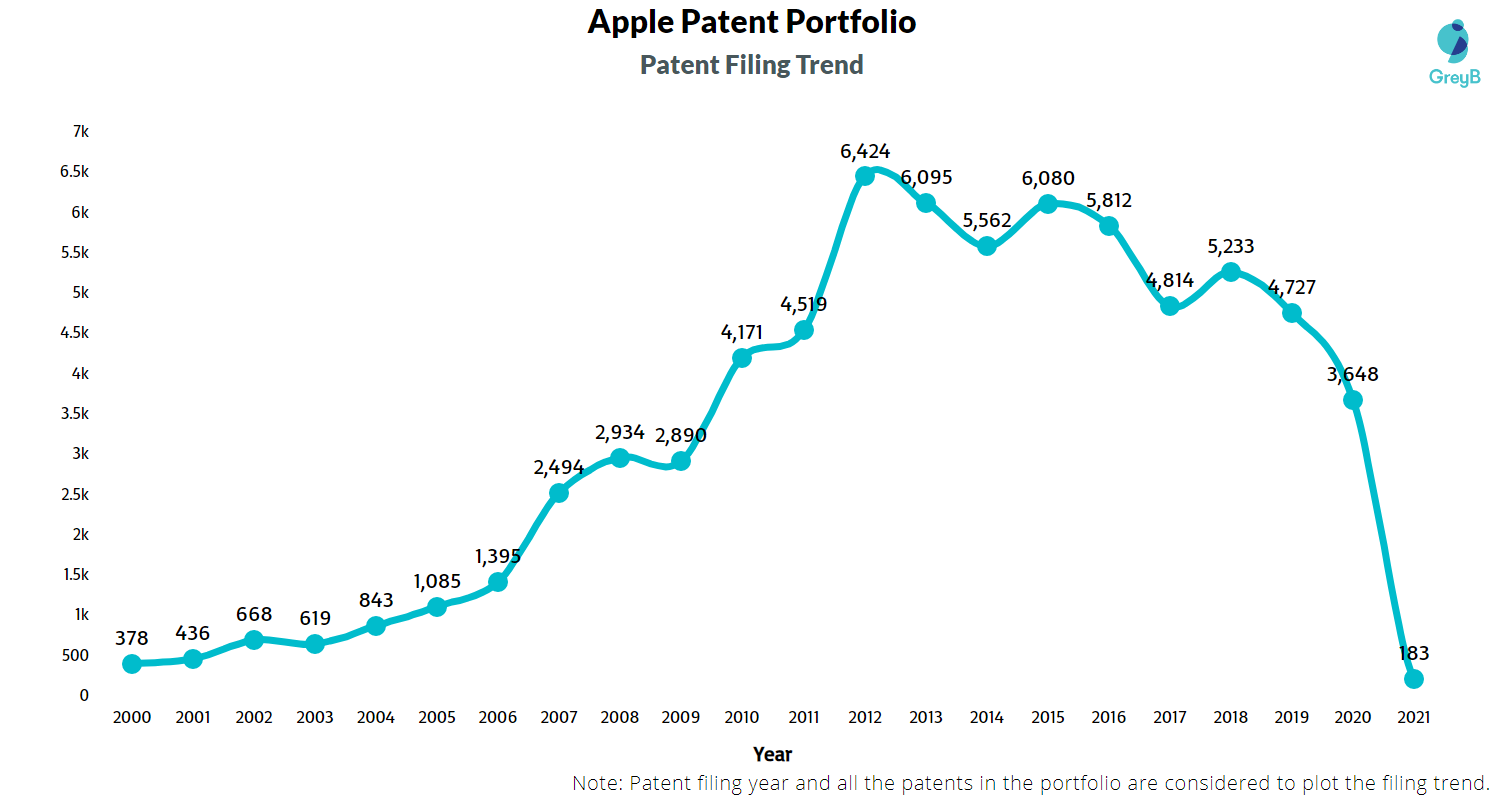 Source: Insights;Gate by GreyB
The Apple vs Samsung lawsuit is still one of the largest patent infringement lawsuits that happened in the tech industry. And that further pushed the consumer electronic gadgetry pioneer to invest more in patents. (See the growth in 2012)
One of the reasons for this growth is Apple's consideration to secure its tech in more countries. As Apple is gaining more and more global markets, it is securing its patents in more and more jurisdictions.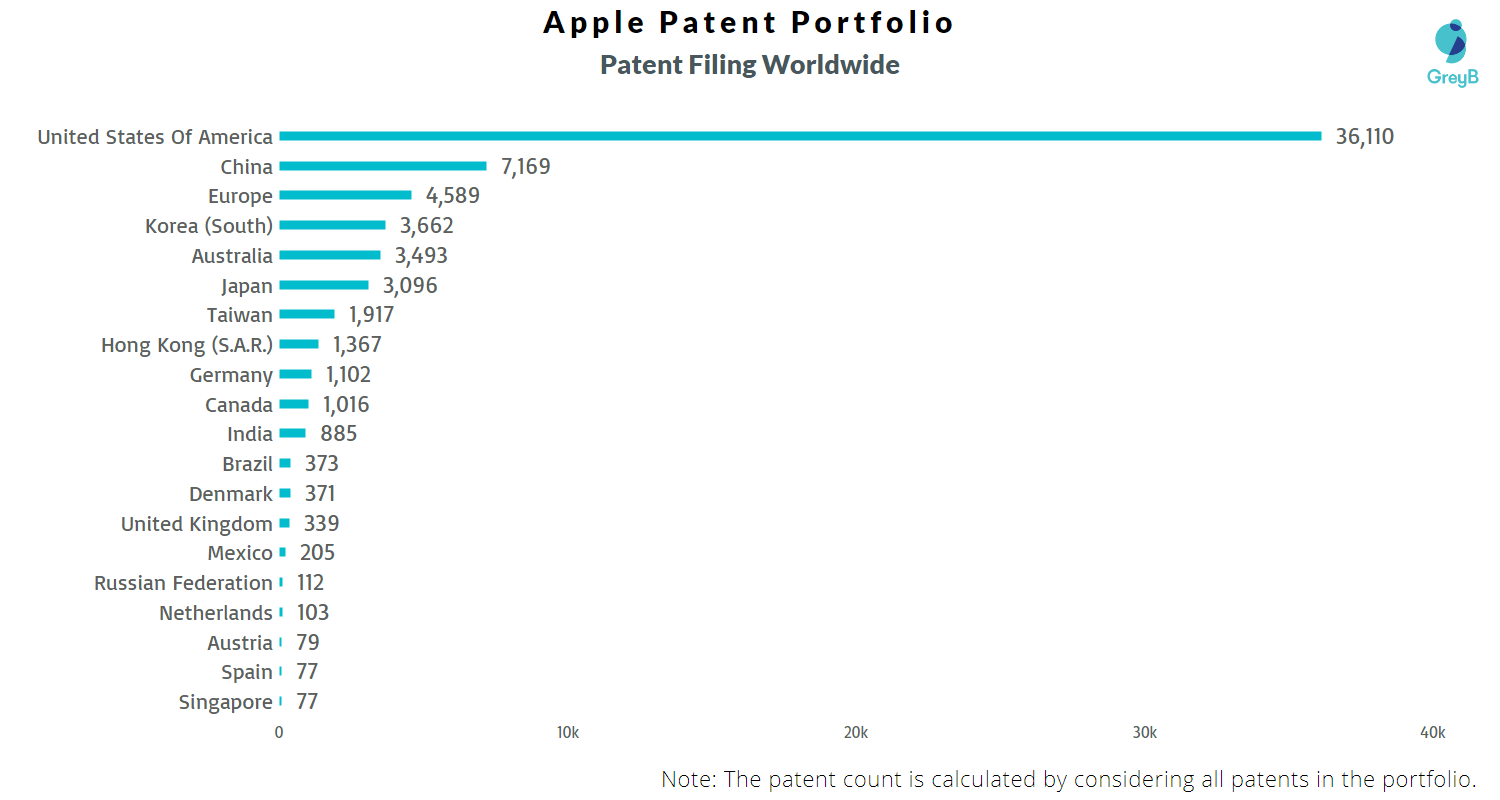 Source: Insights;Gate by GreyB
The US is the home market for Apple, so, naturally, the company has the most patents in the US. China is a crucial market for smartphone makers now more than ever. China has become more patent aware thus most of the big companies are trying to secure more and more technologies/patents in the country. Apple being one of the biggest technology companies, it makes sense that it has secured thousands of patents in China.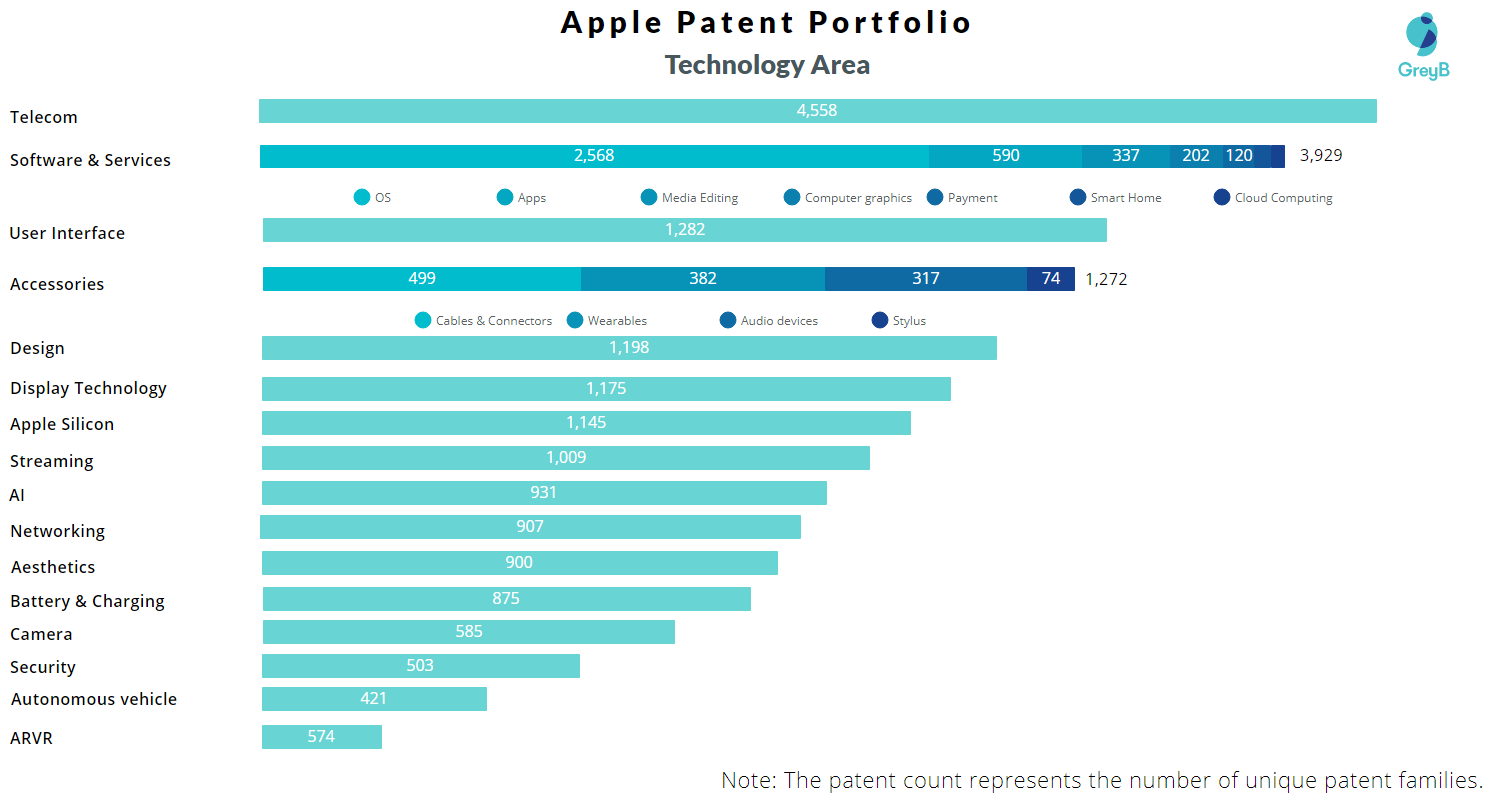 Source: Insights;Gate by GreyB
The huge portfolio of Apple is categorized into 16 different technologies which the company uses for its products/services or future products. 
Being a smartphone manufacturer makes Apple research heavily in the Telecom sector which is also crucial for companies especially when 5G is on the doorstep. 
Another interesting figure is of Apple's design patents. The company focuses a great deal on the design part and the patent count is proof of how valuable product designs are for Apple. 
The Autonomous Vehicle and AR/VR are two techs where Apple hasn't launched any products but it is known that it is working on them. 
Moving forward, let's go through Apple's expertise in various sections.
What are the products and services responsible for Apple's growth?
Design and Functionality
Apple's competitive advantages include software control, hardware control, retail strategy, product differentiation, and, most importantly, Steve Jobs' strategic decision-making. Since its foundation, the company has introduced simple-to-use computers to the market so that people would not face any issues while using Apple goods. Apple used both horizontal and vertical integration. It depended on its designs and refused to let third-party access to its hardware. Apple employed superior software, which aided them in increasing its market share. The company also provided a comprehensive desktop solution that included hardware, software, and other components. Apple has always used typical designs for its products. 
Apple has more than 4000 design patents in its portfolio which is a big number.
Consumer Electronics
Apple Inc., a computing and consumer electronics giant, is one of the world's most recognizable and famous brands, with hundreds of its retail shops. A globally leading consumer electronics developer, with key products including the iPhone, which runs Apple's IOS operating system, personal computers (Macs), and tablet computers (iPads), all of which utilize Apple's exclusive operating systems. Other notable products include the Apple Watch, AirPod, Homepod smart speakers, Apple TV streaming device, Beats headphones, and iPod Touch music player.
The company's product strategy results in extremely high-quality products. It's known as the "great product" strategy. 
Apple refuses to join the bandwagon that most other gadget makers are employing by maintaining high-quality standards. The "great product" strategy emphasizes quality over quantity as well. 
While other manufacturers' strategies include releasing items one after the other in a short period and having such a diverse product mix, Apple opted to stick to what it does well.  
Smartphones (iPhones)
Since 2008, the iPhone has been Apple's most valuable product and its primary source of income. Although Apple has expanded its product range with the Watch, AirPods, and services, the iPhone still accounts for 50% of its income. The company's extensive relations with China, particularly in the manufacturing sector, are one of the key bear arguments. 
According to Marker, China accounted for 90% of Apple's product manufacturing in 2019. Three of the company's aforementioned contract partners, all of whom are situated in Taiwan, made relocation news in the summer of 2020:
Foxconn began producing the iPhone 11 in India in July 2020 and had invested $1 billion in the nation.

In August, Wistron began constructing the iPhone SE and began a trial run on the new iPhone 12.

Pegatron

established a subsidiary

in India. 
In 2020, Apple sold 194 million iPhones and generated $137.7 billion in revenue. Its main competitors in the worldwide smartphone industry are Samsung and Huawei, with the business following the other two with a share of 13.5 % in the most recent quarter. 
In the fourth quarter of 2020, Apple's global market share for iPhone was 21%, while Samsung's, Xiaomi's and Huawei's market shares were 16%, 11%, and 8%, respectively. The company sold 81.9 million smartphones in the fourth quarter of 2020, while Samsung sold 62.5 million handsets. Xiaomi and Huawei respectively sold 43 million and 33 million units.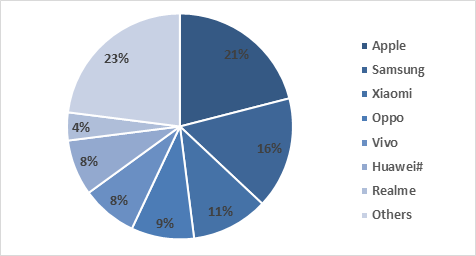 Apple's iPhone is the market leader due to excellent hardware and software integration and control over both sides of the equation. Any Android app will lag in terms of speed and performance when compared to an iPhone app.
In 2021, Apple had spent an additional $45 million on Corning, which manufactures the glass used in the iPhone, Apple Watch, and iPad. In May 2021, the company announced a $410 million grant to II-VI, which develops the technology for the iPhone's Face ID and Portrait mode. 
With over 1 billion iPhones in use, Apple is the doorway to the most valuable clients in the mobile industry. In 2021, Apple has updated its iPhone software and allows consumers to choose whether they want to be followed for targeted adverts. 
Even though both iOS and Android have millions of apps in their app stores, developers still prefer the iPhone as the launch platform of choice for the latest new apps. Mario Run, for example, was released for iOS in December 2016 and on Android in March 2017. Instagram for Android was released two years after it was released for the iPhone.
Smart Speakers (HomePod)
HomePod had experienced limited success in the Smart Speakers market. Apple trailed Amazon and Google in terms of unit sales, however, the release of the HomePod Mini has made significant advances, accounting for the majority of the 4.6 million units sold in Q4 2020 and a total sales of 9.8 million units in 2020. Amazon led the worldwide smart speaker market in the fourth quarter of 2020, with 28.3%. Google was Amazon's closest opponent, with a share of 22.6% in the same quarter. During Q4 2020, Amazon sold 16.5 million smart speakers and smart screens, followed by Google with 13.2 million, Baidu with 6.6 million, and Alibaba with 6.3 million.   
Smart Speaker Sales in the Q4 of 2020 (Units in Million)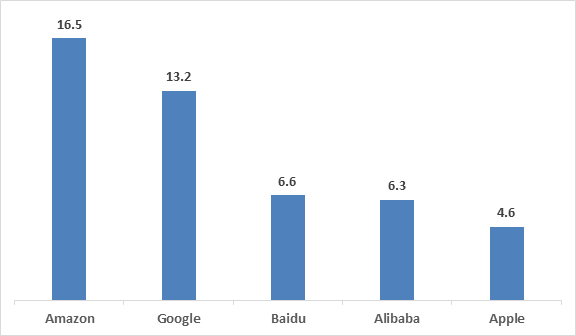 Apple's HomePod is the best-sounding wireless smart speaker today, and it can be operated by speech using the in-house virtual assistant, Siri. However, the HomePod is only worth considering if the owner possesses an iPhone and subscribes to Apple Music. In Mar 2021, Apple announced the discontinuation of the original Homepod after 4 years and indicated its focus on the mini Homepod that it released last year.
Laptop & PC (MacBook and Mac)
Despite Apple's shift in priority from PC to mobile, the Mac has remained a key component of the company's product lineup. The company has maintained a core group of devices throughout the decade: the MacBook Air, MacBook Pro, Mac Pro, and iMac. Even after modifications and new models, its core has remained popular among a wide range of professional clients.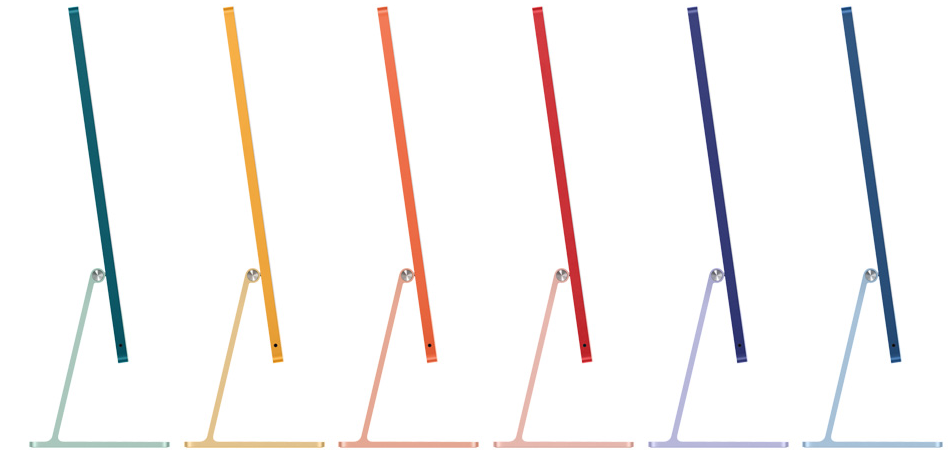 In 2020, Apple sold 20 million Mac and MacBook units and had a 7.6% market share following market leaders Lenovo, which had a 24% market share, HP Inc., which had a 22.4% market share, and Dell, which had a 16.6% market share. 
Global PC Market Share in 2020 (%)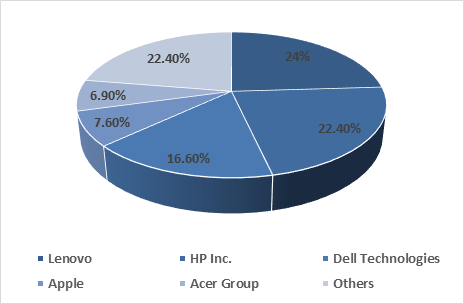 When a customer purchases a Mac, that purchase is a philosophy as much as it is a piece of computer technology. The hardware and software are produced by the same corporation, and the laptops share an aesthetic sensibility with Apple phones and tablets. 
Macs are popular among music producers due to Apple's high-end Logic Pro software and the user-friendly GarageBand program, both of which are free. Because of popular Apple-only software like Final Cut Pro and Pixelmator, photo and video editors may be tempted to use MacBooks as well.  
Apple Watch
Since its debut in 2015, Apple Watch has dominated the smartwatch industry, with a market share of 40% in Q4 2020. 
According to Counterpoint Research, Apple Watch shipments increased by 19% between 2019 and 2020, reaching 33.9 million units in 2020. In Q4 2020, Apple Watch Series 6 and SE delivered 12.9 million devices. Further, markets such as India saw strong demand in Apple Watch Series 3 and 6 in 2020 with a growth of 144.3% in overall Apple wearable devices shipments. 
SmartWatch Market Share in Q4 of 2020 (%)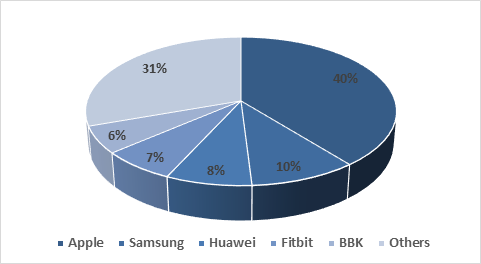 The Apple Watch is the greatest smartwatch on any platform in terms of appearance, message handling, activity tracking, app choices, and battery life. The Apple Watch is water-resistant to 50 meters, making it ideal for swimming and surfing. The Sleep app monitors the user's sleeping habits and assists in the creation of a plan and bedtime routine to accomplish sleep goals.  
AirPod and AirPod Max
Apple's AirPods have grown into a significant business for the company, with 114 million sold by 2020. What many saw as expensive accessories have become common, with nearly every phone maker selling their own 'hearable' to compete with Apple. In 2020, Apple's wireless headphones accounted for about 50% of the global market, trailing Xiaomi and Samsung. According to Counterpoint Research's Q2 2020 numbers, Apple held a little more than a third of the market, at 35%. Xiaomi comes in second with 10% and Samsung comes in third with 6%. Jabra and JBL each had a 3% market share, with the remaining companies accounting for 43% of the market.    
Market Share of True Wireless Earphones in Q2 of 2020 (%)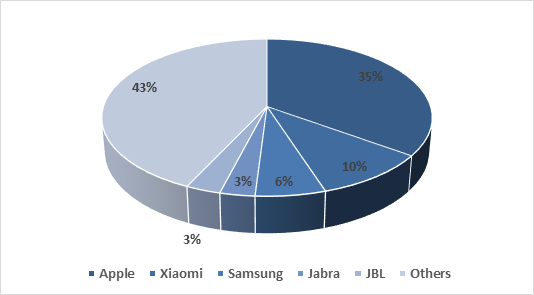 Further, Apple released AirPod Max, Bluetooth over-ear headphones, in Dec 2020 with a price tag of $549. While Analysts estimated that AirPod Max won't boost Apple sales because of a niche market, some expect that it could boost AirPod sales because of Apple's Goldilocks strategy.
Cybart forecasts that Apple's wearables segment would generate $30 billion in revenue by 2021, including the Watch, AirPods, and select Beats headphones.
The five reasons why Apple build a strong wearables business are mentioned below:
Early adopter: One of Apple's guiding principles is to make technology more personal, and it began investing in wearables, including its silicon processors, in the early 2010s.

Other corporations gambled on voice: Because few Large Tech businesses had Apple's hardware competence, they bet big on voice (example: Amazon's Echo) as the future computing paradigm. It appeared to be a bad gamble.

Design expertise: People must desire to wear wearables, which requires design skills. Apple has a track record (and aptitude) for designing devices that consumers want to show off as much for its aesthetic as it does for its computational capabilities.

Advantage of the supply chain: Wearable technology is built on top of smartphone components. Apple has been able to capitalize on lessons learned and partnerships formed through the iPhone production process.

Advantage of the ecosystem: Apple's entry-level AirPods and Watch were both around $200. Because the wearables effectively share computational power with the iPhone, it was able to achieve these pricing thresholds.
According to Cybart, Apple's wearables segment will likely reach $50 billion in the following year if present trends continue. 
Apple Silicon (Chipsets, Processors)
Apple announced that it would switch from Intel chipsets to its own Apple Silicon processors based on ARM in 2020. In keeping with this, the business released a new M1 processor as well as three products powered by it — the MacBook Air, MacBook Pro, and Mac Mini. A survey from market analysis firm TrendForce suggested that M1-powered Mac machines represented around 0.8% of overall laptop sales in 2020, months after the products became available for purchase. 
In terms of operating systems, Windows was the global leader in the laptop industry. However, due to the strong expansion of Chromebooks in 2020, Windows' market share would fall below 80% for the first time in history. Windows is unlikely to regain lost market share in the immediate term since its fall is predicted to continue. TrendForce predicts that the market shares of Windows, Chrome OS, and macOS will each settle at around 70-75%, 20-15%, and less than 10%, respectively. 
In 2020, Apple is anticipated to launch the first MacBook to utilize its silicon processor rather than Intel's, allowing all of the company's key product lines to run on the same architecture.
When considering Apple's most notable purchases, two stand out:
In 1997, NeXT Software was purchased for $404 million: The acquisition of Steve Jobs' post-Apple venture, which featured the forerunner to iOS, returned Jobs to the firm he created.

Beats for $3 billion in 2014: Apple's largest acquisition was Dr. Dre and Jimmy Iovine headphone firm, which lay the framework for Apple Music.

However, a third (and extremely significant) transaction has set Apple's mobile product roadmap: the $278 million acquisition of P.A. Semi in 2008.
According to tech analyst Ben Thompson, P.A., Semi gained the expertise and intellectual property (IP) "that would underpin (Apple's) A-series of processors, which have powered every iPad and iPhone since 2010." 
Apple TV
Apple introduced Apple TV in March 2007. And much to everyone's surprise it was not an actual TV set but rather a box to offer services using the software. It was praised for its attractive interface, painless setup, and overall ease of use – all of which marked a significant shift from prior network-based home entertainment systems. 
Almost a year later, the hardware remained the same, but a free software upgrade essentially gave the device a makeover. Apple subsequently reduced the price of the 40GB model to $229, while the 160GB model was reduced to $329.
People still wonder why Apple never made an actual TV like Samsung, Sony. There are multiple reasons why Apple didn't enter the TV manufacturing business even with enough expertise.
First, the margin is very thin in this industry and Apple always focuses on making profits. Second, unlike smartphones or any other consumer electronics, there isn't much designing to make it unique. You can find many identical TV designs from different companies. Third, Apple can provide a good user experience through its software and that's why it went for a box to provide better UX in any TV.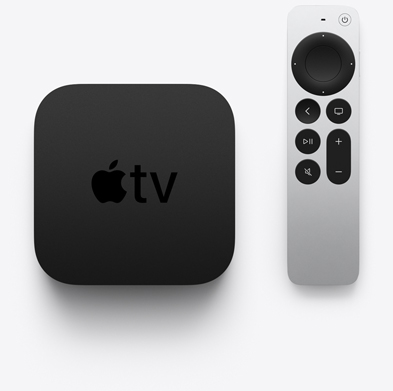 Source: Apple
The box design remains the same throughout the years but they did multiple changes in its remote. 
iPod
The iPod was one of the most successful products ever created by Apple. It was a little device that let users listen to music on the go. However, it is now 2021, and despite having Apple Music on iPhones and even being accessible on Android and even smart TVs, Apple continues to offer the iPod Touch. One of the main reasons is that it is not an iPhone and is suitable for children.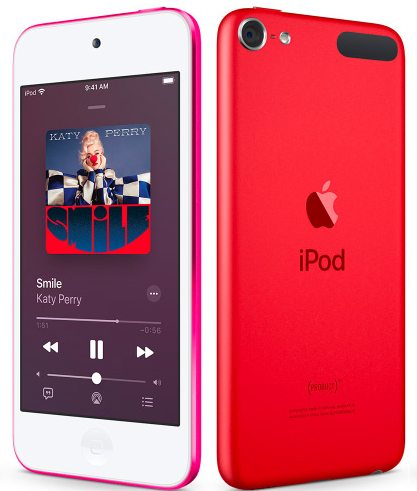 Further, iPod Touch uses iOS with the same inbuilt software. It's basically an iPhone without cellular network connectivity. The user can play games, surf the internet using Wi-Fi, and can send messages using a web browser. 
It is Apple's tactic to prime the iPod users to turn into iPhone users when they choose to buy a smartphone. By using the iPod for 2 or 3 years, most users would want to choose an iPhone over other smartphone brands.
As the iPod is a part of the Apple ecosystem, it helps a user to remain in the ecosystem even when they want to upgrade a device. 
AirTag
AirTag, a compact and elegantly designed device that helps keep track of and find the stuff that matters most with Apple's Find My app, was announced in April 2021. AirTag, whether connected to a handbag, keys, backpack, or other objects, connects to the enormous, worldwide Find My network and can assist in the recovery of a misplaced item, keeping location data private and anonymous using end-to-end encryption. 
"We're excited to bring this incredible new capability to iPhone users with the introduction of AirTag, leveraging the vast Find My network, to help them keep track of and find the important items in their lives."

– Kaiann Drance, Vice President of Worldwide iPhone Product Marketing of Apple
Dongles
Dongles link headphones to charging connections, computers to TVs or card readers, and so on. Dongles are a major business nowadays since it's difficult to conduct many routine computer chores without them. This is owing, in large part, to Apple, which, in 2016, eliminated the headphone jack from the iPhone range and shifted nearly completely to USB-C connectors on its Macs. The newest iPhone isn't the only Apple gadget that requires an array of dongles to function properly. 
To connect a MacBook Air to an Ethernet wire, a dongle is necessary. A dongle is also required if the user wants to add a second screen to the computer or import images from an SD card. Even if users put a flash drive directly into the MacBook, a USB to USB-C adaptor is required. 
This causes users to accept the dongle as an integral part of their lives, allowing Apple to establish a sizable market for dongles. Apple, Belkin, and other accessory firms have established a massive market for these dongles, which Facts and Factors estimates will be worth more than $25 billion by 2027.
It is unknown how much Apple revenue is from Dongles but considering the user base and Apple's users choice, and Apple's dongle prices, it could be more than a billion dollars. 
Now let's move on to the very core of all these products- Software.
Software
For over four decades, Apple has been a Silicon Valley trendsetter. Apple's competitors have widely imitated the Apple II, Macintosh, iPod, iPhone, and iPad. Apple's success may be attributed in large part to the company's obsessive attention to the user experience. The iPod first debuted in 2001, followed by the iPhone in 2007, and the iPad in 2010. As a consequence, Apple earned about $40 billion in earnings in its fiscal year 2014. Apple is a design-focused corporation that prefers to create all aspects of a product — hardware, software, and internet services — in-house. 
Apple II computers were sold until 1993 when they were phased out in favor of Macintosh computers. Around 5 million Apple II computers were sold in total. The first Macintosh had significant limits. However, later versions were more powerful. In 1987, Apple introduced color to the Macintosh with the Macintosh II. The groundbreaking graphical interface of the Mac immediately drew several imitators. Apple debuted the iPod music player in 2001. More crucially, the iPod was compatible with iTunes, Apple's jukebox software for the Mac, making it simple for users to transfer music from CDs to their iPods. Apple, too, capitalized on the iPhone's popularity in 2010 by releasing the iPad, a tablet computer built on the same software. 
Operating Systems
Both Mac OS X and iOS originated from Darwin, an older Apple operating system based on BSD UNIX. iOS is a proprietary mobile operating system owned by Apple that can only be loaded on Apple devices. 
iOS
Apple's iOS is a closed ecosystem, which implies that Apple creates both the operating system and the hardware, and no other corporation utilizes either of them to integrate with their services. It provides Apple an advantage over Android in terms of hardware and software synchronization. In the case of Android, however, the hardware is manufactured by companies like Qualcomm and MediaTek (rather than Google), and the manufacturers create their flavor that runs on top of Android. In addition, Apple allows users to offer 3D touch inputs, which offer mini menu selections. The iOS devices are set up to detect pressure sensitivity on the screen and allow various input choices based on it. 
In January 2021, Android retained its position as the dominant mobile operating system in the world, with a 71.93% share of the mobile OS market. Google Android and Apple iOS account for more than 99% of the worldwide market. In May 2021, iOS had a market share of 26.47%.
Mobile Operating System Market Share Worldwide as of May 2021 (%)

macOS
The Mac OS was released in 1984 to power Apple's Macintosh series of personal computers (PCs). The Macintosh heralded in the age of graphical user interface (GUI) systems, inspiring Microsoft Corporation to create its own GUI, the Windows operating system.  
The interface is the most noticeable variation between Windows and Mac operating systems. macOS is perceived to be more basic, streamlined, and elegant, but Windows is considered to be more sophisticated and feature-rich, with more customization choices. 
The design styles for Mac and PC are vastly different. Whereas macOS has smooth edges and a consistent application across all apps, Windows has jagged edges and a UI that frequently changes across programs. As Apple has complete control over both hardware and software, new security enhancements can be simply implemented on macOS. Similarly, Apple has a simple and comprehensive AppleCare service in place to assist consumers with any hardware issues. Newer Apple products have Touch ID functionality by default for system access, which further protects devices from fraudulent logins. 
Microsoft Windows has a 77.74% market share for desktop operating systems (OS) as of July 2020. Apple's macOS has grown in popularity over the years, but it is still a minor player in the desktop OS industry. Linux, the third most popular desktop operating system, has a tiny but constant market share. As of May 2021, OS X had a market share of 15.87%, while Windows had a market share of 73.54% and Linux had a market share of 2.38%.
WatchOS
The WatchOS app experience differs from app experiences on other platforms in several ways. For example, because the Apple Watch is meant to be worn, the UI is tailored to wearers and provides a lightweight, responsive, and highly personalized experience. People commonly utilize the related experiences of a WatchOS app such as Apple complications, notifications, and Siri interactions — more than they use the app itself. 
With the increased features of the WatchOS 7, Apple is developing even more powerful and customized apps for the Apple Watch. Users may quickly and simply develop unique faces with brand new APIs and tools such as various complications APIs, SwiftUI Complications, and Xcode Previews. People may also use Face Sharing to share their problems via Messages, the web, and other channels.  
In the first quarter of 2020, Apple had the highest share of the worldwide smartwatch shipment market. Their market share was 47.9%, followed by Samsung's 13.4%. 
tvOS
Apple devices are well-known for linking users to content. This sense of connection is anticipated from Apple TV, although it is not a product that the user can physically grasp or touch. Apple TV is a one-of-a-kind platform with unique specifications. TvOS apps can provide incredible experiences with great visual quality thanks to 4K resolution, Dolby Vision, and HDR10, as well as immersive sound thanks to Dolby Atmos. Furthermore, the Siri Remote provides access to three-axis gyro data, allowing users to build even more immersive gaming and interactive experiences.  
Tizen is the largest TV streaming platform globally among smart TVs in use, with a market share of around 13% as of the end of 2020, followed by LG's WebOS with 6.4% market shares, Sony PlayStation, Roku TV OS, and Amazon's Fire OS tied for third place. Apple TvOS had a market share of 2.7% as of 2020. 
Smart TV Streaming Device Market Share Worldwide As Of 2020 (%)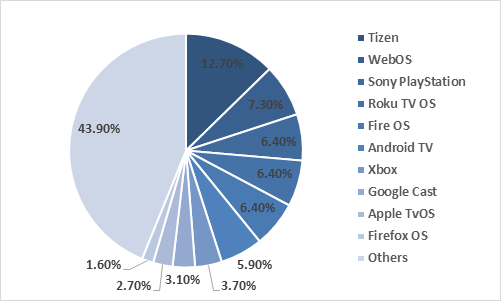 Artificial Intelligence
Apple's machine learning teams are conducting cutting-edge research in machine learning and artificial intelligence. The team employs machine learning to educate their devices to comprehend the environment in the same way that humans do. Apple did a research study to investigate the feasibility of inferring accessibility for mobile apps from their display pixels.
Using a dataset of manually collected and annotated iPhone app screens, they trained a robust, quick, memory-efficient on-device model to recognize UI components. As a consequence of this research, Apple launched the Screen Recognition function, which combines machine learning and computer vision to recognize and present material readable by VoiceOver for apps that would otherwise be inaccessible. 
Even in May 2021, Apple Inc. hired Samy Bengio, a former prominent Google AI scientist. The hiring will lead to the establishment of a new AI research team within Apple, led by John Giannandrea. Bengio pioneered the "deep learning" methods that underpin today's AI systems for processing photos, audio, and other types of data. 
Machine learning and artificial intelligence are now present in almost every aspect of the iPhone.
"I think that Apple has always stood for that intersection of creativity and technology. And I think that when you're thinking about building smart experiences, having vertical integration, all the way down from the applications, to the frameworks, to the silicon, is really essential… I think it's a journey, and I think that this is the future of the computing devices that we have, is that they are smart, and that, that smart sort of disappears." 

– John Giannandrea, Senior Vice President for Machine Learning and AI Strategy at Apple
Apple has made a practice of crediting machine learning with boosting specific functions in the iPhone, Apple Watch, or iPad, but it seldom goes into much detail. 
Apple has taken a more subtle and astute approach to AI. Apple hinted at a variety of AI and ML-powered improvements and enhancements in its June 2020 announcements for iOS, iPadOS, and macOS.
The Apple Watch utilizes machine learning to identify motions and detect sleep. Users only need to wear the Apple Watch to bed, and it will track their sleep.

The new handwashing functionality on the Apple Watch, which utilizes AI to detect when one is scrubbing the mitts and starts a countdown, is one of the greatest examples of Apple's approach.

One of the

features in iOS

that allows the iPhone to listen for things like doorbells, sirens, dogs barking, or babies crying is sound alerts. AI excels at picture recognition tasks, and recognizing both Chinese and English characters is an accurate model. 

Apple HomeKit, a smart home solution, allows customers to use their smartphones to control and interact with connected gadgets. Users can utilize the HomeKit framework to provide a means for users to configure accessories and define actions to control them. Users may even bundle actions together and use Siri to initiate them.

In iOS 14, Apple included a translation app. The app's purpose is to provide translations from one language to another. Because of the inbuilt on-device machine learning, the Translate app works offline. The program includes various excellent features that are beneficial while learning a new language as well as seeking to communicate with someone who speaks an anonymous language.

Handwriting recognition is a difficult challenge for AI because the more natural a task is for humans, the more difficult it is for AI. In the most recent iPadOS update, when users draw anything with the Apple Pencil, the iPad can recognize their handwriting and, using Scribble, transform it into written text. It works in the same way that most machine learning does.
Artificial intelligence and its subset, machine learning, are being employed to improve the user experience in a variety of Apple gadgets.
Comparison with Google, Amazon, Microsoft
Google paid $400 million for a DeepMind startup in 2014. This company provides a variety of AI-powered solutions, ranging from picture and speech recognition to human simulation in video games. Google employs AI in a variety of mundane tasks, including Gmail reply suggestions and sophisticated search algorithms. In addition, the business just released TensorFlow, a machine learning technology that is open to use for any developer. 
Google also has Google Assistant, which assists users in doing daily chores in a more effective and timely manner. It is supported by a wide range of devices (Sonos speakers, Samsung smart TVs, and Philips Hue) and is one of the most extensively used AI solutions today. Duplex is an AI-powered voice that assists users in scheduling business appointments using Google Assistant. The most recent PAIR initiative from Google in AI is worth mentioning. PAIR is an acronym that stands for People + AI Research and attempts to make working with AI as pleasurable and helpful as it can be.
When consumers think about Amazon in AI, the first thing that comes to mind is Alexa. This is another virtual assistant that can set alarms, send alerts, and communicate by speech and is supported by Amazon Echo Dot speakers. 
Amazon has lately launched the Alexa Shopping functionality. Customers may now use Alexa to place orders on Amazon. The assistant may add things to the basket, delete them, track their progress, and alert customers when they are delivered. Voice shopping reached $40 million by 2020, Amazon made a very smart move.
Microsoft Research AI is a Microsoft-founded organization dedicated to AI research and development. Since the corporation currently uses AI in its processes (Skype chatbots, data analysis, interaction with Cortana, and so on), it's no surprise that it further intends to increase the usage of AI. 
Aside from that, Microsoft has been releasing AI-powered products through its Azure cloud computing service and working on AI integration into Office 365. By 2018, Microsoft bought five artificial intelligence (AI) technology firms. XOXCO, a software product design, and development firm was Microsoft's most recent purchase.
Apple has Siri, which is one of the world's most popular virtual assistants. Apple also offers face recognition, which is entertaining to experiment with and improves security. Furthermore, Apple employs AI to identify fraud and improve battery usage and appears to be an equal competitor. 
Apple does not spend as heavily on AI as Google or Amazon. Second, it takes a fairly local approach, with its CreateML framework only operating on iOS devices, whereas most businesses train their ML models in the cloud. 
Since 2006, Google has invested over $3.9 billion on AI in disclosed transactions. There have been several organizations that have invested money in acquiring AI startups up till 2018. Some of these businesses are Amazon ($871 M), Apple ($786 M), and Microsoft ($690 M). 
Investment Made by Companies in Artificial Intelligence in 2018 (in $ Million)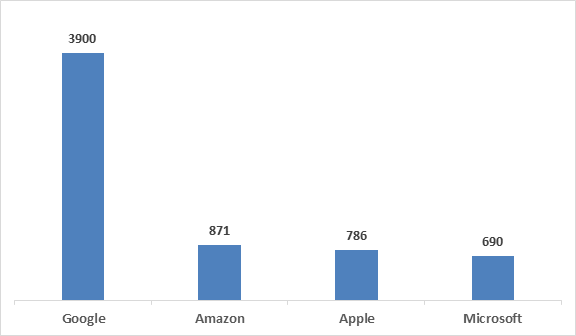 Acquisitions Related to AI
According to a report from GlobalData, Apple acquired around 25 artificial intelligence firms between 2016 to 2020. The various acquisitions that Apple made include: 
Emotient (Jan 2016)
Emotient, a San Diego business developing artificial intelligence technology that scans facial expressions to determine emotions, was bought by Apple. Apple did not specify the details of the acquisition in the report.
Flyby Media (Jan 2016)
Apple acquired Flyby Media, an augmented reality business that created technology that lets mobile phones "see" the world around them. Apple has been interested in virtual reality for several years. The purchase occurred shortly after Apple announced the hire of a prominent AR/VR specialist, Doug Bowman. Apple may have been working on technology that will someday find its way to the iPhone, similar to Google's Project Tango, which delivers computer vision to mobile devices.
Gliimpse (August 2016)
Gliimpse, a health data firm, was purchased by Apple for around $200 million. Gliimpse functioned by allowing users to import their medical information into a single virtual environment. Apple's incorporation of Gliimpse into its existing products appeared to be more evident, given that the business has been working on health-related software for some years now. It was simple to see how Gliimpse, with its structured data centered on individuals, would be useful in products such as HealthKit, ResearchKit, and CareKit.
Turi (August 2016)
Turi, a machine learning and artificial intelligence business, was purchased by Apple for more than $200 million. The acquisition is part of Apple's bigger push into artificial intelligence and machine learning. Apple's ambitions for Turi's technology are unknown, but the corporation has been expanding its Siri personal assistant and associated technologies to make a larger push into artificial intelligence.
Tuplejump (September 2016)
Tuplejump, a machine learning team based in India and the United States, was bought by Apple. The acquisition was motivated by Apple's interest in "FiloDB," an open-source project developed by Tuplejump to quickly apply machine learning ideas and analytics to enormous volumes of complicated data as it came in.
RealFace (February 2017)
Apple has spent $2 million acquiring the Israeli company RealFace, a cybersecurity and machine learning business focusing on face recognition technologies. RealFace's software is stated to employ exclusive IP in the realm of "frictionless face recognition," which enables quick learning from facial traits.
DeskConnect (March 2017)
DeskConnect, the start-up behind Workflow, was acquired by Apple. Workflow is similar to Automator, an Apple utility tool that comes with macOS Sierra but has no iOS counterpart. DeskConnect's namesake cross-platform file-transfer tool was discontinued last month. Apple's AirDrop, Handoff, and Universal Clipboard, among other services, were recommended by the firm.
Lattice Data (May 2017)
Apple invested $200 million for the acquisition of Lattice Data, an AI firm. By acquiring Lattice Data, Apple was prepared to make a greater push into machine learning and artificial intelligence. Around 20 engineers also joined Apple.
SensoMotoric Instruments (June 2017)
SensoMotoric Instruments, a German provider of eye-tracking eyewear and systems, was acquired by Apple. SensoMotoric has created eye-tracking technology for virtual reality headsets such as the Oculus Rift, which monitors the wearer's gaze and aids in the reduction of motion sickness, a major side effect of VR. Apple revealed a prototype set of "smart glasses" that would link to an iPhone and show the wearer "pictures and other information."
Regaind (September 2017)
Regaind, a French firm, was bought by Apple. Regaind had been working on a machine vision API for analyzing photo content. Apple used this technique to improve the Memories tab in the Photos app. iOS builds albums depending on events, location, and other factors. Using Regaind, iOS may also search for aesthetically similar photographs, display the best image as cover art, and generate a recap movie with the finest photographs. Apple has integrated Regaind technology with the new Face ID sensor in the iPhone X, for example, to enhance animoji facial expressions.
Pop Up Archive (December 2017)
Pop Up Archive, an Oakland-based online platform focused on developing tools to transcribe, organize, and search audio recordings, was bought by Apple. Apple, the long dominating hands-off curator of the podcast world, has bought a technology aimed at boosting the knowability and sortability of the hundreds of thousands of broadcasts delivered via its Apple Podcast platform.
Spektral (October 2018)
Apple invested more than $30 million for Spektral, a computer vision business located in Denmark that has worked on segmentation technology. Spektral's initial application may have been the rather outdated world of school photos, and the most prominent contribution Spektral might make to Apple's photographic industry.
Asaii (October 2018)
Apple invested less than $100 million for Asaii, a music analytics start-up focused on discovering new and rising musicians. The acquisition comes as Spotify, Apple Songs's major competitor, expands its reach beyond conventional popular performers and supports unsigned musicians, who may now submit their music straight to the service.
Silk Labs (November 2018)
Silk Labs, a firm focused on developing on-device machine learning software, had been acquired by Apple. The purchase was a perfect fit for Apple's privacy-focused approach to artificial intelligence. Apple followed a similar approach to AI development, distinguishing itself from competitors such as Google, which collects large volumes of user data and analyses it on the cloud.
PullString (February 2019)
PullString was acquired by Apple for around $30 million. It is a big indication of Apple's plan to make Siri creation easier for iOS developers. The acquisition also provides Apple with extensive domain experience in the areas of voice app development, voice app designer and developer requirements, and the complexities of both Amazon Alexa and Google Assistant.
Laserlike (March 2019)
Laserlike, a machine learning start-up, has been bought by Apple. Laserlike uses machine learning to collect massive amounts of data from the web and then give user-specific findings via an eponymous app. The transaction was made for an unknown purpose, according to Apple. Laserlike's team may be trying to improve Siri's long-struggling capacity to retrieve relevant information from the web.
Lighthouse AI (March 2019)
Apple purchased Lighthouse's patents for AI-powered home security cameras (eight patents and patent applications). Even the Lighthouse's Co-Founders, along with about 20 employees, had joined Apple. Apple's current emphasis on AI-driven home security systems is part of a broader tech industry embrace of so-called smart or connected homes, which include a large number of AI-driven and machine-to-machine gadgets.
Drive.ai (June 2019)
Drive.ai was bought by Apple in June 2019. As a consequence of the agreement, hundreds of Drive.ai developers joined the tech giant's top-secret Project Titan. Apple bought the company's assets, including its self-driving vehicles.
Spectral Edge (December 2019)
Apple invested an unknown sum for another UK start-up, Spectral Edge, in an apparent move to strengthen the iPhone camera. Spectral Edge created Phusion, a computer photography approach that employs infrared light that is invisible to the human eye to sharpen and restore color in smartphone images.
Xnor.ai (January 2020)
Apple acquired Xnor.ai, a Seattle business that specializes in low-power, edge-based artificial intelligence solutions. The transaction was completed for around $200 million. According to the agreement, Xnor's AI-enabled picture identification technologies might become standard capabilities in future iPhones and cameras.
Voysis (April 2020)
Apple Inc. acquired Voysis, an Irish artificial intelligence firm, in April 2020 for an undisclosed amount. Voysis' technology, which includes a platform that adds vocal interactions to digital shops, might be used to improve the understanding of what consumers say by Apple's Siri speech assistant.
Inductiv Inc. (May 2020)
Apple Inc. acquired Inductiv Inc., a machine learning firm situated in Ontario, Canada. Inductiv created technology that employs artificial intelligence to automate the job of detecting and repairing data problems. This technology will be used by Apple in a variety of products and improve Siri data.
Subverse Corp.(Scout FM) (September 2020)
Apple Inc. acquired Subverse Corp. (Scout FM), a start-up that makes listening to podcasts more like tuning into radio stations, to strengthen its service in the face of increasing competition from Spotify. While other podcast applications, such as Apple's, allow users to select an individual podcast to listen to, Scout FM established podcast stations on a variety of themes. Scout FM was popular among Apple device owners and could be linked with CarPlay. This is the interface that shows on compatible car screens when an iPhone is connected, and Apple's Siri digital assistant.
Vilynx (October 2020)
Apple Inc. invested $50 million in acquiring the artificial intelligence and vision firm Vilynx Inc. Vilynx technology might be adapted to Siri and Apple's general search operations.
Apple Services
Apple has been working on different services to increase revenue especially when iPhones sales are declining since 2018. Apple knew that it was bound to happen, so the company made several tactics to boost its revenue. One is simply to increase the price. 
Apple iPhone, iPad, Watch, or even Macbook's average price have seen a growth that helped Apple increase its revenue consistently. But that tactic was a short-term plan and Apple Couldn't rely on it for the long term. That's where Apple services come into the picture. 
Apple has introduced several services in the past 6 to 7 years such as Apple Pay, App Store, Apple News+, Apple Music, Apple TV+, Apple Podcasts, Apple Fitness+, etc. 
Apple generated $53.7 Billion in 2020 through its services which accounted for 19% of total revenue. Surely, the number will keep growing in the coming years as Apple has a solid user base and they are making the services a part of their ecosystem which will help in user experience. 
iMessage
iMessage is Apple's instant messaging service for iPhone, iPad, and Mac devices. iMessage, which debuted with iOS 5 in 2011, allows users to share messages, photographs, stickers, and other content between any Apple devices through the Internet. iMessage is exclusively available on Apple devices. That implies users won't be able to send an iMessage to their Android contacts. Apple prioritizes privacy, which is why everything users transmit as an iMessage is encrypted from beginning to end. This implies that no one can intercept or read it except the person to whom it was sent, even Apple. In reality, even if they have a smartphone, they cannot force their way into a user's iMessages. No, not without a user passcode. Apple has been chastised by the US government for this same reason, since it cannot, even if it wanted to, expose iMessages. 
FaceTime
Apple's FaceTime is a video chat application. FaceTime was built by Apple on an open standard, which implies that it may be utilized across a variety of platforms and that other manufacturers may exploit FaceTime's protocol. But instead, FaceTime was only available to customers of Apple products until recently. With the release of iOS 15, FaceTime is coming out of the Apple closet. The software giant is making it possible for people who have Android phones and Windows laptops to hop on FaceTime calls — no iPhone required (well not really tho).
Before you jump to search the FaceTime app on the play store, here's the catch- you won't find it. Users will be able to join a FaceTime call on their Android and Windows devices using a link, so long as the person scheduling or starting the call has an Apple device and an Apple account. It now has a market share of less than 0.01%. Zoom is the market leader in this industry, with a 39.66% market share followed by GoToWebinar with a 20.64% market share, and Cisco Webex with a 16.48% market share. 
Apple Maps
Apple Maps and Google Maps have transformed the way we locate destinations, discover local businesses, and share directions with friends. Both serve the same objective, although their navigation tools and interfaces differ slightly. Google Maps, which debuted in 2005, has been the leading mobile mapping service since the smartphone's inception. Apple Maps for iPhone and iPad, on the other hand, didn't come until 2012, and it battled with technical challenges for years. 
With the introduction of iOS 13 and iPadOS 13, Apple gained a foothold. Apple Maps was upgraded to exclude third-party navigation data in favor of new data obtained exclusively by Apple. The new maps are significantly more precise and accurate, thanks to millions of miles driven in camera- and LiDAR-equipped automobiles, new high-resolution satellite photos, Apple staffers canvassing areas on foot with radar modules strapped to their backs, and plenty of aerial photography. 
Apple included routes for bicycles, routing for electric cars, congestion zones, and Guides for discovering the finest locations to visit in cities around the world in iOS 14 and iPadOS 14. Apple Maps is only available on Apple devices, including iPhones, iPads, and Apple Watches. It's incorporated into all Apple-branded products, including Macs. It is not available on devices that are not part of the Apple ecosystem. 
According to the latest survey data from The Manifest in 2018, the majority of smartphone owners use navigation applications, with the majority preferring Google Maps. It has a market share of 67% compared to 12% for Waze, 11% for Apple Maps, and 8% for MapQuest. 
Market Share of Navigation App in 2018 (%)

App Store
Apple's digital software distribution platform for iOS devices is known as the App Store. The App Store, which debuted in 2008, allows software developers to publish content designed exclusively for the iPad, iPhone, and iPod touch. Apps may also be downloaded for the Apple Watch through the iOS App Store. 
The App Store is more than just a shop; it is an innovative place dedicated to delivering incredible experiences. A large part of it is ensuring that the applications the firm provides adhere to the highest privacy, security, and content standards.  
Android users have a choice of 3.48 million apps as of the first quarter of 2021, making Google Play the app store with the most available apps. With about 2.22 million iOS apps available, the Apple App Store stands second in the ranking. 
While the actual number of applications may vary since Apple and Google constantly delete low-quality material from their app stores, the number of applications has continuously increased over the years. 
Since 2008, the App Store has paid out more than $200 billion to developers.
According to mobile expert Horace Dediu, who provided even more current data which are as follows: 
$1.8 billion in App Store sales over the week between Christmas Eve and New Year's Eve (+27% year on year)

$540 million in App Store sales on January 1, 2021 (+40% year on year)

600 million: The number of iPhone users with an active subscription.
According to Apple, the App Store saw $643 billion in total commercial transactions in 2020, a 24% increase compared to 2019. At the present rate of growth, the indicated economic value might exceed $1 trillion within two years. 
Apple TV+
Apple TV+ is Apple's own TV and movie streaming service. It features award-winning shows, captivating dramas, ground-breaking documentaries, children's entertainment, comedy, and more. Every month, new Apple Originals are added. The service is positioned as Apple's direct competitor to Netflix, Amazon Prime Video, and Disney+, and will exclusively offer original programming via the existing Apple TV app, which is available on various platforms. 
It is available on a monthly subscription basis and is accessible across several devices via the most recent version of the Apple TV app. Apple TV+ provides ad-free, unique programming that has either been green-lit or created in-house by Apple. 
A family membership to Apple TV+ costs £4.99 / $4.99 per month. Apple's services package, which includes Apple Music, Apple TV+, Apple Arcade, Apple News+, and Fitness+, was launched in October 2020. Apple TV+ is accessible on iOS/iPadOS devices and the Mac via the Apple TV app.  
A survey was conducted in May 2020, with Apple's reader at Android Authority, 'Which streaming service would they pick if they could only pick one?' From this survey, it was seen that Apple TV+ captured less than 1% of the total vote. The majority of consumers complained that the library was just too small, while it would work better as a second or third membership for people who can't get enough content. 
Market Share of SVOD Services during the Q4 2020 in the United States (%)

Position in the Market Compared To Others
Apple TV+ was marketed as a unique curated stream of entertainment available exclusively through the Apple TV app. Despite Apple's investments in new movies and programming for its streaming service Apple TV+, the platform is still considered to gain a large success. During the fourth quarter of 2020, it was reported that Apple TV+ has only a 3% market share in the United States, trailing competitors such as Netflix, Disney+, and even Peacock.
Apple TV+ was not the most popular streaming service in the fourth quarter of 2020. Apple TV+ trailed Peacock, NBCUniversal's streaming service launched in July 2019, which had a 6% market share during the same period. Netflix maintained its 31% market share of streaming platforms in the United States, while Amazon Prime Video grew and drew close to 22%. Hulu came in second with 14%, followed by Disney+ with 13%, and HBO Max with 9%. 
In 2020, Apple had a terrible year because most productions were halted due to the COVID-19 pandemic. Apple TV+'s catalog is extremely modest in comparison to its competitors because it only includes original movies and series. Apple extended the Apple TV+ trial term to members who had previously completed the one-year free trial in January 2021. 
Apple is in a unique position since it both creates original video content and distributes third-party video bundles. Apple's aim to become the "bundler of bundles" looks to profit when power shifts from one or two corporations to a lot of others.  Apple TV+, Apple's streaming video service, was priced at $4.99 per month, which was less than any other major provider. 
As additional competitors plan to launch their services with larger video libraries consisting of famous series and movies, the firm was obliged to keep the pricing low. Within a few months of its inception, the one-year free trial had propelled Apple TV+ to the top of the streaming services. 
Apple's Plan to Increase Its Streaming Business
Tim Cook, Apple's CEO, announced the debut of video streaming, news subscriptions, and a credit card in 2019. Apple took a calculated move to join the video streaming sector. The choice to enter the video streaming market is a little departure from the company's core business, which has garnered its brand recognition.
Furthermore, since Apple has broadened its horizons in the services category, the launch of a video streaming service appeared to be an opportune decision, since this sector has a lot of untapped development potential.
Online video streaming might be thought of as a replacement for television. In the United States, video streaming services have already surpassed television in terms of household penetration, with 69% of homes using a video streaming service.

Apple has the economies of scale to enter this market with relative ease. It has significant client loyalty and may be able to gain clients more readily as a result of its loyal client base. Furthermore, with the aid of its existing products, the firm may be able to effortlessly pull in its existing consumers on video streaming services.
Apple TV+ is less expensive than the majority of its competitors. It costs $4.99 per month, which is less than half the price of a standard Netflix membership, and it is free for the first year for customers who buy Apple gadgets. Even now, Apple has been collecting older movies and episodes for its TV+ streaming service, intending to build a back library of material that can compete with the massive libraries offered on Netflix, Hulu, and Disney+. According to sources familiar with the topic, the company's video-programming executives have received presentations from Hollywood studios about licensing older content for TV+ and have purchased several episodes and movies.
It is predicted that in the future the company might acquire Disney. If Apple is serious about becoming a large SVOD player, which they may not be, abandoning Apple TV+ and redirecting its programming to Disney's established streaming portfolio makes sense. Disney is the only studio large enough to propel Apple into streaming dominance, and it just so happens to fit Apple's family-friendly image and public values. 
"Apple can easily push the Disney streaming apps onto every phone and make certain offerings free for everyone in markets that are underserved."

– David Offenberg, Associate Professor of Entertainment Finance in LMU's College of Business Administration
Apple had planned to introduce augmented reality material to Apple TV+, as it sought new methods to attract and keep members, as well as generate interest in AR technology. Even the 'Bonus content' has been one of the numerous ways in which Apple has attempted to increase the value of TV+ and keep consumers enrolled. Apple is planning to launch podcasts based on existing TV+ series. Apple is planning to release a headgear that combines augmented and virtual reality in 2022, with an emphasis on gaming, media consumption, and virtual meetings. 
Apple Music
Apple Music was launched in 2015 and is a music streaming service that offers access to over 70 million songs. Its fantastic features include the option to download favorite tracks and play them offline, real-time lyrics, listening across all of your favorite devices, new music customized specifically for its users, curated playlists from their editors, and many more. All of this is in addition to exclusive and unique material.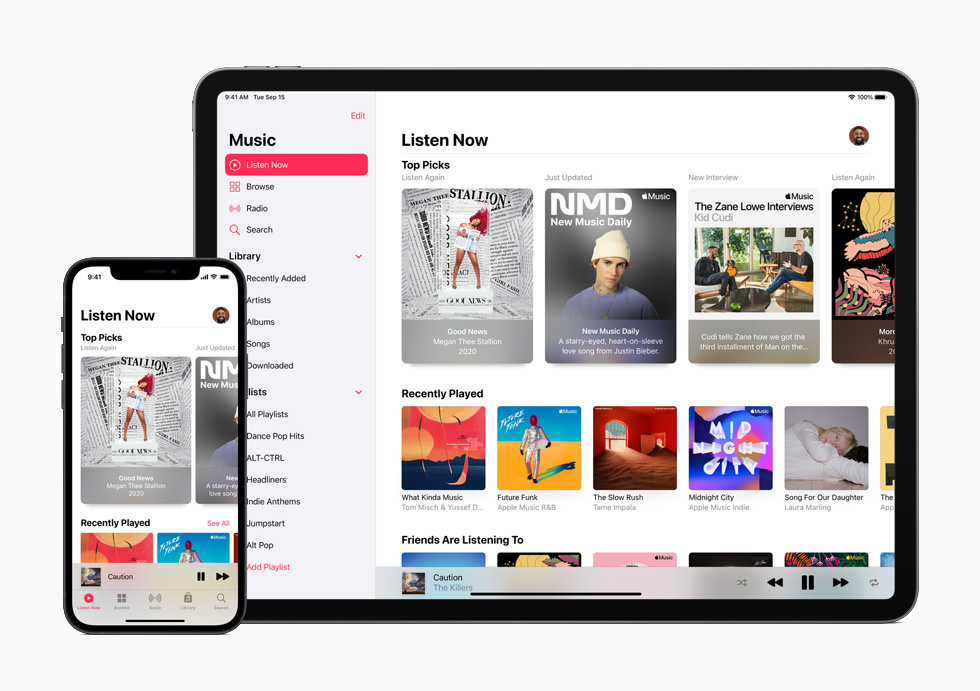 Apple Music also includes live radio stations and connectivity with Siri, allowing users to operate most of their devices with voice commands. The Apple Music service not only allows one to stream any tune from the iTunes collection on demand, but it also allows one to access all of the music in one location on all of the devices, whether purchased from iTunes, copied from a CD, or downloaded from the web. Individual plans cost £9.99 (US$9.99) per month. A Family subscription, which can accommodate up to six people, costs £14.99 or $14.99 per month, which is less than Spotify's equivalent. The University Student plan, which costs £4.99/$4.99 a month, is the final option. 
Acquisitions and Collaborations
"Music is such an important part of all of our lives and holds a special place within our hearts at Apple. That's why we have kept investing in music and are bringing together these extraordinary teams so we can continue to create the most innovative music products and services in the world."

– Tim Cook, CEO of Apple
Beats Electronics began to employ Apple's patented technology in various products following the acquisition, such as the W1 chip in select Bluetooth headphones. Apple shut down Beats Music at the end of the year in anticipation of the 2015 launch of Apple Music.  
In Jan 2015, Apple

purchased Semetric

, a business that analyzes music data online. This agreement was reached to revitalize the development of iTunes and Beats Music. Apple's interest in Semetric is most likely limited to the Musicmetric product, which might be used to reliably compute record label royalties for a music streaming service like Apple Music. After purchasing Beats for $3 billion last year, Apple expressed a desire to extend its online music services with the acquisition. 

Apple

purchased technologies from cloud-based music platform Omnifone

in November 2016 and employed at least a dozen (at least 16) former Omnifone workers. Omnifone provided "white-label" music services, which allowed businesses to provide their personalized music services to clients and subscribers. Many former Omnifone employees have gone on to work as software developers at Apple, presumably in areas such as iTunes and Apple Music. 

In April 2021, Pinna, an on-demand audio entertainment service provider,

announced collaborations with Apple

.

"Pinna is thrilled to be on the forefront of this exciting launch in collaboration with Apple.",

said Maggie McGuire, CEO of Pinna.

Apple Podcasts Subscriptions will let them expand their worldwide reach even further, providing them with a unique ability to personalize channels to certain demographics and interests.    
FinTech
Apple has joined a crowded, competitive field populated by banks and upstart fintech companies. Tim Cook provided some insight into the company's progress toward becoming a financial player during the company's quarterly earnings call in 2018. 
Apple Pay transactions increased from the previous year to over 1 billion in 2018. Apple had been working on a credit card with Goldman Sachs and MasterCard. In 2019, Apple launched its Apple credit card in collaboration with Goldman Sachs and MasterCard.
According to the firm, Apple customers were able to sign up for the new card using their iPhones in the summer of 2019. It revolves around Apple Pay, the company's mobile payment and digital wallet service, which debuted in 2014. 
Even though Apple was late to the credit card industry, its marketing prowess and dedicated client base allowed the business to expand very swiftly. Tim Cook, Apple's CEO, indicated that more than 70% of U.S. shops accept Apple Pay and that around 40 countries had joined by the end of 2019.
The Apple Card is more likely to put branded credit card issuers under competitive pressure than Goldman's rival banks. Apple may continue to provide additional financial products to its customers, notably bank accounts, which are a good complement to credit accounts.

According to Gene Munster of Loup Ventures, Apple Pay is still active on around 25% of all iPhones in the United States. This would hasten the adoption of Apple's payment method since, unlike Apple Pay, the card could be used everywhere.   

Apple also paid around $100 million for acquiring Mobeewave, a payments start-up. The payment startup provides near-field communications (NFC) technology, which allows smartphones to be used as payment terminals. The technology enables mobile payment options such as Apple Pay and Google Pay. 
Apple Pay
Apple Pay was launched in October 2014 and is an Apple Inc. mobile payment and digital wallet service that allows users to make payments in person, in iOS applications, and on the web using Safari. It is compatible with the iPhone, Apple Watch, iPad, and Mac. 
Apple introduced person-to-person Apple Pay payments using the Messages app on the iPhone and Apple Watch in 2017. Apple Pay has surpassed Starbucks to become the most used mobile payment platform in the United States as of 2019.
In 2020, the Apple Card had around 3.1 million users in the United States. Apple Pay also allows customers to make one-tap purchases within applications that have implemented the Apple Pay API, and it is available on the web on iOS 10 or macOS Sierra or later devices. 
Presently, Apple Pay is accepted by more than 85% of retailers in the U.S. Apple Pay is also available at a variety of locations other than regular retail outlets, such as colleges, ballparks, non-profit organizations, Bitcoin payment providers, and ATMs from Bank of America, Chase, and Wells Fargo.
Apple Card
Apple Inc. announced Apple Card in August 2019 in collaboration with Goldman Sachs and MasterCard. It is a credit card with Apple Pay branding that gives 2% cashback on Apple Pay transactions. In addition to cash benefits for Apple Pay transactions, the card provides financing alternatives for Apple devices.
Apple Card functions similarly to a traditional credit card, but it is deeply integrated into the Wallet app, providing real-time views of the most recent transactions as well as a comprehensive overview of spending organized by category, as well as payment options optimized to encourage minimal interest. 
Apple also provides 3% cashback when using the Apple Card with Apple Pay to make purchases at Uber, Uber Eats, T-Mobile, Walgreens, Nike, and Duane Reade. Apple also intends to offer 3% cashback rewards to additional shops and applications in the future.    
What are the Potential Future Products of Apple?
AR/VR/MR Device
Apple is developing a range of augmented and virtual reality products that will be powered by a new 3D sensor technology. Apple plans to deliver a combined VR and AR headset with an emphasis on gaming, video viewing, and virtual meetings. According to one person familiar with the plans, the business wants to release a lightweight pair of AR glasses as early as 2023. 
The AR-VR Apple headset is predicted to be relatively pricey, with a release date of 2022. This will compete with Sony's PlayStation VR and Facebook's Oculus. Apple's VR-AR headset will be the outcome of ongoing research and development. The business has been implementing AR and VR devices and software components. 
For example, the LiDAR sensor, which was originally installed on the iPad Pro before being added to the iPhone 12 Pro and iPhone 12 Pro Max. The mixed-reality headgear is expected to cost around $3K, and Apple is only aiming at 250K unit sales. It might be available as early as 2022.  
Apple Glass
Apple Glass is expected to operate on Starboard (or perhaps glassOS), a proprietary operating system revealed in iOS 13's final version. The augmented reality framework appears several times in code and text documents, implying that Apple is testing activation and application. According to Bloomberg, Apple Glass will be available in 2023 at the earliest. Apple is getting closer to releasing a VR headset that will compete with the Oculus Rift 2. 
According to Scoble, Apple will most certainly release AR glasses next year, giving it a 2-3 year head start on all competitors.
Apple's objective is to personalize computers. The Cupertino firm has everything in place to launch an AR product to the masses:
Hardware manufacturing competence and a stable supply chain allow for seamless integration with an iPhone, AirPods, and Apple Watch.

It comes with its operating system, chip, and App Store.
Because every buyer of these AR glasses will almost certainly have an iPhone, Apple can provide a lightweight product at a reasonable price.
Apple Car
Apple's foray into personal mobility appeared to have begun in 2014, with the announcement of something named Project Titan. This project is about the company's efforts to bring a Tesla-style electric vehicle to market before the end of the decade.
The Apple Car project has had many lead changes and hundreds of layoffs during its development, but it is presently led by John Giannandrea, Apple's Chief of AI and machine learning, who took over from Bob Mansfield after Mansfield departed in 2020. 
It was verified in December 2020 that Apple is still working on a car and now aims to produce a vehicle in three to six years. According to Ming-Chi Kuo, an Analyst at Apple, a car would not be launched until 2025 to 2027. Ming-Chi Kuo, an Apple analyst, believes the automobile will be the company's "next star product," with Apple able to offer greater integration of hardware, software, and services than prospective competitors in the automotive business, thanks to Apple-designed processors made by TSMC.
"We're focusing on autonomous systems. It's a core technology that we view as very important. We are sort of seeing it as the mother of all AI projects. It's probably one of the most difficult AI projects to actually work on."

– Tim Cook, CEO of Apple
The first car chassis of Apple might be built on Hyundai's E-GMP electric vehicle (BEV) platform. The Apple Car will almost certainly be sold as an "extremely high-end" or "substantially higher" model than a regular electric car. Apple has been aiming for a game-changing design that might be employed in a future driverless car.
Apple is also working on a novel battery architecture that has the potential to "radically" lower battery costs while increasing vehicle range. The battery technology has been compared to "the first iPhone" and hailed as "next level." Apple intends to use a novel "monocell" design that bulks out the individual cells in the battery while freeing up room inside the battery pack by removing pouches and modules that carry battery components.
Apple is also developing a self-driving shuttle service known as 'PAIL' (Palo Alto to Infinite Loop). The shuttle service will transport staff between Apple's Silicon Valley headquarters. Apple is collaborating with Volkswagen and will put self-driving software in Volkswagen T6 Transporter vehicles that will act as staff shuttles. 
In 2019 and 2020, speculations circulated that the project had shifted once again and that Apple was still pursuing an Apple-branded car. However, many speculations in late 2020 indicated that Apple is still working on a full-fledged Apple-branded automobile. This is primarily aimed towards customers, with ambitions to collaborate with an established vehicle manufacturer.
Under the secret name "Project Titan," Apple had hundreds of people working on the design of a minivan electric car. This project is being led by Steve Zadesky, Apple VP of Product Design.
Apple bought Drive.ai, a self-driving car startup, in June 2019. For its self-driving vehicle project, Apple engaged many Drive.ai professionals in engineering and product design. According to Axios, Apple bought the company's assets, including its self-driving cars. 
Drive.ai vans are customized Nissan NV200s that operate in a restricted region near major sites and sports venues. This acquisition was made primarily to improve the company's autonomous vehicle development effort.   
According to Morgan Stanley analysts, Apple spent approximately $19 billion on research and development in 2020, which equates to almost one-fifth of the overall R&D investment across the automotive sector (about $100 billion). 
By May 2020, 700 employees were working on Apple AV Tech in the Bay Area. 
What does Apple M&A Landscape look like?
Apple is well-known for its strict secrecy, especially when it comes to new iPhone releases. Apple has completed around 100 mergers and acquisitions in the last six years, the majority of which was done in secret. Apple has rigorous nondisclosure agreements in place and urges acquired staff not to update their LinkedIn pages. 
The top 10 major acquisitions that Apple has made are mentioned below:
Apple's Top 10 Acquisitions
Acquisition of Beats
The highest amount at which Apple did an acquisition on August 1, 2014, was at $3 billion, for Beats Music & Beats Electronics. This acquisition includes buying both Beats Audio hardware and Beats Music. One of the main reasons for this acquisition was the talent and reputation that Apple looks for when creating new products and services. Another relevant reason is Apple wanted to modify and uplift its iTunes. Therefore, Apple began acquisition negotiations with Beats just four months after their Beats Music service first debuted. Even Apple was impressed by the amount of revenue that Beats generated from their headphones.  
Acquisition of Intel Smartphone Modem Business
In July 2019, the acquisition of Intel Smartphone Modem Business for $1 billion was Apple's 2nd largest acquisition ever. In this deal, Apple had acquired the majority of Intel's smartphone modem business. This deal also included the transactions of intellectual property, equipment, and approximately 2,200 Intel employees joining Apple. The agreement aided Apple in acquiring a large portfolio of wireless patents from Intel. More than 17,000 wireless technology patents have been held by Apple, ranging from cellular network protocols to modem architecture and modem service. According to multiple reports, Apple intends to produce its modems for iPhones by 2022-2023, and this Intel contract will undoubtedly aid those efforts. 
Acquisition of Dialog Semiconductor
On October 11, 2018, Apple went under a deal to license IP, acquire assets and talent from Dialog Semiconductor to expand chipmaking in Europe at a deal of $600 million. The deal also involved more than 300 Dialog staff transitioning to Apple employees, becoming part of Apple's hardware technologies team under Johny Srouji. In some cases, Apple will take over whole buildings formerly occupied by Dialog, and in others, they will co-locate in buildings where Dialog will continue to grow its own business.  
Acquisition of Anobit Technologies
In December 2011, Apple went under an acquisition with Anobit Technologies, an Israeli semiconductor startup. The deal was completed at approximately $500 million. The main two reasons for which this acquisition was made include the flash memory controllers of Anobit made a key component of all Apple's leading products (from iPads and iPhones to MacBook Airs) and finally the acquisition added a large team of chip engineers to payroll. Flash memory has been a crucial piece of Apple's technology puzzle.  
Acquisition of Texture
In March 2018, Apple acquired Texture, a digital magazine service by Next Issue Media LLC. The deal was done for $485 million, and it provided subscribers with unrestricted access to their favorite titles with a single monthly subscription fee. 
"We're excited Texture will join Apple, along with an impressive catalog of magazines from many of the world's leading publishers. We are committed to quality journalism from trusted sources and allowing magazines to keep producing beautifully designed and engaging stories for users." 

– Eddy Cue, Apple's Senior Vice President of Internet Software and Services 
Acquisition of Shazam
On September 24, 2018, Apple acquired Shazam to have more opportunities to explore and experience music. The deal was finalized at $400 million. 
"Apple and Shazam have a long history together. Shazam was one of the first apps available when we launched the App Store and has become a favorite app for music fans everywhere. With a shared love of music and innovation, we are thrilled to bring our teams together to provide users even more great ways to discover, experience, and enjoy music."

– Oliver Schusser, Apple's Vice President of Apple Music 
In May 2018, Apple revealed that Apple Music had reached 50 million users.  
Acquisition of Next Software
Back in 1996, Apple had acquired Next Software at a deal of $400 million. Apple paid approximately $350 million in cash and stock for the privately held Next to purchase that company's shares and an additional $50 million to cover its debts. 
Since its technology was agile, Apple hoped that Next's object-oriented, Java-enabled open software platform would greatly boost its Internet and intranet status. It also aimed to capitalize on Next's enterprise role. 
"This is a complementary arrangement, and the pieces fit together better than any other alternative we looked at, and it will launch a new round of technology." 

– Gilbert Amelio, Former Chairman and CEO at Apple
Acquisition of PrimeSense
In 2013, Apple acquired PrimeSense, an Israeli-based pioneer in 3D sensor technology. The deal was completed at approximately $360 million. PrimeSense's system could potentially be used in a variety of Cupertino devices. This acquisition was Apple's second purchase of an Israeli company, as it bought Anobit in January 2012. Apple did not disclose the intentions behind the purchase of PrimeSense.   
Acquisition of AuthenTec
In 2012, Apple bought AuthenTec, a fingerprint sensor technology developer for approximately $356 million. The fingerprint technology, used in mobile phones in Japan for authentication of mobile payments, would help Apple bring those services to markets such as the United States. 
Apple had also acquired the right to pay the company to license certain patents totaling as much as $115 million. AuthenTec's authentication features would be integrated into Apple's iPads, iPhones, and potentially as security measures for other features, such as non-mobile computer systems or cloud-based networks or services.  
Acquisition of PA Semi
In 2008, Apple acquired PA Semi, a chip designer for approximately $278 million. This acquisition was a strategic move by Apple, as it aimed to continue to differentiate its next-generation handheld products amongst a growing fleet of competitors. Even the power savings offered by P.A. Semi's designs may have been amongst the firm's most compelling assets in Apple's eyes. 
| | | | |
| --- | --- | --- | --- |
| # | Date/ Year | Company | Amount ($) |
| 1 | August 1, 2014 | Beats Music & Beats Electronics | $3 billion |
| 2 | July 25, 2019 | Intel's smartphone modem business | $1 billion |
| 3 | October 11, 2018 | Dialog Semiconductor | $600 million |
| 4 | December 2011 | Anobit Technologies | $500 million |
| 5 | March 2018 | Texture | $485 million |
| 6 | September 24, 2018 | Shazam | $400 million |
| 7 | 1996 | Next Software | $400 million |
| 8 | 2013 | PrimeSense | $360 million |
| 9 | 2012 | AuthenTec | $356 million |
| 10 | 2008 | PA Semi | $278 million |
Now, let's move forward to Apple's top 5 Market regions besides the US.
What are Apple's Top 5 Markets besides the US by Revenue?
Apple's top markets besides the US by revenue include the regions from Europe, Greater China, Japan, and the rest of Asia Pacific. America's high income is partly attributable to Apple's good performance in their home market, the United States. Apple has by far the greatest market share among smartphone suppliers in the United States. 
Even though overseas sales are accounting for a greater portion of Apple's overall income, the United States still accounts for around 40% of Apple's net sales.
During the year 2020 and Q1 2021, the annual revenue of Apple is divided into several regions such as the U.S., Europe, Greater China, Japan, and the rest of Asia Pacific. The new iPhone 12 Pro and 12 Pro Max, now in their 14th iteration, continue to contribute to the success of Apple's trademark product, helping push for year-on-year iPhone sales increase despite the COVID-19 pandemic. 
Apple gained 28% of the European market in the first quarter of 2020, making it the company's greatest first quarter of the fiscal period. Even in China during the year 2020, Apple captured a market share of approximately 10.5%. In Q4 2020, Apple was the only brand that showed positive year-on-year growth in the China market that year. 
The following table shows the annual revenue:
 
Annual Revenue ($Billion)
Quarterly
America
Europe
Greater China
Japan
Rest of Asia-Pacific
Total
Q1 2020

41.37

23.27

13.58

6.22

7.38

91.82

Q2 2020

25.47

14.29

9.46

5.21

3.89

58.32

Q3 2020

27

14.17

9.33

4.97

4.2

56.67

Q4 2020

30.7

16.9

7.95

5.02

4.13

64.7

Q1 2021

46.31

27.31

21.31

8.29

8.23

111.45
Source: Statista
What does Apple's Investment Landscape look like?
With the accelerating pace of technological change, investing in startups has become a key part of Apple's corporate strategies. By doing so they also tend to keep a close eye on their smaller brethren. Given below are the top 5 investments made by Apple.
Top 5 Investments Made by Apple
Apple has made several investments in startup companies globally. Amongst them, the top 5 investments include:
In May 2016, Apple announced that it invested

in a Chinese ride-hailing service Didi Chuxing

. Apple invested around $1 billion to help Apple to understand the critical Chinese market. The investment gave Apple a stake in two burgeoning waves of technology, i.e., the sharing economy and car technology. Even Apple has been trying to reinvigorate sales in China, where it had come under greater pressure from regulators. 
"From a Didi point of view, we see that one, it is a great investment. Two, we think that there are some strategic things that the companies can do together over time. And three, we think that we'll learn a lot about the business and the Chinese market beyond what we currently know." 

– Tim Cook, CEO of Apple 
Even in June 2016, Apple and other firms

backed unicorn Didi Chuxing Technology

, which raised $4.5 billion in a fundraising drive to oppose Uber's assault on the Chinese market. 

On March 31, 2021, Apple

invested an amount of $50 million

in UnitedMasters, a music distribution, and data analytics company. The platform aims to democratize the music industry by allowing budding musicians to earn money and get distribution across a variety of music platforms, including Spotify and Apple Music. This agreement marks the beginning of a strategic engagement with Apple, which will open up a plethora of new prospects for UnitedMasters artists.
"Steve Stoute and UnitedMasters provide creators with more opportunities to advance their careers and bring their music to the world."  

– Eddy Cue, Apple Executive
In March 2016, Apple, together with Blackboard, Dropbox, Udemy, and other companies

invested around $2.3 million in Volley Labs

, a learning technology firm. Volley's primary goal is to provide technology that assists students, particularly those enrolled in advanced high school or college curricula, in understanding the content they are learning by surfacing relevant, machine-curated explanations from the web via their mobile devices. The Volley's funders' ultimate goal is to spare students from spending too much time "processing" material and redirect their time and energy on meaningful learning. 

On November 21, 2015, Apple

invested in God-i

, a startup that specialized in wearable devices in the seed round. But afterward, Apple exited from further investments in God-i.  

On February 25, 2019, Apple along with other investors

invested an amount of $21 million in FreightWaves

during a Series B funding. FreightWaves is a data and content forum that delivers near-real-time statistics to industry players.  
Apart from investing in smaller companies and startups, collaboration is another strategy opted by Industry giants such as Apple. Let's look at the top 10 partnerships and collaborations Apple has made over the past years.
Top 10 Partnerships/Collaborations Made by Apple
The various top partnerships and collaborations that were made by Apple are mentioned below:
In September 2020, Singapore's government and Apple announced a collaboration on the health initiative LumiHealth, which would use Apple Watch. LumiHealth, developed in partnership with a team of physicians and public health professionals, encourages the use of technology and behavioral insights. Singaporeans might use their Apple Watch and iPhone to stay healthy and complete wellness challenges.
"Singapore has one of the world's leading healthcare systems, and we are thrilled to be partnering with them to incorporate Apple Watch and LumiHealth into their holistic approach to well-being"

– Jeff Williams, COO of Apple 
In April 2020, Google and Apple announced a partnership initiative to use Bluetooth technology to help governments and health organizations in reducing the transmission of the COVID-19 virus, with user privacy and security at the forefront of the design. Both organizations would offer APIs in May that would allow Android and iOS devices to communicate with public health applications. Users would be able to download these official apps from their respective app stores. 

In October 2017, Apple and GE launched a collaboration to deliver powerful industrial applications that would provide predictive data and analytics from Predix, GE's industrial Internet of Things (IoT) platform, to iPhone and iPad. The corporations announced the release of a new Predix software development kit (SDK) for iOS, which would provide developers with the tools they require to build their own powerful industrial IoT apps. 
"Together, Apple and GE are fundamentally changing how the industrial world works by combining GE's Predix platform with the power and simplicity of iPhone and iPad."

– Tim Cook, CEO of Apple 
In August 2017, Apple and Accenture announced a collaboration to help businesses revolutionize the way employees interact with consumers by developing new business solutions for iOS. Accenture Digital Studios would establish a dedicated iOS practice in key locations across the world. The two firms would provide a new set of tools and services, including IoT, to assist businesses in unlocking new income sources, increasing efficiency, improving customer experience, and lowering expenses.  

In September 2016, Apple and Nike unveiled the Apple Watch Nike+, the latest product of their long-standing collaboration. Apple Watch Nike+ has been the ideal running tool, combining exclusive Nike Sport Bands with the Apple Watch Series 2, including GPS, a two-times brighter display, 50-meter water resistance, a strong dual-core CPU, and watchOS 3.
"Apple Watch Nike+ takes performance tracking to a whole new level and we can't wait to bring it to the world's largest community of runners."  

– Jeff Williams, COO of Apple 
In May 2016, Apple and SAP announced a collaboration to reimagine the mobile work experience for corporate clients of all sizes by combining powerful native apps for the iPhone and iPad with the better capabilities of the SAP HANA platform. 
"As the leader in enterprise software and with 76% of business transactions touching an SAP system, SAP is the ideal partner to help us truly transform how businesses around the world are run on iPhone and iPad. Through the new SDK, we're empowering SAP's more than 2.5 million developers to build powerful native apps that fully leverage SAP HANA Cloud Platform and tap into the incredible capabilities that only iOS devices can deliver." 

– Tim Cook, CEO of Apple 
In 2016, Apple and Deloitte announced a collaboration to assist organizations to accelerate business transformation on iPhone and iPad. They would also collaborate on the creation of EnterpriseNext, a new service offering from Deloitte Consulting designed to help clients fully leverage the iOS ecosystem of hardware, software, and services in the workplace.
"Our dedicated Apple practice will give global businesses the expertise and resources they need to empower their mobile workforce to take advantage of the powerful ecosystem iOS, iPhone, and iPad offer, and help them achieve their ambitions while driving efficiency and productivity." 

– Punit Renjen, CEO of Deloitte Global 
In August 2015, Apple announced a partnership with Cisco to build a fast lane for iOS business customers by optimizing Cisco networks for iOS devices and apps with the integration of iPhone with Cisco corporate settings to offer unique collaboration on iPhone and iPad. 
"iPhone and iPad have become essential tools for the modern workforce and are changing the way work gets done. Together with Cisco, we believe we can give businesses the tools to maximize the potential of iOS and help employees become even more productive using the devices they already love."

– Tim Cook, CEO of Apple  
In July 2014, Apple and IBM announced an exclusive collaboration that would combine each company's strengths to improve workplace mobility by integrating IBM's big data and analytics capabilities to iPhone and iPad. The collaboration would improve in the integration of Apple's machine learning framework, Core ML, with IBM Watson, resulting in strong insights that become deeper with time and use. The alliance would include exclusive IBM cloud services optimized for iOS, such as device management, security, analytics, and mobile integration.  

In 2013, Square partnered with Apple to offer the new Square Stand, a point-of-sale system through Apple's extensive retail network. The Square Stand is an iPad accessory with the capacity to connect to a variety of devices including cash registers, barcode scanners, and printers. In addition, the gadget has a built-in credit card reader. In 2016, the company announced a new collaboration that would allow consumers to connect money saved on Square's virtual card, Square Cash, to their Apple Wallet.  
Future Outlook
Apple has been doing more than good for a long time and say since the company launched the iPhone. 
For the 10th consecutive year, Forbes magazine ranked Apple as the most valuable brand in the world in 2020. Apple's great track record should continue as long as future management takes care of the brand and pushes it into new sectors. Apple's breakthroughs are often incremental, with the company adapting its design prowess to the most recent consumer tech trends.
Looking ahead ten years, the Apple of 2030 should continue to progressively enhance its hardware products while also introducing new ones such as Apple automobiles, AR/VR headsets, AR smart glasses, and so on. Apple will also broaden its brand to provide a suite of packaged consumer offerings.
In 2020, Apple did execute an AR-related acquisition, acquiring NEXTVR for around $100 million considering the future growth and vast applications of AR and how Apple can take advantage. 
"When I think about that in different fields, whether it's health, whether it's education, whether it's gaming, whether it's retail, I'm already seeing AR take off in some of these areas with the use of the phone," said Tim Cook on a podcast. "And I think the promise is even greater in the future." 
Aside from possible smart eyewear, Apple is said to be working on self-driving automobiles. Besides these new, futuristic initiatives, Apple is projected to continue selling a large number of iPhones, Apple Watches, iPad tablets, laptops, and desktops even ten years from now. By 2030, it's feasible that Apple will have a version of almost every form of entertainment, financial, or other consumer service.
Apple today announced an acceleration of its US investments, with plans to make additional contributions totaling more than $430 billion and create 20,000 new jobs throughout the country over the next five years, beginning from April 2021. Apple has increased its investment by 20% over the next five years, boosting American innovation and delivering economic benefits in every state. Tens of billions of dollars will be invested in next-generation semiconductor research and 5G innovation throughout nine US states.
"At this moment of recovery and rebuilding, Apple is doubling down on our commitment to US innovation and manufacturing with a generational investment reaching communities across all 50 states."

– Tim Cook, Apple CEO.
It is becoming undebatable that Apple has amassed enormous status and reputation across the world. The capacity of Apple to retain and satisfy users inside its ecosystem is at the heart of its sustained success. In a realistic scenario, the future growth of Apple from 2022 to 2031 is depicted below:
In this scenario, the iPhone revenue at the end of the 10 years will be moderately higher than in 2021.

By 2031, the Mac will grow only by 5%, the iPad by 8%, Wearables, Home and Accessories by 20%, and Services by 15%. One new product introduction, Product X, will generate $10 billion in revenue by 2031.
| | | | | | | | | | | |
| --- | --- | --- | --- | --- | --- | --- | --- | --- | --- | --- |
| Category  | 2022 ($ M) | 2023 ($ Million) | 2024 ($ Million) | 2025 ($ Million) | 2026 ($ Million) | 2027 ($ Million) | 2028 ($ Million) | 2029 ($ Million) | 2030 ($ Million) | 2031 ($ Million) |
| iPhone | 151,904 | 144,308 | 137,093 | 143,948 | 151,145 | 158,702 | 150,767 | 143,229 | 150,390 | 157,910 |
| Mac | 31,556 | 33,134 | 34,790 | 36,530 | 38,356 | 40,274 | 42,288 | 44,402 | 46,622 | 48,953 |
| iPad | 27,672 | 29,885 | 32,276 | 34,858 | 37,647 | 40,659 | 43,911 | 47,424 | 51,218 | 55,316 |
| Wearables, Home and Accessories | 44,093 | 52,911 | 63,494 | 76,192 | 91,431 | 109,717 | 131,660 | 157,992 | 189,591 | 227,509 |
| Services | 71,108 | 81,774 | 94,041 | 108,147 | 124,369 | 143,024 | 164,478 | 189,149 | 217,522 | 250,150 |
| Product X | – | 500 | 1,000 | 2,500 | 4,000 | 5,500 | 7,000 | 8,000 | 9,000 | 10,000 |
| Total Net Revenue | 326,332 | 342,513 | 362,694 | 402,175 | 446,948 | 497,876 | 540,104 | 590,197 | 664,343 | 749,838 |
Over 10 years, sales growth is 9.66%, which is a reasonable rate for a company of this size. The iPhone growth narrative is far from done, and a couple more upgrade cycles may drive a revival in growth over the following two decades. Even if App Store fees are reduced to 0%, Apple's management will find another way to monetize service offerings. 
Interested in exploring Apple's research and innovation strategy? We would love to chat.
Authored By: Vipin Singh, Market Research
Next Read: Amazon Business Strategy: Insights of its operation and investment plan to become the top Fortune 500 company