How to grow your EV battery recycling business with Patents?
Rapid growth in the electric vehicle (EV) industry is imperative for reducing pollution. The market for EVs is growing faster than ever. But even then, the problem of reducing pollution has remained unresolved because of EV batteries. Thus, giving the EV battery recycling business a necessary boost.
On the bright side, these end-of-life batteries also present an opportunity for battery manufacturers, who need access to strategic and critical ingredients of the battery (such as cobalt, lithium, nickel, etc.). Therefore, the stakeholders in the EV battery market have started recycling these batteries to access the remaining metals in the battery. These are then used in manufacturing new batteries. 
The concerned stakeholders (such as battery manufacturers, EV OEMs, and battery recycling companies) have realized the market's potential and have started filing related patents for the same. It is evident from the patent filing trend that the domain is growing at a fast rate.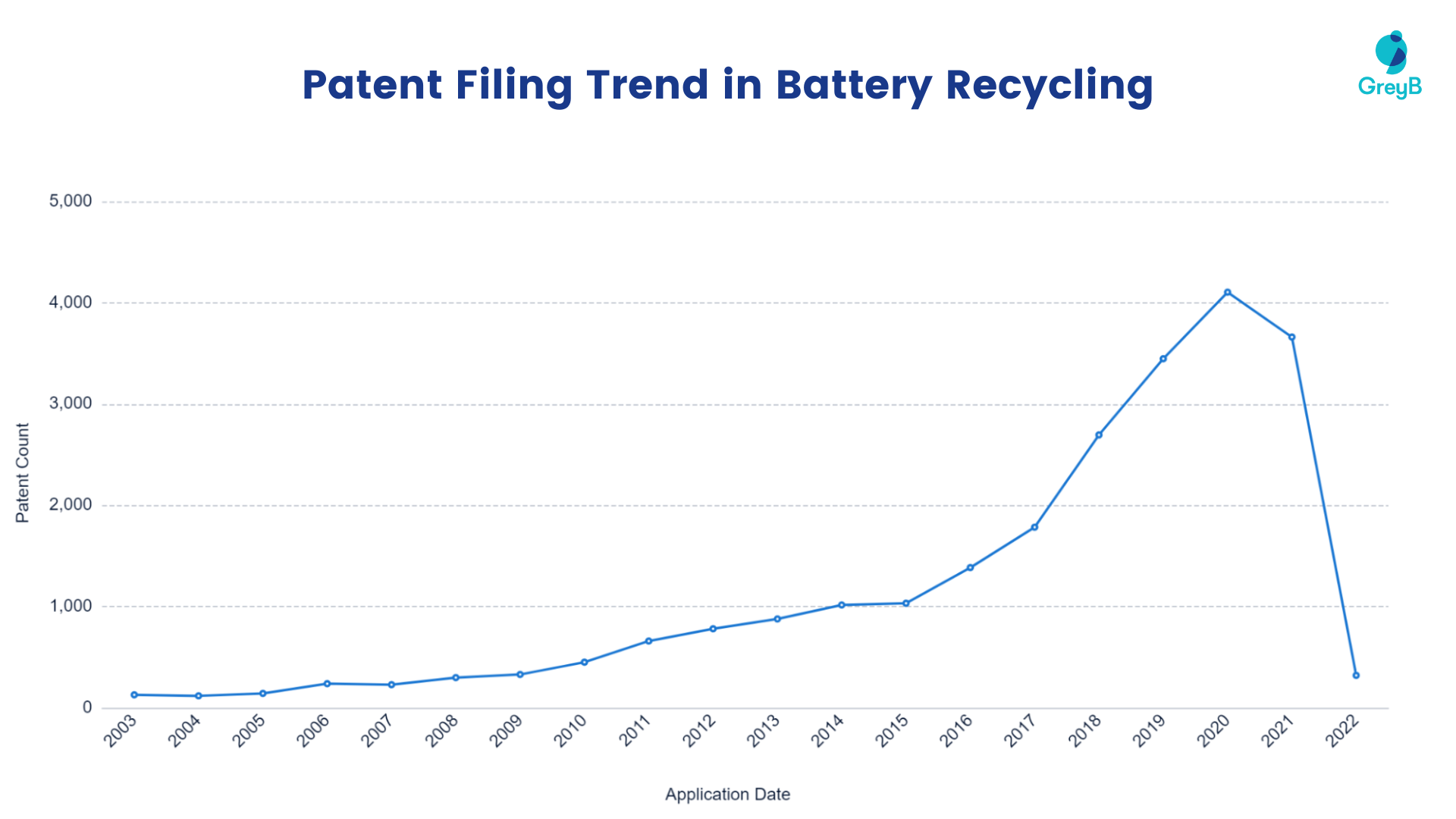 2022 displays a dip as the patent database updates yearly. However, we can see an exponential rise in patent applications after 2015.
In addition, Large OEMs (such as Tesla, BMW, Hyundai, General Motors, Honda, etc.) have already started collaborating with third-party battery recycling companies for R&D. 
All this data indicates a big upcoming market for EVs and battery recycling. Furthermore, the patent filings and OEMs collaborating with third-party recyclers reveal a growing interest in battery recycling.
Looking at the patent filing trend and considering the ongoing research and development in battery recycling, a question arises- Will IP play a critical role in the battery recycling industry? We have an answer for you.
Role of IP in the EV battery recycling market
As it is generally known, IP laws support the commercial viability of inventions by granting an exclusive right to the owner to commercialize the invention. However, it is not yet well established how intellectual property can be strategically used in the battery recycling industry. 
To understand it better, we looked further into the industry and its IP practices. Battery recycling technology today relies more on trade secrets. And since it is challenging to determine infringement, it would seem that trade secrets are the way to go in the current battery recycling innovation space. However, this complicates the third party's expansion via partnerships and tie-ups. Hence, we found that a mix of patents and trade secrets may be a more viable strategy. 
When considering business expansion, patents can be used as more efficient assets and tools. For example, companies like Duesenfeld use patents as one of their core strategic tools to innovate and collaborate. Another excellent role patent play is to serve as a great marketing tool to earn customers' trust. Especially when it becomes tough to choose from existing substitute businesses. This massively helps the recycling companies looking to expand their operations or convince other companies to use their recycling processes instead.
Let's pick a few examples to illustrate this. Say you are a top-level executive or venture capitalist of a battery recycling start-up. You have invented a technology to recycle EV batteries efficiently and got a patent on the same. Now you want to expand your business globally and partner with battery or EV manufacturers who can use your technology.
Scenario 1: Expansion and Monetization
Global expansion of the business is challenging, particularly in the nascent stage. In addition, the cost of quickly setting up infrastructure from scratch is not easy.
However, getting the infrastructure set up fast is crucial to capture a bigger market (companies to provide you with batteries to recycle) is vital. In a competitive scenario, your business is not viable if you do not have the infrastructure to recycle batteries. Hence, acquiring existing recycling businesses and upgrading their pre-existing infrastructure could be the way to go.
However, if you lack funding, one of the other ways you can choose is to quickly start monetizing your IP by setting up exclusive deals. For example, you can start with current battery recyclers who already have a client base but lack the technology to do it as well as you can. Introducing them to your technology, empowering their business, and capturing the existing markets through them is a win-win scenario -Your business can ramp up more quickly with their infrastructure as they gain world-class IP that helps them acquire more customers. With your technology branding in place, marketing is another benefit you get if you choose to go this way.
Scenario 2: Marketing
The foundations of the battery recycling business stem from the acquisition of batteries at a cheap rate. If there are no batteries to recycle, or you acquire them at a hefty amount, your business is bound to fail. In addition, most batteries will have proprietary technology and may restrict who has the right to dismantle and recycle them. This will lead to exclusive deals between battery manufacturers, equipment manufacturers, and recyclers. 
Companies like Li-Cycle have effective mechanisms to re-introduce recycled materials to the battery manufacturing supply chain. All so while keeping the battery dismantling process secretive, protecting customer IP and designs. It can most likely be the case that battery manufacturers will have complete control over their recycling process too, like NorthVolt. 
Unless you prove that your methods and processes are superior, competing with established battery recycling companies will be difficult. Thus, patents play a very significant role in this case. 
Patents can help you market your technology. They imply that you have something to give that no one else does. This naturally raises the worth of your recycling process. Additionally, it gives you more authority and positions you as a trailblazer in your industry. Who wouldn't want to benefit from the newest, most cutting-edge technology accessible? Especially when you know how quickly the high-tech scene is changing. Not to forget, where trust is paramount, patents serve as a valuable tool to protect customer interests.
Although the industry is currently in the budding stage with less IP traffic, it will take no time for it to become highly competitive. By that time, IP would play a significant role. So it is imperative to be an early bird who prepares for the future.
Now that we understand the importance of IP in the battery recycling industry, the next step is to figure out how we can build a good patent portfolio.
Building a good patent portfolio in the battery recycling domain
Since it is difficult to build a patent portfolio from scratch, a great way to create one would be to acquire existing patents. The ones that are important to your processes as well. Preparing a pitch deck, explaining why you would serve better than your competitors, and backing it with your IP will quickly get companies to trust you. 
Additionally, it will convince them that you can be an essential service provider of their battery supply chain. Patents also differentiate your value from other competitors, defending you from new entrants and substitutes and attacking the existing competitors.
But how do you ensure you collaborate with or acquire the right assets?
In our experience, a few things to take care of can be- 
Conduct IP due diligence over the companies you feel to be potential partners.
Explicitly check for companies that supplement your IP, which would minimize IP roadblocks for you. 
Devise IP strategies that would help you capitalize your IP. 
Or, you can
You can leave it to the experts, a.k.a GreyB.
We can identify competitors to whom you may sell or license your IP. Also, we can help you expand your IP portfolio by identifying the whitespaces in the industry. So, you can leverage them by filing relevant patents early on.
These are just some examples. Our IP expertise, industry insight, and tailored solutions can help you solve a wide range of business challenges.
Sounds like something you are looking for?
Authored By: Sparsh Gupta and Hritik Negi, Infringement Team