Three highly researched 3D Printing metal powder production techniques
In the last article of this 3D metal printing powder study, we discussed the top three highly researched 3D printing metal powders. In this installment, we will discuss the top three highly researched 3D printing metal powder production techniques.
When comes production of metal powder, companies use several different processing techniques as their size – below 50 μm or 150 μm – and shapes – irregular to spherical, vary a lot.
Each of these powder processing techniques has their own benefits and challenges. Further, if companies processing these powders can comply with manufacturers of metal additive manufacturing printers, they can capture a share of this booming sector.
Also, as demand for metal powder is increasing with a great pace than its supply, there are high chances of innovators disrupting the supply chain with technological improvement.
With that in mind, below we have discussed top three popular 3d printing metal powder techniques among researcher where highest patent filing has been observed during 2010-15.
Atomization
Atomization refers to separating material into fine particles. It is one of the dominant additive manufacturing metal powder methods. Manufacturers use liquids at high pressure to break molten metal into fine particles which then solidifies into powder form.
The interesting fact about this method is that it can produce a spherical powder of average size just 40 μm. Research in this metal powder manufacturing technique surged in 2012.
The chart below represents the trend of patent filing in atomization process which has shown a continuous rising trend since 2010.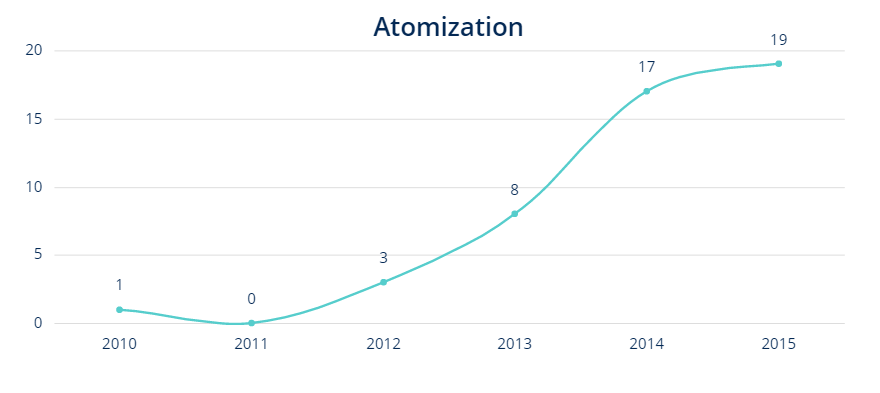 Milling
Milling is a process of converting a metal to a powder by mechanical methods like grinding crushing or pulverizing. This is one of the most common techniques used by 3D printing metal powder manufacturers.
The patent filing trends of Milling and Atomization look alike. In both the techniques, the patent filing observed an uprising trend after 2012.
Milling Process provides the innovative products like oxide dispersion strengthened alloys superconducting material made from tin & niobium and intermetallics such as aluminides of titanium nickel and iron.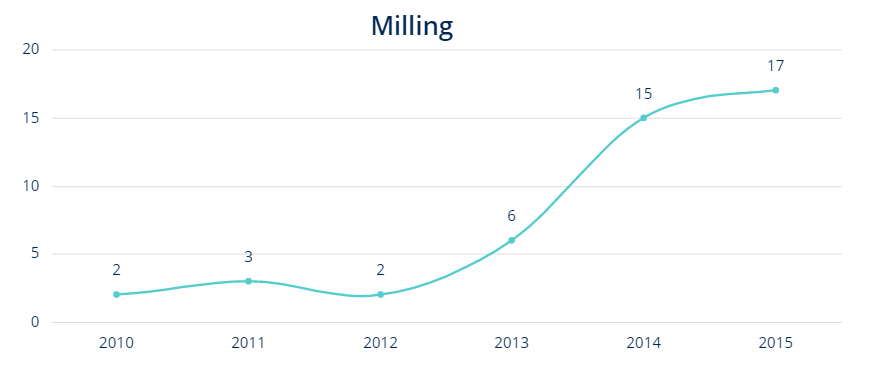 Spray Drying
Spray drying is a method of producing a dry 3D printing metal powder from a liquid or slurry by rapidly drying it with a hot gas. This method is used for producing Nano-scale particles.
A total of 10 patents is filed for the process of manufacturing metal powder for additive manufacturing using spray drying since 2015. The research in spray drying is rising but with a slow pace.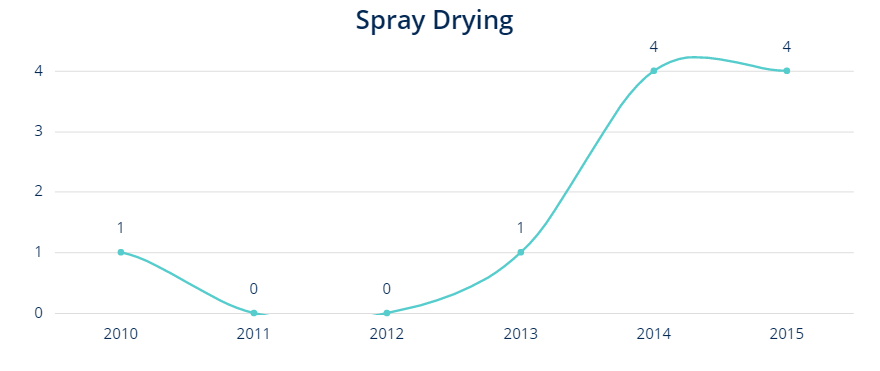 Production of 3D printing metal powders brings their own set of challenges in front of manufacturers. Some of these challenges are easy to overcome while some are a total tough nut. In the next installment of this series, I've discussed the disruptive solutions industry has brought to overcome some of these challenges. You can read the next part here: Disruptive Solution For 3D Printing Metal Powder Production Technique
Analysis Performed By: Deepika Kaushal, Manager, Patent Landscape, Sukha Singh, Research Analyst, Patent Landscape and Shabaz Khan, Research Analyst