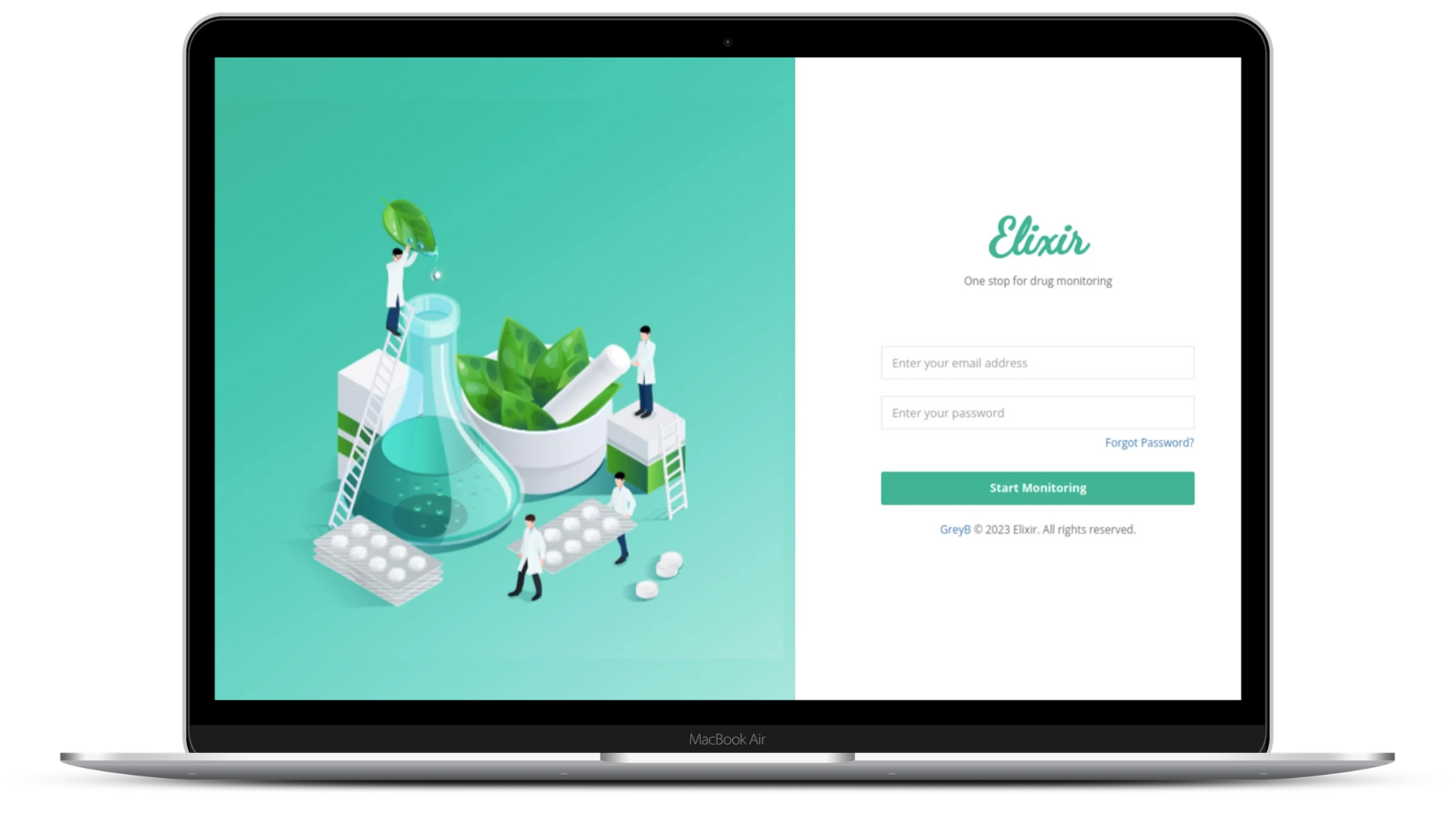 Your One-Stop Solution for Drug Patent Monitoring
Elixir is a powerful platform that lets you stay up-to-date on the latest drug patents and regulatory activity from USPTO, EPO, and Orange Book.
Elixir for all your drug-monitoring need
Elixir is a customizable business intelligence platform for drug monitoring and insight generation on Bio-Pharm and Small-Molecule drugs. It provides global bio-pharmaceutical business intelligence related to IP, legal/business strategies, R&D activities, etc.
Elixir helps you keep a timepiece on  – 
File History

PTAB trials

Orange book Updates

SPC Updates 

Divisional and Continuations

Third-party opposition filed and helps identify market entry opportunities for making informed management decisions.
How Elixir solves the existing problems with
a centralized system and one email summary.
Spreadsheets have become the backbone for patent landscape and clearance search outputs. As your portfolio and assets grow, managing these spreadsheets becomes taxing and tiring. Unlike excel, activities on drug patents Elixir makes performing in-house analysis.
Elixir vs other drug monitoring

Most asked questions:
How long do drug patents last?
Usually 20 years.
A drug patent expires 20 years from the date on which the patent application was filed in the United States. Sometimes, a term extension is provided if the original patent was delayed due to secrecy orders, interferences, or appellate review periods.
Generics can be launched once the patent-protected drug surpasses the patent expiry and exclusivity date.
Elixir provides the drug patents list expiring in a particular year, like 2023, 2024, and more.
Why is drug monitoring important?
Drug monitoring is crucial for businesses involved in the pharmaceutical industry as it provides valuable insights into patent expiration dates, competitor activities, market entry opportunities, and regulatory changes. It helps businesses make informed decisions and stay competitive in the market.
How does a drug monitoring tool like Elixir work?
Elixir is a centralized platform aggregating data from various sources, such as USPTO, EPO, and the Orange Book. It uses advanced monitoring tools and algorithms to track drug patents, regulatory updates, and market activities. Users can customize their preferences and receive regular email summaries of their desired information.
What types of information does Elixir track?
Elixir tracks a wide range of information, including patent file histories, PTAB trials, updates from the Orange Book and SPC (Supplementary Protection Certificate), third-party opposition filings, paragraph IV litigation, and identification of first generic entrants. It provides comprehensive coverage of data related to drug patents and regulatory activities.
Who can benefit from using a drug monitoring tool like Elixir?
Various professionals and organizations can benefit from using a drug monitoring tool. This includes those involved in drug research and development, intellectual property management, regulatory affairs, market analysis, and business development within the pharmaceutical industry.
How does Elixir solve the problems associated with using spreadsheets?
Using spreadsheets for managing patent data can become overwhelming and time-consuming, especially as portfolios and assets grow. Elixir offers a centralized system where users can access and analyze drug patent data in a more efficient and organized manner. It eliminates the need for manually updating spreadsheets and provides a comprehensive overview through a single email summary.
Can Elixir be customized to fit specific business needs?
Yes, Elixir is a customizable platform that allows users to tailor their drug monitoring preferences and receive updates specific to their interests. It provides flexibility in tracking the information that is most relevant to their business or research activities.
How can Elixir help with making informed management decisions?
Elixir provides valuable insights into patent landscapes, competitor activities, and market trends. By staying updated on the latest developments, users can make informed decisions regarding market entry strategies, intellectual property protection, collaborations, and overall business strategies.
Is Elixir suitable for both bio-pharmaceutical and small-molecule drugs?
Yes, Elixir is designed to provide business intelligence and monitoring capabilities for both bio-pharmaceutical and small-molecule drugs. It covers a wide range of drug types and can accommodate the needs of various organizations operating in the pharmaceutical industry.
How does Elixir contribute to staying ahead of the competition?
By providing real-time updates and comprehensive monitoring of drug patents and market activities, Elixir helps users stay informed about their competitors' strategies and potential opportunities for market entry. This allows businesses to proactively plan and stay ahead of the competition in a rapidly evolving pharmaceutical landscape.
Know more about Elixir and how it can help
you in the process