Major Technology Scouting Challenges and How to Overcome Them?
Innovation Leader surveyed over 25 executives from $1 billion+ organizations in innovation, R&D, corporate development, and strategy. The report, Best Practices: Scouting Trends and Emerging Technology, highlighted three key issues that technology scouts encounter today. These were –
Building strong ties with business units (mutually benefiting from the technology scouting work).
Investing enough time in Technology scouting.
Choosing the most appropriate areas to scout technology.
Let's take a look at all these technology scouting challenges in detail –
Building strong ties with business units
When it comes to innovation, establishing ties with other businesses is crucial. Moreover, the ties you establish now will benefit you greatly in the future if you need some assistance from other organizations in scouting their technologies. In that case, the output of technology scouting can benefit both the firms involved.
Organizations resolve this challenge by creating strategies to strengthen their relationships with other companies.
While you can take care of the first challenge, we can help you overcome the other two.
Investing enough time in Technology Scouting
As most industry professionals adopt a "the more, the better" philosophy, technology scouting can quickly become time-consuming. A month's worth of research will yield more solutions than a week's worth of research, which is undoubtedly better than a one-day study.
Does this imply that you should never cease scouting? And if so, can you shorten the time required to complete this task?
The answer is YES, you can!
But how are you going to achieve that? For that, you must take the following actions.-
1. Boost your research activity – The internet is flooded with new information every second, making it difficult to keep up. You will need to optimize your research approaches for this. After that, your R&D staff will spend more time reviewing data than collecting it. This will not only enhance production but also the rate at which new items are introduced.
2. Improve research focus to get better results – Without a second thought, we can agree that it is essential to have knowledge of what exists and where to start. A strong start with information, insights, and analysis can help change the research cycle. Thus, improving the focus of our research process to bring in better outputs.
3. Spend less on R&D for efficient results – This will save you and your team from investing time in information collection and filtering irrelevant information. You can jump to the analysis of the information part quickly. Thus, making sure that you don't spend too much time and resources on the research process.
Furthermore, our experts at GreyB will provide you with curated technical information which can be easily understood and evaluated by your researchers. This, in turn, will help you keep the scouting approach streamlined.
As a result, the amount of time and effort spent on research and scouting can decrease drastically.
Choosing the most appropriate areas to scout technology
According to the same survey, only 15% of the 140 innovation executives at $1 billion+ organizations considered a lack of skills or expertise a barrier to running a successful tech scouting exercise. On the other hand, 51.8% stated that not knowing where to look for the right technology is the challenge.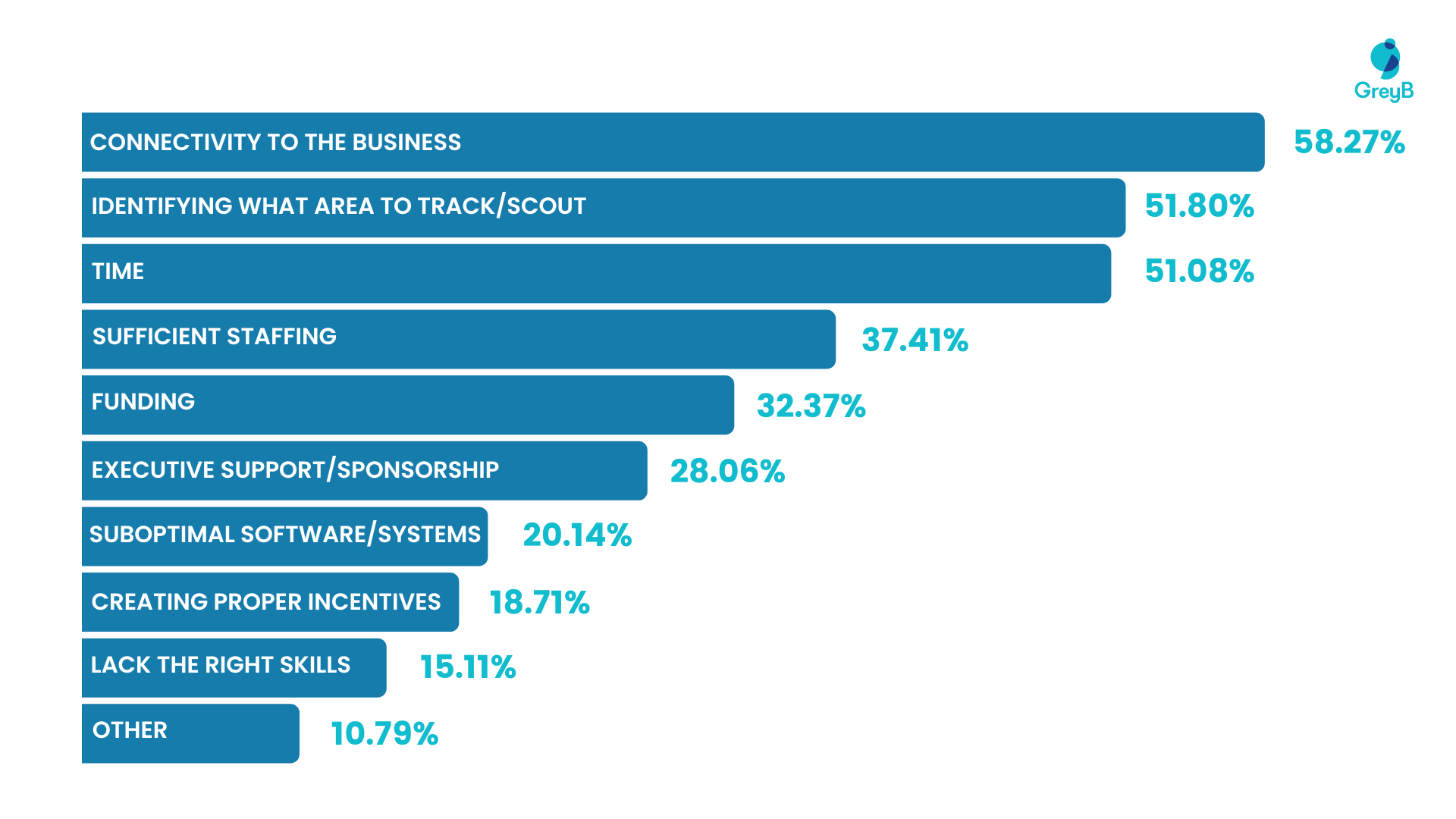 Make sure you consider the following factors that will help you line the research in the right direction –
Problems On Which Majority Of The Players Are Working
Research Focus Of The Top Companies And Universities
Areas of continuous research and less favorable solutions
Areas where research has gained momentum in the recent time
Areas of high investment/funding
So, that's how you can efficiently scout technologies and walk up the innovation ladder.
Instead of stressing about these technology scouting challenges, why not hire experts to do it for you?
We will take care of your scouting needs, so you don't have to worry about it anymore!
Edited By: Ridhima Mahajan, Market Research