Find how these 3 patents are solving the call drop problem
Imagine – You are in the middle of a very important telephonic conversation – maybe with a friend, or a potential investor, or business partner – pitching your breakthrough million-dollar idea that you believe is revolutionary and could change the world for better- and between the pitch, the call drop happens.
What a bummer!
Unfortunately, these kind of cases are very common. Call drop rates in India alone is 4.73%, against the global standard of 3% and acceptable limits imposed by TRAI of 2%.
What is a call drop?
You may already know what a call drop is and possible reasons for a call drop. The definition below, however, could be a refresher:
In telecommunication, the situation where the speaking parties get disconnected, due to technical reasons, before their conversation is over and one of them had hung up is known as dropped call.
Why does my phone keep dropping calls?
There could be multiple reasons behind call drop, including, but not limited to:
Channel conditions
Fast movement of the mobile unit
Due to hand-over
Network coverage
Interference due to other subscribers
One major reason is handover failure that occurs due to target cell being overloaded.
Being a researcher, I've personally witnessed a lot of research in this direction to make the hand-off smooth and less time-consuming. Shift from hard-handover to soft-handovers, preparing resources in the target cell before the user hand-off, being a few strategies that are adopted to improve upon this issue in past.
But, there is still room, in fact, a lot of room, for improvement.
Recent Innovative Solutions to fix call drop problem
There are a few research papers disclosing solutions to reduce the call drop rate.  We, however, searched in patent data because patents are a great source for excavating solutions to such problems. In the past, for example, we have found solutions to integrate Li-Fi into existing light sources while looking at patents filed in the domain.
Not that alone, we have also helped researchers at various companies find solutions to the research problems they're facing in a domain, with patent-based solutions.
Getting back to the conversation, which got cut short, perhaps, on call drops. A fun fact first.
Did you know: Wireless telecommunications is one very big and large industry on the globe? According to Market Research Future, its market is expected to grow at a CAGR of 5% to reach USD ~1403 Billion in 2022.
Solutions for Call Drop Problem
We know that a call drop can occur due to various technical reasons and different solutions might be required to counter different problems. Let's see how the researchers are trying to solve this issue by developing better systems/methods.
Solution One: Call Recovery
According to the patent application assigned to Qualcomm – US20150249940A1, one way to solve the problem would be:
Your phone tries to recover the dropped call after detecting call drop has occurred. During the recovery of the call, there can be two options-
Recover the call using the serving cell itself,
Recover call using different cell.
Now, while going with the same cell may have some benefits – like your phone may already have some network reserved resources, but the phone may select a different cell if call recovery using the different cell can take place faster.
To achieve this, your phone performs a cell selection procedure when a call is dropped. In this selection procedure, the first phone determines link conditions, and then select the cell with the best link followed by the recovery of the dropped call using the selected cell.
US20150249940A1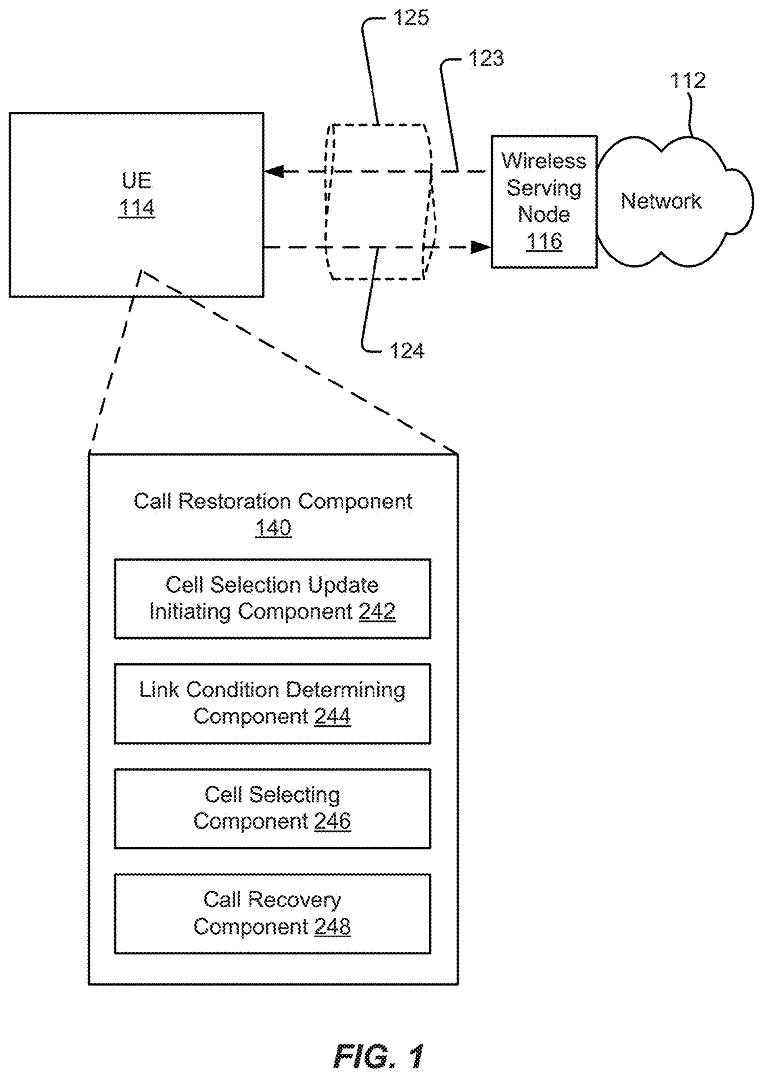 Solution Two: Deferring Transmission of TVM Report
In another solution, we identified that our phone may become out-of-sync if it transmits traffic volume measurement (TVM) reports during or right after the completion of a handover procedure.
According to the standards, TVM triggers Radio Bearer Re-Configuration (RBRC). Now, if this TVM is transmitted before the Measurement Control Messages, which may take a long time for receipt by the phone, may delay the receipt of RBRC activation message by phone resulting in sync loss (radio link failure) as shown below.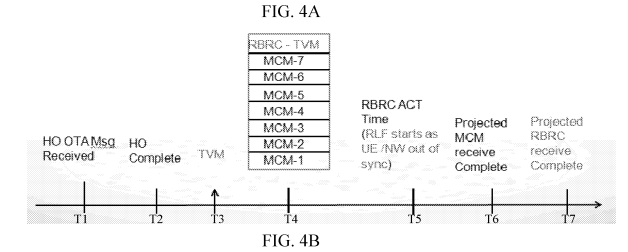 Therefore, to overcome this issue, the TVM reports are deferred for a certain blocking period and hence the RBRC activation time is also deferred thereby avoiding loss of sync.

Solution Three- Extended Service Requests
According to patent application numbered US20160262061A1 filed by Samsung, one reason behind IMS call request getting disconnected might be low signal power received by phone. In such cases, a phone cannot make use of the available 2G/3G networks before making several call attempts.
This problem could be solved by the VoLTE phones by receiving Internet Protocol Multimedia Subsystem (IMS) paging message from the network and then connecting to the network to check if the message is inviting for a voice call. Then, it performs power level check to detect the condition of non-sustenance of the call. If it detects non-sustenance, it triggers the Extended Service Request to switch IP call to Circuit-Switch Fallback (CSFB), after which the voice call can be continued on a phone, based on the ESR.
Conclusion
These are just a bunch of solutions to solve call drop problems. When dug deeper, patent literature has solutions aplenty for almost every problem one could come across. All you need to do is look carefully.
GreyB has all the expertise in the world to look for solutions to research problems you're facing, irrespective of your domain of work. Have a problem you have been working on for long, you need a solution to.
While looking for solutions to call drops, we also came across a handful of patents that could put an end to these wireless telecommunication woes.
How to keep a phone (UE) in sync with base-stations?
How to hand-off device smoothly from one network/cell/technology to another cell/network/technology?
How to ensure service continuity for voice calls?
Authored by: Krishna Aswani, Team Lead, Patent Search.