Solutions to the Shelf-stability Problem of Probiotics
Jeff, a senior researcher at one of the largest chemical companies in the US, had been shouldering the burden of a problem, which if solved could help an industry worth $43 Billion. Jeff was looking for solutions to a high stake problem of an industry that is projected to reach $75 Billion by 2025 with a CAGR of 7.7%.

The industry we are talking about is Probiotics.  The huge growth in the probiotics market could primarily be attributed to its increasing demand in diverse industries such as healthcare, cosmetics, FMCG, etc.
However, a huge hindrance faced by researchers working in this domain is the shelf-stability of probiotics. Preserving the efficacy of probiotic bacteria exhibits a paramount challenge that needs to be addressed during the development of functional food products.
Several factors have been claimed to be responsible for reducing the viability of probiotics including matrix acidity, level of oxygen in products, presence of other lactic acid bacteria, and sensitivity to metabolites produced by other competing bacteria. Much of this also depends on how the product is stored – whether it is shipped, displayed, stored cooled, or refrigerated.
In order to prevent probiotics from becoming completely ineffective, manufacturers pump billions of bacteria into their probiotic supplements so that enough of them will survive. In other words, shelf-stable probiotics are the need of the hour.
Jeff spent a ton of time looking for solutions. He was already aware of the trivial solutions for this problem like – modification of production parameters or reformulation of products and use of specific strains. Among the latter, both selection of natural strains (with the desired properties) and the stress-adaptation of strains have been widely used.
Having heard about our research capabilities from another client, Jeff consulted us and tasked us with the objective of finding other available solutions to the problem. With the task in hand, our research team started to search for available methods and inventions which would serve as a solution. However, we didn't restrict our search to research papers and journals alone. We also included patents in the search.
After spending considerable time, we collated some working solutions, a few of which are listed below.
Novel Packaging Systems
To enhance the shelf-life of probiotics, one doesn't have to resort to better microbial strains; we can also find solutions in other industries like the packaging.
For example, Charles explained in his patented technology (US20190308789A1) – how bottle-within-a-bottle technology can enhance the life of probiotics. He explained that the outer container is vacuum-sealed to protect the products within the inner packaging, which can extend the shelf-life of probiotics with the added benefit of protection against oxygen, heat, light, moisture, etc.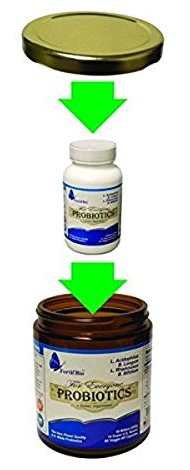 NatureAll Co., for instance, has launched a product "ForitfBio™ Probiotics" which comes in a patented vacuum-sealed package for protection and high CFU.
Similarly, Chinese inventors, ANRAN et al., have also filed a patent (CN108208501A) that works with a specific type of probiotic dispensing bottle cap which prevents both the killing of required microorganisms and spread of non-required organisms.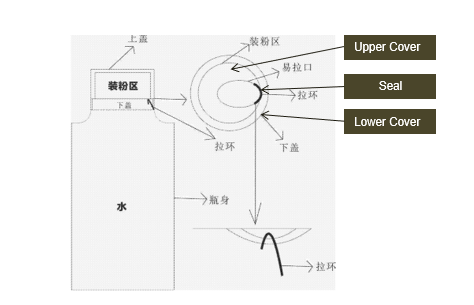 This bottle cap is divided into two covers – upper and lower, with a seal between them to form an easy opening mouth. While using, one can rotate the lower cover to open the mouth easily. The cap is designed to be easy to carry and store, and to extend the shelf life of the probiotic beverage.
Development of Synbiotics
Scientists are keenly interested in synbiotics (probiotics + prebiotics). It's reported that probiotic microorganisms use prebiotic carbohydrates for their growth and replication in the gut. Prebiotics increase the chances of the survival of probiotic organisms, due to its special substrate specificity; as substrates are promptly available for fermentations.
Some people do not consume milk products either out of principle or due to lactose intolerance. For them, probiotics containing products from plant origin could be a valuable alternative. Considering this fact, 5senseinfood filed a US patent application, US20190307814A1, covering a cereal suspension containing encapsulated probiotics and prebiotics to solve inherent problems due to the loss of probiotic viability.
Furthermore, the known synbiotics are all characterized by serious disadvantages or limitations as well. It is not a very user-friendly formulation, as it requires complicated administration, which prevents the fully developed state for regular intake.
And since synbiotics only cover a very limited spectrum of prebiotic or probiotic components, they cannot fully realize the benefits of a synbiotic.
To solve it, Raab Vitalfood GMBH invented a synbiotic and filed a patent covering it – EP3556226A1 – which solves the aforementioned problem of synbiotics.
It has been found that in a synbiotic that includes two different probiotics and prebiotics (like Inulin, alginate, agar-agar, and so on) there is a particularly high survival rate of the contained living bacteria. The advantageous effect prolongs the survival of microorganisms both in storage and in digestion.
Conclusion
The idea of "good bacteria" appeals to many industries. And why wouldn't it? Probiotics offer a cure without the bad rep that regular medicines carry. The fear of side effects caused by bacteria is reduced by ten folds when it comes to probiotics.
Due to this and other characteristics, Probiotics are best suited for many industries. From medicine to cosmetics, we could witness a growth in the use of these microorganisms.
From the above examples, it's clear that companies are considering them. While some companies are using available solutions, other companies are researching to find the best one. Researchers so far have been looking for solutions to this problem in research papers, but search within journals does not yield similar output as one would get in patents.
Thus we suggest that researchers combine their journal research with an expert patent analysis, as many new solutions can be identified, such as in the case of the packaging of probiotics.
Further, if you are researching in the probiotics domain and looking for answers to questions like, but not limited to, those mentioned below
How to increase the delivery efficiency of probiotics?
What are the other routes of administration that can be followed to meet the specific needs of pediatric/geriatric consumers?
How to cater to the rising demands of clean label supplements?
Authored by: Anjali Gaikwad, Life Science Team.