3 patented plant-based innovations that make dairy-free products consumer acceptable
Even with the customers' growing need for dairy-free products, sales of most plant-based products have sharply declined in the past year. One of the major reasons consumers reject the use of plant-based foods is that the taste is too different from what they're used to.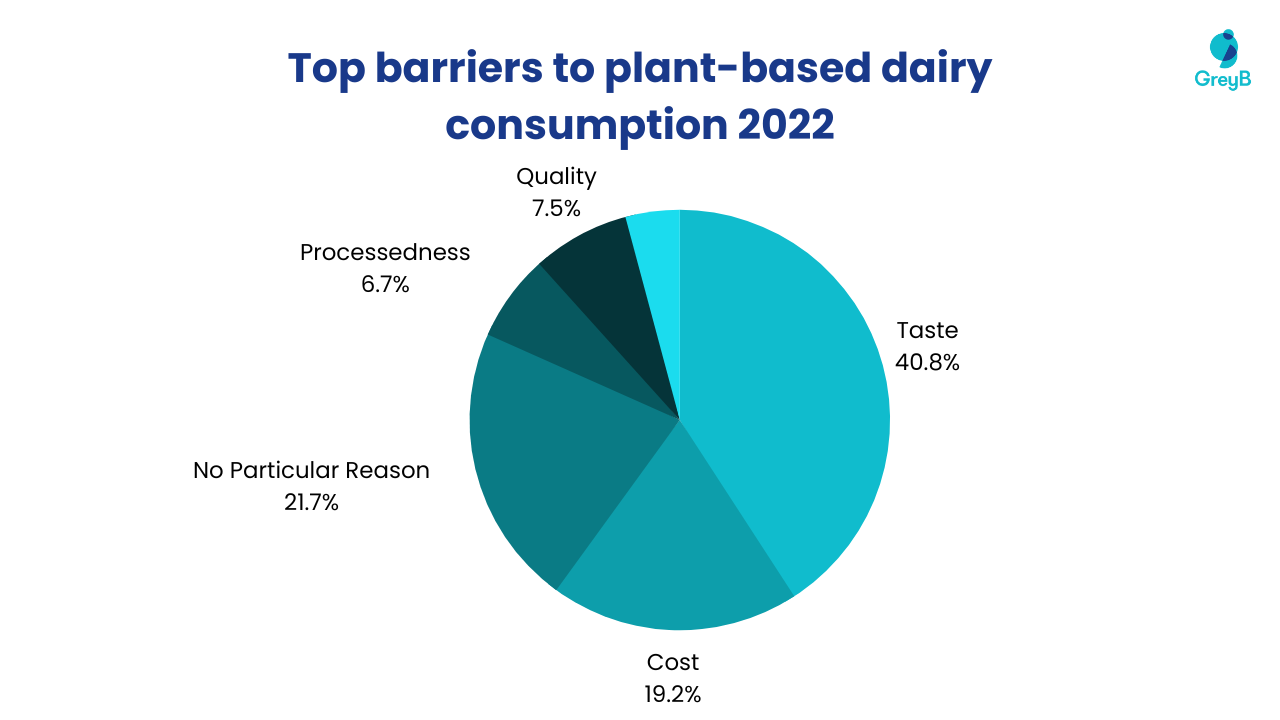 Source: https://www.fmi.org
As a result, innovating in this space has become more like the need of the hour. Prominent names such as Nestle, Upfield, Danone, and Valio are actively trying to bring in plant-based innovations in the domain and patenting their solutions to some of the major challenges associated with plant-based products, which are poised to create a major impact in the industry.
And how were we able to reach these solutions? Well, the insights in this article have resulted from competitive intelligence done for one of our dairy clients. Using our in-house tool -slate, and manual analysis, we uncovered the latest innovations to pressing problems in the plant-based dairy.
Therefore, by the end of the article, you will have a clear idea of why a constant watch on your competitors is important and how it can shape your next innovation strategy.
Nestle's Patent WO2021260125A1 is key to increasing plant-based yogurt's shelf life.
As more and more consumers follow alternative diets such as veganism, vegetarianism, flexitarianism, and dairy-free diets, food companies must meet this new demand with dairy-free products. One such product which has the potential to cater to a huge market is plant-based yogurt – but various problems hold it back.
A major part of the plant-based yogurts on the market contains thickening agents or soy-based ingredients. However, thickening agents and soy-based ingredients are rejected by consumers for health, nutritional, and sustainability reasons.
In addition, present plant-based yogurt on the market shall be stored under chilled conditions, that is, at a temperature of 1°C to 10°C.
However, such chilled plant-based yogurt may not be convenient for consumers because it has a limited shelf-life of only a few days and cannot be safely taken away or stored on shelves without cold storage.
What does Nestle's plant-based innovation aim to achieve?
Studying the technology showed that its commercialization can provide shelf-stable plant-based yogurts with a shelf-life of several months under ambient conditions (i.e., from 20°C to 35°C). Not just that, the end product would have a better protein value than the present.
To top up the benefits of this technology, the shelf-stable plant-based yogurt will have a smooth texture (i.e., no protein precipitation) and a texture mimicking that of dairy-based yogurts.
Upfield's Patent US20220408749A1 can help create plant-based fats/oils with a strong browning effect.
The market has a great demand for vegan fat-containing products such as butter/oil to fry, bake, broil vegetables, and other non-animal derived foods. However, using plant-based full-fat products has several negative effects as well.
One of the major negative effects is that the browning effect achieved with these plant-based products is not as strong as that of butter on foods prepared by frying, baking, or broiling. When food products contain vegetable-based fat and no animal-based fat, these foods' browning and flavor development is reduced, and the resulting food looks less appealing and is less tasty.
This is where Upfield's patented technology enters to address this issue.
How does Upfield's patent solution solve the major challenge of plant-based fats?
Upfield's invention can result in edible plant-based oils and fats that provide effective browning and flavor development while maintaining dairy-free products' beneficial health and environmental effects. Surprisingly, it was found that by adding small amounts of plant-based protein and sugar to a product containing plant-based oil or fat, a product is obtained that browns food much more effectively in comparison to the plant-based oil or fat without these proteins and sugars.
Apart from its innovative solution to plant-based butter, the company is committed to using sustainable and ethically sourced ingredients and aims to reduce its carbon footprint by 30% by 2030. They have also partnered with various sustainability organizations to promote sustainable practices in the food industry.
Upfield, a global leader in natural, alternative, sustainable plant-based food, has partnered with Alternative Foods London Ltd (OGGS®), the UK's largest vegan bakery brand and a leading producer of plant-based liquid egg alternatives. This collaboration marks Upfield's investment in the egg alternative market, further strengthening its position in the industry.
In addition, Upfield has partnered with Starling, a satellite monitoring technology platform, to combat deforestation in its supply chain. Using high-resolution imagery and radar data to monitor land cover changes, Starling will help Upfield identify the locations of mills within their supply chain where deforestation occurs. This information will verify compliance and mitigate deforestation risks with suppliers.
Valio Ltd's Patent WO2022117917A1 to create highly acceptable plant-based products with a high protein value
Apart from taste and texture problems, plant-based products often lack the protein content of their dairy counterparts, making them less nutritious. Even if a plant-based protein can meet the nutritional requirements, the problem of poor solubility of plant proteins, off-flavors, and the tendency to precipitate in sour products have caused challenges to food manufacturers.
All the above problems form the crux of Valio Ltd's innovative solutions, which is why it has made it to our article.
Why can Valio's solution be a breakthrough to the major challenges of plant-based products?
In various solutions by Valio, such as those listed in WO2022117917A1, the protein concentrate is enzymatically modified in the presence of antioxidants, giving a high protein ingredient. Further, the taste and functional properties are also efficiently improved. Since the typical bitter or unpleasant taste of plant-based protein is eliminated, Valio's high protein ingredient can be used in products such as vegan yogurt, cheese, or vegan drinks.
Conclusion
We were able to study such plant-based innovations to the pressing challenges of dairy-free products by keeping an eye on the key players innovating in the domain. 'But the plant-based domain is rapidly evolving, making it difficult to locate the right solutions curated to your needs.
And, what if we told you there is an easier way, and you don't even have to take the complete charge?
With the help of our in-house tool (Slate) and our patent intelligence, we can figure out the right solutions for your domain, curated to your needs. All this while keeping track of your competitors' innovation so you stay ahead of the curve by locating them early in the innovation stage.
All you have to do is
Authored by: Annie Sharma, Marketing Team