Patent Licensing Insights – Could you be next on WSOU's Patent Infringers' list?
Patent Licensing Insights is a section featuring insights/trends from our in-house tool BOS, which can help anybody in designing and picking appropriate patent monetization and acquisition strategies. 
Short for Business Opportunity for Sales (not a great name but we love the abbreviation), the BOS tool:
Can help find prospects that would be willing to in-license or purchase your patents;
Make your monetization campaign plain sailing; and
Find patents that have received a rejection (102/103 type) due to one of your patents and more. 
Onto the insights.
A few weeks ago, WSOU Investments LLC filed 12 different cases against Microsoft citing 12 different patents –
| | | |
| --- | --- | --- |
| S. No. | Publication Number | Title |
| 1 | US7706519B2 | Assembly, And Associated Method, For Telephonic Call Connection With A Virtually-Resident Telephonic Station |
| 2 | US7106702B2 | On-Demand Dynamically Updated User Database And AAA Function For High Reliability Networks |
| 3 | US8226241B2 | Image Projector Employing A Speckle-Reducing Laser Source |
| 4 | US7106727B2 | Method And Apparatus For Providing Circuit And Packet-Switched Calls On A Network |
| 5 | US8625758B2 | Method, A Telecommunication System And A Network Node For Sponsoring A Communication Service |
| 6 | US8274902B2 | Estimation Method For Loss Rates In A Packetized Network |
| 7 | US7676550B1 | Multiple Access Presence Agent |
| 8 | US8965978B2 | Methods And Devices For Maintaining Sessions Based On Presence Status Information |
| 9 | US7388868B2 | Call-Routing Apparatus, And Associated Method, For Providing Local Call Handling Functions In A Communication Network |
| 10 | US7750286B2 | Compact Image Projector Having A Mirror For Reflecting A Beam Received From A Polarization Beam Splitter Back To The Polarization Beam Splitter |
| 11 | US9814988B2 | Games Console Adaptor Unit |
| 12 | US7366160B2 | Method Of Determining Service Trends |
Back in 2017, WSOU bought a very large chunk of assets (~2979 patent assets) from Alcatel Lucent (Source). They continued their buying spree (buying patents from Nokia/Alcatel-Lucent) and till now have amassed around ~3944 patent assets (Source).
With such a huge portfolio, you can always expect that monetization attempts are around the corner.
Perhaps in its monetization pursuit, on March 21st this year, they started their litigation campaign against Huawei (Source). In this case, WSOU used 9 different patents from its portfolio.
A few days later, on March 31st, they filed litigation against another Chinese company ZTE (Source). In both of these cases, WSOU targeted networking devices and systems provided by Huawei and ZTE.
After pelting these 2 big giants from the Telecom industry (i.e. Huawei & ZTE), WSOU picked Microsoft as its next target. In this campaign – initiated on April 20 – various products of Microsoft such as Azure Performance Monitor, Skype Manager, Network Policy Server (NPS), and HoloLens, etc. were targeted.
How to find whether you are next in WSOU's target list or not?
To find more insights about these patents used in the litigation against Microsoft, we used our tool BOS.
When we inputted these 12 assets in our BOS tool, we found that patents from various companies were blocked (i.e., were rejected under 102/103 by the examiner) by these 12 patents.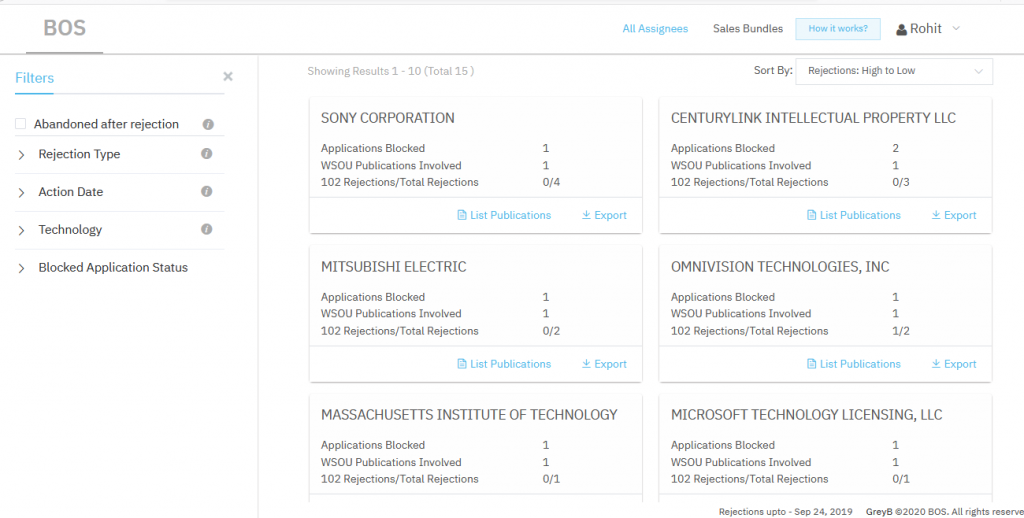 One of the most striking names in this list was Microsoft (yes, the one which is getting sued using these patents).
The other two big names in this list were of Mitsubishi Electric and Sony Corporation.
Here is the complete list of the companies getting blocked by these 12 patents–
Microsoft Technology Licensing
Mitsubishi Electric
Sony Corporation
Verimatrix, Inc
Utopy, Inc
Angel.Com Incorporated
Genesys Telecommunications Laboratories, Inc
Soundbite Communications, Inc
Tools/400 Inc
Centurylink Intellectual Property Llc
Azurewave Technologies, Inc
Projection Ventures Inc
Lumus
Omnivision Technologies, Inc
Now, a quick check on Mitsubishi Electric and Sony Corporation offerings gives an overview that they offer multiple networking devices which seems in line with some of the patents in the list (WSOU owned).
For example, WSOU has targeted Microsoft HoloLens 2 using the patent US'286. Sony also has some AR solutions, such as holographic waveguide display (SED-100A) similar to Microsoft's HoloLens. A detailed analysis may confirm the overlap of Sony's holographic waveguide display against US'286.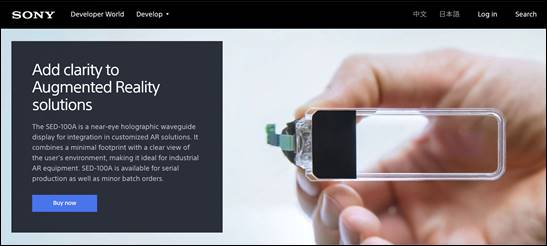 Source: https://developer.sony.com/develop/sed-100a-holographic-waveguide-display/
It is possible that Sony and Mitsubishi might be using the technology for which WSOU has exclusive rights. Deep analysis can shed further light on this.
We had picked 12 patents from the portfolio of ~3944 patent assets. With a portfolio that large, these 14 names are just the tip of the iceberg. There is going to be a very large set of companies that could and will be approached by WSOU for patent monetization soon.
What to expect next?
Some of these big players (e.g. Sony and Mitsubishi) can be already in the WSOU's target-list. Hence, going further, we might see a few more litigation campaigns getting unfolded.
However, who can get targeted next can be easily predicted too, by analyzing the whole set of assets (~3944 patent assets) owned by WSOU.
All it takes is a tool like BOS which will get the insights in a few seconds, and with further analysis, the infringement could be confirmed.
Want to give BOS a try and discover interesting revenue-generating insights from your portfolio? Fill the form below and our team will get in touch.


Authored by: Biswapriyo Ghosh, Team Monetization.