Nestle's Recyclable Food Packaging is Disrupting the CPG Industry
In 2018, Nestle was ranked the world's 3rd greatest plastic polluter by Break Free From Plastic. Following that, the Ellen MacArthur Foundation and the UN Environment Programme together launched the New Plastics Economy Global Commitment to tackle plastic footprint by 2025. As a result, the CPG giant pledged to make 100% of its products recyclable or reusable by 2025. And with Nestle KitKat's recyclable food packaging, the plan seems to be right on track!
Around six hundred fifty bars of KitKat are consumed every second globally, Nestle reports. The chocolate-coated wafer has undoubtedly been a world favorite since its launch in 1935. However, with this popularity came piles of plastic wrapper waste and the responsibility to tackle its negative environmental impact.
Let's look at how Nestle is disrupting the CPG packaging industry with its recent developments in sustainable and recyclable food packaging solutions for KitKat.
Want to get insights on Packaging Industry Trends? Get our exclusive report by filling out the form below:
1. Paper-based Recyclable Food Packaging
Nestlé is exploring using paper-based recyclable packaging, which has gained popularity due to increasing consumer awareness and acceptance.
"The consumer knows what to do with paper. I don't have to explain to anyone in the world anymore what to do with paper …… Paper is renewable. Paper is compostable, right?"

Gerhard Niederreiter (Head of Nestlé's Institute of Packaging Sciences)
In 2023, Nestle conducted a pilot test using recyclable paper packaging on Kikat's four-finger bar. The new paper packaging comes with a QR code so people can give their feedback.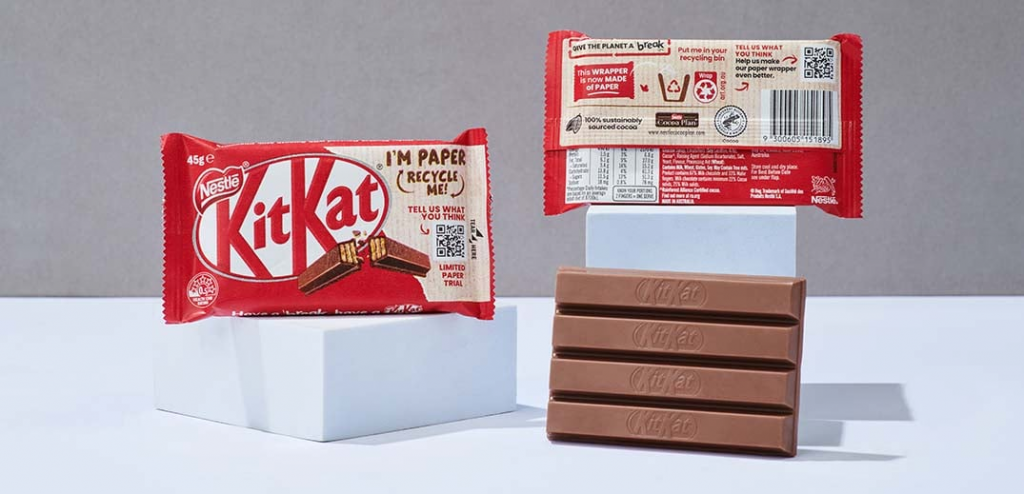 (source)
In 2019, Nestle Japan also launched recyclable paper-based packaging, which can be turned into origami after use. According to the company, this will prevent as much as 380 tonnes of plastic from entering landfills and oceans.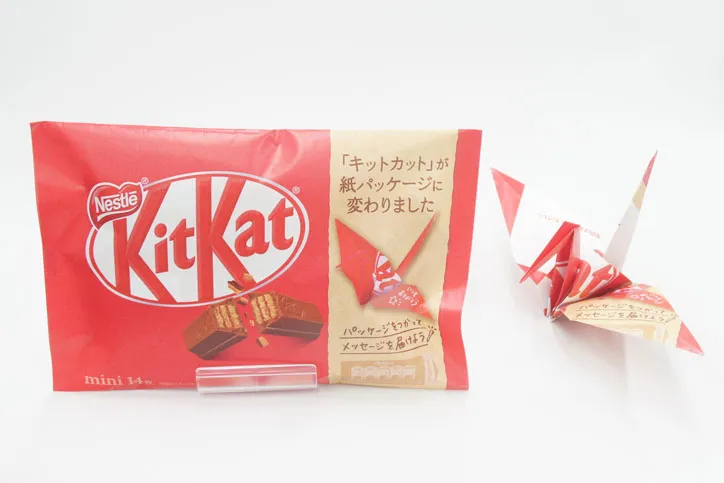 (Source)
Interestingly, they also filed a patent (WO2022258830A1) back in 2021 on paper-based recyclable packaging for a confectionery product, including chocolate.
Their patent discloses that the existing paper-based packaging has a plastic layer to improve its barrier properties. This makes it difficult to recycle paper-based packaging.
The patent proposes using a metalized aluminum and a sealant layer made of BVOH, PBS, PHA, or PLA. The layer substitutes plastic for paper packaging while meeting oxygen and water transmission requirements.
2. Food Packaging Made of 80% Recycled Plastics
From April 2021, the UK levied a tax of £200 per tonne on plastic packaging manufactured in or imported into the UK that does not contain at least 30% recycled plastic. The same year, Amcor developed soft paper-based packaging for Kitkat using 30% recycled polypropylene.
In 2022, Nestle launched soft plastic-based KitKat packaging with 30% recycled plastic.[8] [9]
Further, Nestle UK has announced it will make KitKat wrappers with 80% recycled plastic by 2024. The company has invested £20 million in its York factory to replace its old machines with new packaging.
More than 5000 supermarkets across the UK can recycle these. Not only this, but the wrappers will also reduce the carbon footprint of KitKat's two-finger packaging by 20%.[6] [7]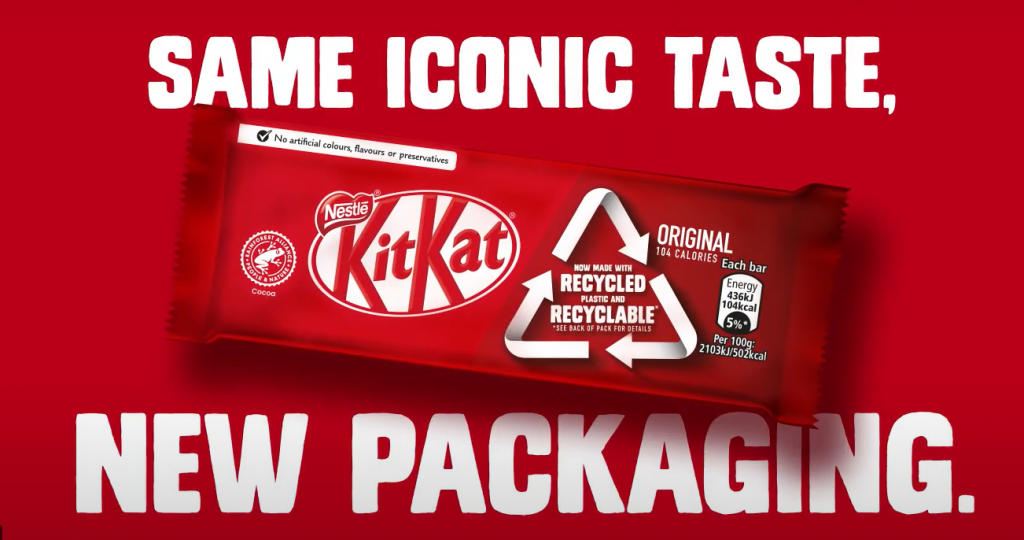 (Source)
Interestingly, the company didn't stop at that. Wondering what else Nestle is doing to make the Kitkat packaging sustainable?
3. Paper and Plastic-based Recyclable Food Packaging – Possibly.
"The future of packaging likely will be a mix of paper, glass, other lesser-used materials, and even plastic."

Gerhard Niederreiter (Head of Nestlé's Institute of Packaging Sciences)
In 2021, Nestle filed a patent (WO2023001853A1) on multi-layer flexible packaging material, especially for dry food products like confectionery items. The patent discloses the use of multiple layers made of paper, an optional hydrophilic layer, a metalized layer, and a polymeric layer consisting of one plastic polymer.
This packaging can be easily recycled and offers a water vapor transmission rate and oxygen transmission rate suitable for the packaging of dry food such as chocolate products, cereal and/or nut-based bars, and/or biscuits or wafer products.
Bringing these innovations to Nestle's packaging will accelerate Nestle's ambition of making 100% of its packaging recyclable or reusable by 2025.
Not only Nestle but other FMCG companies are also turning to paper packaging in their bid to move away from plastics.
Looking to make the switch to sustainable packaging? Discover how the leading FMCG companies, including Nestle, Kraft Heinz, Diageo, and Bumble Bee, are doing it.
Authored By: Harleen Singh and Shweta Khajuria, Analytics Team
Next Read: 10 Sustainable Food Packaging Companies moving towards a Greener Future.