Patent Licensing Insights on Interactive Patent Portfolio available on IAM Marketplace
Patent Licensing Insights is a section featuring insights/trends from our in-house tool BOS, which can help anybody in designing and picking appropriate patent monetization and acquisition strategies. 
Short for Business Opportunity for Sales (not a great name but we love the abbreviation), the BOS tool:
Can help find prospects that would be willing to in-license or purchase your patents;
Make your monetization campaign plain sailing; and
Find patents that have received a rejection (102/103 type) due to one of your patents and more. 
Onto the insights, now.
Scroll through the IAM Market on any given day, and you're sure to find portfolios for sale from big players including, but not limited to, HP, IBM, Sony, AT&T. Recently, while browsing through IAM Market, I came across an Interactive Notifications portfolio from Google with 12 patent families – having 12 alive US patents (as listed below).
The patents in the portfolio were related to basic functionalities present in our electronic gadgets these days (for example, cell phones, laptops, computers, etc.). This seemed interesting because of a lot of electronic companies such as Samsung, Apple, Xiaomi, Microsoft, Lenovo, etc. workaround interactive notifications in the electronic gadgets they manufacture.
I was quite curious to see what value the portfolio holds, but there was no quick information available mirroring the value proposition of the patent portfolio. So I went forward – tried glancing through the patents – finding information that would indicate the value of the patent portfolio.
| | | |
| --- | --- | --- |
| S. No. | Publication Number | Title |
| 1 | US7289772B1 | Technique allowing a status bar user response on a portable device graphic user interface |
| 2 | US6868283B1 | Technique allowing a status bar user response on a portable device graphic user interface |
| 3 | US8160651B2 | Mobile telephone with improved man machine interface |
| 4 | US7283845B2 | Mobile telephone with improved man machine interface |
| 5 | US7624357B2 | Mobile telephone with improved man machine interface |
| 6 | US6622025B2 | Method and apparatus for entering numbers |
| 7 | US6853368B2 | Electronic device with improved user interface |
| 8 | US7057607B2 | Application-independent text entry for touch-sensitive display |
| 9 | US7266785B2 | Showing ancestors in tree view while scrolling |
| 10 | US7676754B2 | Method and program product for resolving ambiguities through fading marks in a user interface |
| 11 | US7138979B2 | Device orientation based input signal generation |
| 12 | US7792544B2 | Method and apparatus for disabling the user interface of electronic devices |
Interestingly (refer to the snapshots 1 and 2 below), Google had bought these US patents from other companies. For example, US6853368B2 was transferred to Google from Motorola, US7266785B2 was assigned to Google by IBM, etc. i.e. the patents were originally filed by some other company and later transferred to Google. Fast forward to the present, Google is selling off these patents!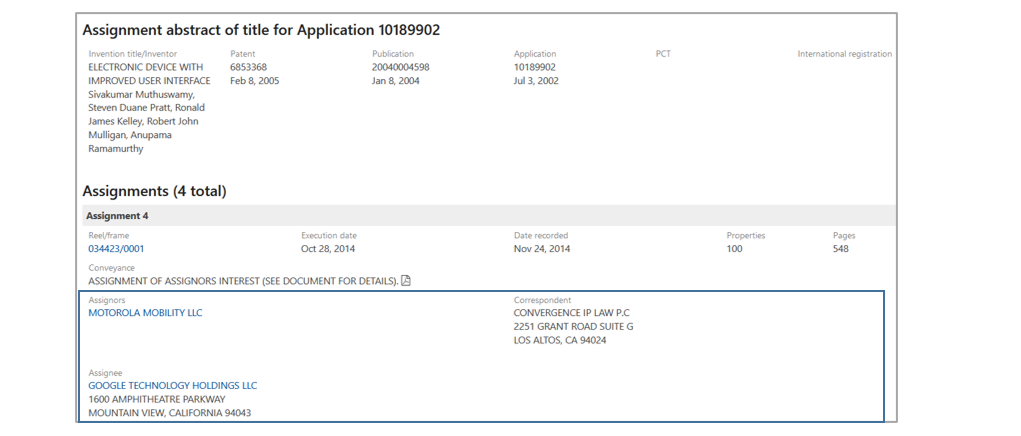 Snapshot 1

Snapshot 2
Further, a quick review of the patents in the portfolio showed some interesting findings. For instance, US7057607B2 talks about an electronic device that operates by detecting a stroke of a touch-sensitive display as a part of the electronic device. The stroke could be swish or non-swish type. Further, a swish can be produced by a finger input as well as a stylus (optionally).
This is quite common for smartphones, tablet computers, etc. that we all use. Below Snapshot (Snapshot 3) shows a touch-sensitive display that detects finger input as well as input from a stylus to write on the screens.

Next, while reviewing a couple of patents, I observed that this patent set on-sale had an already litigated patent – US7289772B1.
US'772 has been in worldwide family litigation. HTC filed an infringement lawsuit against Apple with 8 patents in suit – including US7289772B1 – against their MAC computers, mobile devices such as iPhones, iPad, Apple TV, etc. Before Google acquired US'772, HTC had the patent (Snapshot 4). This shows that this patent can be further used for litigation against more such companies working in the same domain. Plus, the value of the patent portfolio also elevates with the presence of such litigated patents in the chunk.

Now, I was engrossed in seeing what more potential does the patent portfolio by Google hold. I decided to run the patents of the portfolio in our BOS Tool. Our BOS tool provides insights into various data related to the patents – including the companies that the patents have blocked.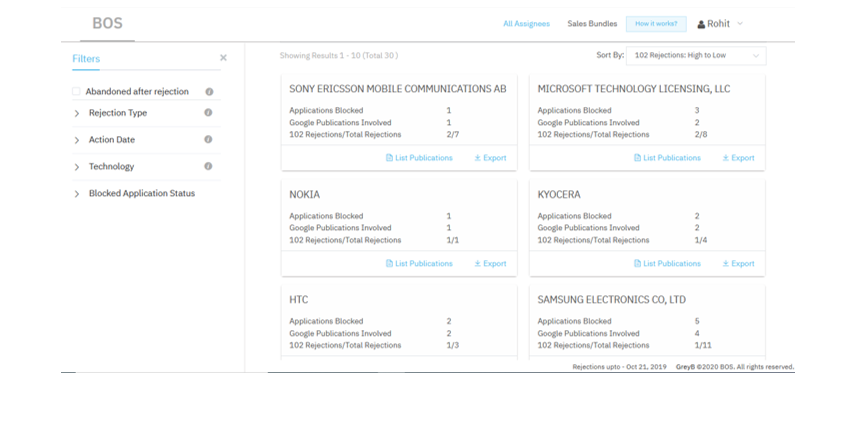 The list below contains the companies whose patents were blocked – and for whom this portfolio could prove valuable – by the patents of this portfolio.
Microsoft
Samsung
Apple
Amazon
Skype
Intel
Sony Ericsson
NEC Corp
Nokia
LG Electronics
Siemens
HTC
Lenovo
Nvidia
Blackberry
Smart Technologies
On further analyzing the BOS output, I observed that big companies like Microsoft, Samsung, Sony Ericsson, NEC Corp, HTC, and Nokia – were blocked under 102 rejection by these on-sale patents. This shows that these 6 companies were trying to protect a similar idea that was already protected by the patents that Google is selling now. To top this, companies like Microsoft, Samsung, and Sony Ericsson had to amend their claims because of the 102 rejection against them.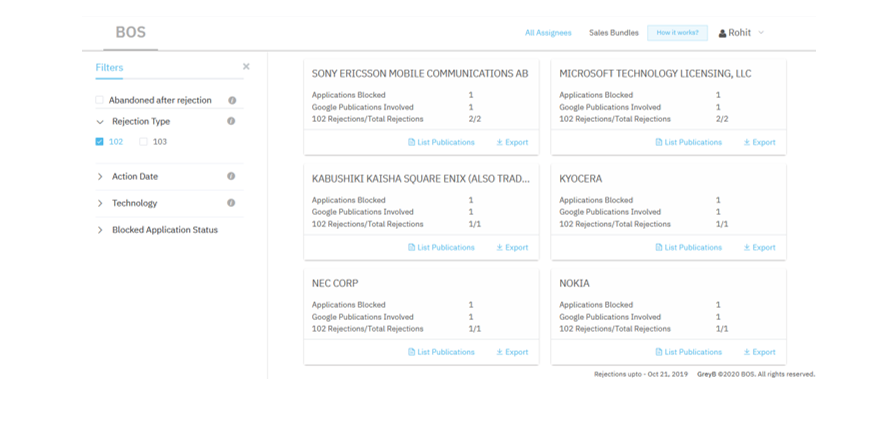 This seems to indicate that this patent portfolio can be a good value proposition for patent buyers. Seeing the list of potential target companies, it seems like these patents could also be used in a variety of monetizing campaigns.
It would be interesting to see who gets a hold of this patent portfolio and how these patents are monetized!
These were just some insights that our BOS tool suggested in this case. If you want to get similar insights directly in your inbox, fill the form below.
Or if you are interested to try out BOS for your patent to discover interesting revenue-generating insights, feel free to reach us out.
Authored by: Ayushi Roy, Team Monetization.