How to Innovate by understanding Customer needs?
No matter which industry you belong to, whether its a B2B or a B2C firm, it is essential to understand your customers' needs and improve their experience to thrive in this competitive world.
As I was scrolling through my LinkedIn the other day, I stumbled upon a post by Deepak Syal, Director of GreyB. He'd shared a personal experience many of you might relate to- the fact that long lines in amusement parks are instant mood spoilers. These long lines dampen your spirits. Especially as a parent, waiting in line with your kids for 45 minutes to enjoy a 5-minute ride doesn't sound amusing, right?
Why am I sharing this?
Well, as expected, the long wait negatively impacted the customer experience.
Deepak further shared how an employee at Legoland observed this and thought of an Idea. He proposed to place tables with Legos in the center of these queues as a solution.
This strategy radically changed the customer experience at Legoland as it provided a fun interactive experience rather than waiting in lines without having anything to do.
What do you think would be preferred more for a fun weekend getaway?
Isn't it the same when companies are trying to innovate?
It's a no-brainer that innovations are driven by not only breakthrough technologies but also your customer's needs. Maybe even more by the latter. After all, customer needs have the potential to cause research that leads to future trends.
Therefore, many businesses already focus their research efforts on high-demand areas amongst consumers. After all, no organization wants to spend money on research that yields little or no return. To add to it, companies need to innovate fast to stand out in the market.
So how can you innovate quickly to fulfill your customers' needs?
Let's begin!
Deciding the Innovation Grounds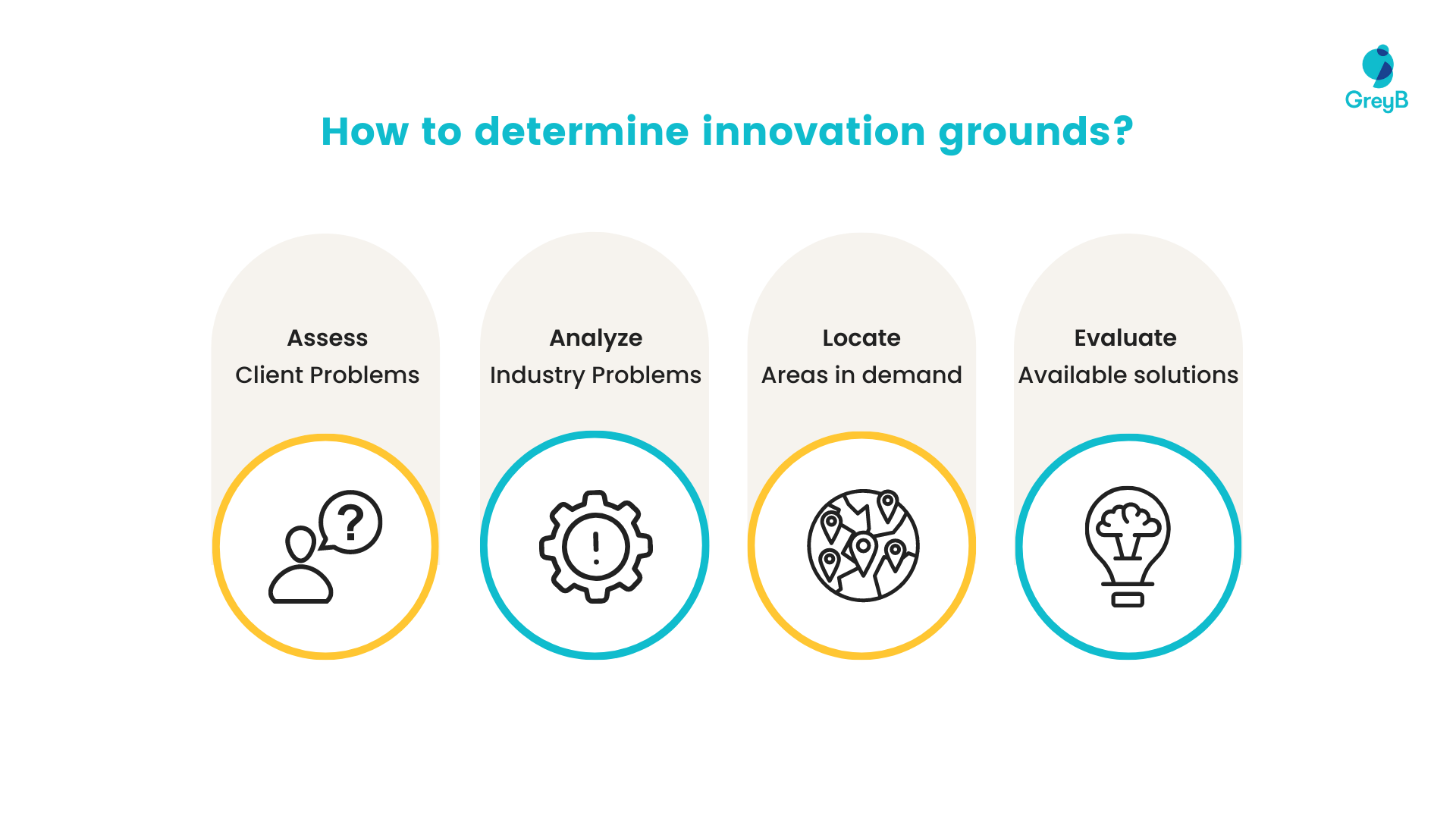 The image above explains the main factors you need to consider when determining your company's innovation grounds.
Let's understand this by taking the example of our recent project.
Finding solution outside the Client's Parent Domain
Jonathan, the R&D head of a prominent tobacco company, found out that his customers were facing problems with their e-cigarettes.
Further investigation revealed that power management of the product has been a major concern for them.
Since charging the product repeatedly was a hassle, he wanted to find a solution to enhance the user experience.
But increasing battery life or improving battery charging doesn't fall under a tobacco company's core expertise. To add to it, power management was a common concern among e-cig companies so they had to innovate quickly. As with any other company, their goal was to take advantage of the early movers by implementing the solution before their competitors could. So, how did they do it?
Leveraging open innovation to meet customer needs
Since finding a solution from scratch would have been taxing, we had to look for a plan B. After some brainstorming, we suggested Jonathan to try open innovation.
As the market has progressed, open innovation has proven to unlock many opportunities for collaboration. It had helped us find promising solutions for other clients as well. After a brief discussion he was on board with the plan.
Since the tobacco company was new to working on battery life, they requested our assistance finding the right solution.
We knew that a lot of battery manufacturing companies were working hard to develop safer, more compact batteries that could deliver more power than conventional lithium-ion batteries. Thus, adopting a technique from an unrelated industry could benefit Jonathan in solving the problem far more efficiently.
But we still had to figure out which company was right for them. So, our search began.
We looked into companies in the battery domain. Some of them were also our client's direct competitors. Here's a glimpse from our analysis-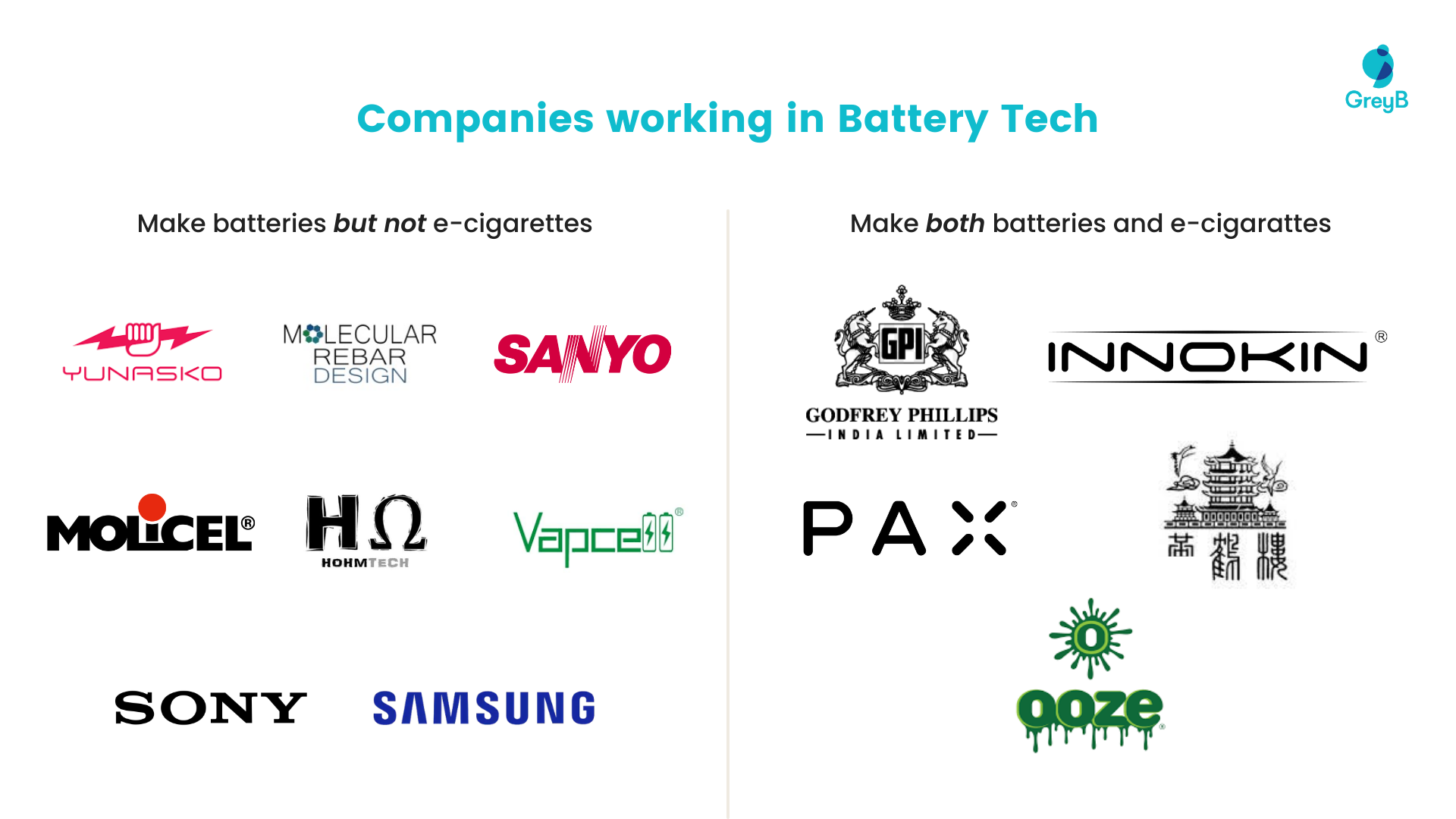 With some market and landscape research, we shortlisted four companies- HOHM, Yunasko, Molecular Rebar, and Moliecel to look further into.
Next, we deep-dived into each of these companies to identify potential innovations that could help Jonathan's R&D team innovate. This included
The Graphene Enhanced Li-ion Battery (GELIB) by Yunasko (US20130139951A1); and an improved lithium-ion battery version enabling it to hold more energy, recharge quicker, and output more power.
Molecular Rebar and Sabic's collaborative innovation of improved battery (WO2019226902A1).
We then conducted a SWOT analysis of the four and further researched if the company could advantage by working on the weakness or strength of the respective tech. Finally, we came down to two companies our client could collaborate with and shared the same with them, along with the risk assessments of each.
As a result, using the solution from a different company helped them rethink their research and innovation strategy. This helped them work on quickly resolving their customers' problems, while also saving the company's time and money.
A win-win?
While open innovation is one way to quickly innovate by understanding your customer's needs, it seems to be the most promising answer. However, companies face many challenges while taking this route. Finding the right innovation platform, searching for the appropriate solution out of many, and evaluating the solutions' risks and efficiency, are to list a few. This is where GreyB comes in.
Our research can act as a bridge between your R&D team and the required innovation.
Conclusion
If you want to hold onto your position in this cutthroat market, it is better to comprehend your client's needs and quickly innovate by rearranging your products and research accordingly.
Not only that, but a better understanding of your customer needs can help you effectively use available resources to solve the problem for which solution is most craved and rewarding.
As a result, knowing what your customers want will help you develop and anticipate future trends, giving you a competitive advantage.
People won't buy your product just because it's high-tech. However, building the product around their requirements can be a game changer for your business.
After all, Customer is the King, right?
Want your R&D team to innovate more effectively? We can help.
Next Read: How to innovate and create demand for your product using the Blue Ocean Strategy?
Authored By: Ridhima Mahajan, Market Research