AI in Beauty Industry: Which companies & Startups are researching?
The beauty industry is expected to reach a valuation of $863 billion globally by 2024. However, given the continuous innovation and exponential growth in beauty products, a saturation in the beauty products industry has been observed. It will take a truly magnificent product or idea to stand out from the crowd. 
One trend that's been cutting through stacks of compacts and mountains of creams is personalized skincare and makeup. 
Personalization is how brick and mortar shops turned a profit in the skincare and cosmetics world. They provide a haven for beauty product enthusiasts who can sample products and ask in-store experts for assistance. Even online shopping aficionados who'd rather shop from the comforts of their homes had to trudge to the nearest beauty supply store. 
But with the advent of COVID-19, people either couldn't go to shops or didn't feel safe enough to. That obviously turned people to online stores where they would guess and gamble on what would suit their skin type.
Luckily, many companies had realized the need to bring these in-store services into their online stores early on and that personalization is the future of the beauty market. They have imbibed technology to help make online purchasing less of a gamble game and more of a personalized experience on par with brick and mortar shops. 
Intrigued? Let's have a look at how and which beauty companies have shaken hands with AI and what innovations are some of the startups in the domain are working on. 
Which Companies are a bit head in using AI in Skincare and Cosmetics?
FOREO's AI Facial Cleansers
Cleansers help you get rid of dirt, oil, dead skin cells, and any remains of pollution or makeup. So you may wonder why your skin may need the aid of AI for just cleansing it. 
One key aspect that differentiates cleansers from faces washes is that cleansers, apart from cleaning your skin have a specific objective or focus. Hence, it is important to find a cleanser that supports your skin needs. 
For all the lost consumers who were staring at a row of products dumbfoundedly, not knowing their skin's needs, FOREO launched  'LUNA fofo' which they call "world's first 2-in-1 smart facial massage and cleansing solution."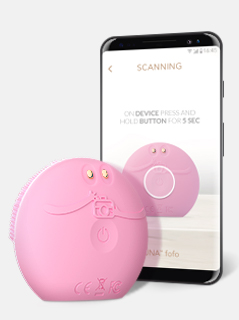 Source
LUNA fofo is an AI-powered cleansing gadget. The makers at FOREO believe the better you know your skin, the better you can take care of it. But since our skin is constantly changing, so do our skin needs. For that LUNA tracks and responds to various factors that affect skin health such as a change in climate, diet, water intake, and an optimized complexion and deliver real-time readings. 
You get a "made-to-measure" routine for your unique skin type once LUNA runs its analysis. You can see the analysis and results on the accompanying FOREO app.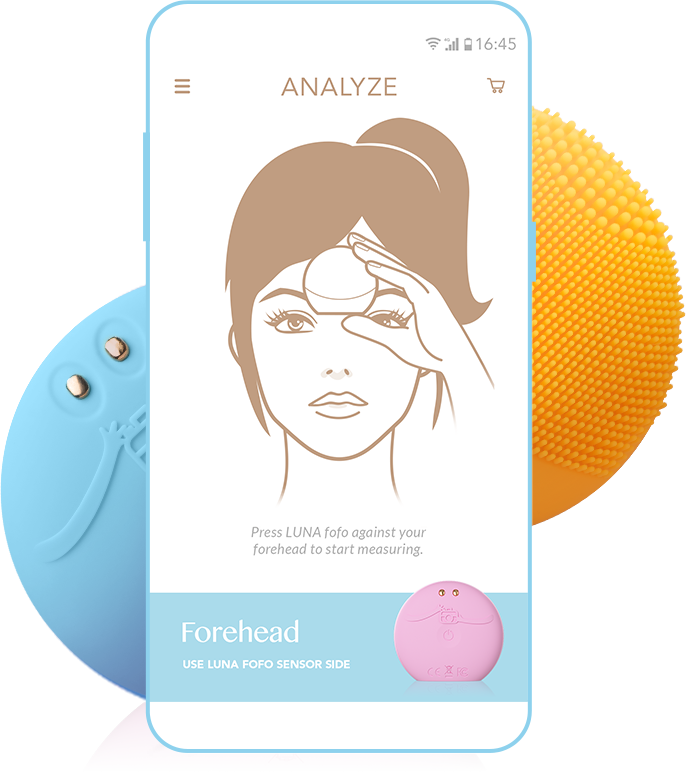 This analysis is used to generate skincare programs unique to your skin with custom intensity and duration for your key facial zone. The cleanser also has a feature called T-Sonic which rids skin of oil, dirt, and makeup residue. Users are advised to analyze their skin every two weeks. 
FOREO is a Swedish company that takes pride in using technology to make everyday life easier. While their background isn't strictly beauty and wellness, they have bagged a lot of awards in that field. 

Dior's AI Beauty Assistant
If you miss that personal connection and insight that you get in a brick and mortar shop, then you'll be interested in Dior's AI assistant. 
Dior Insider launched by Dior helps its customers with product information and gives them a personalized solution in skincare and cosmetics. Users can access it through Facebook messenger where they have to fill a standardized set of questions. 
The chatbot asks users if they are premium users, for premium shoppers gain access to exclusive tutorials, makeup tips, and even product samples before they complete their next purchase.
To make it more of a fun and interactive experience, Dior Insider uses fun emojis and GIFs. 
Christian Dior, named after its founder, is a French luxury goods company.
Estée Lauder's Voice-Enabled Beauty Assistant
If chatting with a bot too seems cumbersome to you, then you can find guidance just a holler away. 
Estée Lauder has collaborated with Google to make personalized skincare solutions easily accessible through Google Assistant.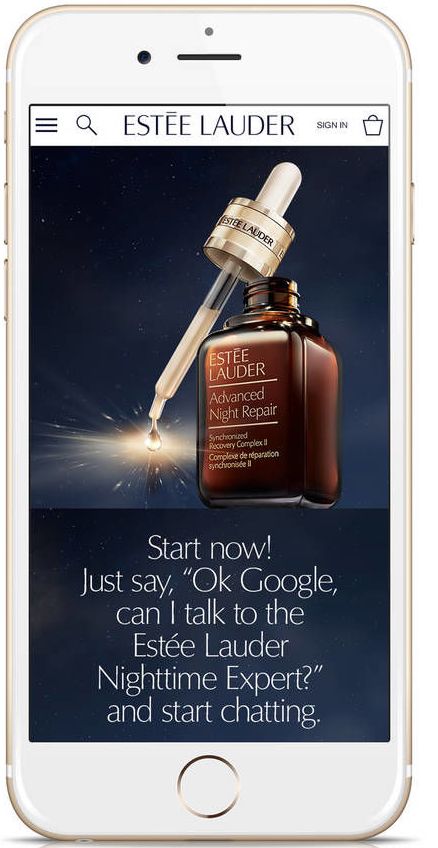 Source
On saying "Ok Google, can I talk to the Estée Lauder Nighttime Expert?" a chat with Google Assistant is initiated and allows users to discover a nighttime skincare routine that best suits their skin needs for Google Home owners.  
Apart from the skincare routine, one can also learn application techniques that one can find at an Estée Lauder counter.
"We are thrilled to collaborate with Google to be at the forefront of creating personalized consumer beauty experiences via the emerging world of voice activation," Stephane de La Faverie, global brand president, Estée Lauder said. "Combining our beauty expertise with Google's technology allows us to build on our digital evolution and offer the latest innovation to further enhance our consumer experience."
The company was founded by Estée Lauder, one of the world's first female entrepreneurs. The company since then is flourishing in over 150+ countries. 
Coty's Virtual Beauty Assistant
Coty combined the power of voice-controlled AI with visuals in their collaboration with Amazon Echo Show which is Amazon's Echo device with a screen. 
Coty used the AI, voice control, and visual offered by Amazon Echo Show to its advantage. 
With its 'Let's Get Ready' experience echo shows users video tutorials offered by Coty which they can follow at home.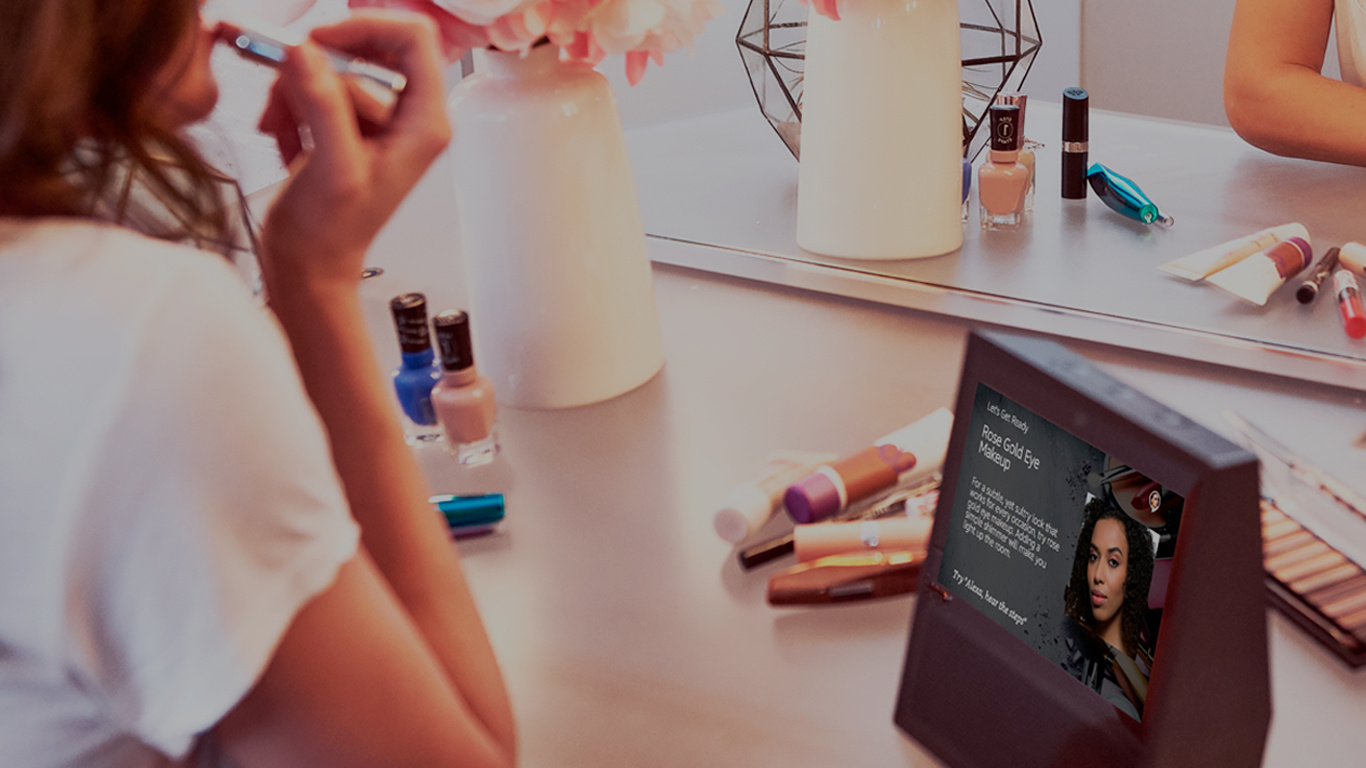 Source
The Coty and Amazon Echo's collaboration also allows users to get suggestions based on occasions.  Have a party coming up? Alexa may suggest you a dress for the occasion beforehand (if sync with the calendar is allowed). 
And since this is advanced AI we are talking about, you won't get any generic run-of-the-mill suggestions. Your looks will be suggested to you according to what suits you best based on your specific attributes such as hair, eye, and skin color. 
It also offers a wide range of looks to choose from thanks to Coty's many beauty brands. Users can also explore quick tips, how-tos, and products that they can add to their shopping list. 
"Digital innovation with a focus on voice and virtual assistants is a key part of our digital strategy as we aim to bring consumers frictionless beauty experiences. We're thrilled to be leading the market with the introduction of a visual beauty skill in the U.K., inspiring consumers to both hear and see new beauty looks as well as step-by-step tutorials. Further, this skill allows us to deliver an authentic and personalized experience for beauty enthusiasts that happens near real-time, delivering customized looks in the context of a person's lifestyle and personal attributes."

Jason Forbes, Coty Chief Digital and Media Officer
Nick Sedgwick, Coty Consumer Beauty, GM, UK & Ireland, said on the collaboration –
"Our Consumer Beauty brands – Clairol, Rimmel, Max Factor, Bourjois and Sally Hansen – are all about helping consumers express 'your beauty, your way'. Collaborating with Amazon for the Let's Get Ready skill is a perfect way to enable self-expression tailored for each individual with an emphasis on physical characteristics, personal style, trend preferences, and specific events."
Coty is one of the world's largest beauty company which is segmented into three divisions which are Consumer Beauty, Luxury, and Professional beauty. They are respectively focused on mass cosmetics & hair styling products, prestige fragrances & skincare, and servicing salon owners and professionals. 
The American multinational company owns approximately 77 brands such as COVERGIRL, Max Factor, Rimmel, Calvin Klein, Marc Jacobs, Hugo Boss, Gucci, Wella Professionals, Sebastian Professional, and OPI.
Sephora's Color Matching Makeup Bot
One of the biggest challenges of online shopping is finding the right shade for your skin. This is one of the top reasons that deter shopping for cosmetics online. 
To solve this very issue Sephora released the Color Match for Sephora Virtual Artist. Like Dior, this is a chatbot that can be accessed through Facebook messenger.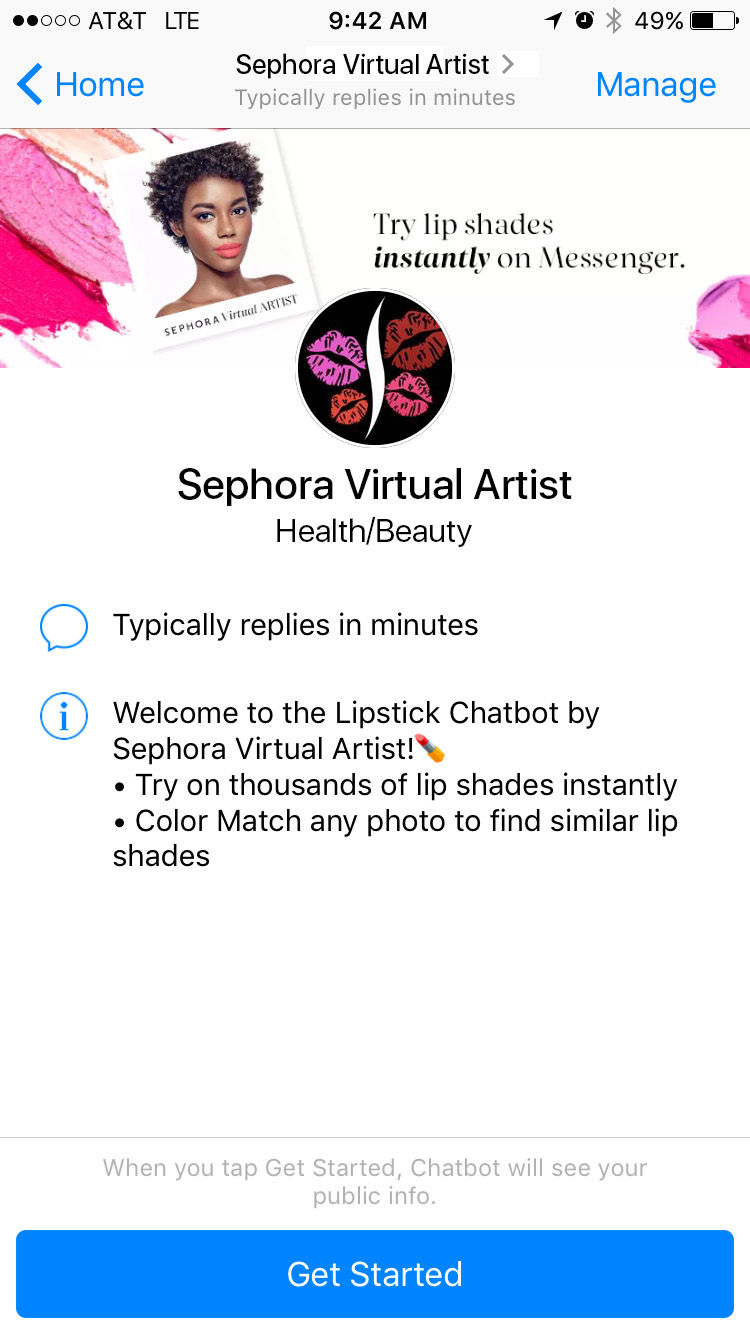 Source
The chat is initiated by the bot with a prompt: "Send me any photo, and I'll pick up the colors in the photo to find matching lip shades." Users can select an image from their gallery and share it in the chat. The image can be an inspiration from a lipstick image that they saw and liked to a dress that one plans to wear. 
The bot will then proceed to show a list of lipstick shades that are the closest match. These suggestions are shown based on the large variety of cosmetic brands that are available at Sephora stores. 
The chatbot service doesn't end there. The bot then proceeds to show the user how the shade would look on them with AI imaging. They can then proceed to buy the shade online or book an appointment for in-store consultation.  
"Our two new bots for Messenger offer enhanced ways for our clients to engage with Sephora by streamlining how they access relevant service and product information on their mobile devices," Sephora SVP of Digital Mary Beth Laughton said in a press release. "We're excited to leverage the Messenger platform to create quick and natural conversational interactions that are client-led. This allows us to provide richer, more varied conversations that ensure clients get exactly what they want out of the experience." 
Apart from the Facebook messenger, the feature is also available in the Sephora iOS and Android apps. In the app, customers can receive instant lip, eyeshadow, and cheek color matches with just a point of a camera. 
Since its debut in Paris in the early 1970s, Sephora has 430 retail stores in America and over 2,300 locations in 33 countries.  Sephora has established itself as a leading international beauty destination where users can shop from a curated list of brands. Apart from shopping, the company offers a variety of makeup trials and tutorial classes. 
Revieve's AI Beauty Advisor
Revieve takes personalized recommendations to another level. The company gives advice based on 68 different factors such as redness, eye bags, and wrinkles via their proprietary AI-powered selfie analysis.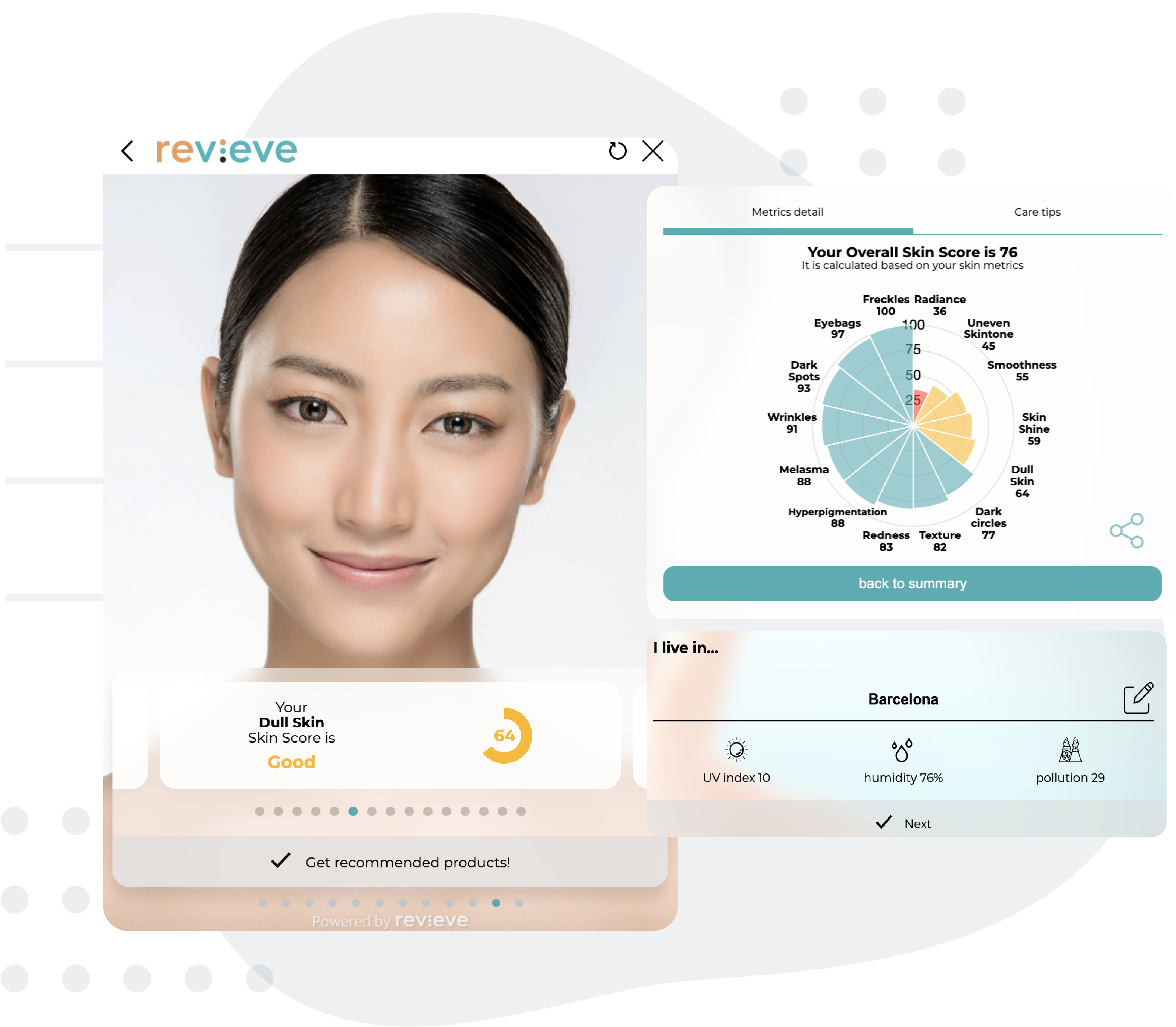 Source
Once a user uploads their selfie, the platform provides detailed analysis with products and treatment recommendations.
Revieve also helps beauty brands and digital retail providers with Health, Beauty, and Wellness products and services, and treatments.
Which Startups are using AI In Cosmetics?
TroveSkin
TroveSkin is a skincare app that aims to answer two questions for its users
Do their skincare products work

Which skincare products are the most suitable for them 
TroveSkin uses AI to analyze and manage skin. On the app, skin issues like pores, wrinkles, and pigmentation are detected with a user-submitted selfie.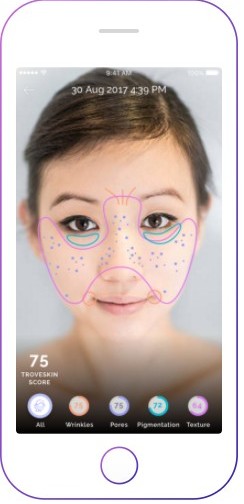 Source
Based on the analysis, TroveSkin provides a skin score that takes various factors such as wrinkles, pores, pigmentation, and skin texture into consideration. 

Source
Apart from skin analysis, users are suggested with beauty products best suited to their skin type. The app also records the skin progress over time so that users can see the difference in their skin over time and figure if their new personalized skincare regimen is working for them.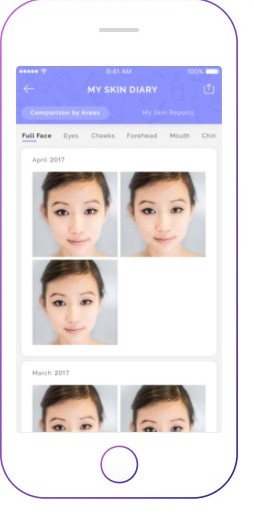 Source
EpigenCare
EpigenCare brings to the beauty market a truly one of a kind approach by combining skincare solutions with epigenetics. 
Epigenetics is the study of heritable changes in gene expression. It does not involve changes to the underlying DNA sequence. Epigenetics controls Genes. Epigenetics can be influenced by the environment, aging, disease, diet, exercise, chemical exposure, and even social interaction. All of this can cause the genes to be silenced (inactive) or expressed (active) over time.
EpigenCare takes its knowledge and expertise in epigenetics and harnesses it to provide personalized skincare solutions. 
With extensive research, they have identified a proprietary panel of genes that serve as epigenetic markers and serve as the strongest skin quality indicators like aging, moisture retention, elasticity, etc. 
In parallel, a list of skincare products ingredients is drawn up which impacts the aforementioned skin quality indicators.
Based on one's skin quality profile, their algorithm pulls up the most optimal compositions of the necessary ingredients to epigenetically reverse or slow-down any negative states in one's skin. 
To provide such analysis, EpigenCare provides its product called SKINTELLI which is an at-home personal epigenomics test kit. It measures the DNA methylation levels of genes responsible for key skin quality factors.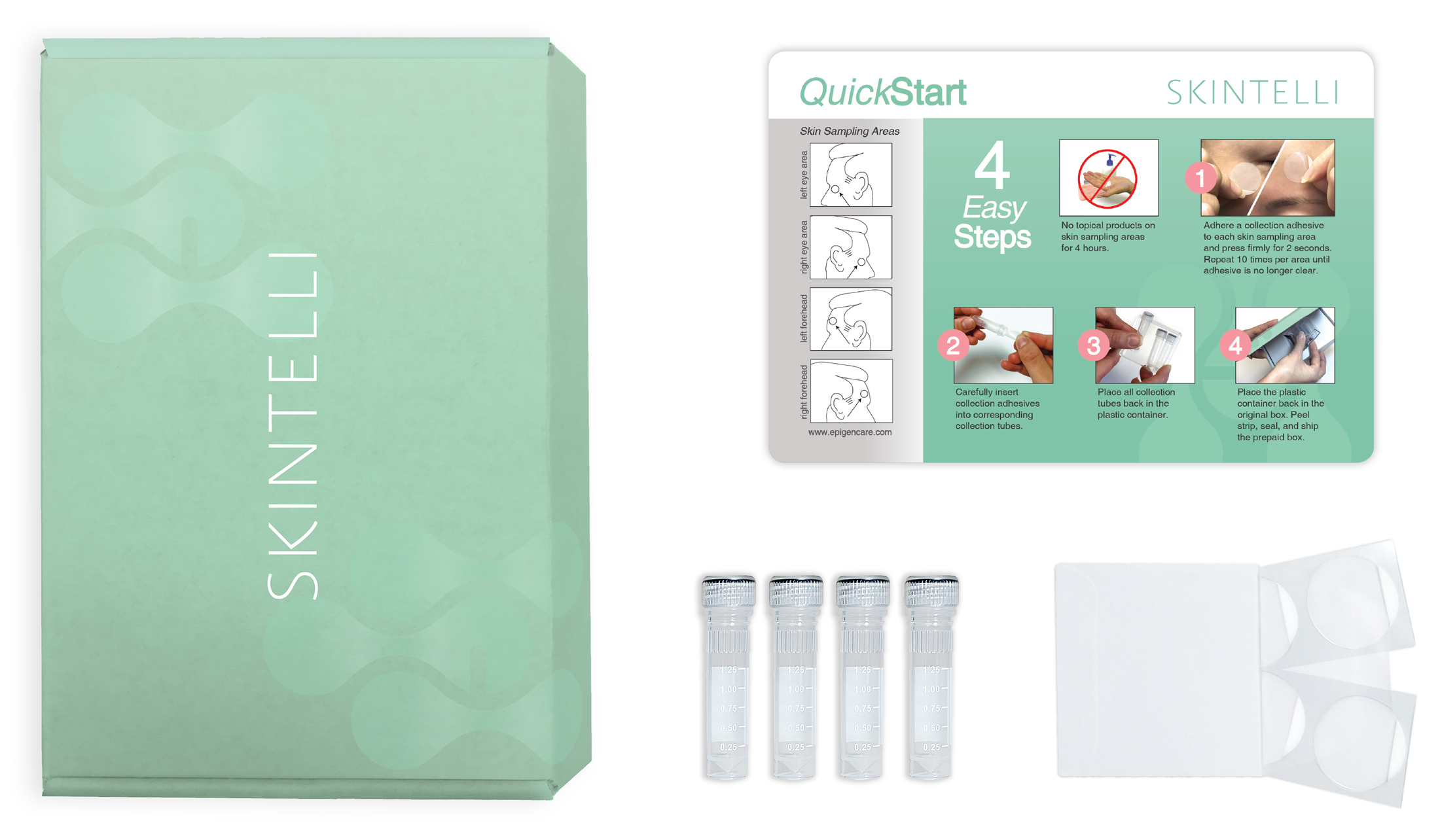 Source
It uses non-invasive adhesives to collect samples from your skin and to perform the analysis.
Once the skin analysis is completed an accompanying app suggests a list of products that would be best suited for a user's skin from brands ranging from luxury to affordable and popular to the boutique.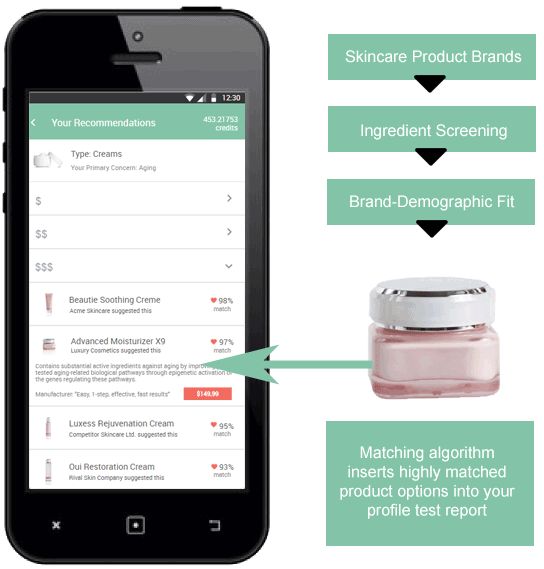 Source
EpigenCare is a New York-headquartered company that stems from EpiGentek, a well-known epigenetics-focused research organization
Other startups using AI in Cosmetics
There is a huge list of startups trying to embrace the power of AI in the cosmetics domain. Below listed are a few of them.
Wanmei Yidong

Perfect Corp

Lumini

Ansatz AI

Hue.AI

Atolla

CureSkin

Beauty By Design
This is just a sample and there are a lot more doing great work in the domain. Did you know there are also two Chinese startups about whom you've probably never heard of doing groundbreaking innovation in this domain? We have covered those two along with the others in the next article in the series. Want to be the first to access it? subscribe our blog.
If you're here, you probably have bigger questions. Something along the lines of:
Can an M&A with any of these startups help you embrace the power of AI and get you into the race?
Which startups are the best for you to partner with /invest in?
Which companies and startups should you look out for?
We have the answers to the above questions and more and they are simply a click away. Click below and our team will get in touch to help answer your questions.

Conclusion
The beauty industry is using technology to give itself a "facelift". Many cosmetics and skincare companies are shaking hands with tech companies to provide better services to their customers. Yet according to a report, most luxury brands are lacking the ability to take their concierge services into the digital age. 
Hence it's important for companies in this highly profitable and competitive domain to open their arms to technology and cater to their customers who now have access to highly personalized products at the tip of their fingers.
Read Next: Did you know a photographic film company was one of the top innovators in Skincare? Intrigued? Read on to find out – Fujifilm — A noteworthy competitor in the skincare industry.
Authored by: Oorja Pandya, Market Research.