Saying "No" to Average
It is because the philosophy stands for something. We like to have people who like us, would prefer to stand at the edges rather than being considered as one amongst the rest. If a client wants a "GreyB type" analysis, they have to call GreyB for it. GreyB will fail if it do average work for our clients just to make a living – the same goes for each individual within GreyB. Therefore, we follow this philosophy very judiciously from hiring to delivering a project.
It is scary, but we take pride in the support that we receive from our clients who also have a similar philosophy and they live by it.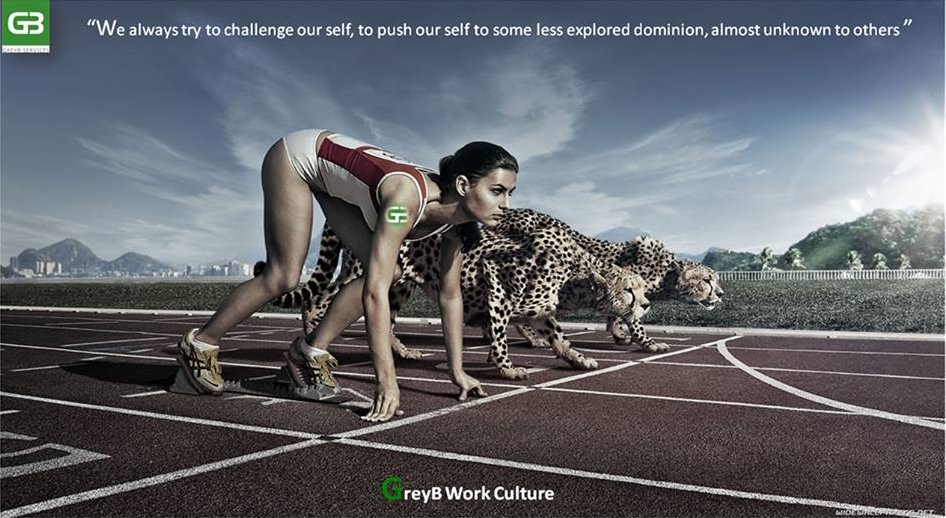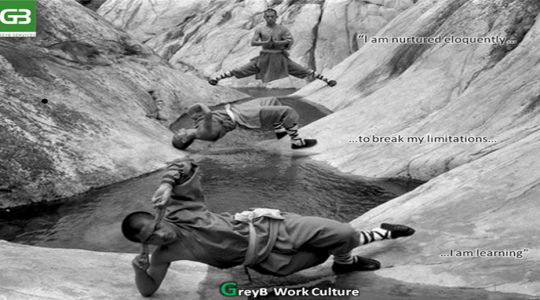 G
reyB was not originally created to be just another patent research company. It was built to accomplish a goal to bring together a set of people who want to grow faster than the industry. A set of people who are hungry to change the things that slows them down. We wanted to use this power, the power to grow, the power to create a mark, the power to change things in the innovative domain of patent research.
We want everyone who is interested in working with GreyB understand what this mission means to us, how we make decisions and why we do the things we do.
At GreyB, we are inspired by the technologies that are going to change the future. We often talk about technologies like virtual reality, mobile communication, LTE etc. that is going to completely transform the way how we are going to interact in the future. These discussions bring us further together. Today, we have reached a point where in the outside world, people work because they have to work, they don't work to achieve something or grow themselves. We live every day to take more experiences and just do things to bring some change in the way things might have been traditionally done. This makes a huge difference in how we work internally at GreyB.
good enough is not good enough
Good enough is not good enough, because now everything is good enough.
We want to raise the expectation of our clients.
We didn't want them to be satisfied, we wanted them to be blown away.
We want our clients to be remarkable in front of their clients. This is also our Mission, to make them appear the best.
At GreyB everyone has a voice and freedom to do the things he wants in his way. We want to excel in a world where innovation is a currency. We want to see our clients use that hidden prior art, hard to find insights to win cases, lead their IP department, give strong advice to R&D teams. We believe this is the most important aspect that we need to focus on. People execute projects and we want to give results. The difference is just in the attitude of how one sees the things.
This mission may sound big but it starts small. We believe that combining the best people with the advanced technology will make us more closer to building better products and services.
By giving our people the power to innovate, we believe we are going to see more innovative voices heard on a different scale from what has historically been possible. These ideas will increase in number and volume. They cannot be ignored. Over time, we will see this with kids where we will see kids coming up with innovative ideas.
Simply put: We don't work to build money, we make money to build better services.
In old days if you did a patent search using all the traditional strategies in a reliable way, you would be fine. Being technically good was a good thing. Decent quality and being polite was considered okay.
But now they are not.
You cannot be normal. You cannot be average.
Our Vision is that we want to see every company to be innovating in their own territory. We believe this is the most important problem that we need to focus on. Innovation is the most basic thing in our society. We cannot live without innovation. The day innovation stops, this world will no longer be the same.
By focusing on our mission and building great services, we believe we will create most value for our clients over the long term. We don't wake up in the morning with a primary goal of making money, but we understand that the best way to achieve our mission is to build a strong and valuable company.
It's obvious, and we say this to a lot of people, that there are no strategies to reach to the result, and, at the same time, there are hundreds of strategies.

We figured out that its not the strategies that lead you to the result, it's the thought process.
Core Focus
TO BUILD A GREAT IP COMPANY WITH GREAT PEOPLE AND GREAT RESULTS
DO ONE THING & DO IT BETTER THAN ANYONE
VALUABLE OUTPUT IS THE GREATEST MEASURE NOT HOURS PUT IN
WINNING NO MATTER WHAT!!!
KEEPING CLIENT EXPERIENCE ABOVE EVERYTHING