USD720916 – The Beginning of a Probably Long Countersue battle between McCain and Simplot
Recently, McCain filed a complaint in the court of Northen district of Illinois alleging that J.R. Simplot used its patented designs USD720916 in its Sidewinders product(as shown below).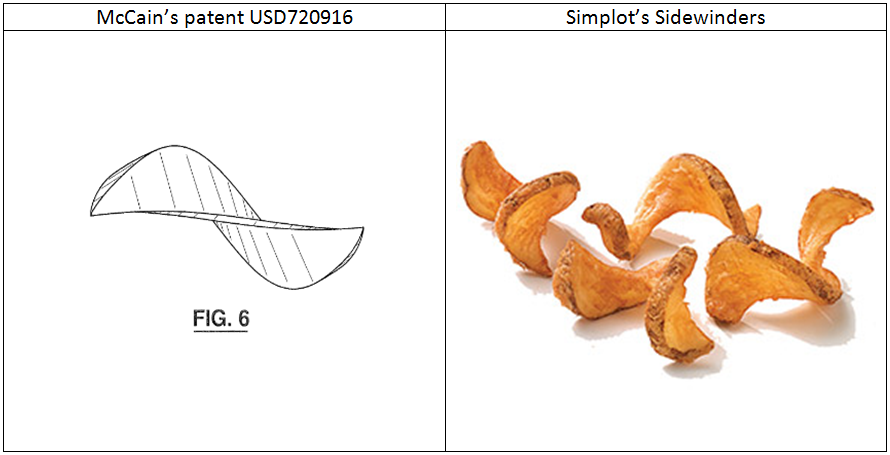 You might think- "Yet another infringement suit, eh!"
Not as ordinary as being assumed, what makes this case especially interesting is that the complaint filed by McCain is a countersue response to Simplot's original complaint and the beginning of a probably long patent war between these two companies.
How? – you ask.
Let us give you a brief timeline of this case.
In October 2016, Simplot first sued McCain by arguing that McCain's 'Twisted Potato' design is copied from Simplot's patent USD640036.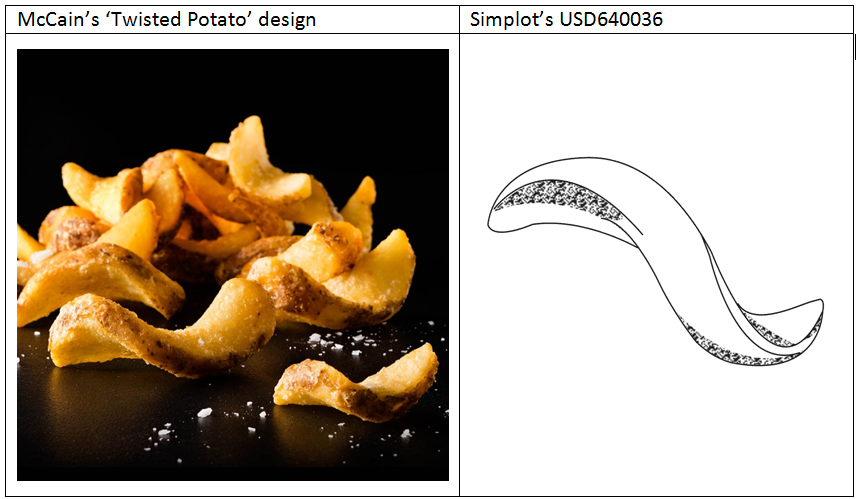 As a response, McCain countersued Simplot in February 2017 by arguing that Simplot's Sidewinders infringe on McCain's design patent USD720916. Impressive, right?
Do you know what's more impressive?
In the same complaint, McCain alleged that Simplot directly infringed a claim of US6821540, a process patent filed in 2002 by McCain which made vegetables less resistant to cutting.
According To McCain's complaint, Simplot infringed on one or more claims of its '540 patent by using PEF systems causing Mccain monetary damages which include lost profits and reasonable royalties, for which it sought compensation, and if possible, an injunction.
Now though we do not know what the verdict of the design patent case would be, we did a quick search and discovered that there are other design patents of Simplot which may overlap on various products of McCain. In other words, this might just be the beginning of a long patent battle between these two companies.
BTW, if you were wondering which patents, in question, are being infringed, here's a sneak peek.
Relevant Read: How US8738051B2 by Twilio Can Get Invalidated?
We are not going to mention any products of McCain here, but you might have already got a hint since We- You and I – eat them on a regular basis.
In light of the above information, McCain doesn't appear to be in driving seat in this case. But there is another patent US'540 involved and it would be interesting to see how this case unfolds, as there may be many twists and turns for both the parties involved.
If you need any further information related to this case
Authored by: Rohit Sood, Team Lead, Infringement, Vincy Khandpur, Senior Research Analyst, Infringement, and Arjun Verma, Researcher, Infringement.   
Now find out How US8864304 and US9167235 by Visual Effect LLC Could Get Easily Invalidated?