System prior-art
Why We Prioritize It Over Other References?
Consider a situation, when you need to invalidate a patent, and there are already a lot of products in the technology domain (apart from the one under litigation). For example – these can be consumer goods, mobile phones, printing machines, drones or a website, etc. Even those obsolete or current products can act as pretty solid prior art – generally known as 'System prior-art'.
A System Prior art is different than other non-patent literature as it speaks for its authenticity. Such a reference provides a proof that the claimed technology was in practice before the critical date.
With extensive searching in product catalogs, user manuals, news articles, trade show/exhibition websites, or on YouTube product review videos – the evidence to support the presence of required features can be identified.
If that doesn't work – we can also do offline research, for example – in books, printed tech magazines, catalogues etc. And even can reach out to people with relevant experience – for example, manufactures, developers, who have seen the entire evolution of the products over the years and may have useful information on the required concept. In fact, people who may have now shifted their career in another domain can also be valuable sources of information, as their experience goes back much further than current tech players!
Risk Mitigation
Risk Mitigation with Freedom to Operate on your technology
Improve critical product development initiatives and investment with in-depth Freedom To Operate searches.
Your product development initiatives can lose business feasibility due to un-expected licensing-fee expenses or rework on product features. It is prudent to have a thorough search on the vast patent literature to locate potentially offensive patents. The confidence to pursue your product plans are enhanced once you are aware of the type of technology features that are already claimed in patents. GreyB's iterative approach to exhaustive searching uncovers patent claims that overlap with the technologies, features, and benefits of your new products. Along with documentation of relevant patents, we help in building an electronic database of patent families. This database contains actively maintained and granted patents or patent applications with specific patent offices of interest, written descriptions and claims. The database can be further utilized to perform analysis of the file history to locate the statements that resolves ambiguity in claim language and how the examiner's rejections & amendments were drawn to overcome art, i.e., file wrapper, estoppel. Such thorough analysis of definitions in specification, dictionaries and technical treatises combined with review of your search subject of FTO helps finding whether there is an identical or equivalent element in your proposed product plans.
As desired, we also extend the FTO search to assist in identifying design around licensing or acquisition candidates. Here our approach to analysis is based on review of the patent landscape coupled with market research.
Quick view Novelty Search
Early validation of concept with price sensitive search
This is the first search required to decide resource allocation and optimize spending on assessment of your concept for a patent process. In your patent prosecution practice you may come across thousands of inventions that require your attention to analyze whether it is feasible to file your patent application or not. For prosecution heavy patent practices, we have developed solutions where our job is to quickly locate the glaring results in the domain of search and also present a macro view of the state of the art. Such price sensitive studies at a very early stage i.e. invention submission stage, can help in forming a strategy to go for the patent application. This type of search is a precursor to plan the allocation of resources if the invention needs to be further evaluated for patent application drafting. It is important to note that this search does not represent a full scope patentability search.
Search Prior Art to Assess Patentability
A good draft will reduce unnecessary prosecution work
Patentability searches are comprehensive analysis of the prior art to find the best structure for your claims. Such searches closely resemble the solution of quick-view novelty searches, however, they are designed to identify relevant prior art by conducting a thorough search on each feature of the technology to be claimed (independent and dependent claims). This search presents you with information about the prior art that will create challenges during the grant of patent claims on novelty, inventive step and obviousness surrounding the invention.  Our analysis and search reports have helped attorneys improve the grant rate of patents by focusing the discussion between the attorneys & examiners on what is the 'inventive step' and has marked an improvement on the grant rate. Our searches help patent attorneys to correctly phrase the abstract, description, claims and other critical parts of the patent application document.
European Examination Search
Finding evidence to nullify the claim of novelty and inventive step
This type of search helps you to discover important prior art that can be used when filing for an opposition or a request for revocation of a right. At GreyB we search international patent databases and non- patent literature data sources to find prior evidence against the subject-matter of one or more of the claims. Along with relevant references, the scope of the search includes the references which in combination can challenge the validity of the patent. To make our reports meaningful, we chart the exact evidence of the claims in the prior art to make a case of opposition.
US Accelerated Examination Search
Taking advantage of accelerated examination procedure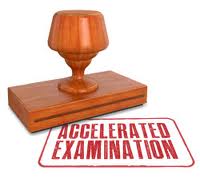 We perform an extended patentability search that is adapted to the guidelines of the USPTO for an accelerated examination search. This search focuses to find US granted patents and patent applications, foreign patents & published applications as well asnon-patent literature, which is relevant to the Independent and Dependent claims of the proposed application.
With an extensive search report, we include a Pre-Examination search document, which only requires minor modifications before submission. Furthermore, in documents relevant for the examination, the relevant paragraphs in the documents are mentioned in a separate report in order for you to save time.
Validity Search
Be thorough and confident before claiming infringement
This type of search is conducted on your patent to be aware of important hidden prior art that can potentially create invalidity issues before claiming infringement or a transaction. You can commission GreyB for an international prior art search to locate the references that either unaccompanied or in combination can challenge the validity of the patent.
Sequence Search
Get answers for your newly developed sequences

In business situations, you reach a stage where business decisions need information on the references relevant to a chosen amino acid or nucleotide sequence. The work output of a Sequence search helps you in effectively deciding the key question: Is the patenting process worthwhile? It is important to know that such sequence searches will also give you valuable input for further research and development. In this example, the search includes nucleotide and protein sequences described in the patent as well as non-patent literature. Within the patent area, the search covers sequences found in USPTO, INPADOC/EPO and WIPO/PCT as well as from open access databases like GenBank and EMBL. We report results by indicating the exact reference to the occurrence of the sequence in the result. Additionally, it contains information about overlap, sequence length, organism, gene, etc. It is also possible to group your search results according to for e.g. alignment, organism, gene name or patent family.
Chemical Structure Search
Chemical Structure Search! Obviously, it can't be an easy job-to-do. Chemical structures are a little universe in themselves – complex, unstructured, and many times a real mess. Since they have a complex chemical nature which is due to the presence of alternative limitations like huge atom list, different R-groups, more number of link nodes, pseudo-atom, multiple ligand order attachments etc. prior art search in this area is not a cake walk. The complexity of correlating chemical structures with the drawings or various names written in a prior-art document takes prior art identification to a new level.
The huge database access to Derwent innovation, Patbase, PatSnap, STN, Dialog, Pubchem and more, along with experienced research team ensures excellent outcome. But our wow factor lies in NEO – an AI based tool that helps our researchers to relate complex, difficult to relate concepts and broadens their periphery for locating prior art.
Invalidating 3rd party patents
Potentially, every patent can be invalidated on grounds of Prior Art
It is common to come across existing & granted 3rd party patents where the owner of the patent makes infringement complaints. One of the key strategies to follow apart from gathering opinion on non-infringement is to find out evidence that holds against the validity of these 3rd party patents. In other words, some circumstances require extensive and thorough search for locating prior art that can nullify the claims of the blocking patent.
Engage us on such complex evidence gathering tasks where we can assist you with extremely thorough & in-depth searches to locate invalidating prior art. We have consistently assisted US, European and Japanese Attorneys in finding evidence of prior disclosure for inventions. Many of our clients (litigation attorneys) are working with us on contingency basis with their clients and frequently engage us on Invalidation assignments.
After the search we do meaningful documentation of results and our analysis includes the technical grounds on which we find the prior art to be relevant against the validity of the claims.
CASE STUDIES

Project in mind?
Send your message to my priority inbox now