From Patent Prosecution to Licensing, Intellectual Property Management is just a Tool away!
Are you an IP counsel who is looking for tools for handling various facets of your job – Be it patent prosecution, litigation, monetization, or patent portfolio management? 
If yes, this article is for you. 
In our earlier articles in the series, we emphasized the necessity of legal tech in your day to day job, and how it fits in your operations. We also discussed the specific advantages of incorporating tools, and how they can not only improve your team efficiency but also increase your innovation quotient. 
IP Managment Software provides patent prosecution, portfolio maintenance, and licensing solutions for in-house counsels as well as for IP Law firms.
And that is what we will be looking into, i.e tools for the four categories under Intellectual Property Management, viz Prosecution, litigation, portfolio management, and licensing (monetization). 
Under each category, we will suggest different processes that can immediately be automated and the tools which might help you in this process. 
Note: These tools might not cover every single area under these categories which can be automated but it definitely covers all the processes which consume most of your time. 
Let's get started. 
Portfolio Management: A IP Business-Centered Approach
Portfolio managers are expected to make a shift from an IP centered approach to a business centered model.
Needless to say, fulfilling this is going to consume a lot of time, and buying that time will require you to become more friendly with automation. By automation, I am referring to the new wave of technology that is going to reconstruct the existing processes for all of us.
As an IP manager, you are well aware that the technology evolves every year and the competitive landscape can change in a blink of an eye. 
If we consider portfolio management, the last few years have been highly dedicated to pruning as companies adopted it and saw drastic results immediately. 
There are so many areas where you need to spend your IP budget so saving definitely starts from this one. After all, companies spend a major part of their revenue on stuck applications. 
To give you an instance, British American Tobacco adopted patent pruning and successfully reduced 40% of their expenditure on the operating costs of their portfolio in four years. 
Patent Pruning: Escape the Rejection-Response Loop
It is high time that you unclog your in-prosecution applications pipeline by finding stuck applications. 
If you have a huge portfolio, there might be some applications that have entered the stagnant stage. It might happen that given other responsibilities and unaware of the specific reason for the applications being stuck, IP portfolio managers often neglect this part of their portfolio.
Had they known that removing these stuck applications were just a tool away, and they can save a huge amount every year if they filter out these applications, they would have acted quickly.
Swift action on this front can be taken, if you have the answer to all these questions available in the least possible time:
Which applications are stuck in a rejection-response loop?

Which applications have reached a dead end?

What is the reason behind the stuck applications?

What is the solution/action plan for all these stuck applications?
Wish you had the answers to these questions for the patent in your portfolio? If yes, thank the entities, for I am about to introduce you to the tool that can answer the above questions and more, and solve all your portfolio management related woes –  Filing Impediment Tracker – The ultimate prosecution health monitoring tool
In case you want to analyze the complete scenario here, head on to the next section, and continue reading. 
Note: This is not it.  If we are talking about saving money, and some of your applications or granted patents are not relevant to your business strategy anymore, and are wastefully eating up budget, there is another tool that can help you identify those patents.  Want to know more about it? We'll be covering more about it in our future articles. Subscribe by filling the form below and be the first to get notified once the article is up and running.  
Patent Prosecution: How well do you know your Examiner?
After you have filtered all the stuck applications out of your system or at least started with it, now is your time to move ahead to smart prosecution. 
With all the processes that were adding to wasted effort being handled, you can now invest your time and effort on something that'll give you better results.
I mean, there are more important areas to invest your energy. 
For example, you came across a completely new examiner this time and you have zero ideas about the type of work he is into. Your brain might hustle with questions like,
How many office actions this examiner is likely to give before allowance?

What works better — an interview or an amendment?

What type of responses has worked the best with him (in the past)?

What are the chances of the application getting granted if it's taken to the RCE stage?

What could be the possible outcome of an interview with him?
If you get the answers to all these questions just by typing the name of the examiner in a tool, you can focus more on the strategic aspects of prosecution.
How to get these answers and what are these strategical aspects, you ask?  These should answer your questions – Five Indicators that Can Help IP Counsels do Better in Prosecutions
Patent Litigation: An Underrated Swiss Knife
Searching case documents, organizing factual information, case analysis, generating reports, storing information, collaborating, portability, and presentation – You need a tool to perform all this effectively. 
Right from Legal performance/KPIs to contract management, you need to have a tool that reports everything and provides insights from the available data. 
There are so many tools already performing these tasks and the scope is endless. 
But, this piece is written for a completely different purpose. We are trying our best to show you tools that can help you save time, reduce costs, and also help you make a huge amount of money with a single click.
Let me introduce you to a tool that can help:
Filter organizations to whom you could license your patents.

Find out the patents that can craft your way towards a non-aggressive licensing
If you get access to a platform that can show all the potential companies which might be infringing on your patent portfolio, I am sure there's no going back then.
So, stay here for a while, and let's figure out together how it's done. 
You enter a platform/tool which performs a portfolio analysis by simply entering the name there. (I'll tell you later about the one that I used)

After applying all relevant filters, you get a portfolio overview of your organization.

You can see a dynamic dashboard covering all the technologies, blocked assignees, publications monitored, publications involved in rejections, and 102/103 rejections.
It looks something like this: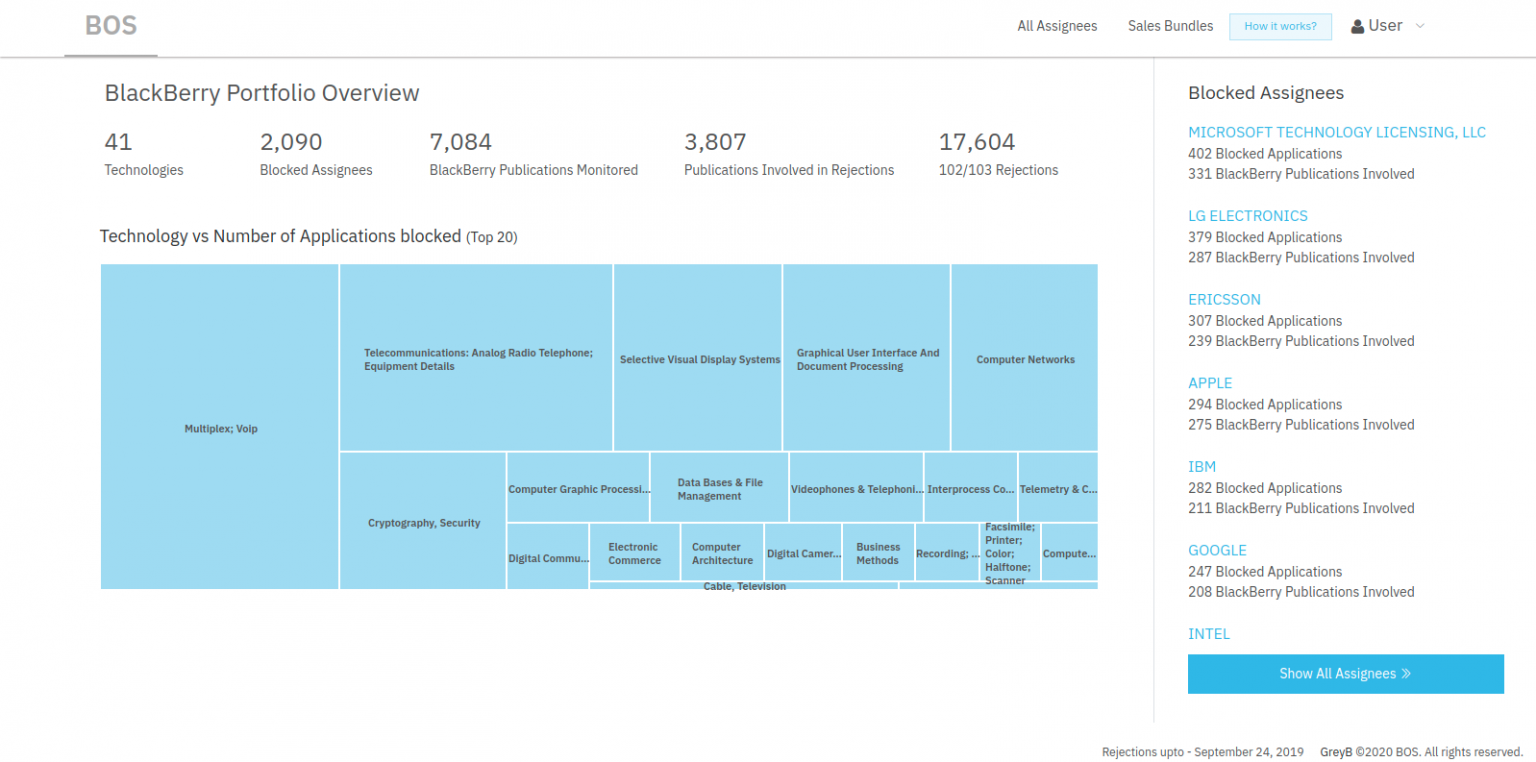 Source: BOS – Business Opportunity for Sales
By looking at the blocked assignees, you can easily figure out the companies that might be infringing on your patent portfolio (2000+ in the above case). 
Isn't this great?
The above chart is extracted from an experiment that we did for Blackberry's patent portfolio. More information can be found here – Blackberry's portfolio can pose a litigation threat to approx 2000+ companies  (Also introduces the tool that we used for this analysis)
Patent Licensing: It's a Buyers Market 
Imagine getting access to a report which tells you that a patent application was abandoned right after your patents were cited by the examiners in rejection arguments. 
This indicates that an assignee might have a plan to implement a similar technological solution in their products/services. Goes without saying, selling/licensing to these assignees can get easier than others.
Don't you think that it'll be a win-win situation if all this was also accompanied by an automatically generated sales deck? 
An outline of a sales deck with a storyline that is going to work both internally and externally will not only help in talks with stakeholders but also help you reach out to prospects. 
Have a look yourself – Create Sales Deck With Click of a Button
Another important thing. 
This was all about strategic automation in some crucial areas of IP management. In case you are specifically looking for a tool that has all the features focussing on work from home. In other words, a tool that simplifies almost all aspects of work from home while covering important areas of IP management, there's something we have to offer.
If you wanna get behind the wheels and steer through our investigative approach to patent infringement.
Authored by: Kanika Sharma, Market Research.