Investment Landscape and Notable M&As in the Blockchain Market
Blockchain market grew more than 1000% in just 5 years. Value of Bitcoin, for example, has risen from just $250 in April of 2013 to $7000 at the time of writing this article (lets forget the cases where it crossed $19000 in Dec 2017). Further, according to estimates, Global Blockchain Technology market is projected to reach $5.6 Billion by 2022, with a CAGR of 70% from 2016, and Asia will have a big dynamic momentum on the market growth.
The major tech players in the global Blockchain Technology market are Microsoft, Deloitte, IBM, the Linux Foundation, Chain Inc., Circle Internet Financial, Ripple etc. A slightly different picture can be seen when looking at the most active researchers in this domain based on the patent filings.
Author's recommendation: Interested in knowing what patent filings tells about the innovation happening in Blockchain domain? Click here to explore the patent landscape of Blockchain domain.
Aite estimated that capital markets spend on Blockchain development became twofold to $75 Million in 2015 when compared to 2014. According to their estimates, the number will reach $400 Million by 2019 as organizations look for cost savings and greater efficiency.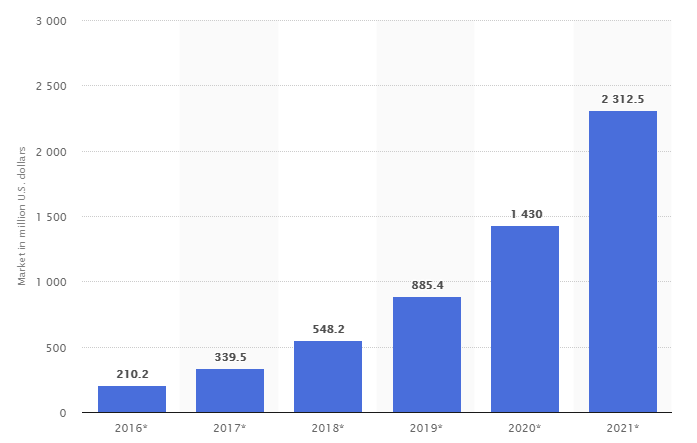 Over the years the number of cryptocurrencies rose to 900. Bitcoin is the largest Blockchain network as of June 2017, followed by Ethereum, Ripple, and NEM. The chart below gives a glimpse of the market share of major cryptocurrencies.
According to Business Insider, Bitfinex was the leading exchange as of August 2017 and held a share of 18% followed by Kraken, OkCoin, and BTCChina.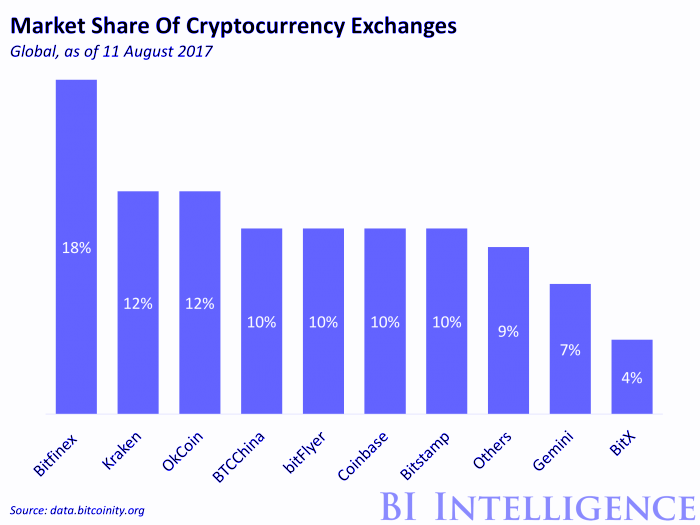 The Geographical share of the Blockchain market
Source: CB Insights
By geography, North America accounted for the largest share of the market in 2017 on account of the presence of leading players and growing investments for the development of this technology.
The Asia Pacific is expected to witness a stupendous growth in the Blockchain technology market
The Middle East is fast adopting the Blockchain technologies. UAE is the key country for Blockchain growth in the region.
According to a plan by the Smart Dubai Office (DSO), Blockchain technology will be used for all government documents by 2020. As a result, businesses are adapting fast, and many startups and big companies are shifting to accommodate the government, or relocating to Dubai. This is particularly important for the real estate sector.
Dubai is attracting involvement from companies including IBM, Cisco, SAP and a dozen or more others who are part of a Global Blockchain Council or are working on Blockchain applications in Dubai. Dubai is already home to a bitcoin exchange, BitOasis, and other start-ups and accelerators devoted to Blockchain are springing up as well.
IBM and ConSensys have both been named advisors to the government's effort.
How does the investment landscape look like?
According to CoinDesk, during the first half of 2017, Blockchain entrepreneurs have raised $327m through ICO offerings, a figure that exceeded the $295m raised through VC funding.
An analysis shows that the development was spurred by big gains in Q2, as entrepreneurs raised $291m through ICOs, compared to just $187m in traditional funding over the same period.
Overall, the totals are a far cry from 2016, when the nascent funding mechanism accounted for less than half of the nearly $500m of venture capital invested into startups. In the first quarter of 2017, for example, ICOs raised to just under a third of entities seeking VC funding.
Analysis conducted by CBinsights revealed that Digital Currency Group is the top investor in Blockchain domain. Their investment portfolio is filled with Blockchain startups and leading companies including the top five (Ripple, Circle, Coinbase, etc.)
Here's a chart showing the entire breakdown of top 3 investors in this domain: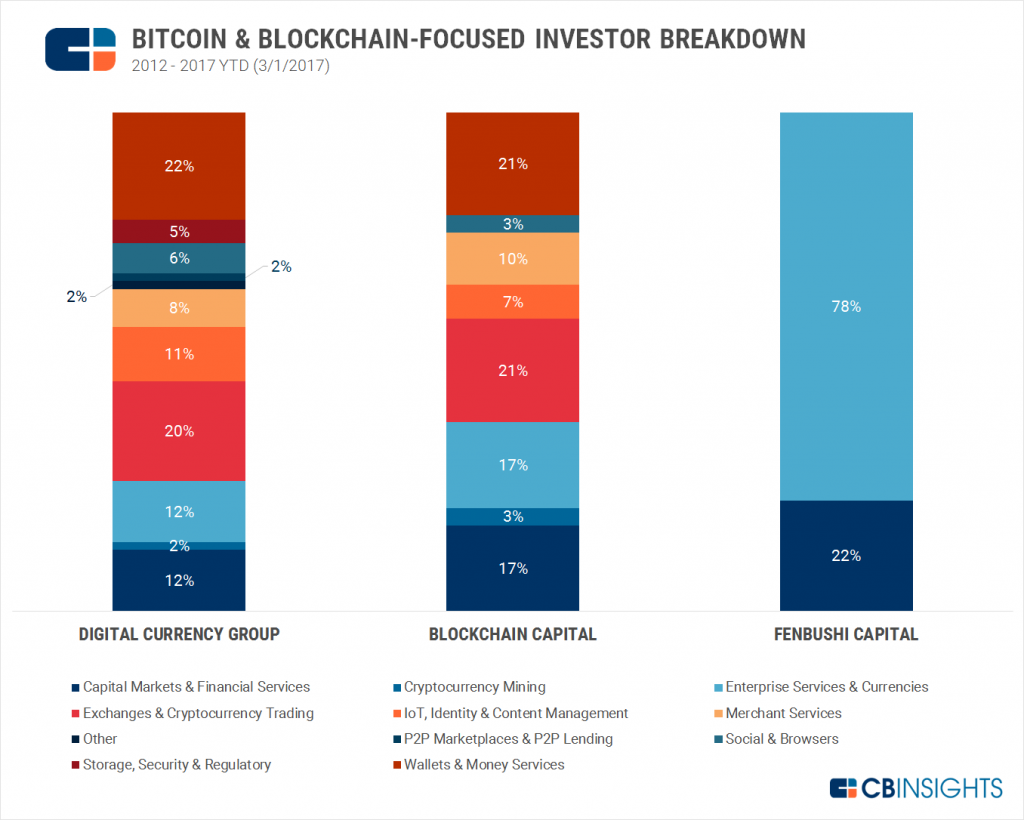 Notable Mergers and Acquisitions in Blockchain domain:
The Blockchain M&A market is certainly in its infancy averaging only five transactions per quarter since mid-2015.
Also signaling its early stage, 83% of all transactions have occurred between two companies that were both engaged in developing early-stage Blockchain-related technology and products; what we're referring to as "Intra-Sector Transactions." Many represented a low-value asset, intellectual property or team acquisitions.
Let's have a look at the notable M&A:
Spotify
Spotify acquired MediaChian on 04/26/17 to improve the music licensing management of their platform.
MediaChain has developed an open media library that persistently links media to its creator and manages important metadata about such content. The company allows registering, identifying, tracking, and offering properly referenced and licensed the use of digital creative works online.
Spotify acquired MediaChain to initially help solve its challenges with music attribution and licensing. MediaChain raised $1.5mm from Andreessen Horowitz and Union Square Ventures. Founded in 2016 by Denis Nazarov and Jesse Walden, based in Brooklyn, NY
Daimler Financial Services
Daimler acquired Pay cash on 01/16/17. Even though the business models of the two organizations are quite different, Daimler has plans to implement mobile payment systems into the automobile industry.
PayCash offers a payment platform that includes a mobile payment solution, an e-money management solution, a cryptocurrency solution to implement virtual currencies into existing payment infrastructure, and a voucher and loyalty solution to provide targeted offerings to customers.
Daimler will be creating an electronic payment service named MercedesPay to allow car-based mobile payments, of which cryptocurrency payments are an option. Founded in 2012 by Jürgen Wolff and Jan Reinhardt, based in Luxembourg. Employs roughly a dozen people.
Rakuten
The acquisition took place on 8/18/16 when Rakuten acquired Bitnet. Bitnet built an e-commerce platform enabling enterprise merchants to accept bitcoin payments. Rakuten acquired Bitnet's Blockchain IP assets and hired CTO Stephen McNamara to build Rakuten Blockchain Lab and explore new Blockchain capabilities. Two other executives, John McDonnell and Jiri Novak, joined Uphold as executives.
Bitnet raised $14.5mm from Highland Capital Partners, Digital Currency Group, Blockchain Capital, Rakuten, and others. Founded in 2013 by Stephen McNamara and John McDonnell, based in San Francisco, CA
Airbnb
Airbnb acquired ChangeCoin on 4/12/16. ChangeCoin is an online micropayment infrastructure that built ChangeTip, which allowed users to send tiny amounts of money over social networks including Twitter and Reddit. Airbnb acqui-hired the core team. ChangeCoin raised $4.7mm from Pantera Capital, 500 Startups, Digital Currency Group, and others. Founded in 2014 by Nick Sullivan, based in San Francisco, CA.
Palantir Technologies
Palantir Technologies acquired Kimono to empower their data analytics platform.  Kimono allows users to extract data from websites. Kimono also builds a bitcoin correlator that allows users to correlate data from anywhere on the Web with the price of bitcoin. Kimono's collective expertise will expand Palantir's data analytics platform and the existing commercial product will be shut down. Kimono raised $5mm from CrunchFund, Cowboy Ventures, SV Angel, and others. Founded in 2014 by Pratap Ranade and Ryan Rowe, based in San Francisco, CA.