Testing the validity of Dynamic Data's patents
Last year in November, a lawsuit knocked on the doors of numerous technology giants, including — AMD, Samsung, Nvidia, HTC, Amazon, Alphabet, LG, Qualcomm, MediaTek, and Microsoft. The case was filed by Dynamic Data Technologies, which according to RPX emerged in April of the same year. 
Dynamic Data Technologies argued in their complaint that these companies were infringing its multiple patents related to video encoding and compression. Later in December, they added Intel to the list under the same litigation campaign. 
The names involved in this case grabbed our attention and seeing that Dynamic Data is a newly formed NPE, it was really tough for us to resist testing the strength of their patents. We regularly check the strength of patents involved in recent litigation, and based on our records of the past preliminary analyses, the patents of NPEs are generally weak and carry a high chance of being invalid.  
In case if you're interested in browsing through our patent strength analyses to see how we find clues about how strong a patent is, clicking on this link would help get you there. Also, since we conduct these analysis often, you can also subscribe to stay notified as soon as we publish out next piece. Let me know where should I send the next report:
Dynamic Data Technologies (referred to as DDT from hereon) currently owns 1200+ patent assets, most of which are related to video processing, encoding, and compression. A lot of these patents are a result of a licensing deal from Philips. We also spotted a few patents in DDT's portfolio from Trident Microsystems – a company quite famous for its graphical technologies which went bankrupt in 2012. 
Getting back to the subject, the question that we were trying to answer through this analysis was:
How strong are Dynamic Data Technologies' patents?
For this particular preliminary analysis, we placed one of their patents on our operation table. DDT's litigation campaign includes a total of 32 patents, asserted against 15 companies on hundreds of products. This patent alone targets more than 700 products. 
When it comes to the history of the patent we picked, it was filed in 2000 and traveled from the portfolio of Philips to NXP Semiconductors to Trident Microsystems to Entropic Communication Inc to Excalibur Acquisitions Corporations, before finally getting acquired by DDT in April of 2018.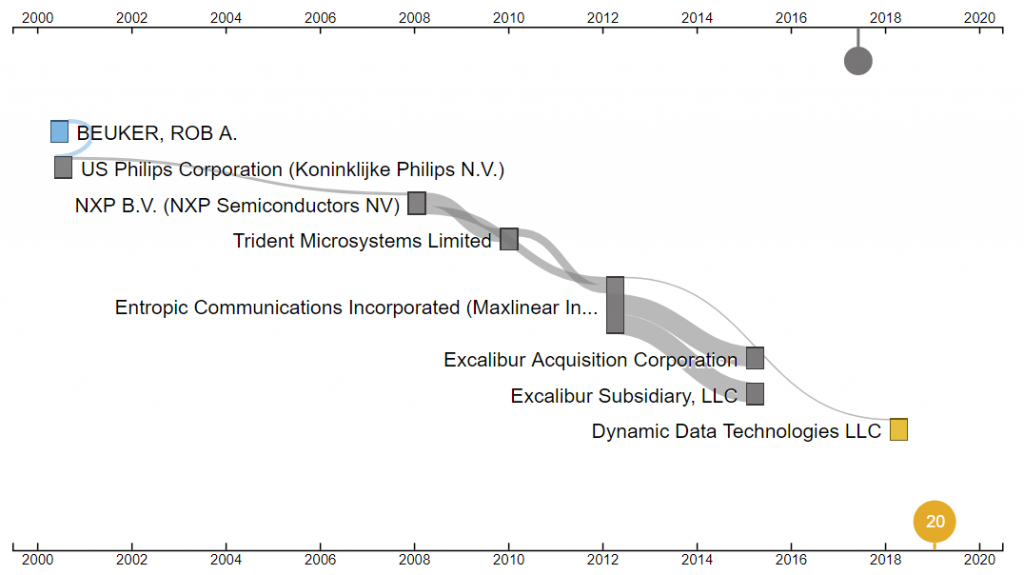 Quite a journey, isn't it? 
What does the patent talk about?
The patent discloses a core technology of motion vector estimation process by using block-based motion vector calculation. 
This process involves comparing multiple candidate vectors to determine block-based motion vectors, thereby, determining a most frequently occurring block-based motion vector.
Now, coming to the most tricky part of this patent – After determining the most frequently occurring block-based motion vector, a global motion vector estimation process takes place, which involves determining the most frequently occurring vectors. This global motion estimation gives a global motion vector. After that, this global motion vector is used as a candidate vector to the block-based motion vector estimation process.
Analyzing the prosecution process
After a thorough examination of the patent and technology discussed, we thought to kickstart our search by first analyzing the prosecution process of this patent. 
A bird-eye view of the file wrapper uncovered that the feature "comparing a plurality of candidate vectors to determine block-based motion vectors" got the patent granted.
Our next steps were examining the search strategy of the examiner to find holes that they might have missed. Patent examination is a tough process and sometimes examiners only get a few hours to conduct the search. The chances of missing crucial prior art are not rare. 
Loopholes we spotted in the examination process
Where are D. Haan's non-patent publications? 
We found that the examiner tried to reject this patent by procuring multiple references from an inventor named D. Haan. Based on our experience if someone has filed multiple patents, he should have talked about the technology at other mediums as well. However, there was no research papers or academic journals cited by the examiner. When we looked into it, we observed that "Haan" was/is one of the major contributors in JVT meetings and IEEE (source – Efficient Motion Estimation with Content-Adaptive Resolution) before 1999 (cutoff date of the subject patent). So there was a lot to explore. 
Where are the "Block Matching/Motion Estimation" classes?
While observing examiner strategies we found that there was not a single class executed related to this concept. We found several classes i.e. H04N001951, G06T0007223, G06T0007231, G06T0007238, H04N001982, H04N001955,  H04N0019521, related to this concept that can be thoroughly searched, and explored patents categorized under these classes.
In a similar fashion, there was nothing in the examiner strategy related to classes covering "Global Vector Estimation" concept. We had another lead there.  
References that our Prelim Analysis uncovered:
Now that we had multiple leads to start with and multiple rabbit holes to explore, our few hours of research returned a lot of relevant results. 
A quick search uncovered multiple references specifically talking about BMA (Block-matching algorithm) with the comparison of a plurality of vectors. Here are a few relevant excerpts: 
US5594504A – Predictive video coding using a motion vector updating routine
Priority Date: June 6, 1994| Patent Owner: Nokia
… a minimum detector unit for determining the value of the smallest matching error among the matching errors stored in the matching error memory unit; a best motion vector selection unit, connected to the motion field memory unit, for determining a best motion vector for refining the motion vector of the block of pixels, wherein the best motion vector is selected from among the motion vectors stored in the candidate motion vector memory unit, and wherein the best motion vector is selected by comparing a predetermined threshold value to the magnitude of the difference between the smallest matching error and at least one of the matching errors stored in the matching error memory unit; …
US5510834A – Method for adaptive estimation of unwanted global picture instabilities in picture sequences in digital video signals
Priority Date: April 13, 1992| Patent Owner: Digital Vision 
… The selected motion vector is assigned by calculating and minimizing a matching criterion (EM) based on e.g. difference in pixel light intensity between the block 14 of the current consecutive picture 13 and different blocks 20 (only one is shown in FIG. 2b) of the preceding consecutive picture 15. The matching criterion for the selected motion vector and those for motion vectors, close to the selected motion vector of the block, are compared. This gives a confidence value (CV) indicative of the quality of the selected motion vector of the block 14 in the current picture 13.
Where else prior art can be found?
Our further research brought up Sony as a highly relevant assignee (Sony is not on the list of defendants). However, no reference from Sony was cited during the prosecution. A dedicated search on Sony's portfolio and other publications could lead to a good prior art.
Apart from Sony, we noticed that Toshiba, Nokia, Samsung, and Sharp were also working on Global motion vector estimation and BMA. These assignees can also be explored in more detail.
Our final verdict, after going through all these aspects is that the subject patent is not much strong and can be invalidated after a thorough search. 
The case of dismissed cases
We noticed that recently between the time period of June 2019 – July 2019, Dynamic Data Technologies has dismissed their case against most of these companies. Could this mean that the plaintiff gave up? Or have these companies settled the case outside the court and have taken a license from DDT? 
Whatever the reason behind these dismissals be, Dynamic Data has not actually stopped filing for litigation. Their most recent targets are Amlogic, a growing chip maker, and Brightcove, an online video hosting platform that was sued just last month. 
There are chances that we might see more cases by DDT against companies working in video processing technologies. This preliminary report could give the defendants a great head start in their prior art search. 
Author – Shabaz Khan (Senior Marketing Analyst)
Analysis Performed by – Prasun Pal (Senior Research Analyst, Search Team) And Ankush Samyal (Research Analyst, Search Team)
Ready to Read Next? – Why is it important to check the strength of your patent?