Make a high-return litigation funding decision with GreyB
"First of all, it is very expensive litigation, and it is fairly risky on the plaintiff's side, so the risk transferred to a funder is very appealing. You often have, not always, but a David versus Goliath dynamic between the plaintiff and defendant," says Charles M Agee III, Westfleet CEO.
As per the Westfleet 2021 litigation financing report, patent suits accounted for 29% of the $2.8 billion that litigation funders allocated to 426 deals that year. Litigation funding is on the rise, but for litigation funders investing in patent litigation cases remains a high-stakes gamble.
The 2004 Q-Pharma vs. Jergens patent infringement case is one example that comes to my mind. I can't help but wonder about the potential downside of investing in such a case without conducting a thorough patent strength evaluation. In this case, Q-Pharma filed a patent infringement lawsuit against Jergens, alleging that the company's Curel (R) CoQ product infringed on their patent for administering Coenzyme Q10 to treat damaged skin.
But, you know what? Had a litigation funding company been involved in this case, they would have suffered significant financial losses. Let me tell you why.
Despite Q-Pharma's pre-filing investigation, the company ultimately discovered that the accused product contained a small amount of Coenzyme Q10 and did not infringe on their patent because of it. This scenario is a reminder of the importance of conducting thorough patent strength evaluations before investing in patent litigation cases.
The global litigation funding investment market will supposedly attain revenue of USD 24,067.5 million by the end of 2028. The figure indicates that investing in patent litigation cases is becoming a lucrative opportunity for law firms and litigation funders, making it a competitive market. However, companies may land with huge financial losses without thoroughly assessing the strength of the patents in question and the claimant's litigation history. Apart from losing money, such haphazard decisions can also greatly impact the company's reputation and credibility in the industry.
Additionally, failing to consider all the attributes of a patent strength evaluation can lead to missed opportunities. Companies may lose out on significant financial returns by not considering cases with strong patents and favorable litigation histories.
A lot goes behind selecting the right case to invest in, but that isn't something new. Your choice of firm for the patent strength evaluation can lead to great returns or huge losses. In this article, we'll answer how? So let's get started and explore the answer.
In what ways can an expert-performed patent strength evaluation assist litigation funding?
Initially, we discussed risks and missed opportunities you can mitigate through patent strength analysis. However, the advantages increase at various times when you partner with the right team for this process. Here is what we mean by it.
Identifying favorable litigation histories: We suggest performing a patent strength analysis to identify good litigation cases. A claimant with a history of successful lawsuits is likelier to win the current case, whereas a claimant with a history of losing lawsuits is less likely to be successful. A patent strength evaluation helps identify the claimant's litigation history and allows companies to make informed investment decisions.
Evaluating the risk from all angles: Don't we all want to reduce the risks attached to an investment? Obviously, yes. And you might already be doing that. However, during this procedure, have you considered all the aspects of risk assessment? It takes more than a basic strength evaluation of subject patents to decide the outcome of your investment. For example, following conventional and non-conventional strategies for patent infringement search to eventually see how strong the patent is.
In short, the route to minimize such risks passes through the expert-led patent strength analysis. It helps identify the validity and enforceability of the patent. Not just that. Studying the case's past, present, and future allows you to avoid investing in cases with weak patents, which can significantly impact the company's bottom line.
Strengthening the company's reputation: Companies that perform patent strength evaluation before investing in patent litigation cases are considered more professional and knowledgeable in the industry. This can enhance their reputation and credibility and lead to more investment opportunities.
Identifying missed opportunities: Conducting a thorough strength evaluation of patents helps identify missed opportunities. By carefully evaluating the strength of the patents and the claimant's litigation history, companies can identify cases that may have previously been overlooked and have a high likelihood of success.
Additionally, by studying the missed opportunities and identifying which party has shown success in litigation cases, you can invest in their ongoing or upcoming cases. This is obviously not 100% foolproof. But it increases the likelihood that your investment will give positive returns.
Patent strength evaluation practices are beneficial, but only when your expectations align with the firm performing the strength evaluation. Inspecting the worth of a case means relying on trusted experts to help you make an informed decision, and this is where GreyB can step in.
GreyB, your one-stop destination for making an informed litigation funding decision
You may use fundamental practices like getting a well-developed infringement chart to avail yourself of the above benefits.
However, in my experience of working in the patent domain for 10+ years, the process of strength check is much more complex and involves many more intricacies.
That's why GreyB's AI-based tool augments the analysis. You don't have to take our or our clients' word for it. Try GreyB's expertise when making the next critical litigation funding decision, and you'll know what I am talking about.
Here's how we do it,
Prior Art Search/ Strength Check of the Patent
GreyB thoroughly examines patents being considered for funding. We evaluate the patent's strength in terms of novelty and the availability of prior art. This comprehensive analysis safeguards the funder from potential investments in cases with limited potential for success.
We know this is the basic process that must be done, but you know what? With every new case comes new challenges and hence require a new approach.
In theory, this would be difficult to explain, so let me share one instance where our "detectives" combined their intelligence with technology to invalidate a software patent. With a concoction of various approaches, GreyB provides critical service to litigation funders, including a detailed analysis of the prior art and developing strong infringement evidence with the potential for success in court.
Now that there is so much data, you may think the report will be complex.
However, when you can't afford a delayed decision, a complicated report is the last thing you want. Hence, we deliver easy-to-consume reports where you must invest the minimum effort to review the information.
Below is a quick glimpse of one of our search reports. It reflects technical comparison, evidentiary support, and the simplified narrative of the concept when its language is complex.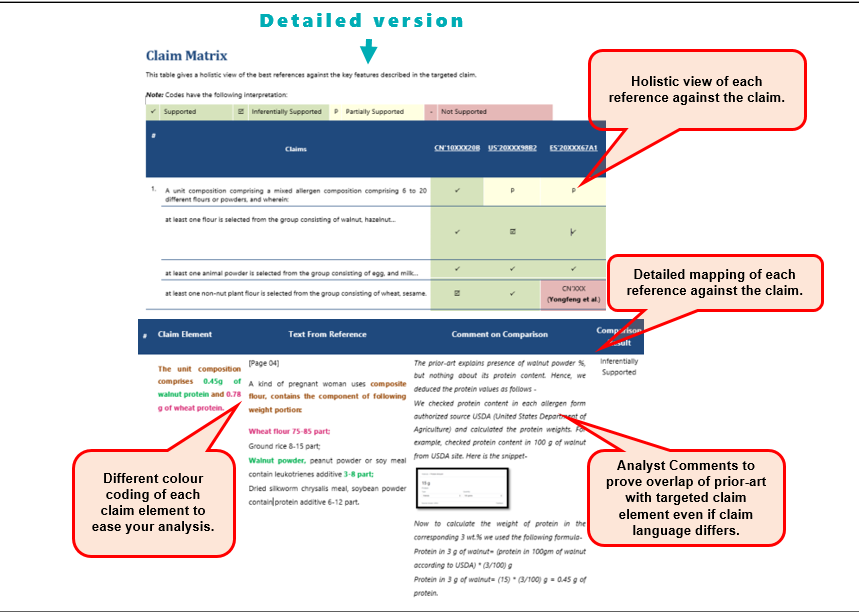 We go to such lengths so you can make an informed decision about which cases to finance.
Patent Strength Valuation
Our in-house AI tool helps derive the patents' value and generate a customized analysis.
For example, to extract the potential value of a patent, our AI-based algorithms display how many times the particular patent was cited as 102 or 103 art during the prosecution of other patents.
It ranks the patents higher when the number of citations is more, as that reflects there are good chances other companies build their products along the same lines. For litigation funders, such a patent can be a good pick. Here's a snapshot of how our tool analyzes a set of patents: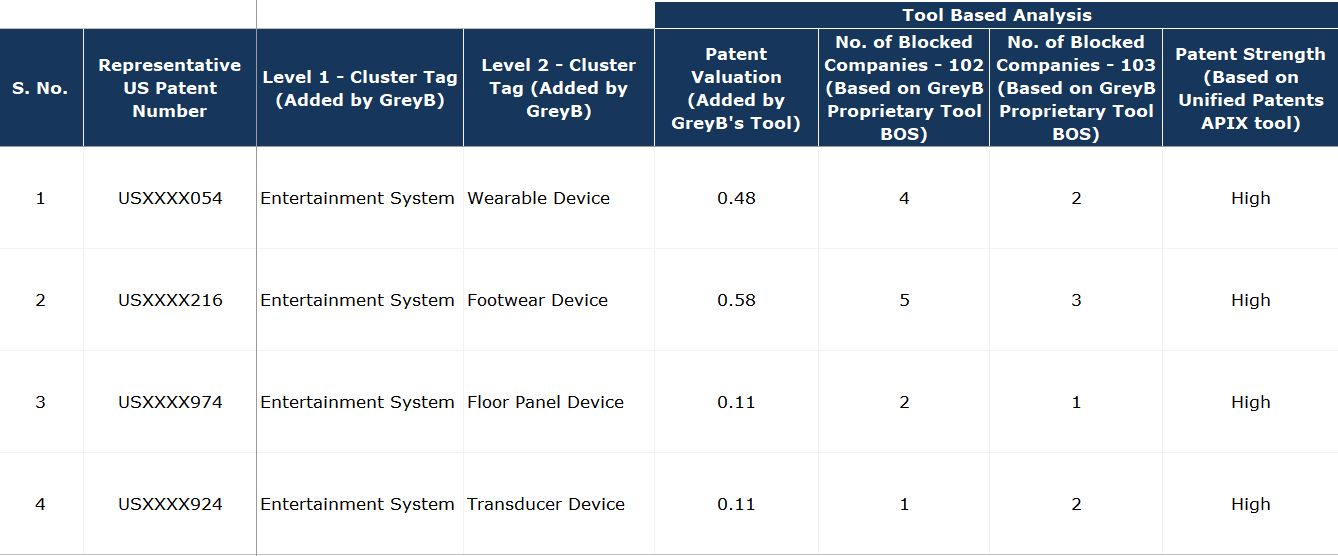 Once our AI tools have done their job, manual analysis by GreyB experts enters the picture. Our research helps funders evaluate the chances of success and the potential return on investment. Further, we assess the infringement probability, identify potential defendants, and provide information on their financial resources and potential willingness to settle.

Conclusion
In summary, a litigation funder can not afford to use a hit-an-trial process to fund litigations. Why do we say that? Well, because whether your investment will bear fruits or not entirely depends on the patent analysis.
GreyB, for that matter, plays a crucial role in litigation funding by conducting a comprehensive examination of existing patents and patent applications. As a result, you get critical information on the strength and validity of a particular patent and the potential for a favorable outcome. Because we know when you put your money into something, you wanna win.
Want to make sure you fund a winning litigation case?
Authored by: Nikhil Gupta, Search Team Manager
Edited by: Annie Sharma, Editorial team