Smart Patent Prosecution – How to Save Client's Time and Money?
Over the past few years, the Patent Office has taken multiple initiatives – Track One examination, Accelerated Examination (AE), Full First Action Interview Pilot Program, and Patent Prosecution Highway (PPH)– to combat application backlog and expedite patent examination procedure.
These accelerated programs, without doubt, speed up the prosecution process; however, they are also responsible for escalating the prosecution cost.  Track 1, for example, leaves a dent of an additional $4,000 in your client's metaphorical pocket to obtain a patent decision within 12 months.
Your client would feel great if you save him from this cost escalation. You can save his $4000 under Track-1 by revealing that the average grant time for that particular art unit is already one year, for example.
On the other hand, how would your client feel if you can save his 3.5 years? You can advise him that this particular art unit, on average, takes 4.5 years for a decision, and paying $4,000 for 12-month consideration may be the best investment that can be made or at least can be an option.
Having such information at your disposal can help you stand apart from the crowd. It helps constitute a great client experience. In a few scenarios, you may have additional information that you could suggest to your client to formulate a better strategy. For instance, if you have a series C investment coming up, it might be a good idea to spend the extra money and get that patent granted. After all, patent portfolios have a significant impact on the valuation of companies.
You might be wondering –  How could I get my hands on information like Which Art Unit takes how much time to grant, whether opting for Track 1 is a good option or not, et cetera.  Let me tell you how.
Patent prosecution consists of hundreds of critical decisions like what office actions to take, what arguments to make, and which claims to amend. We can help you with the process.
---
Bonus: Want a 5 step-by-step technique to get your patent granted after an examiner rejects it? Click here to get our free guide!
---
GreyB, through its Examiner Analytics platform, can help you build a smart patent prosecution strategy. It can help you maximize your chances of success and create a smart prosecution strategy tailor-made for any situation.
Still wondering how? Well, read on!
Comparative Statistics of Attorney Law firms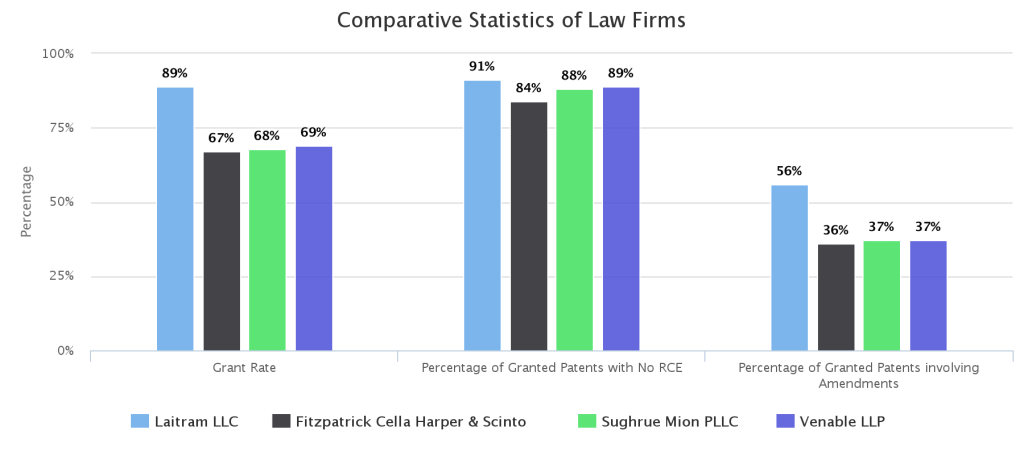 This might be slightly off the theme, but if used strategically, then comparative statistics can also help you save time and money of your clients. This is a two-step process.
In the first step, you can use the Examiner Analytics to compare statistics of different law firms and benchmark yourself. For example, Laitram LLC has an average grant rate of 89%, which is way higher than Fitzpatrick Cella Harper & Scinto and Sughrue Mion PLLC.
In the next step, you can try to figure out the strategy that these law firms are following, for example, Laitram LLC in this case, and can incorporate them into yours to increase your success rate.
If you know your enemies and know yourself, you will not be imperiled in a hundred battles. ~ Sun Tzu
Compare Statistics of Different Art Units
In a similar fashion, you can also compare the statistics of different Group Art Units. For example, art unit GAU 3763 has an average grant time of 3.3 years to grant an application. On the other hand, the average grant time for GAU 3764 is 2.6 years. Knowing these stats can make a ton of difference, as it could help formulate a prosecution strategy where you could save both time and money by prosecuting a patent in a particular art unit instead of another.
Apart from that, our Examiner Analytics platform is loaded with other interesting analyses. And every analysis contains an interactive graph detailing the statistics of examiners, GAUs, attorney law firms, and assignees.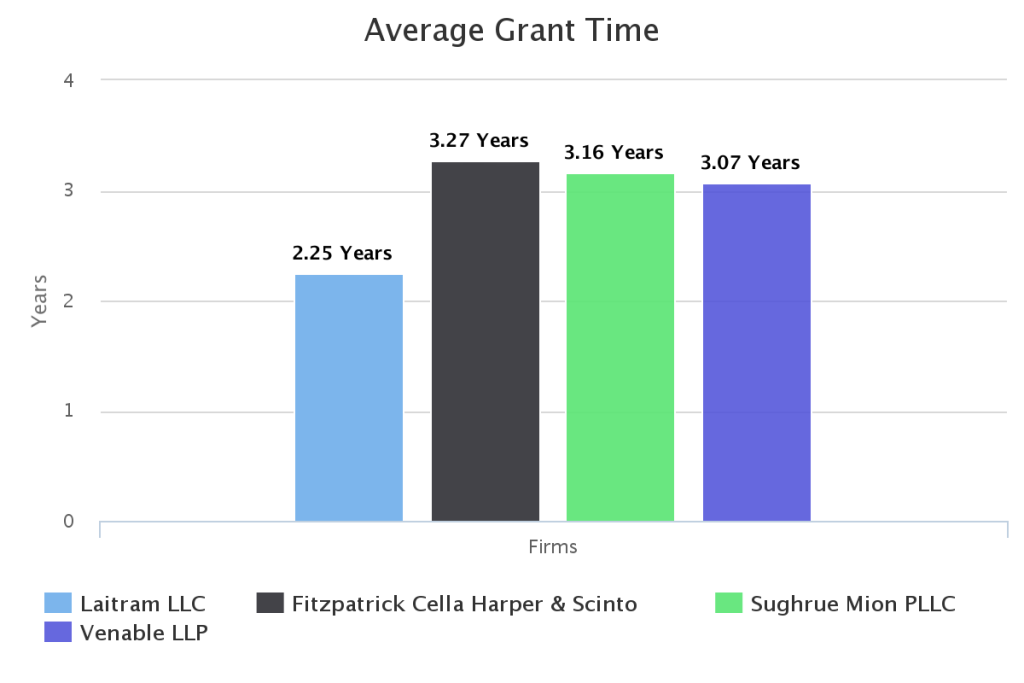 These data trends are pivotal in not only gaining a competitive edge but also helpful in demonstrating your unique selling points to clients. For example:
You can use examiner trends to manage prospects.
Prepare budget based on the prediction of an examiner's behavior.
Analyze the portfolio of your key clients to identify his exorbitant attorney.
Analyze the application portfolio your firm is handling and measure where you are effective.
Compare the portfolios of other competitive Law firms.
Organize your resource allocation.
Identify your potential clients for expansion.
Examiner Analysis proximity data trend would help you set client expectations, which is something that even experienced prosecutors can sometimes struggle with.
Having a prior understanding of these trends will help you take your clients' experience to new heights. And we know that like us, one of your top priorities is creating an unforgettable client experience.
Next Step: Create your own smart patent prosecution strategy using these tactics
 Authored By – Geetika Dube, Project Manager, Graphical Team