Why you should consider M&A in video streaming industry and five good startups for M&A?
"There have been five years of change in five months due to the pandemic."
–Deloitte report, TMT Predictions 2021
For the year of disaster and bad luck that 2020 was for the most part of the world, it's almost surprising to look at the boost the media streaming industry experienced in the same year.
As going to the theater was no longer an option and neither was going out on weekends or hanging with friends, everyone moved to stream media on their phones and laptops. The virus catalyzed changes in various facets of the streaming industry that were initially anticipated to come in five years from now. Technologies such as AI and blockchain have been playing a major role in where the streaming industry is headed. And companies and startups are actively working on these technologies to get an upper hand in the media streaming market. But as things settle back, what strategies will the media industry adapt to continue growing at the same pace? 
Before we go ahead and answer this question, let's take a step back and find where it all started.
Editor's Note: If you're short on time and want to jump straight to the meat of the matter, you can directly jump to the following section – "How are Streaming Services using M&A strategy to stay ahead in the game?"
Going back to know what's coming forward in the streaming industry
In September 1995, ESPN SportsZone streamed a live radio broadcast of a baseball game and the world got a glimpse of the modern media streaming industry that we know today. The Seattle-based startup, Progressive Networks, provided them with cutting-edge technology. This same company later evolved into RealNetworks, fighting head to head with Microsoft for domination of a still nascent media streaming industry.
Though Microsoft emerged as a winner, it failed to capitalize on the victory and was quickly overthrown by another emerging player – Macromedia (ultimately acquired by Adobe Systems) introducing the world to Flash Player. This tussle to dominate the streaming scene was intense but did not get quite as competitive as it is today. 
The world was yet to realize the potential of streaming media technology and the encoding, delivery, and hardware services that came along. This was until the disruptor of media streaming, Netflix, was conceived. With the dream of becoming a media equivalent of another emerging company – Amazon – Netflix entered the Over-The-Top (OTT) media streaming stage in 2007.
At the same time, three former employees from PayPal were struggling to keep up with the sudden popularity of their media-sharing website YouTube. A platform that was once one lawsuit or one bandwidth bill away from rolling to irrelevance, was saved by Google for $1.65 billion. Today, it has become the second-largest search engine behind Google itself. Making it bigger than Bing, Yahoo!, Ask and AOL combined!
Online streaming became a household name.
Talking about the changes in the media industry, the last couple of years are particularly worth observing.
The Rise of Big Three OTT Services and other disruptive streaming services
While 2019 was dominated by what we could call the "Big Three" OTT services at the time (Amazon Prime, Hulu, Netflix), by the end of 2019 we saw launches from major consumer lifestyle (Apple and its Apple TV+ service) and entertainment (Disney with its Disney+ service) companies. 
In 2020, COVID-19 arrived to radically disrupt everyday life. Amidst the worldwide lockdown, increasing demand for over-the-top (OTT) services pushed the streaming giants to move in high gear, forcing media streaming companies to up the ante on content generation, consumer expansion, and technology building.
To cope up with the ever-changing ecosystem, streaming companies have and are consistently adopting the M&A strategy.  
How are Streaming Services using M&A strategy to stay ahead in the game?
Thomson Reuter's data shows US$650+ billion worth of M&A deals in media and entertainment (US target or acquirers) since 2014. 
Massive, right?
Take the example of Disney itself. Before the launch of Disney+, it culminated two years of acquisitions on both the technology and content front. Not only did it bring together content from the Marvel, Star Wars, and Fox Studios libraries, but it also leveraged a 2018 acquisition of BAMtech, which had made a name for itself in the streaming space for live-event delivery. 
On the delivery front, Disney also acquired Star Companies in India, which owned the OTT platform HotStar. The merger now allows Hotstar to launch Disney+Hotstar to bring Disney, Pixar, Marvel, Star Wars, and National Geographic content to the Indian subcontinent's 1.2 billion people, many of who consume long-form OTT content on mobile devices. 
There are hundreds of such examples, starting from the acquisition of Macromedia (the company that introduced flash) by Adobe Systems to modern-day behemoth mergers like AT&T Inc.'s acquisition of Time Warner Inc., including its HBO and Turner assets, Viacom and CBS Merger, and Brightcove buying Ooyala's Backlot online video platform for $15million.
Streaming companies around the world have adopted the M&A strategy to lead the game. We think that this trend is going to stay, if not increase. Particularly for media giants who have just started to dip their fingers in OTT pie (AppleTV+, NBCUniversal, HBO Max). These companies have some serious catching up to do, both in terms of data (content) and technology, if they want to draw viewership and run a successful platform. 
And what better way to do that than good M&A deals? 
How should streaming companies choose a good target for acquisition?
This is where it gets trickier. We observed that any good acquisition in the OTT space should consider 3 verticals for acquisition –
    Content

    Consumer base

    Technology
Today, however, we will talk majorly about the 3rd vertical i.e. technology – How a good company can be selected based on the tech it holds?
Why should you focus on their technology before acquiring a company? 
Not that we need to answer this question but technology is indeed the need of the hour. Globally, the media sector M&A volume has fallen by 17% in the Q1 and Q2 of 2020 compared to 2019, while the value is 47% down. This huge decrement in deal value suggests that companies are more inclined towards small and mid-sized deals. Which inherently indicates a knack for more efficient technology for data handling and optimizing.
It's also likely that the demand for virtual reality (VR) technology will grow as consumers seek a more immersive experience. VR engages viewers in a way OTT platforms have not yet been able to do, as the viewer's attention is completely focused on the virtual environment around them. This presents an extra channel for streaming platforms to connect with users by offering a new and innovative way of consuming content. We can see the beginnings of this with Amazon Prime, which now has content available to view on VR headsets, as well as with Hulu, which also offers VR experiences.
Our Analysis on the Streaming Industry
We decided to do the heavy lifting and study the entire domain in-depth, using broader strings to identify some smaller companies paddling like ducks in a sea of big giants. From a broad analysis of the domain, we found over 100 start-ups that are actively working in the domain. 
Each start-up was evaluated using three types of evaluation criteria – Business Reach, Technology Acumen, and Financial Layout. These categories are further divided into several subcategories which help to dissect the companies more impartially. 
Information for each startup corresponding to these parameters was extracted and then normalized to a score. The normalization was done considering the bias of the parameter value (positive/negative), as well as the impact of the parameter. For example, if a company has patented technology, it gets a higher score than if it has won any awards – the reason being having patented technology has been considered more impactful than receiving awards.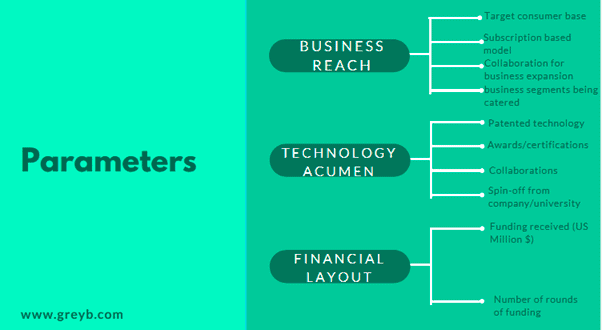 You might say, well you have the parameters. Are there any companies that are doing well in each of them, and could make great candidates for M&A deals. 
There are a bunch of them and we have highlighted the top five companies below that were exemplary candidates based on our parameters. If you want to have a look at the entire list we can discuss the deets.
Five Startups Actively working and innovating in the Streaming Industry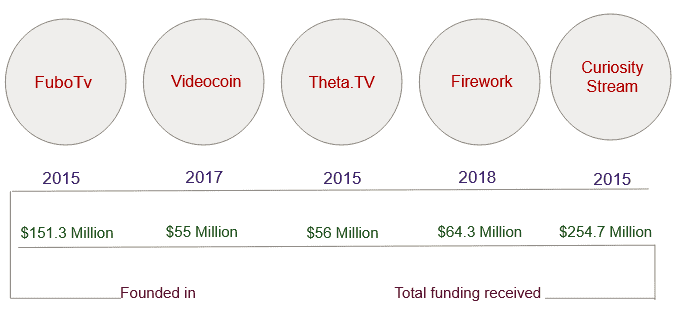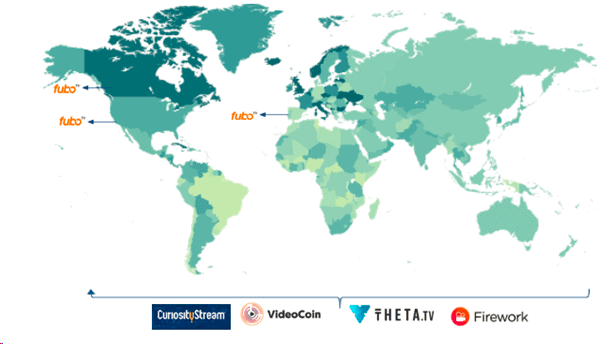 Fubo TV
Founded in 2015, FuboTV kicked off its journey in the streaming domain as a "sports-first" streaming application. The company seems to be going strong with 2020 being an exceptional year for it, crossing 455K paid subscribers and closing its IPO offering in October 2020. Expanding its content portfolio, FuboTV has more regional sports networks in kitty than any of its contemporaries.
It has a few patents in its portfolio like US10440367B1 and US10856017B2 that relate to improved methods of delivering content based on viewer engagement and generating a preview from live content upon user request. To expand its patent portfolio, it merged with Facebank Group in March 2020 and the new company hopes to benefit from Facebank's Nexway, a global eCommerce and payment platform with a business presence in more than 100 countries.
According to Fubo's official letter to shareholders, capitalizing on its new capabilities, it is steering into an untapped market, i.e. sports wagering. It has recently acquired Balto and Vigtory in December 2020 and January 2021 respectively, accelerating its sports betting plans. These acquisitions have equipped Fubo TV with Balto's content automation software and Vigtory's sportsbook platform. By the end of 2021, FuboTV has the ambitious plan of integrating its online wagering platform into its live-streaming application.
It's quite clear that FuboTV is striving hard to bring innovation into the domain and rising above the tag of being the Netflix of the sports streaming industry.
VideoCoin
Founded in 2017, VideoCoin targets the tyranny of centralization in the video streaming market, combining the relatively new blockchain technology to revolutionize this billion-dollar industry. Its ecosystem will revamp the way content is created, stored, encoded, and distributed by deploying unused, underutilized computer resources, enable peer-to-peer video distribution, and increase privacy with decentralized, end-to-end encryption. Their network runs on a new blockchain and is enabled by a native protocol token, called the VideoCoin (VID).
Their initial network functionality was launched in 2019 that allowed users to live stream video content using VID which is available on a few cryptocurrency exchanges, like KuCoin and Bittrex. They are looking forward to 2021 being a good year to get more customers from the non-crypto industry.
More interestingly, the company does not shy away from sharing its resources with the community and prides itself on being an open-source project. The source codes for their application and components can be found on GitHub (link). 
For example, in February 2020 they shared the source code for Orbital, a broadcasting tool that allows users to send a live stream of up to 3 minutes in length to the broader Orbital audience. Using the Orbital source code, developers can easily bootstrap an application on the VideoCoin Network saving development time.
They also have some important IP assets that relate to different, emerging domains of media streaming such as virtual reality, content delivery, and even multiplayer competitions. For instance, US20150262420A1 facilitates capturing, building, reconstructing, and graphically displaying a 3-dimensional model, including mobile and immobile objects within the target space, in real-time. Another patent application, US20070099705A1, relates to multiplayer competitions and contests through the integrated use of wireless communications systems, location identification technology, and Internet media delivery. 
Theta.TV
ThetaTV is the main streaming service of an ERC-20 compliant decentralized video delivery network released by Theta Labs. Their innovative platform provides both technical and economic solutions to the problems plaguing the streaming sector. Plus, being ERC-20 compliant, it allows its users to utilize the Ethereum ecosystem to simplify the experience.
They are constantly looking forward to collaborating with companies who have had successful experiments with blockchain technology, including Nervos i.e. China's leading blockchain network. Similar to VideoCoin, it rewards the users with tokens – Theta fuel tokens – for relaying content to nearby users, allowing them to share their bandwidth and ultimately reducing the overall content delivery network costs.
Their portfolio has patents such as US9998664B1 and US9473758B1 which talk about a system spherical video generation for live cast and replay, in virtual reality (VR) and augmented reality (AR). In particular, the latter discloses a 360-degree video recording of 2D, 3D, and VR games, with video and audio post-processing to enable spherical video replay in a virtual reality environment, respectively.
With a promising vision, ThetaTV, though a small platform today, may end up surpassing the other video platforms as instead of disrupting the centralized video platforms like Youtube, it aims to bring forward everyone into a new era of decentralization.
Firework
Firework, sometimes snubbed as a clone of TikTok, is one of the fastest-growing interactive video platforms on mobile. It enables the users to find, create, and share homemade 30-second videos and also boasts of featuring its own original content series on "Firework Originals".
At the outset, it does not seem very different from the existing short-video sharing platforms. However, it does have a unique, patent-pending feature (US20200267333A1), called Reveal, that lets the users shoot and view video content horizontally and vertically, simultaneously, unlike the monotonous vertical video formats supported by other platforms such as Snapchat and TikTok.
The app currently boasts over 3 million downloads and maintains that it will remain focused on professionally generated content and adult users.
Curiosity Stream
Curiosity Stream – for the curious ones. With its genesis in 2015, Curiosity Stream is dubbed as the streaming platform tailor-made for each and everyone who wants to learn. The thought-provoking, factual, insightful, and educational content helps the platform to shine like a lone star in a sea of identical streaming platforms. Amassing 13 million users worldwide, it has seen a spike of 108% in paid users in the previous year and has been advertised as the most value-for-money streaming subscription service.
The company has limited IP assets and mostly rides on providing original educational content. To solidify its footing, Curiosity Streaming merged with a blank-check company, Software Acquisition Group, giving it $180 million in cash and aiding its public market debut in October 2020.
So these were some exemplary companies which performed well on our parameters. There are many others that are carrying the torch of innovation in the media streaming industry. Many bigger players are acquiring some of these to expand their horizons. 
For instance, the acquisition of MightyTV by Spotify. This once again reflects how the streaming industry is leveraging M&A strategies to be in the race.
Concluding Notes
From our analysis, it seems that the media streaming industry had entered a stagnant phase with the only noticeable difference between companies being the content they provide. But with the onset of the Covid pandemic, many companies have again started pumping their resources into developing or incorporating new and interesting technologies to enhance the consumer experience.
An in-depth analysis of the domain targeting specific parameters may help some bigger players to identify some other hidden gems which can help accelerate the innovation in the streaming industry, providing them a much-needed boost in these times of intense competition.
Authored by Avantika Sharma, Search Team, and Nikhil Gupta, Operations.  
References
[1] -https://www.theguardian.com/media-network/media-network-blog/2013/mar/01/history-streaming-future-connected-tv
[2] -https://variety.com/2020/digital/news/quibi-sued-for-patent-infringement-theft-of-trade-secrets-by-eko-1203529312/
[3] -https://www.businessofbusiness.com/articles/a-brief-history-of-video-streaming-by-the-numbers/
[4] -https://www.globalreach.com/blog/2020/01/28/the-2nd-largest-search-engine-on-the-internet