Do you want to strengthen your position in the EV Battery Domain?
BloombergNEF's (BNEF) new report estimates EVs and other zero-emissions vehicles to account for 70 percent of new-vehicle sales by 2040, up from 4 percent in 2020 — Electric cars have indeed taken the world by storm. 
But as the world's automakers place larger bets on electric vehicle technology, many industry analysts are debating a key question: Will Electric Vehicle companies be able to overcome the battery challenges?
Evidently, and for good,  battery innovation is gaining more momentum in recent years as can be seen from the figure below.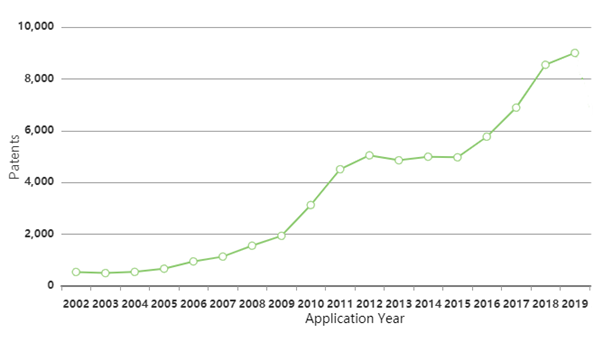 Source: Patent database
One can see that the patent filing for battery-related patents in the EV domain has increased exponentially over the years. Companies have been constantly working on solving these challenges at hand. But before moving to how they are doing it, let's understand in detail the challenges faced in EV battery innovation.
Challenges faced in the adoption of Electric Vehicles
The path to adopting electric vehicles hasn't been an easy one majorly because of the challenges in battery innovation.
Even though people are becoming more environmentally friendly the sad fact is that fossil fuel still matters. The gas price has seen an all-time high after witnessing a crisis in Europe and China buying spree.
So, EV has become more essential than ever before.
But EV batteries come with their own set of baggage. While some come with high self-discharge and heat generation at increasing temperatures. Others come with a short calendar and cycle life. The adoption of EVs on a global scale has been long hindered because of these challenges. 
There are many challenges that the EV industry faces. But today we'll focus on the major obstacles in battery innovation that can change the course of the EV market. 
Charging Time
When we talk about electrically driven products, the most attractive and repelling feature can be its charging times. Charging times may not be as important for a smartphone, but when it's an EV in the picture, you're always on the clock.
Decreasing the charging time also forms one of the major obstacles to the acceptance of EVs. Automotive batteries have always been treated as plug-and-play parts of a vehicle. But the same battery is now a differentiating factor that could make or break a deal for consumers out there.
Form Factor
Design engineers have this huge task to figure out how to source energy-efficient, quickly charged, and sustainable batteries in a world of manufacturers that compete for constant battery improvement. For EVs especially, engineers must source out energy-dense batteries. They need to be lightweight and compact at high storage capacity. EV batteries must also perform well in high and low temperatures, and be durable enough to be able to match ICE (internal combustion engine) vehicles in terms of longevity and cost.
Thermal Management:
EVs use lithium-ion batteries for energy storage. These batteries face many challenges like low efficiency at low and high temperatures as well as the decline of electrodes life at high temperatures. In addition, safety concerns related to thermal runaway in lithium-ion batteries have a direct impact on the performance, reliability, cost, and safety of the vehicle.
Overheating caused by electron's movements during chemical reactions during the charging and discharging process in elevated temperatures can also lead to fatal destruction of the batteries. Therefore an efficient battery thermal management system (BTMS) is one of the most necessary technologies for the success of electric vehicles in the long run.
Who is working on these challenges?
A lot of innovations in EVs are already in the pipeline. Including the penetration of many start-ups into the EV battery market.
Some of these companies have already bagged large funding from Automotive Giants like Ford, Volkswagen, General Motors, etc that are rigorously planning to enter and dominate the EV market. Many of the new start-ups are still blooming and present a good opportunity for investment and collaboration.
Let's look at 5 battery innovators rising from small-scale funding, promising a huge impact from their work for huge scale adaptation of electric vehicles.
Notable battery innovations from new players for Electric Vehicles 
Storedot
StoreDot was founded by CEO Doron Myerdorf and his partners in Tel Aviv in 2012.  The company claims to offer a new, fast-charging battery technology with a component that can fully charge in five minutes. This component then partially charges a standard lithium battery at the standard rate.
The 'FlashBattery' technology they introduced has high electrochemical energy nano-particles as active materials in the battery. These active materials enable ultra-fast charging and higher storage density and are designed to increase conductivity.
In 2017, Daimler and Samsung were part of a $60 million investment round in StoreDot, and in June 2018, BP invested $20 million in StoreDot while the startup was still planning to launch its first product the following year, targeting the mobile phone and other consumer electronics markets.
StoreDot has a fair share of patents (~280) in its portfolio covering domains from electrolyte additives in a battery to lithium battery coatings for protection. Its latest filing-US20210203002A1 in 2020 relates to fast-charging lithium batteries for EVs. 
The below snapshot visualizes StoreDot's patent filing curve and its trend.

Northvolt
Northvolt develops sustainable lithium-ion batteries in conjunction with R&D, industrialization, and recycling to support clean energy.
Stockholm-headquartered Northvolt in 2020 raised $600 million in equity funding from Ek, Swedish businesswoman Cristina Stenbeck and institutional investors like Baillie Gifford, Baron Capital Group, Bridford Investments Limited, Norrsken VC, and PCS Holding. Previous Northvolt shareholders include Goldman Sachs Merchant Banking Division, IMAS Foundation, Scania, and Volkswagen.
Northvolt's acquisition of Silicon Valley-based cell technology start-up Cuberg in 2021 marks a new chapter for battery technology, offering upwards of a 70% increase in energy density compared to conventional lithium-ion cells.
In the lithium-ion cell, energy density is capped by the number of lithium ions that can be stored within layers of the graphite-based anode. In contrast, a lithium metal cell can store many more ions in its anode. Therefore is upwards of ten times the amount of energy. As for the cathode, Northvolt expects to leverage its state-of-the-art nickel manganese cobalt cathode within the lithium metal cell.
True to its claims, it has filed multiple patents. The most recent one being US10995014B1, filed in 2020 is directed to fast-charging lithium batteries while using additives like Ni-Co-Mn.
All patents filed by Northvolt involve manufacturing or producing metals for Electric vehicle batteries.

Romeo Power
Founded in 2015, Romeo Power is an energy technology leader that creates energy-dense battery packs.
With EV batteries, the greater the energy density, the longer the range. And the greater the power density, the better the acceleration. Both translate to efficient packs that perform better without taking up too much room.
Romeo Power claims to provide this energy density up to 30% higher than its competitors. It uses a tailored intelligent battery management system (BMS) in both Hermes and Brown Recluse modules to suit the specific applications with proprietary algorithms that allow rapid charge and discharge at optimal cycle life.
On Sep 14, 2021, Romeo Power and Dynexus Technology, a leader in battery sensing solutions and data-driven battery intelligence announced a collaboration. This collaboration introduced Advanced Battery Sensing and Diagnostics for Battery-Electric Commercial Vehicles.
In 2020, the California-based battery technology company, Romeo Power, announced its 'business combination' with RMG Acquisition, becoming a public entity in the process. RMG Acquisition is a special purpose acquisition company. According to the announcement, the merger is worth $900 million (~₹65.97 billion).
Romeo had also booked $65 million in manufacturing contracts with its 15 customers, including five automotive companies — two of which are among the "big three" in Detroit, referring to Ford, General Motors, and Fiat Chrysler back in 2017 and raised $88 million from 31 undisclosed investors in 2019.
In the latest development, Romeo Power, Inc. and Republic Services, Inc. a leader in recycling and solid waste solutions, announced on 28, January 2021 that they have entered into a Strategic Alliance Agreement to collaborate on the development of Romeo Power's battery technology for use in Republic's electric garbage trucks.
Romeo Power's patent filing activity is rather fresh. With a few patents being granted and few applications still in prosecution, the major focus of the company as discussed prior is on battery components and its management. An example being US10998590B2, which was granted in 2021 itself and discusses thermal management of a battery module. The below snapshot visualizes the same filing trend of the company.

Forsee Power
Forsee Power manufactures lithium battery systems that are used in electric transport, marine, geometries, medical equipment, robotics, home automation, security & safety equipment. 
The company has developed a proprietary battery management system (BMS) consisting of electronic circuits, voltage reading & communication systems. They are also involved in financing and battery recycling activities. Source
Forsee Power has been a partner of the Portuguese leader CaetanoBus since 2017. It equips the e.City Gold range, for the cities of Guimarães, Porto, Braga, Aveiro, and Lisbon. Moreover, the Caetano e.City Gold fleet that will soon hit London roads is equipped with Forsee Power batteries and the 34 buses started being delivered from 2020.
On Jan 12, 2021, it announced the launch of a new generation of extra-thin batteries for 2021. The new generation of batteries is called SLIM. It composes the thinnest modular range in the world and will be equipped with a liquid cooling system.
For now, there seem to be less relevant patents from the company, but the technology certainly has prospects.
Lithium Werks
Apart from the traditional Lithium-ion batteries which involve a lithium cobalt oxide cathode and a graphite anode, EVs are equipped with new variations of lithium-ion chemistry. Such as lithium iron phosphate (LIFePO4 or LFP). LFP batteries have neither overheating concerns nor are they at risk of explosion. Dutch startup Lithium Werks combines NanoPhosphate technology with smart software to create safer and more energy-efficient batteries for vehicles.
Lithium Werks B.V. was founded in 2017. In 2018, they announced that they signed a framework agreement with the Chinese Zhejiang Jiashan Economic and Technological Development Zone Industry Corporation to construct a 60 hectares battery gigafactory in the Yangtze River Delta with a total investment estimated to be €1.6 billion.
Lithium Werks has been filing patents for lithium rechargeable batteries as early as the 2000s. A plurality of its patents on Battery systems, Cylindrical electrochemical cells, and Rechargeable battery systems have been granted in 2020-2021 itself. One such patent is US10608213B2 that discusses a rechargeable battery module to be installed in an electric vehicle.
The below snapshot visualizes the filing trend of the company.

Conclusion
Other than these, there is one more challenge that will arise as we move towards the EV environment-
Battery Recycling:
Electric vehicles may not emit any carbon dioxide during their working lives. But the concern about what happens to the batteries once it stops working is huge. While traditional lead-acid batteries are widely recycled, the same can't be said for the lithium-ion versions used in electric cars.
Lithium Recycling is one such start-up developing lithium-ion battery recycling technology combining the novel use of existing processes with new operations designed for metallurgical extraction in an urban setting. This suggests there is a lot to be explored and improved when we discuss EV and its future. 
Innovation decides the graph a company rides once it enters the market competition. Ever so, it is not yet late to start your in-house R&D. The EV adoption still faces the above-discussed challenges and innovation is always the need of the hour.
Continuous developments in EV technology offer booming opportunities for market players like you to set industry benchmarks. The innovations in the EV battery domain can make or break your opportunity to enter the EV market.
But with automotive giants acquiring startups to dominate the Industry, entering this domain won't be easy. While filing patents organically can strengthen your position in the market, another solution to fast forward into the EV domain could be acquiring patents. 
Want us to work our patent and technical analysis magic and help identify the most potential patents for you to acquire? Here's how we do it!
We would love to have a chat with you about it!