These are the new entrants in the Vaping domain you need to know about
The vaping industry is taking the tobacco market by storm. It's not surprising either, as, unlike a traditional cigarette, vapes provide control over both the volume and density of the puff. Not just that, there's also an endless array of flavors, which would nudge any consumer to shift to this new age smoking product.
The domain, given its popularity with consumers, is getting ample funding from investors as well. Vaporesso's parent company Smoore recently became the first vape company to IPO with a $21B Valuation. This is somewhat closer to Lyft IPO which was valued at $24 billion. This indicates how valuable the vaping industry is going to be.
Talking of value, as per a research study, the global E-Cigarette Market – which was estimated at USD 14 billion in 2019 – is expected to be worth USD 45 billion by 2026. It is expected to grow at a compound annual growth rate (CAGR) of 17% from 2019 to 2026. Another report has similar observations where the global e-cigarette market is expected to expand at a revenue-based CAGR of 23.8% from 2020 to 2027.
If we see the application filing trend, it is totally in sync with the insights from the above reports. The chart below showcases how the application filing for the e-vaping domains has increased multi-fold in the last few years.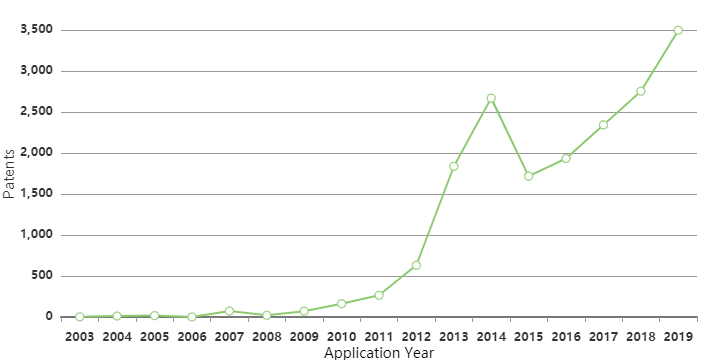 Source: Derwent Innovation
When it comes to Vaping – or any niche for that matter – it is important to know the various sub tech domains where patents are being filed. We had a look at the patent filing activity in the vaping domain and the innovation word cloud below showcases different concepts – such as heating element, air inlet tube, atomizer revolving around electronic cigarette – around which patents are being filed.

Source: Derwent Innovation
Having a look at the application trend and various subdomains where patents are filed in vaping, the next question on your mind would be –
Who are the leading players in vaping or e-cigarette domain?
To answer this, we had a quick look at the patent filing activity in the domain, and here's what we found.
Niche players like JUUL, JTI, and BAT are not the only filers in the domain. From our analysis, we found that there are some new players or entrants who have the potential to be in the big league. They are taking the vaping game to the next level by bringing in innovations and further improving the domain. Let's have a look at who these players are and what are they up to.
3 Companies that can become potentially huge names in the e-cigarette domain
While there are a handful of players in the e-cigarette domain, we found three companies that have the potential to become really huge. These are:
If we have a look at the filing trend of these companies, one can see that all these companies stepped into the action around 2014-15 which is also the time when the vaping industry started to gain traction.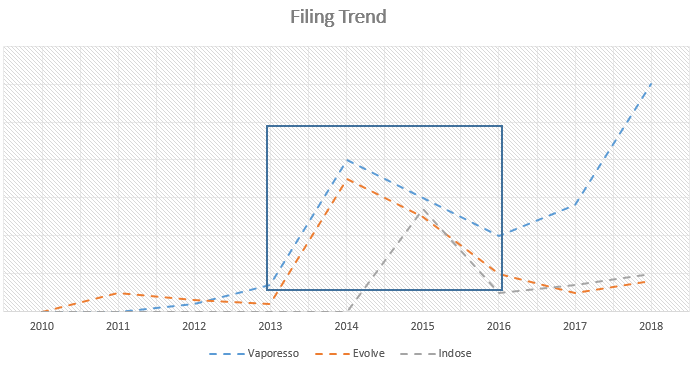 Source: Derwent Innovation
Let's now have a brief look at these companies and what are they up to.
Launched by global Vape giant Smoore in 2015, Vaporesso constantly experimented and integrated new tech into their vaping devices.
The company has even introduced a dedicated chipboard Omni and Axon chip to provide control over every minute feature such as enabling vaping even when your device is on charge. When the user begins to vape, the charging circuit is immediately turned off. Once vaping has stopped, charging automatically recommences.
They are also into simplifying operations related to vaping – be it by refiling the vape by their patented PTF system or using the CCELL technology to produce the most flavor when compared to other ceramic coils in the market.
Vaporesso has the potential to be among the top players taking place alongside big-league players like BAT, PMI, and JTI.
The parent company Smoore had a recent IPO which indicates that the company is set for global expansion, and this can be a good opportunity for collaboration with this company.
Evolv has an interesting backstory involving an addicted 2-pack a day smoker trying to quit smoking to no avail. He was introduced to the world of e-cigarettes by a friend which not only helped him quit smoking altogether but also nudged him to solve the issues existing in e-cigarettes.
Along with an engineer who specialized in the design and manufacturing of control electronics, Evolv was born. E-cigarettes back in 2010 offered little in the way of control and the control it offered addressed the wrong parameters.
Evolv wanted to solve all these problems. One of those problems Evolv has been aiming to solve that many vaping players are currently struggling with is Wattage Control and Temperature Control.
The company has been doing R&D in this area and even filed patents like US10362803B2 and US10264820B2 which covers new solutions to this problem.
Evolv is serious about their patented technology and who uses it, and they even filed an infringement case against Joytech.  Thus, it is better to keep track of this company as it can be a potential threat.
Also, the company is US-based, and considering the innovation profile, it can be used for strategic advancements be it in terms of technology or geographic coverages.
Before we go ahead, here's something worth noting – Vaping is not just related to smoking tobacco. The company we are going to talk about next has taken a different approach to vaping devices.
Indose – Vaping for Medical use
What if you can just vape your medication instead of consuming it in other forms? Moreover, do it in a way that you get the exact dose required?
Indose aims to do just that, with their patented vapor dosing technology that provides, in their words, 'Precise aerosol medication dosage'. This precise patented 'dose control' technology can precisely control the amount of dose you inhale. The control board can calculate down to the milligram – the amount of nicotine, THC, or CBD vapor you're inhaling.
This innovative tech gives them an edge and the company shows potential to provide unique solutions integrated into vaping devices.
Fun fact: Indose is backed by Snoop Dog, so it's worth keeping an eye on this company.
Concluding Notes
The vaping industry is gaining momentum, and to hold firm ground in this domain, it's important to track the innovations taking place and the players responsible. You need to file your patents based on where the industry is heading
If you want to build your portfolio early, you should also be proactively buying assets. Better to be an early bird here, because early licensing will get you better royalty rates.
IN for the plan but do not know which patents to buy and from whom?  We can help you find the exact information based on your needs and procure those patents. Send us a query
Authored by: Aadarsh Sharma, Infringement.