Auto Players, this is how you can strengthen your position in the industry
If you are a high-level executive working in the automobile industry, you would quip – "The times are tough". The COVID-19 pandemic has hit the industry hard. Every company is holding onto its cash reservoir, and sales have declined.
Amidst all the chaos, there are companies (startups and big players alike) continuously investing in future technologies like 5G, V2X, Connected cars, et cetera to make autonomous driving a reality.  
Things are changing rapidly in this domain and you would want to catch up before it's too late.
What can you do to prepare for the future even through these tough times? Gladly, we have just the right solution for you.
Grow your IP!
I'm not saying this because I work in the IPR domain or have a better relationship with patent analytics than with my spouse (chuckles softly).
The reality is the future of the automotive domain is connected cars, autonomous driving, and V2X communication.  And 5G, the current telecommunication standard under development, is going to play a major role in transforming this industry.
If there is anything about IP you need to know, it's that the companies who have the most IP around a technology have an advantage over others and can get a lion's share in the domain.
Companies from various domains are increasingly filing patents around the tech. Tech giants like Apple, Intel, IBM, and Qualcomm are researching Smart Tires. Even telecom players have been increasingly filing patents in V2X technology. We did a detailed coverage on this in our exclusive 5G SEP report which you can view from here – Who owns core 5G patents?
With tech giants and telecom players actively working on 5G, automotive companies – aka your fellow competitors – are not behind either. We recently published our analysis on the patent filing trend and 3GPP contributions by automotive companies on 5G and V2X and found that companies are increasingly filing in the domain. In fact, the top players by market share emerged as the top patent filers.  
With players from various diverse domains increasingly working on this tech, the Hi-Tech auto industry is going to be among the top profitable sectors. But there is a catch – it is not going to be just the auto industry to dominate this space.
With technology at its core, a lot many tech companies will share the profits too. And, this entrance of tech companies in auto space changes everything. It brings along the process of claiming licenses, royalties, infringement suits, and many more things. Recent cases like Broadcom vs VW, Nokia vs Daimler are just going to be the tip of the iceberg.
If you want to survive in this future of profit sharing, frequent litigation, and cutthroat competition, you will need patents. Still don't think I have a stronger case to convince you to grow your intellectual property? Read on.
Tech companies will be sharing your profits. Here's why.
In near future, car manufacturers will have to offer more customer-centric and advanced technical features to stay in the game – like ADAS, Smart Parking, digital consoles with enriched graphics, smart sensors enabled features, media-centric infotainment unit, connected cars facilitation, etc.
It's not just Automobile companies inventing these features. In fact, a significant portion of these features is being researched and developed by tech companies including and not limited to Ericsson, Huawei, Apple, Samsung, Qualcomm, and Nokia.
Below we have listed a few of the examples, but the actual strength of research by tech players is much more.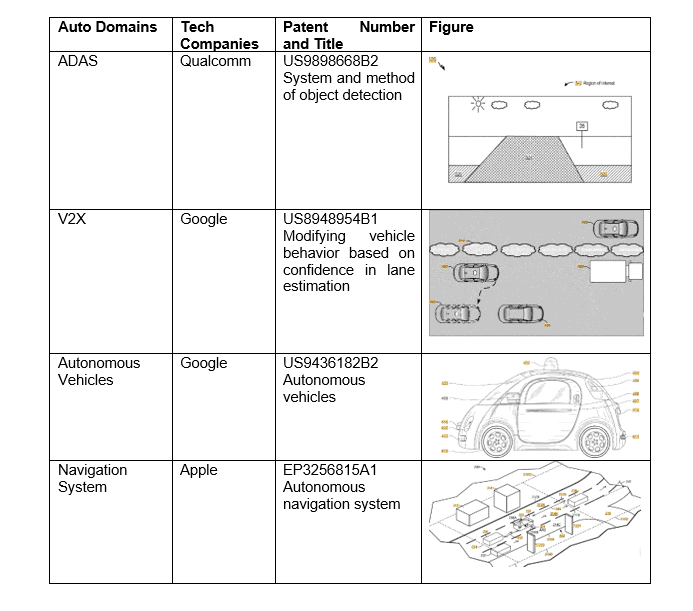 Many of these tech advancements have one thing in common; they need to 'COMMUNICATE' with the environment, and this is the forte of such tech companies. Communication is the backbone for this technology and with the rollover of 5G, these technologies are not far from the consumer's hands. 5G will act as the foundation pillar to enable all these services and there are already many tech companies who have declared their V2X patents for 5G with ETSI. 
In fact, Mobile companies are investing heavily in patents related to the vehicular domain. Based on the total patent data declared on the ETSI website (*declared till Nov) in the vehicular domain for 5G, 75% of the declarations are owned by the Top telecom companies. Another interesting point to note here is that no automotive company has declared its patents for 5G V2X.
For more details and a sneak peek into the bigger picture, click here. 
The crux is telecom companies are investing heavily in patents related to the vehicular domain, and tech companies having a front seat signifies that patent wars are going to be inevitable.
If you are working in the auto sector, how can you gear up and gain a concrete position in the near future?
The short answer is to Strengthen your IP Portfolio.
You all remember the smartphone wars. I'm not going to explore that topic in detail but the gist is: The smartphone industry – like autonomous vehicles – was set to be a lucrative industry with the rise expected in consumer demands. That gave rise to the Smartphone patent wars which led many niche players to bleed, new entrants rose, and all was about who played the right strategy at the right time.
Chances are history will repeat itself in this domain just as well.
If you are in the Auto industry and want to stay in the game for long, I would recommend you to act fast and figure the best possible solution for you to build a sufficient IP portfolio to stay in the picture for the long term.
How can I strengthen my patent portfolio?
If you're asking yourself this, I have a range of suggestions and solutions listed for you. You can peruse either some or all of these strategies to strengthen your patent portfolio. 
Invest In R&D
You might say we already do that. We already file patents, keep on building new types of engines, new vehicle bodies, etc. That's cool.
However, what I MEAN is – start investing in the direction the industry is moving. Like 5G which will be the backbone for future autonomous and connected car ecosystems.
A few automobile companies have already started to file patents related to 5G. From the below graph, you can see that Toyota – which is already a leader in the auto industry – is also leading in filing 5G-related patents.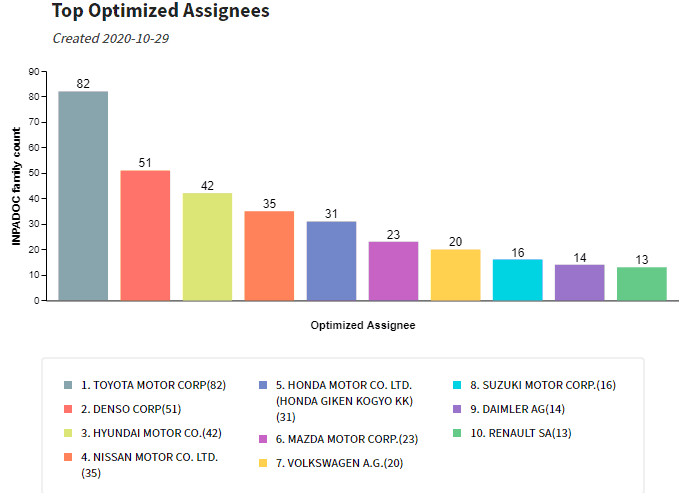 They have realized the benefit of filing patents not just related to the auto industry but also into the tech industry so that they can utilize their position and patents for better negotiations.
Though the patents are still low in number when compared to tech giants like Nokia and Huawei, this shows there is still time and space for the auto companies to start filing and try to be part of standard development.
Collaborate with the right players 
Research and patent filing can be time-consuming. So how do you outpace your competition when everyone is strategizing to get a piece of the pie?
Collaboration is the answer here. By collaborating, companies can get what they want much quicker and, in a cost-effective manner. The proverb "two heads are better than one" fits quite well in this situation.
In fact, various automotive companies have started to collaborate with tech companies to achieve mutual goals.
For instance: Volkswagen collaborated with Ford and invested in Argo AI, the autonomous vehicle platform company. Ford signed a partnership with AT&T to develop autonomous vehicles. 
We also looked up and went through various acquisition/mergers news, press releases, and other information online to curate the below list showcasing all the recent Mergers and collaborations within the Auto and Tech industry:
| | |
| --- | --- |
| Auto Maker Group | Collab/Merger Tech Group |
| Volkswagen | Argo AI |
| Toyota | Pony.ai (Start-up), Microsoft |
| Renault-Nissan | Waymo |
| General Motors | LG, Lyft |
| Hyundai | Aurora |
| Ford | Lyft, AT&T, Amazon |
| Honda | AT&T |
| Fiat Chrysler | Aurora |
| Mercedes(Daimler) | Bosch |
Editor's Note: If you would like to read in detail about the mergers and acquisitions in the domain of the above players and get to know about all the strategic initiatives taken by the top AV companies in the domain, you should read this next – Autonomous Vehicle market report. 
Licensing Deals and Acquisitions
If you are a niche player in the industry, you can leverage your patent portfolio and positioning to encourage favorable partnerships. You can also opt-in for early licensing to lock in with favorable and reasonable licensing rates. Patents being used as bargaining chips is a well-known strategy in the domain. 
Further, to strengthen your portfolio, you should acquire substantial patents in the domain to gain an upper hand in the market. Companies like Xiaomi are expanding globally and became a top player in the smartphone domain because of their patent acquisitions. You can read all about Xiaomi's patent acquisition strategy here – Xiaomi's expansion plan is steered by its patents.
Want to know which patents would make valuable additions to your portfolio?
Concluding Notes
Considering what history has demonstrated, don't assume that the tech companies entering the auto domain can't or won't eat away your market share. Just remember the example of Blackberry and Nokia. The time to act is now, before the tech companies gain momentum, and you can be like Qualcomm and Microsoft who have generated billions in patent royalties from smartphone manufacturers.
Now that I've inspired you enough, here's an action plan you can use – and revisit –  while designing your future patent filing strategy.
Action Plan
 

Ensure you're filing patents at a good pace

Research the market and find out potential whitespace
File to be in suitable jurisdictions around the world

Ensure you have the right patent assets

File your patents based on where the industry is heading
Distinguish high-value patent portfolios and procure the applicable one

Purchase significant patent portfolios from others in the industry

If you want to build your portfolio early, you should be proactively buying assets
You can lock in for better royalty rates if you seek early licensing.

Be ready to file patent infringement lawsuits against competitors

Yes we know, in the auto industry, you are not that active for infringement suits and usually avoid going to that extent, but as said, it won't be just the auto companies, tech companies have also entered the domain and so has their way of licensing patents – they are aggressive. Better prepare now than later.
If you need help with any of the above pointers, Get in touch with us and we will get in touch to discuss the deets.
 Authored by: Aadarsh Sharma, Hritik Negi, and Muzammil Hassan, Patent Monetization Team.