Drone Patents available for purchase
"COVID may have an end in sight thanks to vaccines, but the lessons and values realized by critical infrastructure companies operating drones during the pandemic only pave the way for more adoption of drones in the future."

— Cynthia Huang, VP of Enterprise Business Development, Auterion.
The Covid-19 pandemic brought forward a lot of changes, one of them being the significant increase in the adoption of drones to make contactless delivery possible. Our favorites delivery partners like DHL, FedEx, Amazon are actively working on this technology. The tech is fast rising and according to stats, in 2020, in the US alone, consumer sales of drones grossed more than $1.25 Billion. The number is expected to reach $63.6 billion globally by 2025.
Companies from different domains want to invest in drone tech and resultantly are on the lookout for good drone-related patents. This implies patent acquisition should have already started. In fact, in the last one year, we have witnessed a bunch of patent transactions in the drone space, some of which are listed below:
In February 2021 – Birket IP Holdings Inc. bought 4 US assets from USDrobotics (USPTO source). These assets were related to UAV delivery system and AV autonomous flight system.
In June 2020 – DJI bought 1 US asset from Iflight Technology Company Limited (USPTO source). This asset was related to UAV fuel cells.
In July 2020 – Skydio Inc. bought 50 US assets from Airware LLC (USPTO source). These assets were related to drone inspection systems, drone fleet management systems, flight planning, etc.
If you or your organization wants to invest in the drone tech or pursue it, acquiring few drone-related patents could be a great business strategy at this point in time. I have been working on the acquisition and monetization of drone-related patents along with other tech areas for a while now. I thought to use this experience to share with you a few good drone-related patents that I came across like many others that show the potential of what is out there.
For starters, you should know more about these 2 drone-related patents
Patent marketplaces are a great venue for acquiring patents and can sometimes help you find patents that you didn't even realize you wanted but would be requiring it to strengthen you position in the market. It not only provides you a strong negotiation position with suppliers it also boosts the morale of the whole company because now it owns some assets that are going to play an important role in the future.
I recently came across two such patents-on-sale at PatentAuction.com that seemed really interesting and acquisition-worthy. You will find out WHY in a while.
The patents in question are: US8989922B2 and US9533759B2

US'922 Patent

US'759 Patent 
I was intrigued and wanted to know more about these patents. Here's what I found.
Both US'922 and US'759 focus on using drones to ease inventory management in warehouses. Further, the mentioned drone has the following components:
a navigation unit to determine the drone's location and navigating it to designated locations inside the warehouse,
an RFID module for reading tag information from the inventory objects, and
a wireless transceiver to periodically transmit the drone's location and RFID tag information to an inventory management system.
This is a very interesting technology and super relevant for anyone working in logistics. I was now keen to find which kind of companies could get affected if an NPE gets hold of them.
But first, we want to find out whether these patents are any good or not?
I am used to using our internal tool (called 'BoS') to understand if these patents are gem or not. Here's what the BOS tool had to say.
I found that these patents were used by USPTO examiners to reject patents of 10 companies.
When I saw this number, my eyes were flashing. This clearly indicated that other companies were trying to patent the same technology but they faced roadblocks because every time Examiner brought these patents to reject their patents.

Source: GreyB's BOS Tool
Another interesting observation I made was that these companies were not small. These were pretty large companies. Here are three of the 10 companies from the list:
This implies someone within their team was trying to solve the same problem that these patents solve and came up with the same idea. Now in no way, this means that Amazon is also going to use this technology in the future, but if we are talking about potential, then this signal definitely increases the potential of these patents.
PS: If you want to get your hands on the complete list of companies, send us an email at [email protected] and we will be happy to share it with you.
Once I had the list, the next question on my mind was –
What tech were the above companies trying to protect against which the patents stood as an obstacle?
Here's what I found.
Amazon
The patent US10073449B1 (Appl. No. 14547038) – filed by Amazon – focuses on using UAVs to provide data service including transmitting data from one UAV to another to provide a longer distance coverage. During its prosecution, the examiner used one of the patents-on-sale i.e. US8989922B2 (or US20140277854A1, US 2014/0277854; Jones et al.) to provide a 103 rejection on January 11, 2018.
The snapshots from the prosecution history of '449 below narrate the whole story.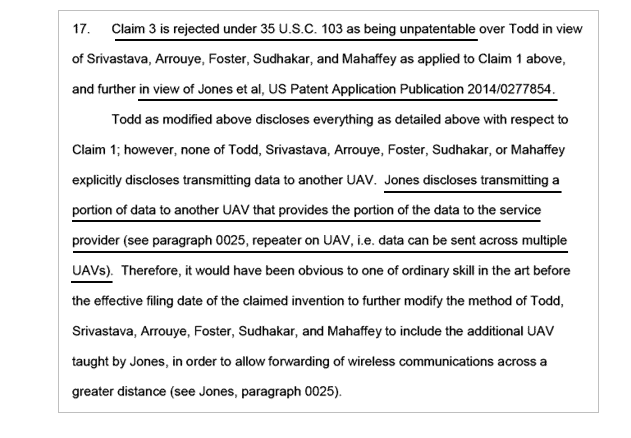 Source: 2018-01-11 Final Rejection for US10073449B1
This indicates that Amazon was perhaps trying to patent data transmission from one UAV to another to provide a longer distance coverage for communication, but had to amend their claims to escape rejection.
Alarm.com
US10574945B1 (Appl. No. 15888406) – which is filed by Alarm.com – focuses on Asset management monitoring. During its prosecution, the examiner used one of the patents-on-sale i.e. US8989922B2 (or US20140277854A1, US 2014/0277854; Jones et al.) to provide two rejections on June 27, 2019. One was a 102 rejection while another was a 103 rejection. Ultimately, Alarm.com had to amend its claims to get the patent granted.
The snapshots from the prosecution history of '945 below divulge more details.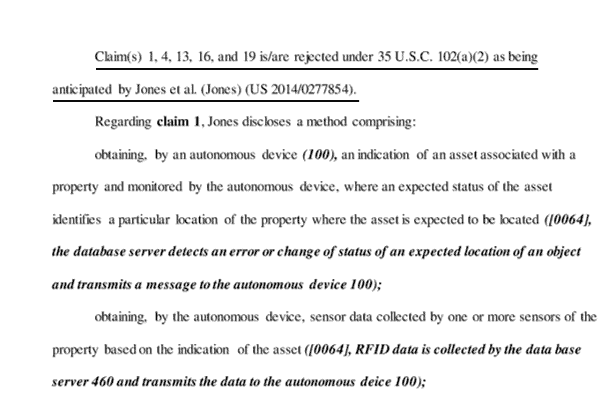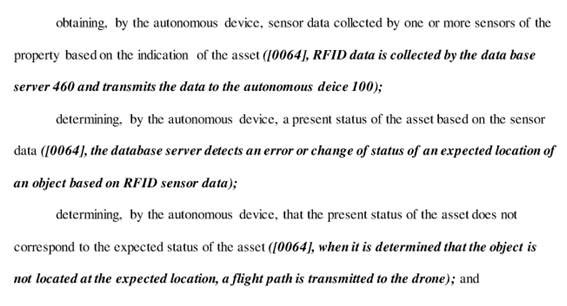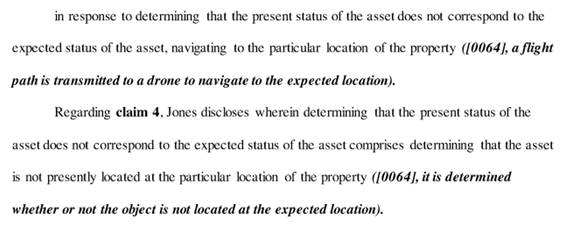 Source: 2019-06-27 Non-Final Rejection for US10574945B1
It seems Alarm.com's patent was focusing on a similar asset monitoring system via UAVs which the examiner indicated was already covered by one of the patents-on-sale.
Thus, it can be concluded that the patents-on-sale contain valuable protected tech that other companies including Alarm.com and Amazon were trying to protect, but could not. Hence, these companies can still get what they wanted in the first place by investing in these patents on sale.
Why Mega-warehouse companies need these patents?
Mega-warehouse companies like Amazon, Walmart, Target, Tesco, etc. seem to have a widespread need for a solution to tackle inventory management. They need to track millions of products, parts, and stock of inventory, etc. Hence, drone-based package tracking and inventory management tech as indicated in this patents-on-sale could finally help solve this problem.
Companies and Universities are also thinking in this direction. For example – MIT came up with a similar solution in August 2017 (which is quite after the priority date of March 2013 of the patents-on-sale), that involves using drones that can help track and manage inventory in large-scale environments using RFID scanning. In this technology, the flight path of drones is adjusted automatically with respect to the inventory location.
Also, companies like Amazon, UPS, etc. are already planning a future drone delivery system via which they promise to deliver the products in under 30 minutes with the help of drones. Thus, these companies can benefit from the earlier protected tech present in the patents-on-sale and use drones for inventory management and get a competitive edge.
You still need more reasons to acquire these patents? Here you go.
Both US8989922B2 and US9533759B2 have been heavily cited by 177 patents/applications including some assigned to big names like HP, AT&T, Boeing, Uber, Amazon, DJI, Toshiba, LG, Tesla, Intel, GoPro, etc. This indicates that big companies are developing upon the tech already protected by this two patents-on-sale.
The assignee of these patents on sale is Azure Sky Group (website) which seems to own only these patents. Also, this company does not seem to be into drone manufacturing. Interestingly, both these patents-on-sale seem to have expired due to non-payment of maintenance fees – US9533759B2 expired recently on February 08, 2021, while US8989922B2 expired on May 21, 2019
The good news though is that this patent can be revived under the following circumstances–
According to USPTO, once the patent has expired as a result of failure to pay maintenance fees, a business can petition to have it reinstated. The business will be subject to a surcharge of $800 if late payment was unintentional. For the patent to be reinstated, the USPTO must accept the explanation of the business. In cases in which the late payment of maintenance fees is unintentional, the petition must be brought within two years of the expiration date.
Source: https://smallbusiness.chron.com/revive-expired-patents-64817.html
If the fee is not paid then the patent will expire at the next 4, 8, or 12 year mark. In that 6-month interim (e.g., between the 3.5 year due date and the 4 year expiration date), the fee can still be paid with a $130 surcharge. Once the patent expires, it can still be reinstated if the fee is paid along with an additional surcharge for either unavoidable failure to pay the fee ($700) or unintentional failure to pay the fee ($1,640). In addition, the Patent Office (PTO) must accept your explanation for the delay. Under 35 U.S.C. 41(c), revival for unintentional expiry is only available within two years of the expiration date. Later revival requires proof that the failure to pay the fee was unavoidable – a difficult standard to meet.
Source: https://patentlyo.com/jobs/2009/02/reinstating-pat.html
Hence, it seems possible to revive these patents under certain circumstances.
The point is that there are many such patents out there that can be easily identified if you are looking for acquisition opportunities.
Anyways, it would be interesting to see what happens to these patents – do they remain unutilized, or someone gets a hold of them and monetizes them!
Have a related query or want more information? 
Authored by: Harsh Garg, Patent Monetization Team